Edwin Soi Wins Sicily 10k Over Micah Kogo A rare tactical road race as the course is run on 1km loops with a 300m hill run over cobblestones. On Sunday, the course was wet, meaning the opening kilometers were passed in around 3:00!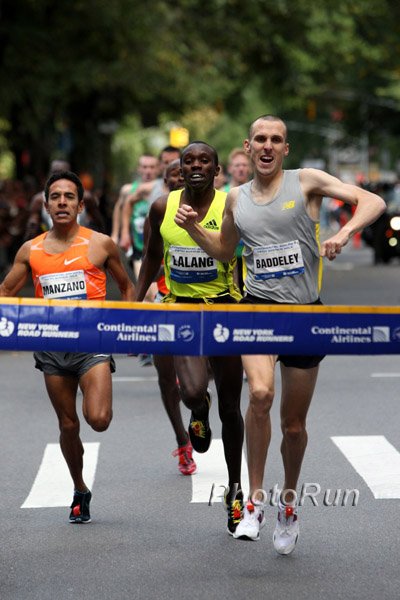 UPSET SPECIAL! Andy Baddeley Surprises (!) And Shannon Rowbury Caps Great 2009 At 5th Avenue Mile updated Baddeley, who was injured earlier this year, won in 3:52 despite only 2.5% of LetsRun voters picking him for the win. Overwhelming favorite Bernard Lagat got 65% of the vote but came in fourth in the Big Apple behind Leo Manzano and Boaz Lalang. Shannon Rowbury (4:24) continued her excellent season on the track with a big win over Lisa Dobriskey and Sara Hall, who had a photo finish for second. *LRC PHOTOS
*5th Avenue Mile Results 15 men break 4:00!
*NYRR Coverage Page
*LRC: MBoards: 5th Avenue Mile
Simeon Williamson To Train With Bolt Again Training with a Bolt, unfortunately, does not make one a Bolt.
Stanford Dominates Home Meet Against Easy Competition They look good on the men's and women's side.
Ridiculous
*South African Track Head Chuene Gets Unanimous Vote Of Confidence And Will Stay In Job Chuene wants to know what he did wrong and says he lied about knowing about sex tests to protect Semenya. Complete BS. How does lying about the tests protect her in any way? It only protects his ass. He also has accused the whole affair of being the work of racists and for good measure said IAAF officials told Semenya to fake an injury. Someone should look into that claim, but this guy already has been shown to be a liar.
More: Is Financial Mismanagement At Athletics South Africa The Real Problem?

*Latest: Now Caster Semenya's Lawyers Set Sights On Lying Chuene

*Butcher Blog - South African Athletics Administrators Show No Integrity Tough to disagree with that statement.

*SA Today Editorial On Semenya

*Chuene Asks Where Did He Go Wrong? Everywhere.
Continental Airlines 5th Avenue Mile Is Saturday In NYC *Women At 12:50, Men At 1:05 pm
Great fields have been assembled for both races. The women's field is led by Dobriskey, Rowbury and Wurth-Thomas. The men's field is led by Lagat, Tegenkamp, Manzano, Leer, Brannen and Baddeley.
*IAAF Preview Of 5th Avenue Mile
*Jon Rankin Working Nearly Full Time At Denny's To Fund Quest For 2012 Games
*Straight Shot At 5th Avenue Mile Presents Challenges Normally, the runners go out way too fast and kick too early.
*A Quick Interview With Sub-13 Man Matt Tegenkamp
*After Heartbreaking 4th-Place Olympic Finish, Dobriskey Used 5th Avenue Mile Victory To Propel Her To 2009 Medal
*David Torrence Hoping To Join US Elite
Writers Give Haile G No Love! (Check Out "Haile TV" To The Right To See How Much Fans Love Haile)
*Len Johnson Writes About The Berlin Marathon Being Anti-Climactic We think the race had a climax. The acme was the point in the race when the legendary protagonist going for the unbelievably fast record suffered in the elements and torrid pacing and was reduced to very mortal 5:00 miles. The drama was a tragi-comedy (because Haile always makes us laugh) versus a heroic finish. News flash to the world media: RECORDS AREN'T BROKEN IN EVERY RACE. This isn't swimming.
*Jim Hage Asks "Is Haile Still Great?" After He Won His 4th Straight Berlin Marathon In 2:06:08 After going out in 1:01:44 and breaking the world 30k world record en route to the 26th-fastest marathon of all time (of which he has run a whopping 6), Employee #1 is shaking his head in disbelief at the question.
Kenyan News:
Derek Redmond Says Usain Bolt Will Break 400m World Record
Inside Look At Mammoth Track Club Running Times Many of our readers are interested in knowing more about the training of Ryan Hall, Jen Rhines, Deena Kastor, Anna Willard, Scotty Bauhs and the rest of Terrence Mahon's Mammoth Lakes group. This is the most informative article we've seen yet. There is a reason American distance running is improving: coaches and athletes are working full time to get better.
*LRC Message Boards: RYAN HALL ANNOUNCEMENT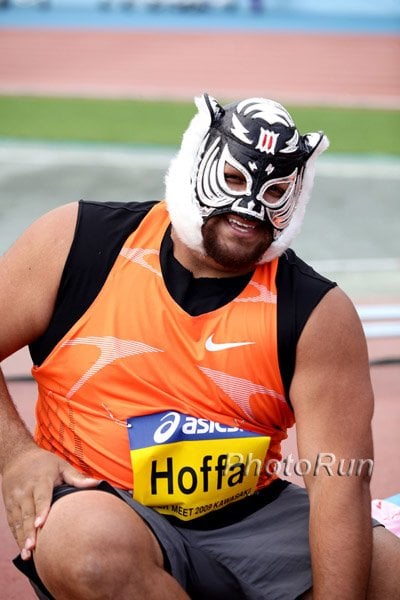 *IAAF Kawasaki Super Meet Recap - Gay Wins In 10.13 The Kawasaki Super Meet brought in a few stars, including Tyson Gay, Felix Sanchez, Allyson Felix and Reese Hoffa. Times and performances were nothing to write home about but we're sure the Saki was goooood.
*LRC: Photos From The Kawasaki Meet!
*Results From Super Meet In Kawasaki Japan

*Usain Bolt Camp Dismisses Mega $$ Offer, Saying Bolt Is Still Puma Sounds like the offer is there, but Camp Bolt needed to please the current sponsors. In case you missed it, Usain Bolt was reportedly offered a $100,000,000 long term endorsement contract by a crazy Chinese company.
*Agent Ricky Simms Says Usain Bolt Is The Highest Paid Track & Field Athlete Of All Time Even Before The Latest Offer Meanwhile, most NFL punters make more per year than Bolt.

Deriba Merga Is Officially A World Record Holder - IAAF Ratifies His 41:29 15k Split From RAK Half Marathon
Are People Insane? Usain Bolt Offered $100,000,000 Contract By Chinese Firm We're speechless.
*UK Guardian: Usain Bolt And Skepticism Go Hand-In-Hand
After Berlin 10k Snub, Japan-Based Kenyan Gideon Ngatuny Turns Down Athletics Kenya The paper tries to make it seem like Ngatuny snubbed Athletics Kenya after they invited him to run the World Half Marathon, but really his sponsors won't let him run, as the Chiba Ekiden is more important to them.
LRC: The Week That Was Last week was quite a week, as Ryan Hall got ready for New York, the #1 and #2 marathoners in history squared off in Berlin and some sprinters ran really fast in Shanghai. We break it all down for you and tell you why Ryan Hall most certainly is NOT the favorite for NYC and tell you how 9.69 is not as fast as 9.71.
Recommended Read: Candid And Unbelievably Interesting Interview With Brad Hudson Really, there are about 20 quotes of the day in this interview alone, as Hudson talks about not wanting to coach Dathan Ritzenhein, predicts Alan Webb will run 12:50 and may win Olympic 5k gold, opines on why Americans are good at running again and offers excellent training advice to anyone looking for the "key" to running fast.
For Wild Weekend's Results, See This Column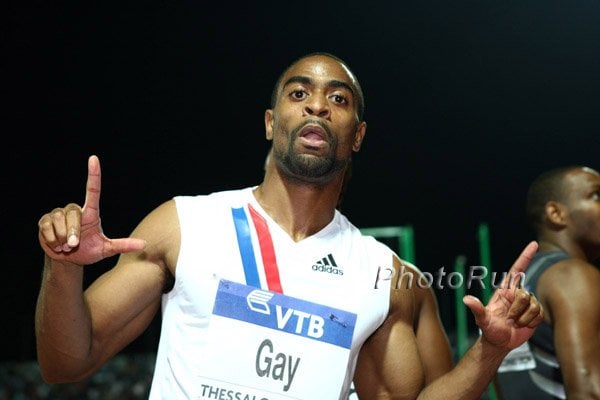 WOW: Tyson Gay Ties Bolt's Beijing 100m WR With AR 9.69 And Carmelita Jeter Hops Marion Jones With PR 10.64
*Shanghai Track Meet Results
*Video Embedded To The Right
We know we're a distance-oriented site, but since there weren't any records on the roads, we have to give a headline to the most underappreciated sprinters of all-time: Tyson Gay and Carmelita Jeter. Both are the 2nd-fastest of all time.
LRC: Ryan Hall Looking Good For New York *Photo Of Ryan Hall Crossing The Finish Line Ryan Hall hammered a 4:27 13th mile to win the 2009 ING Philadelphia Distance Run in 61:52.
Scotiabank Toronto Marathon - Mungara Sets New Course Record
*Kenya's Kenneth Mungara Wins Toronto In CR 2:08 And Amane Gobena Wins Women's In 2:28
*Top 3 Men's Finishers Beat Canadian All-Comers Record In Cool, Rainy Toronto

From Akron, OH: Kenyan Man Comes To America To Earn Road Racing Money To Send Home To Family, Wins Akron Marathon In 2:27
Interesting Interview With Jujitsu Purple Belt (And American Distance Running Torch Bearer In The Lean Years) Todd Williams Worth a read!
Big Time Running Celebs
*Bolt To Appear On NBC's Jimmy Fallon Show On Tuesday
*Less Than A Week Before IOC Chooses 2016 Oly City, Obama Too Busy To Stump
*Ed Norton, Running NYC For Kenyan Charity, Twitters About His Swollen Achilles
LRC Special American High School Student Travels To Addis And Trains With The Ethiopians - Entry #2 - 8,000 Feet A friend of LetsRun.com traveled this summer to Ethiopia. Determined to continue his preparation for the fall cross-country season, Nebiyu Osman found a high-altitude training group in Addis Ababa that took him in. In this journal entry, Neb does his first training run with his workout partner and gets winded walking to the training site.
Friday's Action From Daegu, S Korea
Tyson Gay 9.94 Victory Over Asafa Powell Gay and Powell both continued their fine post-World Championships running, as Gay ran 9.94 for the win into a headwind. Carmelita Jeter continued running unbelievable times as she won the 100 by OVER half a second. World 1,500m champ Yusuf Kamel won the 800 and Nick Symmonds' 2009 campaign likely came to an end with a 7th-place finish. Allen Johnson was 4th in the hurdles and one has to wonder if this was the last race of his incredible career.
*Results Notice the results website has a picture of Usain Bolt on it even though he didn't run the meet.
Good Jamaican News
A Nice Look At The Great Career Of Stacy Dragila The recently-retired vaulter was certainly a pioneer, as she won the first-ever women's pole vault at indoor Worlds, outdoor Worlds and the Olympics.
Preview Of 20th Scotiabank Toronto Waterfront Marathon
Upcoming Events:
NYC: World Champ Jaouad Gharib, Worlds 3rd-Fastest (James Kwambai) And Half Marathon Star Patrick Makau Added To NY Field The blurb in the NY Times has no mention of American Ryan Hall being in the field. Any concern about NY watering down its field to help Ryan Hall out is completely gone. Hall will have his hands full.

This Weekend: Ezekiel Kemboi And Richard Mateelong Headline Strong 10k Field At 20th Memorial Peppe Greco In Italy This Weekend

Next Month: Sammy Kitwara Named To Kenyan World Half Marathon Team This guy is the best runner you've never heard of and he'll get his chance to take on the best at a World Champs for the first time. He should have done it on the track at Worlds last month.
LRC Special American High School Student Travels To Addis And Trains With The Ethiopians - Entry #1 - Kenenisa Bekele!?! A friend of LetsRun.com traveled this summer to Ethiopia. Determined to continue his preparation for the fall cross-country season, Nebiyu Osman found a high-altitude training group in Addis Ababa that took him in. His stories, video, and 9-part journal entries offer the reader a chance to learn about the homeland of some of the world's greatest runners. Although we had not planned to share the stories beforehand, we found them so interesting that we wanted to release the entries 1-by-1 in a sort of mini-series. In this episode, Neb finds his Ethiopian coach.

Recommended Watch: Wonderful Interview With Haile Gebrselassie Where He Talks About The Importance Of Coaching Gebrselassie is clearly a very talented runner and he also is great at communicating the important aspects of training.
Sad News - Deaths In The Running Community
LRC Exclusive: Cornell Medical Student And Exercise Physiologist PhD Matthew Goodwin Explains The Caster Semenya Case In A LetsRun.com Exclusive Commentary Dr. Goodwin explains the science behind sex determination, the probable cause of Semenya's sexual ambiguity, and his reasoning for why the IAAF should award two women's 800m gold medals if Semenya is determined to be "too male" to compete as a female in further competitions.
*Science Of Sport: Semenya Timeline Of Lies And Drama
*London Times: Caster Semenya Is Real Victim She will be a victim if everyone keeps telling her she is one.
*Chuene's Fate May Be Decided Thursday
*Writer Cautions Press And Public To Check Their Semenya Outrage
*Hurst Asks Is Medal Worth Young Girl's Sanity Two more interesting Caster Semenya articles. The first one (from South Africa) sort of bashes Sydney Telegraph writer Mike Hurst (he who published the "leak" from a source close to the IAAF saying Semenya will be banned) and the second one is by Mike Hurst.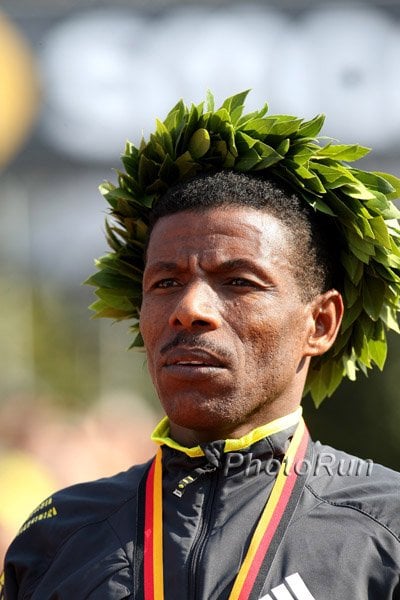 Berlin: Gallant Geb Goes For It But Bonks Beyond 35k!
*LRC: Beautiful Race Photos From PhotoRun

The Great Haile Gebrselassie's Final Words From Berlin Catch Haile's parting words and some final reflections on one of the most congenial sporting personalities in the modern era. Longtime athletics writer Pat Butcher is on assignment in Berlin.

*Video: Post-Race Chat With The Most Happy Competitor Ever The great one went after the WR in a major way, hitting halfway in 1:01:44 and staying on pace until 35k. Even Haile G couldn't keep the pace and he ran the next 5k in 15:57 (5:07/mile) and had to settle for a 2:06:08 win. In hindsight, the heat may have been too much or the pace a little too quick. He did get rewarded with a new 30k WR.
*IAAF Recap With More Haile Quotes
*Science Of Sport Coverage Here See where it all fell apart for Haile G in his 4th, and most daring, Berlin win.
Must-Read: Semenya Uproar Shifts To Lying Officials In Sporting Drama Of The Decade
*SA Paper Shock Headline: "Chuene Is A Liar Who Was Willing To Sacrifice A Young Woman's Future For A Medal."
*Mr. Secretary General, We Agree!!! The secretary-general of the ruling African National Congress, Gwede Mantashe, said all ASA officials "should be gagged before they make matters worse." ASA Boss Leonard Chuene admits he and the rest of ASA have been lying about their ignorance of any pre-Berlin tests on Caster Semenya.
*World War 2.5? Officials Call For Chuene's Head! But not until he undergoes invasive gender testing.
*Too Late: Leonard Chuene Apologizes
*Earlier: Unearthed Emails Show Indisputable Proof South African Athletics Boss Is Lying About Semenya Knowledge
This whole episode demonstrates why good journalists and a free press are so important.