The Week That Was June 15 - June 21, 2009
June 22, 2009

By LetsRun.com
To read last week's LRC Week That Was, click Here.
To read any 2009 LRC Week That Was, click Here.
Last week was a bit of a slow week as most of the top pros took it easy as USAs are this weekend in Eugene. But there was a ton of great high school action last week (and the week before) that we'll try to catch you up on. If you've never heard of the names Curtis Beach or Chalonda Goodman, you have to keep reading. You won't regret it. Plus Usain Bolt, Kim Smith and Dwain Chambers.
Catching You Up On The Elite US HS Scene From The Last Two Weeks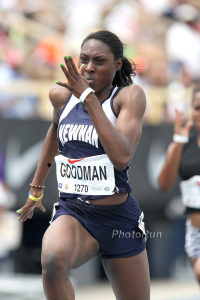 Chalonda Goodman At NON
Chalonda Goodman Sprints Very Fast
Domestically, the big news last week was the US HS Nationals were held. Well, they're not really the nationals, but most of the big names showed up for the Nike Outdoor Nationals in North Carolina. Sprint-wise, the big news was UT signee Chalonda Goodman set meet records of 22.94 and 11.30 in the 200 and 100. Goodman, who won the silver in the at the World Youth Champs in Ostrava in 2007, has now done the double three years in a row. Yes, that's right. She's won the 100 and 200 three years in a row.
Think she wasn't a huge recruit for UT? You are an idiot. 11.30 would tie you for 3rd at NCAAs in the 100. 22.94 would get you 4th. So by signing her, you basically have a guaranteed 14 points every year for the next four years barring injury or your coaching causing her to get slower. 14 points at NCAAs is a ton. Only 19 teams scored 14 or more. At the NCAA level, Goodman is as good as the entire Washington Husky team and better than big programs like Michigan State 13, Purdue 13, Oklahoma 12, Notre Dame 11.50 , Arizona 11, Auburn, etc.
The best thing about Goodman? She is continually improving. In 2007, when she already was the best HSer, her PRs were 11.54 and 23.42. Now she's run 11.30 and 22.94. Those times compare favorably to what 2009 NCAA 100 champ Alexandria Anderson ran in HS. Anderson, who just finished her career at Texas with 20 All-American certificates, had high school bests of 11.39 and 22.96.
Who Cares About Sprinting? Let's Talk Distance - Sveinsson Breaks 2 Records
Distance-wise, the biggest story was on the women's side, where Chelsey Sveinsson broke the national high school sophomore records to win both the mile (4:40.24) and two mile (10:04.85) with 2009 yearly U.S. bests.
(
Side note: Let's have a Thumbs Up for NON for running the actual mile and 2 mile. It is beyond us why anyone ever runs a 1,500 or 1,600 meters in the US. It should NEVER be done. Yes, never. At the pro level, someone should get the IAAF to accept mile conversions for the World Champs/Olympics).
On the boys' side of things, Alaska's Trevor Dunbar ran a national leader in the 2-mile (8:49.79) for the win. It was nice to see the talented senior get his first big win of the year. And it's great to see someone like him going to a non-big-name school like Portland.
8:49.79 isn't real fast for the top boy in the country these days, but one needs to understand that he absolutely dominated the field, winning by 6 seconds thanks to a final 880y of 2:06.83. The time is actually a pretty good time considering the weather was totally awful for distance running. 85 degrees and 65% humidity. It doesn't get much worse than that. A few weeks ago, Dunbar had soloed 8:51. Pretty impressive a kid from Alaska ran that well in the heat. But if you don't remember Dunbar, you should. He ran the incredible 9:01 for 3,200m in the snow. Video below. Message board thread on it here.
Lukas Verzibicas - Freshman Sensation

Behind Dunbar, in 3rd, was freshman Lukas Verzbicas. A week earlier, the high school rookie had defeated Foot Locker champ Solomon Haile at the Midwest Distance Gala in a new freshman record of 8:53.98. In our book, he's the 2nd-best distance runner in the country and he's only a freshman and he doesn't even do running full-time. UNBELIEVABLE. A major Thumbs Up to Lukas for being a total stud.
At that same Midwest meet, future Georgetown Hoya Andrew Springer ran the fastest prep mile of the year with 4:02.70. That certainly would give him ammunition for the mythical title of best boys mid-d guy in the country. However, he's got a lot of competition, as that same weekend, there was a big boys mile in Portland with the top 3 high school 800 runners in the country all entered. In Portland, Mac Fleet won in 4:02.90 to Robby Andrews' 4:03.49, Trevor Dunbar's 4:06.65 and Elijah Greer's 4:08.08.
At Nike Outdoor Nationals, Andrews got some sweet revenge on Fleet as he won the 800 in 1:50.05 thanks to a ridiculous last lap of 53.19. You go out in 56.86 and still amost break 1:50. Pretty darn good. Who is the best HS boy mid-d guy in the country? We guess that's open for debate, but there is no doubt as to who has the best kick, particularly off a slow pace. Andrews' finish is special, as he showed at Millrose this year - although Fleet might claim he can kick better in a mile off of a faster pace thanks to his mile win.
But the LetsRun.com's HS Performance of the Week goes to the guy who got 2nd in Andrews' 800-meter section at NON, Curtis Beach. In a controversial move, Beach, the national record holder in the HS decathlon (that isn't a typo - he's the national record holder in the decathlon), was put into the fast heat at the last minute by meet organizers. He more than backed up the faith they put in him by getting 2nd in the race in 1:50.75 (a kid in the 2nd heat ran faster, so technically Beach was 3rd overall).
Watch The Race Where The Decathlete Curtis Beach Gets 2nd In His 800 Heat In 1:50:75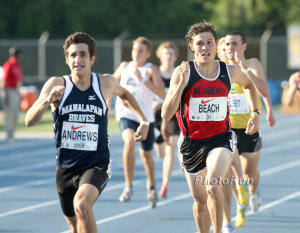 Curtis Beach - Nearly The Best
Decathlete And 800m Runner In America
We've never seen a decathlete with so much mid-d talent. It's remarkable. Speaking of remarkable, we urge you to read a great recap written by Curtis Beach himself of his performance at the Great Southwest Classic a few weeks ago. We hadn't previously mentioned it as we wanted to save all of our commentary on the HS scene for this slow week of news, but Beach had a hell of a weekend. That weekend, he did two decathlons simultaneously (one with HS implements and one with international implements), ran a 1:50 split on a 4 x 800 and ran a 46.45 leg on the fastest-ever all-HS 4 x 400 team in US History. Oh yeah, how did he do in the decathlon? He set a national record for international implements. And this was all after winning 5 individual events at the New Mexico state meet. WHAT AN ATHLETE!
Beach has to be the best high school athlete ever. Even his Wikipedia entry is impressive, as it talks about Beach breaking the high school record in the decathlon by 500 points: "His performances in the high jump, 400 meters, and 1,500 meters were superior to those of U.S. Olympic gold medalist Bryan Clay in the 2008 Olympic Games." Dick Patrick of USAToday had a good article on Beach a few weeks ago, "High school decathlete already world class in several events." And track coaches throughout America are cringing as they let him escape to non-track powerhouse Duke next year.
Amazingly, there has been little discussion of him on the message boards. Perhaps that is because most people don't realize a kid running 1:50 and 46-point is a decathlete. There is this thread: Curtis Beach should give up the dec for middle distance.
Lastly, we'd like to give a Thumbs Up to New York's Christopher Stogsdill, who got the win in front-running fashion at NON in 4:06.70, gapping the field with 600 to go. If you like Prefontaine, you'd like Stogsdkill, as at the NY state meet, he went for broke in the deuce, getting a huge lead before faltering over the last 400. Well, we're not sure what Pre fans would think of the fact that the kid wore a tight, pink girls' singlet in the race. Yes, that's right. If you don't believe us, click here to see the photo.
We loved his post-race quote. Our Quote of the Week:
"I knew that if I wore this jersey, I'd have to back it up."
Where Was Jordan Hasay?
Oh yeah. "Where was Jordan Hasay?," you ask. She stayed home in California and ran a 4:44 full mile. It will be interesting to see if she and Sveinsson somehow meet up at USAs. Speaking of Hasay, she was named the MaxPreps HS girls athlete of the year for all sports. The MaxPreps article on her was fantastic and is a definite recommended read.
Two weeks ago in our weekly recap, we said we almost felt sorry for Hasay as we'd hate to be so young and feel so much pressure. The expectations for her are totally unrealistic (we literally get emails from random people asking us how we think she'll do at NCAA cross-country next year). But after reading the article on her, we feel a lot better about Hasay's ability to flourish at the next level. She clearly seems to be someone who is focused on the process and enjoyment of running instead of the results, which is the way it HAS TO BE, as you can't control the outcome in running.
So reading that article made us feel a lot better about things. Then we got a tip about an article on Hasay's valedictorian address. Yes, that's right; the girl also has the best grades in her HS. In her speech, Hasay said the following:

"The key is to remind myself that not matter what happens, if I don't win, don't even medal, if I finish dead last, I'm not going to be ashamed. For it is when we fail that we truly learn."
Bravo. Clearly she doesn't come across as a young woman who will be crushed or go off the deep end like other child stars such as Gerry Lindgren if her post-HS success doesn't equal her HS success.
Boys HS 4 X Mile Record Dodges Another Bullet - 33 Years & Counting
Coming into the NON, there was talk that the 33-year-old boys 4 x mile record of 17:06 might fall. Well, in the end, the record stayed put, as the Woodlands team from Texas had to settle for a new meet record of 17:17. We were glad to see the record live on, as it's held by South Eugene High (how appropriate is that?), but are shocked that there has never been a HS team that has been able to go sub-17:00 and average under 4:15 per man.
Of course, it's rarely run and 4 x mile record times always seem easier to hit on paper than they really are on the track, as people forget that normally you are running the legs totally solo. The South Eugene team from 1976 actually thought they were capable of running near 16:40. This sort of reminds us how there was some talk that Oregon could get the world record in their 4 x mile attempt earlier this year. We knew there was no chance of that happening, as you need big-time competition to really run near your PR.
For a nice article on the 1976 record team, please see the following: A Look At The 1976 HS 4 x Mile Record By South Eugene High.
Pro-News: Kastor To Chicago/Bolt & Melkamu Shine In Ostrava/European Team Champs

There wasn't a whole lot of big-time pro action as nearly all of the US's top pros would want the weekend off considering USAs are this coming weekend. The biggest pro news in terms of distance running in the US was that Deena Kastor committed to running the 2009 Bank of American Chicago Marathon. That is a big coup for Chicago. More: Deena Kastor Is 1st Elite Woman To Commit To 2009 Bank Of America Chicago Marathon *RW Brief Chat With Kastor
In terms of domestic US pro action, we did see that 2008 Josh McDougal ran another low-key race, winning a mile in NJ in 4:08.88. We wish him the best in his comeback from injury. At the Steamboat Classic in Peoria, Providence, RI-based Kim Smith blitzed a 19:38 four miler after going through the 5k in 15:06 to get the win. More: Defending Champs Kim Smith (19:38) And Ridouane Harroufi (17:44) Defend Crowns at Steamboat Classic
In terms of big-time pro track and field action, there were two meets of note: the European Team Champs and the Golden Spike meet in Ostrava.
Bolt & Melkamu Runs Fast In Ostrava
The Ostrava GP was a big success as more than 20,000 showed up to watch a very good meet where Usain Bolt made his 2009 European debut on the track. Bolt certainly didn't disappoint as, after getting off to a slow start, his last 40 meters were simply breathaking. Bolt described his start as his 2nd-worst ever but he still ran a 9.77.
He might actually be able to win Worlds with a horrific start. That is a scary thought. Please watch the video on the left if you don't believe us.
The meet had some very high quality mid-d and distance action as well. David Rudisha got the win in a loaded 800, Haron Keitany ran 3:49 in the mile and Meselech Melkamu got a narrow win over Linet Masai in our Pro Performance of the Week. Melkamu had run 29:53 three days earlier. Some thought she wouldn't even start the race in Ostrava. What did she do? Not only did she win, she pushed the pace and was rewarded with a world-leading 14:34.
We found a lot of race videos from Ostrava on youtube. Click here if you want to see them. We've put the one that has the last few minutes of Melkamu's race on the right.
Speaking of Keitany, we urge you to read this article on Haron Keitany and tell us he's not a talent. The guy only started running in 2005 as he saw some of his friends on television and thought "I can do that." Prior to that, he was a field hockey player. Now he's the #1 miler in the world for 2008 according to T&FN.
Speaking of field hockey, are we the only people that find that weird? It certainly shocked us to find out field hockey exists at all for men in a male-dominated society like Kenya.
More: *Meet Website *Results *IAAF Recap: 20,000+ Cram In To Watch Usain Bolt Run 9.77 *Craig Pickering 2nd In 10.08
*Mid-d & Distance Recap: Melkamu's Amazing Form Continues *South Africa's Khotso Mokoena Wins 3rd Straight LJ - All Have Been 8.33m
Quote Of The Week #2 - Please Don't Share This With The Toronto Festival Of Excellence Meet Promoters

Glen Mills, Usain Bolt's coach, was asked prior to Bolt's run in Ostrava if he was worried about Bolt's prospects in 2009 because he'd only run 10.00 in Toronto. Last week, we told you after Toronto that Bolt was fine and Mills concurred by saying:
"I don't think he was making that great an effort (in Toronto). He said he was not really into it. The false starts, the weather (it was raining) and his teammate Marvin Anderson picking out, threw him off."
We love Mr. Mills' honesty even if it might make the people who paid him a reported $250,000 to run in Toronto wince just a little. People need to realize that Bolt is human and can't bring his A+ game every race. A slow track and bad weather aren't going to lead to a super-fast time, so just destroy the competition and move on.
Clarifying A Few Things About NCAAs
Last week, the weekly recap was dominated by NCAAs. In that recap, we noted how the #2 seed in the women's 10k, BU's Andrea Walkonen, didn't finish. Well, we received an email this week that shed light on her performance. It read, "4 or 5 weeks before the NCAA Outdoor meet, Andrea suffered a stress fracture (I'm not even sure where) and was in a boot and on crutches for 3-4 weeks and only trained for 1-2 weeks before the NCAA meet. Being the competitor that she is, she wanted to compete at the meet, anyway; even though she was extremely ill-prepared."

So kudos to her for giving it the old college try.
This week we came across an article where Oregon head coach Vin Lananna urged fans not to forget that the Ducks had some amazing performances at NCAAs despite the fact they couldn't quite complete the triple crown. Lananna praised his five event winners - Ashton Eaton (decathlon), Galen Rupp (5 & 10), Brianne Theisen (heptathlon), Andrew Wheating (800) and Rachel Yurkovich (javelin) and then told the Oregonian,

"I hope the end result, the final score, doesn't minimize how impressive that was. No other team had those kind of performances across the board. Every single one of those performances was impressive."

We certainly agree with Lananna's assessment but not his actual quote. Florida State had five studly performances as well, as they also had five individual champs who won six events - the same as Oregon.

Susan Kuijken (1,500), Kimberly Williams (LJ and TJ), Charles Clark (200), Jonathan Borlee (400) and Ngonidzashe Makusha (LJ) all won individual titles. Plus the Seminoles also won the 4 x 400 on the men's side. So that's 7 event wins in all for FSU compared to Oregon's six.
European Team Champs Try Interesting Format
The European Cup was replaced with the European team champs this year, and had some new rules designed to increase crowd and TV interest. Namely, in all distance races 3k or above, runners in last place at 3 pre-determined positons in the event were yanked off the track (a sort of anti-prime concept). We'd love to see video of some of the races as we think it's worth a try. So if you know of video of the races, please email us the link.
There was one small problem. Not everyone obeyed the rules. In the women's 3k, Spain's Natalia Rodriguez was in last at one of the points, but she didn't step off. She ended up 'winning' the race only to be DQed. After the races, some competitors were complaining about the new format. We agree with 1,500 meter Rui Silva of Portugal who is quoted by Race Results Weekly as having said,

"This new format of competition has brought some surprises and we can benefit from it. I think you have to be positive. We are not far from getting things right, If we believe, we can make things better."
As for the meet itself, Dwain Chambers sucked it up for the team and starred for Britain. The winners in the 800, 1,500, 3k, 3k steeple, and 5k were Miguel Quesada (1:47.64), Rui Silva (3:42.07), Jesús Espańa (8:01.73), Mustafa Mohamed (8:28.09) and Mo Farah (13:43) for the men. For the women, it was Yuliya Krevsun (1:58.62), Anna Alminova (4:07.59), Gulnara Galkina-Samitova (8:46.88), Antje Möldner (9:32.65) and Dolores Checa (15:28).
More info on SPAR European Team Champs *Meet Website *Results
Germany Wins 1st European Team Champs As Spain Dominates Mid-D It was Germany, Russia, Britain & France in the top 4. *Dwain Chambers Stars As Britain Gets 3rd He won the 200 on Sunday as he stepped in for an injured teammate. Chambers: "The 200m is not my specialist event and I didn't know what I could do against these guys. This was about getting points for the team. I thought go for it and not to lose." *IAAF Recap Of Day 1 *IAAF Recap Of 2nd Division: Belarus, Finland & Norway Do Well *Behind Dwain Chambers Victory In 100 And New British Record In PV, Brits Off To A Good Start Chambers was disappointed with his 10.07 time. *Former FSU Star Hannah England Runs 1:59.94 *Tim Benjamin: "I almost quit running." His pullout of Beijing obviously made him think about walking away altogether. *The Independent Looks At 1st-Ever European Team Championships Controversial New Rules
Recommended Reads From Last Week
1) Salazar Trying To Teach Goucher How To Kick Like Rupp Kara will run the 5k at USAs and the only goal is for her to learn how to close. Her lack of a close cost her in Boston.
2) All 4 Legs On Texas A&M's 4 x 400 Recount Their Feelings Before & During Race They came through big time thanks in part to a walk-on running 45.56. Unreal. Anchor Justin Oliver's advice to his teammates: "Show some heart."
3) A Look At The 1976 HS 4 x Mile Record By South Eugene High The team was hoping to run 16:40 but ended up running 17:06 in bad weather and all alone. 33 years later, their record still stands.
4) Meet Track & Field News #1-Ranked 1,500 Guy From 2008 - Haron Keitany The guy is a real talent as he didn't even start running until 2005 when he saw some of his friends on television.
5) Jordan Hasay Named MaxPreps Female Athlete Of Year
6) Peoria Native Justin Young's Complete Dedication To Running Is Paying Off
7) Curtis Beach Talks About His Unreal Performance in the Decathlon, 4 x 400, and 4 x 800
Drug News/This Week's Sign That The Apocalypse Is Upon Us
As some of you noticed, last week had some google serving some ads on our website. All we can say is that google is pretty damn smart. What did their computers think distance running fans would want to buy? The following link sadly sums up modern society and track and field pretty well:
EPO-Boost Supplement $59
In terms of actual drug news, there was one story of note: 5 More Russians Tests Positive & Are Banned. Is any distance runner there clean?
Popular/Interesting Threads From Last Week
*German Fernandez intending to NOT RUN USA Senior Nationals
*List of Collegiates Who Have Gone Sub 28:00 in College
*Does Augustine Choge Have A Chance To Break Komen's 3000M Record?
*NCAA Individual title, or Olympics and No Medal ?
*Jordan Hasay was the valedictorian of her high school class
*Could Coe had gone sub 13 in the 5000m
Remembering The Last Week With The Quotes Of The Day - Day-By-Day:
Monday: "Oh thank God. No more races."
- Prep star Robby Andrews after winning the HS nationals in his final race of a great senior season. Anyone else think HS athletics are overhyped?"

Sunday: I'd just have to say the whole journey. The races are great but it's really about all the behind the scenes stuff. I'm going to miss coach Mondo. Words can't express my gratitude toward him and for everyone who has been there for me all these years."
- Prep star Jordan Hasay responding to a question as to what the highlight of her HS career has been. An amazingly mature response for a high schooler.
Saturday: "Some of my friends, I would see them on television running, and I knew that I could do this too. And that made me choose athletics."
- Kenyan field hockey star, Haron Keitany. Keitany didn't even start running until 2005 as he used to play field hockey. By 2008, he was #1 in the world in the 1,500 according to T&FN (although if Kiprop gets the Olympic gold, we think Kiprop should be moved to #1).

Friday: "Our Mammoth Track Club physiologist at the Olympic Training Center in Chula Vista has a saying on his wall and it says "Train Smarter, Not Harder."
- Deena Kastor at the press conference announcing she is Bank of America Chicago Marathon in the fall

Thursday: "It was a very hard race. I had a very fast run in the 10,000m three days ago, and I'm very tired. But I've had really good training and I'm very well prepared."
- New distance phenom Meselech Melkamu, who shockingly not only showed up in Ostrava just 3 days after running 29:53, but raced the 5k in a way that would make Prefontaine proud, as she pushed the pace and got a narrow win in a new world-leading 14:34.17.

Wednesday: "For me, 9.8 will be good. I'm not in the same shape as last year."
- Sprint sensation Usain Bolt, who will make his 2009 European track debut on Wednesday in Ostrava. Bolt is getting all of the attention, but the meet features some unreal distance action, including a world record attempt in the 20k, a possible world record attempt in the steeple and an unreal men's 800.

Tuesday: "Coach Henry has always told me there's no magic potion for success. Coach Henry simply trains smart."
- Texas A&M sprinter Gerald Phiri in a pre-NCAA article on A&M coach Pat Henry. In the article, Henry said it takes five years to build a program. This is his fifth year at A&M and he was rewarded with 2 national titles.