The Week That Was Feb. 2-8, 2009
February 10, 2009
*Last week's week in review can be found here.
By LetsRun.com
There was a lot of action both on and off the track this week. Let's break it down right away.
---

Last week in our recap, we started to get excited about the Major marathons of 2009. This week, to continue the theme, we are starting to get excited for the half marathons that often precede the big marathons. A Big Thumbs Up to American marathon star Ryan Hall for announcing that he'll take on Haile Gebrselassie at the City-Pier-City Half Marathon in the Hague, Holland in March.
While one of the great things about the marathon is the long buildup and the uncertainty over who is the most fit coming in, we think it's better for the fans if marathoners run at least one race prior to the big show. That way, we can get a glimpse into their fitness. IF they do amazing, the excitement and anticipation for the full 26.2 really builds. We are UNBELIEVABLY excited for this showdown as it comes on a course where the world record was set by Sammy Wanjiru.
---
Hasay Mania Hits LetsRun.com

We thought it was great that Jordan Hasay announced her prep signing live on the Internet last week just like a big-time football or basketball star would. So Thumbs Up to Jordan for spicing things up a bit. Certainly, LetsRun.com enjoyed the mania as the site went absolutely gaga over Hasay, as at one point there were at least 13 message board threads on her on the first page alone.
We must admit we did chuckle when Hasay said academics were a big part of her reason to go to Oregon. Perhaps the physiology program at Oregon is quite good thanks to Nike money but last time we checked Oregon was ranked 52 out of 68 public universities. We certainly believe that one can get a great education at virtually any college in the country if they work at it but we're tired of athletes being disingenious when they sign contracts (or letters of intent). Hasay really acted like a big-time pro signing a big free agent contract. Ever noticed how the pros always say they love the city and their new teammates when in reality it's often about the Benjamins? There's nothing wrong with saying, "I want to go there cause it's Track Town, USA, baby!"
Jordan Hasay Picks Oregon That was the easy part. Then the world came to an end as we counted 13 threads on the first page of the message board about the decision. Figuring out which one you most want to read is more difficult than her picking a school.
*Why the heck did Jordan Hasay choose Oregon???? *What was the worse decision: Fernandez to Oklahoma State or Hasay to Oregon? *Brojos, black out the front page for Hasay *Deer Jordan Hasay *DUCK Jordan Hasay, good luck at Oregon! *THERE ARE LIKE 15 THREADS ABOUT HASAY ON THE FRONT PAGE!! *Was Hasay wearing a breathe right strip when she announced her college decision? *Has Jordan Hasay been the most anticipated signing for a runner the last few years? *Jordan Hasay NOT going to Stanford *Where is Jordan Hasay planning to go to college? *Jordan Hasay To Announce College Choice in 10 Minutes (5 pm EST, 2pm PAcific) Live on Internet *Hasay Spotted With Oregon Gear Heading to Press Conf. *Why is there so much Oregon hate???
---
There was a lot of great actual running action last week both in the US and in Europe. However, the off-the-track action may have been even hotter. It's rare that an American who just achieved a career breakthrough to win an Olympic 10k medal dumps both her coach and agent within months. It's even rarer still that after a part that a coach will talk openly and not in media-speak about the breakup. But that's exactly what happened last weekend as it was announced that Shalane Flanagan has dumped her coach John Cook and her agent Peter Stubbs, both of whom will be replaced at least in the interim by her husband, Steve Edwards.
Totally shocking in our minds. It was shocking that Flanagan moved on from Cook but the biggest surprise of the week was that Cook didn't hold back. He let Flanagan have it in the media. Cook didn't pull any punches.
Steve Nearman's fantastic piece in the Washington Times on the split. The piece is literally full of quotes of the week.
Quote of The Week I From John Cook:
"[Edwards] has always had insidious intent to coach. I was warned by a North Carolina coach to keep an eye on him. Of course, it is hard to hide workouts when you are intimately involved with athletes. [Edwards] has made his job his wife — period. He even films [workouts]. I was too trusting and they had a plan - learn, copy, use all my training system and then take over."
Quote Of The Week II From John Cook:
"[Edwards] went from student to genius really quickly. No pun intended, but they have the Cook book and will do well."

Quote Of The Week III From John Cook:
"All I know [is] my record [with Flanagan] is straight. ... We brought her from boot to bronze and obviously they have all they need to learn and we will see. I wish them luck, but to take others' workouts, film them and then move on is pretty parasitic. I am over it - surprised - but loyalty is hard to find."

Thumbs Up to Mr. Nearman for getting a coach to talk on the record in such detail about such a sensitive subject and in such timely fashion. To see people air their dirty laundry in public may make some people uneasy, but to us, track and field needs more dust-ups, conflict and stories. The big-time sports have them, so the fact that someone is writing about this means one thing - Flanagan is a legit sports star, and that's a great thing.
Stunning News Shalane Flanagan And Erin Donohue Split With Coach John Cook Months after winning bronze medal, Flanagan has dumped both her coach, John Cook, and her agent, Ray Flynn Peter Stubbs. Unreal. We'd love to know the scoop and the speculation is already on the message board.
Brief Chat With Shalane Flanagan "My husband and I are the team right now. He's taken on a major role. He gave up his profession, in a way, gave up working in TV to help me."
LRC Boards: Coach Cook shares his thoughts on what happened with Flanagan and Donohue
---
Thumbs Up/Thumbs Down From USATF XC
Thumbs Up to Emily Brown for coming back from an Oympic year injury and absolutely destroying the field by 32 seconds to pick up her first national title. A sensational performance in our minds. But we've gotta give a Thumbs Down to the top US women for not showing up for this race. The US women have been doing great of late at the very elite level but where is the competition? 32 seconds back over 6k? We've gotta be able to do better than that.
Thumbs Up to the modern day version of the "Big Three" of German Fernandez, Chris Derrick and Luke Puskedra (it'll be interesting to see how that Big 3 ends up compared to the unreal Big 3 of Ritz, Webb and Hall) for showing up and running the junior race and for going 1-2-3. It was only fitting that Fernandez got the dominant victory - crushing 13:44 guy Chris Derrick by 19 seconds and NCAA 5th placer Puskedra by 33 seconds, as Fernandez was the one who didn't finish top 10 at NCAAs. It's astounding to think that Fernandez was 1:15 up on 4th place.
It's really scary to think how good Fernandez's performance was. Assuming the courses were accurately measured and assuming they were equally difficult (which is an erroneous assumption most likely) and assuming Fernandez would be as good at 12k as 8k (perhaps another erroneous assumption), then Fernandez's 23:20 for 8k would be "equivalent" to roughly 35:53 for 12k. The winning time in the Senior 12km race was 36:04. Therefore, we'd like to congratulate German for "winning" the Senior US title as well - at least in our fantasy matchup. Congratulations German, you have earned the LetsRun.com Male Performance Of The Week.
A special mini-thumbs up to Syracuse's Patrick Dupont and Francisco Medrano for making the junior team and representing upstate NY - the home of LetsRun.com.
Also a Thumbs Up to Meb Keflezighi for proving that the disappointment of 2008 is a thing of the past and that he still has a lot of gas left in his 33-year-old tank by edging Tim Nelson for the Senior Mens' title. Kudos for Nelson for giving Meb a run for his money. Neely Spence - way to go as well for your dominant junior girls victory.
USATF XC: Results *Updated Photos
Meb, Emily Brown And German Win!!! German and Emily put on a clinic on how to dominate. Meb got the win by less than a second over a fast closing Tim Nelson. Video of men's finish
*Message Board Thread With Updates
*Q&A With Neely Spence *More On USA Cross Junior Champion Neely Spence Spence was definitely overlooked as the junior XC champ this weekend as Meb, German and Brown got all the attention.
---
Thumbs Up to meet organizers in Stuttgart for getting together a great 800 meter run. We thought the 1k at the Reebok meet in Boston was the middle distance race of the week (see more on that race below) until we saw the start list in Stuttgart. In Stuttgart, you had Beijing silver medallist Ahmad Ismail facing off against the 2008 Olympic champ Wilfred Bungei and the 2004 Olympic champ Yuriy Borzakovskiy. In the end, silver defeated gold as Ismail ran a world leading 1:45.73.
While we praise the meet for putting on such a nice race, we have to give them a Thumbs Down for not making the race truly spectactular. The same meet also had Abubaker Kaki going for the world 1k record, which he didn't get as he clocked 2:16.23. Why
couldn't all four stars race the 1k distance? Track needs more head-to-head matchups and indoors needs more odd distances. In our minds, it's disappointing when you have big stars in similar events at the same meet. Why not have them compete against each other? How cool would it have been to see Goucher vs. Flanagan in Boston and Kaki vs. Bungei vs. Borzakovskiy vs. Ismail in Stuttgart?
The Stuttgart meet also saw Bernard Lagat run 7:35.41 while Meseret Defar ran 8:26.99.
Stuttgart: *Defar Runs 8:26, Lagat Runs 7:35, Ismail Runs 1:45, Kaki 2:16 Ismail, the Olympic silver medallist, beat the last two Olympic 800m champs in his race and Kaki beat Baala, who ran 2:17. *IAAF Recap: Defar & Kaki Shine As 8 World Leaders Set
---
Thumbs Up/Thumbs Down From Reebok Boston Indoor Games: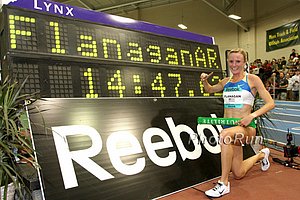 Yet again the meet in Boston was spectacular. Great action throughout the entire line-up. Two American records, several near world records and an overall fun evening. Rather than recap the meet here, we'll give out a few thumbs up and down from the meet.
Thumbs up to Nick Willis for making a 3:53 look so effortless, Thumbs Up to Pablo Solares for making Willis work for it a bit and Thumbs Up to Alan Webb for competing once again. Thumbs Down to Webb for thinking he might have had the race won at 1k when in reality the racing was just about to begin. Thumbs Up to Shalane for crushing the American record and to former Providence friar Roisin McGettigan for her Irish indoor mile record. Thumbs Up to Kara Goucher for getting us excited about the Boston marathon.
Thumbs Down to the PA system that made it very hard to hear the announcing.
Thumbs Up to the top 4 men from the men's 1k for beating high schooler Robbie Andrews' national high school record time of 2:22.28, Thumbs Down to the two that didn't. Well, we take that back, we'll give a Thumbs Up to Moise Joseph for almost beating Andrews' time and for trying to steal the race from the front as the rabbit.
Lastly, Thumbs Up to Reebok and Nutrilite for sponsoring the meet during this economic downturn. But Thumbs Down to Reebok for firing so many people in their running division - we need spending, not cutbacks, to get out of this mess.
Reebok: *Meet Website *Results *Photos *Video Interviews
LRC: Willis Kicks Past Solares As Webb Fades, Flanagan Runs AR But Loses, Gallo Shocks Women's Mile Field, Rupp Runs Fast But Loses, Nick Symmonds Wins And Goucher Wins Again Event by Event recaps
LRC: Video Interviews: Nick Willis, Shalane Flanagan, Kara Goucher,Lindsey Gallo, Galen Rupp and Alan Webb, who said he "thought he had it (the race) won" 1,000m in. LRC: Photo Gallery 1 Victah Sailer LRC: Photo Gallery 2 US *IAAF Recap *USATF Recap *Flanagan Gets US Record But Loses *Stuczynski Gets AR In PV *Pre-Race: Goucher Getting Used To Boston
---
And The (Masters) Performance Of The Week Goes To:
60-year-old Yoshihisa Hosaka of Japan. The guy is amazing as he ran an age group world record of 2:36 at the 58th Beppu-Oita Mainichi Marathon, which actually was on Feb. 1, but we didn't learn of it until last week. 2:36 at age 60. Unreal. The best part of it all ... the smile on Hosaka's face everytime he races. Look at the smile in the photo from his 2:36 and look at it in a Running Times on Hosaka piece from 2002.
Japanese 60-Year-Old Runs 2:36 Marathon, An Age Group World Record
---
Thumbs Up to Robbie Andrews for breaking Alan Webb's national high school record in the 1km by running 2:22.28. It's funny as last week we were very impressed by Andrews last lap at Millrose which he ran basically unchallenged at 25.7 pace. 25.7 on the MSG track is very fast. So fast that as we were bored driving up to Reebok Boston on Friday, we jokingly had the following thought, "25.7 on that track is unreal fast. Do you think if Andrews and Lagat were in a 5:00 flat race that Andrews could outkick Lagat?"
The answer would be know but Andrews proved that our hyperbole was justified.
Robbie Andrews Runs 2:22.28 To Smash Alan Webb's 1000m National High School Record
---
Quote Of The Week From Someone Not Named John Cook
"It's nowhere near as intense, but I feel happier, alive. No, I'm not making a comeback. But there's no doubt about it, once a runner always a runner."
-2000 Olympic 400 meter champion, Cathy Freeman, speaking about how she has started running again after her brother's death in a car accident.
*Cathy Freeman Back Running To Cope With Brother's Sudden Death
---
Weekly Drug Update
The big news from the weekend was that richest player in baseball, Alex Rodriguez, was forced to admit he used steroids. Now that ARod has come clean about his past, we hope other stars both in baseball and track will be more willing to do so. The drug situation in baseball in the late 1990s and earlys 2000s is nearly identical to what track and field was in the 1980s/90s. Lots and lots of people cheated.
And while the players ultimately are the ones to blame, the cheating primarily occurred because those in charge in both sports were afraid to really try to crack down as they were scared that they'd find exactly what came out much later - rampant cheating across the board. While we are giving ARod a Thumbs Down for in our minds still lying like Marion Jones about the extent of his drug use, we do think he was accurate when he said, "Back then, it was a different culture. It was very loose."
Barry Bonds did drugs because he was tired of seeing his big rivals in Sosa and McGwire cheat and get away with and get all the fame. Similarly, Mary Slaney and others in the US and others in Athletics West who didn't get caught probably ended up cheating as they thought so many Eastern Europeans were getting away with it.
Baseball is finally paying a huge PR price for it's sins of a decade ago just like track and field did at the turn of the century. The NFL is in our minds the next league to suffer the major PR hit but that will probably take 5 more years. We still think the NFL might be full of the most cheats of any league.
Thankfully now that leagues are largely being forced to hear the music, we think rampant drug use won't be the norm in the future. From now on, no athlete has any semblence of an excuse to cheat. The tide has finally officially turned.
ARod Admits To Taking Performance Enhancers Earlier we had respect for ARod but after watching his interview and hearing he said he didn't know what he was taking, we no longer believe him. If you have any drug info you want to talk about on or off the record, pleaseemail us. Silence only allows the problem to continue. We must come clean with the past before going forward.
*Kelly Sotherton Accuses Lyudmila Blonska Of Drugging On The Track During Olympics
---
Recommended Reads
*Mary Slaney Still Wishes She Could Run These Days After 35 Surgeries A great read but how someone can deveote 1,012 words to Mary Slaney and not mention her drug suspension is beyond us.
*Geb And Tergat Share The Stage, Memories And Predictions
*Great Interview With Swedish Ex-Heptathlete Carolina Kluft
**Article Comparing Michael Phelps With Henry Rono
---
Famed Olympic, Stanford Track Coach Payton Jordan Dies Jordan was a great coach, meet promoter, and athlete (World Record holder in the 4 x 110y in 1938 and he also ran a 14.35 100m at age 80).
*San Francisco Chronicle Obituary On Payton Jordan "The greatest thing is the relationships and friendships I've gained through athletics, and the rapport and mutual respect I had with my fellow coaches."
*LA Times Obituary On Payton Jordan "For all its warts, it's one of the wonderful ways to bring vitality into the world."
*Payton Jordan Walked With Purpose mercurynews.com
*Stanford Article On Payton Jordan "He's a rare person. Payton had the rare ability to captivate people, to inspire people to expand their wings and expand their limits. You look at guys who were coached by Payton and you see how they treat their wives, treat their kids or run their businesses. These are the examples of Payton's influence." - Stanford coach Edrick Floreal on Payton.
*Share Your Memories Here
---
adidas Athlete Craig Mottram Hires New Coach Chris Wardlaw Wardlaw coached Kerryn McCann.
On the boards: Mottram chooses new coach!