Recommended Read: Brief Chat With Oklahoma State Coach Dave Smith Dave Smith talks about his top 5 in detail and you might be surprised to find out who he predicts to be their strongest runner. Also, he downplays his team's chances against Stanford and talks training and recruiting. Chris Derrick, Smith's favorite to win the championships, is USATF athlete of the week.

Translated Dutch Interview With Florida State's Susan Kuijken Indicates She May Be Ready To Test Jenny Barringer Some experts are saying NCAA 1,500m champion and XC runner-up Susan Kuijken is the only runner out there who can challenge Jenny Barringer. Kuijken seems to think she has the speed to do it. The question is can she keep up in the middle of the race?
World Marathon Major Series Champions Wanjiru And Mikitenko Will Run In Melbourne 15k Next Week Wanjiru's getting back to racing less than two months after a cold, windy marathon in Chicago.
Nick Arciniaga Writes About What He Was Feeling In the NYC Marathon Normally we wouldn't put up every blog written by a runner, but we found this one interesting. Arciniaga, former US #1 finisher at Boston and true blue collar Hansons-Brooks runner, beat most of the big US names in New York by not blowing up when the going got tough.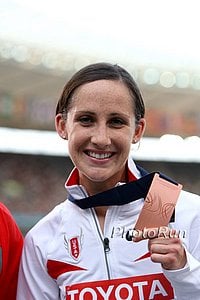 LRC: The Week That Was Last week was an interesting one, as the NCAA cross-country field was set, Tirunesh Dibaba set a world record and one of the top 10 US milers in history announced his retirement to the world on the world-famous LetsRun.com message board. We break it all down for you and tell you who are the biggest surprises and flops in NCAA cross-country, plus we celebrate the 10th birthday of WADA, introduce you to the future of ultra marathoning and read Ryan Hall's and Shannon Rowbury's blogs.
DII XC Champs Preview Jessica Pixler and Neely Spence are set for a great race on the women's side.
Hot Weather Slows Runners In Deep Ageo City Half Marathon Last year, if you ran 73:00, you didn't finish in the top 500 and sub-65:30 was necessary for a top 100 finish in this insanely deep Japanese half marathon. This year, unexpected hot weather took its toll on the runners.
IAAF XC Hopes For Return Of Stars Tirunesh Dibaba And Kenenisa Bekele After Season Missed Due To Injury *IAAF XC Calendar: Season Stretches From Nov - March
USATF Announces Hall Of Fame Nominees Joetta Clark Diggs won seven Millrose Games 800m championships.
Recommended Free Online Documentary: "There are no miracles in sport. You know where there are miracles? In training." - Quote from a documentary on the man behind Hungary's hammer-throwing success: Pál Németh. We found the video thanks to a hammer-throwing LetsRun reader who sent us his review of the film. LetsRun Fan Writes Review Of Rare Film About Hammer Throwing

Scandal Berlino The Bear Is Unveiled The man behind the mascot of the year is 33-year-old actor Oliver Seiffert.

Priscilla Lopes-Schliep And Coach Win Canadian Athlete/Coach Of The Year

Insane: Bill For 2014 Commonwealths In Glasgow Headed Toward$ A Billion These huge bills can't be sustainable. How about not just having "green" events but making them affordable?

Austrian Drug Cheats Could Face Up To 10-Year Prison Sentences Harsh punishments are proven to deter crime-doers, right?

Historical Article On Australian Soldier Taken From the Front Line To The Olympic Marathon Start Line
2009 NCAA D1 XC Selections Are Announced The screwy NCAA XC selection system didn't produce screwy results, as only 1 nationally ranked team didn't advance (#26 Butler) on the men's side. On the women's side, the 4 lowest-ranked teams (#27 Cal, #28 Arkansas, #29 Tennessee and #30 Iowa) didn't advance. More: *Oregonian Recap Of West Regional *Jordan Hasay & Trevor Dunbar Have Made Their Marks As Freshmen
Ryan Gregson Wins 3k In Australia It was a tactical affair and Gregson blasted the field to win in 8:00 to capture his first open state title. He'll have one more race as a junior before he turns his attention to making the Australian Commonwealth Games team.
Sprint News
Usain Bolt To Have 9.58 SuperParty On December 4/5 & It Looks Like Everyone Is Invited He's already invited Tiger Woods, Emmit Smith, Deion Sanders and Michael Jordan. *Official SuperParty Website
*Dwain Chambers Writes About What It's Like To Compete Against Usain Bolt And Says He Knew Bolt Was Something Special Back In 2006
*Daniel Bailey Says Move To Jamaica & Glen Mills Was Key To His Success
Steph Twell Wins XC Race & Then Looks For Funds To Pay Her Coach Her coach was sacked in a recent UK Athletics restructuring.
Japan Does Well As Asian Games Conclude And a bunch of ex-Kenyans dominated the 10km. *Day 4 Recap *Full Results
Stanford Men Crush West Regional, Going 1, 2, 3 Cardinal scores 1/4 of Oregon's points as Ducks collapse. *Men's Results Oregon loses to Portland. *Women's Results Jordan Hasay 2nd place, UW wins.
*Recap From Oregon Athletics With Athlete, Coach Quotes

Dave Smith Genius? 6 Ok St Guys Finish Tempo Together In 31:03 Hassan Mead wins in 30:21.

Wild Great Lakes Team Results Indiana falls flat - 8th at home, Indiana St. 4th. *Men's Results Miler Jeff See wins. *Women's Results 11 points separate top 4 teams.

South Central *Men's Results Dorian Ulrey (individual winner) and Arkansas qualify, so does Texas. *Women's Results Silje Fjortoft and SMU win.

Southeast 5th-Place UVA Might Be Out Of NCAAs *Men's Results Sam Chelanga wins by over 30 seconds. *Women's Results Catherine White of UVA wins.

South *Men Results Alabama 1, FSU 2, Auburn 3 *Women Results Florida/FSU advance auto, Susan Kuijken doesn't run.

Mid-Atlantic *Sheila Reid And Villanova Crush NCAA #5 Princeton Princeton went 1-5 at the Heps, yet today 'Nova put 4 in front of Princeton's 1st, Liz Costello. *Men's Results

Mountain Regional *We Told You So: NAU Men Fall To BYU, Colorado And New Mexico, As David McNeill Wins *Colorado Women Turn Tables On Texas Tech

Northeast Regional *Men's Individual *Team *Women's Individual *Team Syracuse wins both genders. Syracuse men have won adidas Wisconsin, Big East and Northeast Regional in '09.
Non-NCAA USA Races
NCAA Regional Saturday!
LRC 10 Things To Watch On Regional Weekend Employee #1 gets the storylines set for a big day of action Saturday. We'll have all the results and of course all the talk heading into the greatest championships in sport: the NCAA XC Championships on Nov 23 in Terre Haute, Indiana.
More Off-The-Track News
IAAF Issue Statement On Caster Semenya In perhaps the most-watched case in IAAF history, track and field's international governing body is taking every step cautiously. This announcement simply says: we're not ready to announce anything yet, but we're working on it.
New Study Shows Oscar Pistorius Gains Advantage From Blades "Pistorius is able to reposition his limbs 15 to 16 percent faster than the last five 100-meter world-record holders." - Associate professor of applied physiology and biomechanics Peter Weyand, who studied Oscar "Blade Runner" Pistorius' running mechanics.
International Stallions In The News
Interviews With Distance Athletes And Coaches
Weekend Road Action
News From Literally Around The World *New Slogan? LetsRun.com - Where Your Kid Can Come To Learn Geography
Professional Races This Weekend
Pro News
Time For A Title? Liberty's Sam Chelanga Jogs Through The Finish At The Southeast Regional
Post-World Record Interview With Tirunesh Dibaba & Husband Sileshi Sihine
Usain Bolt Arrives, Dances Like A Masai Warrior In Kenya
Meb On Letterman
New LRC Readers' Book Reviews
From Last To First, A Race Like No Other, And See Dane Run From Last To First is the autobiography on English marathon record holder Charlie Spedding, A Race Like No Other is NY Times Writer Liz Robbins' take on the NYC Marathon, and See Dane Run recounts a guy who ran a marathon a week for a year.
Latest Photo Albums From PhotoRun.net
Recommended Reads - You Can Buy The Books Online
One for the Mind: Running Within
One for the Soul: Best Efforts
More Great Deals