LetsRun.com: The Week That Was in Running: October 19 -25, 2009
October 26, 2009

By LetsRun.com
To read last week's LRC Week That Was, click Here.
To read any 2009 LRC Week That Was, click Here.
This week we give props to arguably the greatest runner in any country's history, talk about how good the Japanese are at marathoning and how bad they are at the 800, introduce you to Gilbert Kirwa, catch up with Usain Bolt, Caster Semenya and Craig Mottram, and get ready for the 2009 New York City marathon by giving out free training tips from New York legends past, present and hopefully the future. Plus, see how you stack up with other LRC visitors at 5k and our Iphone App of the Week.
Last Week's Homepages
*Mon (Oct. 26) *Sun (Oct. 25) *Sat (Oct. 24) *Fri (Oct. 23) *Thu (Oct. 22) *Wed (Oct. 21) *Tue (Oct. 20)
Frankfurt Marathon - The Greatest Runner In Austrian History Just Got A Little Bit Greater & Remember This Name - Gilbert Kirwa

Weindlinger's Steeple Fall
For a while now, LetsRun.com has been leading the Guenther Weidlinger bandwagon. Weidlinger is a guy who is famous in many circles for slamming his head on a steeple barrier at the World Championships. But to us, he is famous for having amazing range.
This spring, we told you about Weidlinger as he already had the Austrian records 1,500m (3:34.69, 3,000m (indoors: 7:44.19), 3,000m steeplechase (8:10.83), 5,000m (13:13.44), 10,000m (27:36.46), 10k road (28:10) and the half marathon (61:42). The question was if could he complete the list with the marathon NR. He came up an agonizing 17 seconds short.
Well, you can add the marathon to the list now as Weidlinger ran 2:10:47 in Frankurt on Sunday to become maybe the greatest all-around runner in any first world nation's history. We certainly don't know of anyone who possesses legitimate national records at every distance from 1,500 through the marathon including the steeple. A big Thumbs Up to Gunther.
Up front in Frankfurt, the relatively unkown Kenyan Gilbert Kirwa overtook Robert Kiprono Cheruiyot late in the race and remained undefeated for his life in the marathon with an impressive 2:06:14 clocking. In April, Kirwa had run 2:08:21 for the win in Austria in his debut. The 23-year-old Kirwa is now in a 3-way tie for 17th all time on the list of fastest marathoners in history. Interestingly enough, Ryan Hall, whose PR is 2:06:17, is way back at 25th as the 2:06:15 range is overpopulated.
More: LRC: Runners with national records in every event from 1,500 to the marathon including the steeple? *Kirwa Remains Undefeated For His Life At Marathon And Runs Course Record 2:06:14 To Win In Frankfurt
Statistics Of The Week
For those of you that think genetics have nothing to do with running, we present to you the following numbers:
1:46.16 - that is the mark of the new Japanese 800 meter record, as Masato Yokota broke the 15-year-old record of 1:46.18 last week. In comparison, 20 Americans went sub-1:47.00 in 2009.
24 - the number of Japanese-born marathoners who have run faster than 2:08:47, which is the #2 time by an American-born runner (Bob Kempainen, and it was on Boston's point-to-point course). That figure also includes 11 sub-2:08s compared to the US's 1.
More: Yokota Breaks Japanese 15-Year-Old National 800m Record In 1:46.16
Usain Bolt Profiled From Jamaica - No Drugs, No Vitamins and No Worries
The Telegraph traveled to Jamaica to profile the world's fastest man and the article by Ian Chadband was full of fascinating info. How about Glen Mills on what would the Jamaican people would do if Usain cheated:

"If Usain cheated, he wouldn't be safe; they would turn on him. But like Usain, when your conscience is clean, it doesn't matter what is said. I understand how every outstanding performance in the sprints is viewed with suspicion but, from where I sit, I can't even get Usain to take natural vitamins."

Speaking of not taking vitamins, Bolt certainly doesn't live a lifestyle totally dedicated to running. Bolt's dedication apparently is in not going out every night of the week. As his manager Norman Peart said:

"Well, in the city, he doesn't go out every night but he does love a party ... He's a late, late bird. Out to a nightclub at 2am with friends and maybe come home at five. Then he'll sleep to the afternoon and go training (at the national stadium) at five. He likes Guinness, but no heavy rum or anything like that. As far as I know, he's always sober, but if others tried to train and live the way he does, man, it would totally wreck them. How does he do it? I've no idea! He's totally different."

Yes indeed. Totally different - a freak, as Chadband writes:

"Bolt breaks all the rules and still breaks all the records. Hates vegetables and loves Kentucky Fried Chicken."

But in reality, isn't that why Bolt is so popular. It's not just because he runs so fast. Rather, it's because he runs so fast and enjoys it both on and off the track. Plus, Bolt is a nice guy who apparently treates people well. Bolt's father is most proud of the fact thae way Bolt operates off the track.

"You know, it's not just what he achieves; it's the way Usain carry himself, the way he always listen, treat people right, always try to do the right thing. It's that he is a jovial person nobody has a bad word to say about. That's what makes me most proud."

More: *The Telegraph Goes To Jamaica To Get Close To Usain Bolt & Declares "Good Guys Like Usain Do Finish First" *What Makes Usain Bolt So Fast*

LetsRun.com Reader Figures Out Mean & Median 5k Times Of LRC Visitors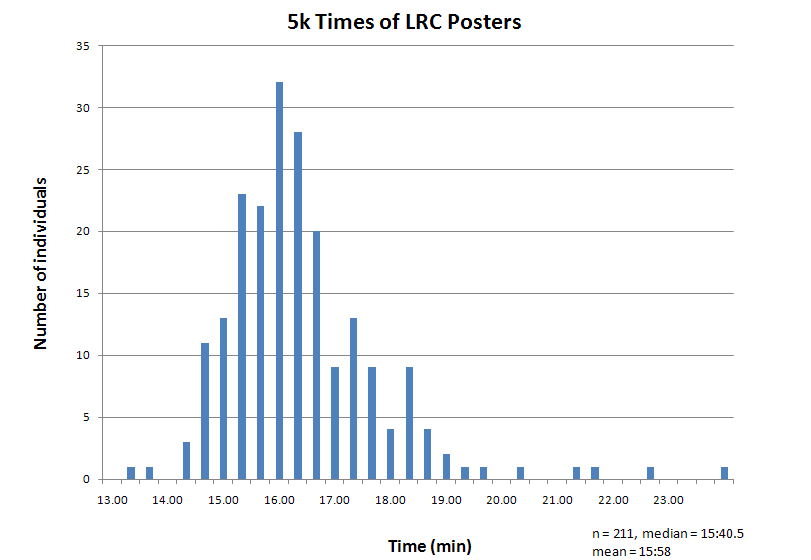 Last week was an interesting one from a statistical standpoint. In December 2007, a LRC visitor started a thread under the name "Be Honest," where he asked, "My 5K PR is 15:45. Am I the median for Letsrun?" Well, the thread has received a ton of resposnes over the the last 22 months as some 437 posts have been posted on it over that time and 211 people have posted their 5k PRs.
Well, finally someone has decided to weigh in with a statistical analysis. A track geek who wishes to remain anonymous wrote us this week and stated that he had analyzed the data and come up with the LRC median and mean.
The verdict?
LRC readers are pretty fast - or at least they say they are - as the the median was 15:40 and the mean was 15:58.
More: LetsRun.com Reader Figures Out Median/Mean 5k Times For LRC Message Board Visitors
4 Quotes Of The Week To Get Us Ready For Sunday's ING NYC Marathon
Quote Of The Week #1
"The thing I am most proud of is that for the first time in years I felt like I was 'back.' I had lost the things that made me 'Ritz' when I was racing and training. 'Dathan' is who I am to my friends and family, and when I am off the track, but I evolved to the point where that alter-ego, 'Ritz,' who was the toughest guy out there, was gone ... I had changed over time and last Sunday, I got that back."
- Dathan Ritzenhein, aka "Ritz," writing about his World Championships bronze medal in the half marathon.
Quote Of The Week #2
"My preparation has gone very well and it wouldn't surprise me if I get a PR in New York."
- a seemingly rejuvenated 34-year-old Meb Keflezighi talking in a Runnersworld interview. Meb's marathon PR is 2:09:21 and that time would have won in New York four of the last six years. Meb has relocated permanently to Mammoth and seems to be training better than ever.
Quote Of The Week #3
"I will enter aiming for one thing, victory."
- 4-time Boston marathon champion Robert 'Mwafrika' Cheruiyot stating his goals for next Sunday's ING New York City marathon in a Daily Nation article.
Quote Of The Week #4
"It's a joke to run a marathon by walking every other mile or by finishing in six, seven, eight hours. It used to be that running a marathon was worth something - there used to be a pride saying that you ran a marathon, but not anymore. Now it's, 'How low is the bar?'"
- Adrienne Wald, the women's cross-country coach at the College of New Rochelle, talking in a New York Times article that asks whether slow marathoners have a place in the sport. The article points out that 44% of the "runners" at the Honolulu marathon finish in over 6 hours and some even take a lunch break midrace.
We do know one thing - as more people have started doing marathons, the times have gotten way slower. TheBizrunner.com points out that that median marathon time from 1980 to 2008 has gone from 3:32 to 4:16 for men and from 4:03 to 4:43 for women.
More: Did the Penguin ruin the sport of running? *If You Can't Outrun Oprah, Should You Pay More for Your Marathon?
One BALCO Casualty Gets Released And Continues To Lie While Another Tells The Truth From Prison
We're not entirely sure when the ESPN The Magazine's feature on Tim Montgomery from prison came out but we finally found time to read it last week and it's definitely worth it. The piece was a fascinating look into prison life as well as the sprint world. We loved the following quote: "Drug dealers want to be athletes and athletes want to be cool."

Among the things we learned is that Montgomery is constantly challenged to race by other inmates but he has remained undefeated so far. Montgomery also revealed that he got into heroin trafficking and check fraud because he thought he'd have to pay back the IAAF $270,000 if he was going to be allowed to compete after his drug ban expired:

"The simplest way to raise the money that came to mind was to sell drugs. I took the money I had from running and tried to double up. In the process, I lost … I have a lot of money to pay back. I made good money, but I spent good money. I took chances with the check [fraud] thing to make it. People say, 'How did you get yourself in trouble?' I wanted to run."
Montgomery is the among the most likeable of all those involved in the BALCO scandal, as - unlike Marion Jones - he didn't lie about his involvement in it. He fessed up to the BALCO grand jury just as he fessed up to ESPN. One who didn't fess up last week, however, was Montgomery's former coach Trevor Graham. Graham was released from one year's home confinement last week and proceeded immediately to try to repair his image by giving an exclusive interview to the New York Times. Graham, who interestingly enough is married to a police officer, had the gall to say the following:
"I didn't do anything wrong."
Shame on you, Mr. Graham.
More: *Trevor Graham Breaks 5 Years Of Silence & Tells NY Times He Never Did Anything Wrong *Tim Montgomery Feature by ESPN
Past, Present And Possibly Future NYC Champs Give Out Our Weekly Free Training Tips
In looking for our Weekly Free Training Tip, we decided to go with some advice from New York Marathon champions of the past, present and hopefully future, as the marathon is on Sunday.
We'll lead off with hopefully a future NYC Champ in Ryan Hall, who said a hard thing to learn is that one can't win all the time:
"I've had a lot of time to think about Beijing and the question of what constitutes success in running. I used to get upset when I didn't win, but I have a more mature attitude now. What's the point in everyone running if only one person can win? For me, I've decided that I want to run every race with a big heart, and that I want to leave a legacy."
That quote comes from a nice Amby Burfoot feature on Hall on Runnersworld.com.
Now for a little free training advice from reigning NYC Champ Paula Radcliffe, who talks about learning to tone it down a bit when you get older:
"The hard thing I'm finding now is that my body is nearly 36 but my mind still feels like it did when I was 18 and probably will still always feel like that so I just have to be more sensible about how I do the training and the recovery."
And, lastly, we go to former NYC champ Steve Jones, who reminds us in an Independent profile that sometimes training can just get a little too scientific for one's good:
"What I do (when I'm coaching) is make it simple. There's no science in it - no heart-rate monitors. It's just running - running instinctively. Anyone who saw Steve Jones run in the Seventies, Eighties and early Nineties knew that he ran by the seat of his pants nearly all the time. You don't see that any more and that's what I'm trying to teach these guys. None of it comes out of a book. It all comes out of my own experience."
Jones' British marathon record of 2:07:13 from 1985 is almost 25 years old and that fact doesn't please Jones:
"To be honest with you, I think it's a little sad. I mean it's great to have the British record, and it appears that I might have it for some time yet, but I think it's a little sad that the rest of the world - well it's the African nations really - have kind of moved on and we haven't."
More: *25 Years Later, Steve Jones Still Has British Marathon Record *Paula Radcliffe Talks About NY 2009 & London 2012 *Profile Of Ryan Hall One Week Out From New York City
Iphone App Of The Week
It seems as every week we are bragging about how smart and informed the LetsRun.com visitors are. Well we have proof once again, as LRC visitor James Condon has developed an iphone app to help you figure out race pace. Go to the itunes store and search for "pace Calculator" or "James Condon" and you will see the FREE app. James described his app as follows:
I have been a big fan of LRC for a long time. I just wanted to say I really enjoy the website and your analysis of the running news. You can't find anywhere else for better running coverage! Anyway I read the "LRC the week that was" all the time and find myself continually converting the race times to various paces. So I made an iPhone/iPod touch app to calculate any pace for a time and distance. That way I can quickly figure out things like the 1k pace Ritz ran for his 60:00 half marathon. Anyway its free and its simple like the sport, nothing fancy you just put in the time, distance, and pace you want and it outputs it.
We took a look at the app and the good news it the app works both ways. So if you know you can run a 4:34.6123 mile for half marathon and want to figure out what your total time would be, it works that way as well. (4:34.6123 per mile for a half marathon gets you a 60:00).
Caster Semenya Update
Not a whole lot actually happened with Semenya last week, but we did find it interesting that Austrian Erik Schinegger, a person who was banned from skiing as a woman way back in 1967 when it was found out she had internal testes, decided last week to let his voice be heard when the London Times caught up with him? Does Shinegger, who after she found out she had testes, spent 6 months having corrective surgery so she could live and compete as a man, feel that Semenya should be allowed to compete as a woman?
"I don't think so. If she has testicles, that would give her a physical advantage over other women competitors, for example in terms of muscle development. I think that is a problem."
Craig Mottram Resurfaces
Where's Craig Mottram been? We have no idea as the Australian hasn't raced since last November's Great Australian Run (as he was having some Achilles problems). But we do know where he'll be. On November 23rd, the third white man under 13:00 will be in Japan running the leadoff 5km leg of the Chiba Ekiden. Mottram is one of the great media personalities in the sport so it's great to have him back.
Mottram appears to be in pretty good shape, as he ran a low-key 5k in Australia in 13:50 in a race where 2nd place was 17:49.
More: *Craig Mottram To Return At Chiba Ekiden *LRC MBoard: Buster known for his medals and kicking a%! ... not his sub 13 *LRC MBoard: Where Is Craig Mottram?
One Last Thing
Before we get to the Recommended Reads and Quotes of the Day, we wanted to give a Thumbs Up to Jaymee Marty. According to The Washington Post, 5 years ago, Marty was a couch potato who ran 25:56 for 5K in her first race. On Sunday, she set a new masters record for the Marine Corps Marathon by running 2:50.15. More: *Muliye Gurmu Uses Sprint To Win Women's Race in 2:49 *Navy's John Mentzer Wins In 2:21:47
Recommended Reads/Watches From Last Week
*Fascinating Article On The Almost Century-Old Rivalry Between adidas And Puma These two major brands began in the same town in Germany over 80 years ago but split when the better-looking of the co-founder brothers allegedly slept with his brother's wife.
*Tim Motgomery Profile From Prison
*The Power Of One This is a great Sports Illustrated feature on Bonnie Richardson - the girl who won the state track meet in Texas all by herself two straight years.
*NY Times Article On George Hirsch The 75-year-old Hirsch may not be among the race elites but he is certainly one of the elite figures in the world of distance running, as he is chairman of the NYRR and the founder of Runnersworld. In New York, he'll be flanked by friends German Silva and Bill Rodgers in an attempt to finish his final marathon, the one he helped bring to all five boroughs in 1976.
*Sudden Death During Exercise: The Media, Risk And Running Ross Tucker at Science Of Sport writes a GREAT piece on the mainstream media's coverage of the sudden deaths of 3 runners at the Detroit Marathon this weekend.
*Essay On Crop Shortages In Ethiopia Causing Hunger And Food Shortages For Runners, Families
Remembering The Last Week With The Quotes of the Day - Day By Day:

Monday:

Sunday: "[Last year] I used all of my energy in the first 13 and was tired for the last 13. This year, I'm going into the race more focused. I'm going to stay relaxed and let the race come to me instead of me chasing it."
- Abdi Abdirahman in an interview where he basically says he's more ready than ever for the New York City Marathon.

Saturday: "Ultimately, if I never win anything, I can live with that. But I believe I have to be bold."
- Ryan Hall in a profile by Amby Burfoot.

Friday: "I hope I do inspire some kids to give it a shot, even after college. If you have a desire and the will to put in the work, anything's possible. We need that in American distance running."
- American Brian Sell, who says he's 98% sure New York will be his final marathon. Brian, 31, talks about not breaking 10:00 for 2 miles in high school and ending up making the US Olympic team in the toughest OT marathon in American history in 2007. To see all the American men entered in New York click here.

Thursday: "Am I training the way I was in 2003 and 2004 and 2005? Most definitely. Most every workout has been as fast or faster than then ... In 2012, and 2013, I still believe with the maturity and staying healthy and the experience, it'll start paying big dividends. I think the future is ahead of me in the longer distances."
- Meb Keflezighi, one of several top Americans in the star-studded ING New York City Marathon. Meb K talks about coming back from a broken hip, his training with Ryan Hall, and the loss of his friend Ryan Shay. Plus we are reminded that he ran faster than Dathan Ritzenhein in London earlier this year.

Wednesday: "What were you thinking about when you were lying down between jumps?" asks her mother, Madelynn.

"You wouldn't want to know," says Bonnie.
- Excerpt from the best read of our day, an essay by Sports Illustrated writer Gary Smith on Texas track athlete Bonnie Richardson. One of 14 in her graduating class, Richardson twice won the Texas Class A Track & Field Championship by herself, garnering a ton of attention that Richardson quite frankly didn't want. Thanks go to a letsrun.com reader for sending us the link. See a video interview with Flotrack after her second state win here. Richardson is now a freshman at 2009 NCAA outdoor team champion Texas A&M.

Tuesday: "You can't believe the raw talent in jail that is behind bars. And they're ready to challenge you. In here, people say, 'Oh, we haven't really heard of you.' Then it's, 'You had the world record? OK, now we know.' That means something."
- Tim Montgomery in a 3-hour interview with ESPN.com from a federal prison in Montgomery, Alabama. How the world of track and field has advanced since Montgomery set the 100m world record of 9.78 in 2002, years before he and partner Marion Jones would both end up in jail. A 100% Recommended Read.