Two Big Road Races This Sunday!
LRC: Men's Bank Of America Chicago Marathon Preview Both the men's and women's races have clear favorites in Sammy Wanjiru and Irina Mikitenko who are looking to win their debut American Marathons. Wanjiru might be the greatest marathoner the world has ever seen but we don't want to hype a WR attempt despite new talk of a sub-1:02 opening half. We do talk about all the main contenders, give you our predictions on Sunday morning's race and talk about the expected cool weather conditions.
LRC: Women's Preview - How Much Do Mikitenko, 37, And Deena K, 36, Have Left In The Tank? Deena Kastor's latest race was a disaster in New York City but she says she's fit and ready to go. Will road warrior Teyba Erkesso perhaps be a bigger threat to Mikitenko after her win in Houston earlier this year and impressive summer tour?

Three Interesting Articles On Man Of The Hour Sammy Wanjiru
*Chicago Tribune's Phil Hersh Sits Down With Sammy Wanjiru After His Long Trip To The US Wanjiru, still short of his 23rd birthday, tells Hersh the story of how he ended up in Japan as a 15-year-old and how he transitioned to the marathon at age 20.
*Dick Patrick Article Discusses Potential 1:01:5x Opening Half Pace
*Wanjiru Says He Must Believe He Can Break 2 Hours In The Next Five Years

IAAF World Half Marathon Champs - 4:00am Eastern Sunday From Birmingham, England
*LRC: Team USA Men And Women Have Potential For First-Ever Individual Medals And Highest Team Finishes At World Half Marathon Champs We give you a little information about each of the 10 Team USA members including their lifetime 10000m and half-marathon pb's. It's great to see the USATF sending such solid teams to Birmingham, ENG.
IAAF Previews Men's World Half Marathon Championships The World Half Marathon Championships should be a great race between Eritrean Zersenay Tadesse and Kenya's squad of Sammy Kitwara and 3 other sub 59:10 guys including Bernard Kipyego. American Dathan Ritzenhein got a mention in the IAAF preview but they didn't talk about his alleged 45-minute 10-miler in practice. Is there any way Ritz can hang with the lead pack? We're not sure, especially considering what Tadesse was able to do in the 10000m in Berlin this year and Kitwara's ferocious running style. To see Provisional Entries click this link.
*World Half Medal Table Shows 0 Medals For US, 56 For Kenya That's like Michigan playing Appalachian State. Oh wait. Maybe Ritz CAN get a medal!
*Or Maybe Yoder Can Medal? Amy Yoder Begley Profile Leading Up To World Half Marathon Champs
*British Press Complain About Paula Missing Another Chance To Represent GBR We didn't hear them complaining about how hard she worked when she was setting all those world records... but we can understand the disappointment.
*Brief Chat With One Of The Most Focused Athletes In The World - Paula Radcliffe
Chicago Is Sunday
Good News As Athletes Find Clubs And Funding
5 New Additions To Oregon Track Club Announced Texas Tech Legend Sally Kipyego, Dartmouth's Ben True, steeplechaser Jake Morse, 800m NCAA champ Tyler Mulder, and NCAA 800m champ Geena Gall. Looks like Nike OTC did a great job gathering the top talent.
LRC The Week That Was Last week was an eventful one in the world of running, as Abdi &
Meb made statements that they shouldn't be forgotten in New York, Paula said she'd be in New York, and the NCAA XC action heated up in a big way as Jordan Hasay made her collegiate debut. We recap it all and along the way give you our 7 biggest winners and 4 biggest losers from the collegiate ranks.
Paula Down For The Count With Tonsilitis - Will Miss World Half Paula is a one-woman news feed all in herself.
Very, Very Sad: Dire Tune May Not Run New York After Recent Quadruple Murder Suicide Rocks Ethiopian Training Clan We linked to this story before and it's starting to become clear just how many Ethiopian runners have been affected by this domestic dispute turned rifle murder rampage.
Lolo Jones Poses Naked Not For Sex Appeal But To Show A Strong Athletic Woman Yes, this is a headlined article on the IAAF homepage.
American Races Sizzle On Sunday
Meb K Has Very Productive Day In San Jose His run in the Rock 'n' Roll Half produced a new 20k American record and 3rd-fastest half marathon in US history for the 34-year-old Olympic silver medalist. *San Jose Half Marathon Results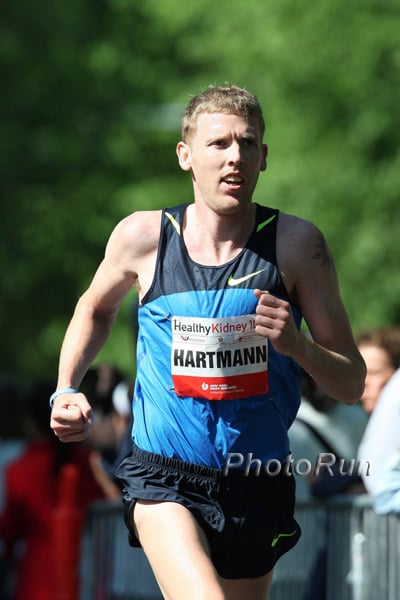 *Exciting Medtronic Twin Cities Races Won In The End By Veteran Abdi (10-Miler) And Youngster Ilsa Paulson (Marathon) Abdi Abdirahman had to dispose of Josh Moen, who had a great race. Ilsa Paulson trailed 45-year-old Colleen DeReuck by over 40 seconds late in the race but rallied in the final miles to win $25,000 and prevent DeReuck from being the oldest US Marathon champ in history. Jason Hartmann (left) is getting no attention for his marathon win (2:12:09) since it wasn't a US championship, but he deserves a LetsRun.com shout out for a nice win. Results.
*Team Strands' Jason Hartmann Caps Fall Season With 2:12 Medtronic Twin Cities Win Press Release
LRC Exclusive Series Continues American High School Student Travels To Addis And Trains With The Ethiopians - Entry #5 - 14:23 In this journal entry, Neb watches a young man win a sponsorship that changes his life at an Ethiopian track meet.
Athletics Administrative Bodies Getting Blasted For Incompetence
Let's Not Forget About Japan, Where They Sure Do Love The Ekiden And The Marathon
Int'l Road Race Results
It's Rio, Baby!
*Chicago KO'd - Mayor Daley Says "Go On With Your Lives"

*Inspired By Rio, Haiti Makes Bid For 2216 Olympics The Onion (satire)

*Average August Temperatures In Rio - Not Too Bad! 70s and a bit humid.

*Photos Of Reactions Around The Globe Some great photos here.

*Snub For Pres. Obama? The busy Pres. spent all of five hours in Copenhagen.
"Spanning The Globe"
Salazar Talks About Ritz And Webb With Dick Patrick A definite LetsRun.com Recommended Read
Interview With Ryan Hall Where He Credits LetsRun.com With Promoting The Sport But Says Most Message Board Posters Don't Know What They're Talking About
NCAA XC - No Northeast Bias Here As All The News Comes From Out West
*Recap Of Oregon Ducks' Disappointing Early Season Meet At Dellinger
*Running Times Interviews Jenny Barringer
*Nice Photos From Notre Dame Invitational Where Washington Went 1-4 And New Mexico's Jacob Kirwa Won The Men's Race
*Article On Unanimous #1 Washington Husky Women Who Return 4 All-Americans
LRC Special American High School Student Travels To Addis And Trains With The Ethiopians - Entry #6 - Gelete Burka's EZ Day In this episode, Neb meets Gelete Burka in the forest and is treated to a song sung by tiny young shepherds. This is one of our favorites.
Interesting Story On Lauren Jesperson Who Was Oregon State XC Champ In High School And Ran 4:00 At Stanford Jesperson, who ran "a race for the ages" against Galen Rupp in high school, ran 2:35 recently as he got back in to running while getting his MBA.
"Son of Billy Konchella" Welcomed Home To Kenya As World Champion Yusuf Saad Kamel is still known as "Son of Billy Konchella" around his hometown in Kenya.
Marathon News
Spain Tries To Sneak Onyia Through After 2 Drug Positives, But IAAF Bans Her For 2 Years That's right, hurdler Josephine Onyia failed two separate drug tests for different substances (one was clenbuterol) and Spain pardoned her each time. The IAAF again had to step in and reverse the decision.
Sign Of The Times: Usain Bolt Seen As Second Most Influential Male In The World In Huge Male Vote It must say something about Employee #1's manhood that he doesn't even know who the #1 guy is. Of course he had never heard of "askmen.com" either.
Sad News Again: Two Deaths Occurred At San Jose Rock n Roll Half A 34-year-old and a 35-year-old both died in what was described as ideal running weather.
Brief Chat With Nick Willis The injured Kiwi is coming back from hip surgery. He talks about his training, why Asbel Kiprop needs to rethink his tactics and why India is a great place to host the Commonwealth Games. Good read from the surprise 2008 Olympic 1,500 medalist.
LRC's First Men's NCAA XC Top 15 Rankings Of The Year See where Employee #1 ranks your favorite team after the first semi-important weekend of racing. Also, you can see most of the big results at our condensed Results Page.
*Free Locker Room Material For Oklahoma State! Cowboys ranked 4th by America's XC coaches, tied with Colorado. No offense to the Buffs, but we'd put money (not really) on Ok State putting 5 guys in before Colorado's #2 at NCAAs. Stanford is #1 despite not beating anyone yet and running a glorified time trial at home.
Chicago/Rio/2016 Discussion *Read Our Take On 2016 In The Week That Was
South African Running In Shambles Thanks To Administrative Greed
American Marathon Coverage Not Inspiring
2009 Track & Field Poem From T&F News Employee #1 thinks this may be the worst poem he ever read. A LetsRun.com Non-Recommended Read. No offense intended to the anonymous author.
College Cross-Country - NCAA Favorites Chelanga And Barringer Bust The Rust
*adidas Wisconsin *LRC Recap *Videos *Photos *Men's Results *Women's Results Another upset in a wild weekend as unranked Syracuse put 4 in the top 10 to blast a quality field. Andrew Bumbalough winning was no surprise, but BYU's Cecily Lemmon got a surprise win over Illinois' Angela Bizzari and Auburn's Hollie Knight.
*The biggest upset on the day was Matt Tegenkamp, Chris Solinsky, Simon Bairu and Evan Jager falling to Cody See in the Wisconsin 5k Alumni Race.

*Jamboree: #2 Oklahoma State Finishes 4th At Home Without German Fernandez And Ryan Vail *Flotrack Video DII Adams State takes down the #2 team in D1 as NAU won a close meet without their best runner David McNeill. We've been talking all year about how Ok State is unbeatable but, like Oregon, they struggled in their first major meet as new transfer Girma Mecheso finished way back. Then again, if Ok St has their studs Fernandez and Vail, they win the meet over NCAA #5 NAU even with McNeill. The race was won by someone you've probably never heard of. Zambian Jordan Chipangama, 2008 JuCo runner of the year, has transferred from Central Arizona College and gives the Lumberjacks another big gun.

*#1 Oregon Men Beaten At Home By Alabama & BYU, Only 2 Points Ahead Of Portland Alabama won the meet with three Kenyans in the top 8 while a message board poster points out Portland's #3 man, freshman Trevor Dunbar, finished in front of Luke Puskedra. We've said all along that Oklahoma St should be ranked #1 this season and this definitely proves it.
*#2 Oregon Women Fall To Villanova, Who Put 5 In Top 8 Jordan Hasay finished 6th in a PR in her first race in the Oregon kit. That's right, 2-time Foot Locker champ Hasay ran a PR and still was only 6th, showing how much tougher college running is. She would have been the 4th runner for Villanova.


*Paul Short Women: Shippensburg's Soph. Neely Spence Takes Individual Crown
*Paul Short Men: Indiana U, Firing On All Cylinders, Takes Down Nationally Ranked Iona And NC State

*Notre Dame Results Washington flew east and stole both titles in fields chock full of ranked teams. On the women's side, the defending champs went 1-4 with a gap of 8 seconds and easily bested NCAA #6 Princeton. On the men's side, the rankings were thrown aside in a more even battle, as #22 UW took down #11 Tulsa and #15 Providence. New Mexico's Jacob Kirwa took the title by 1 second over ASU's Brandon Bethke.
Most Underappreciated Marathon Finish Ever - Berhane Adere Chicago 2007
Chicago - Robert "Mwafrika" Cheruiyot Wins By 1 Second In 2006 And Falls Hard Across The Line
Celebration In Rio As They Won The 2016 Olympics
LRC Interview With Wisconsin Coach Mick Byrne Wondering if Wisco can contend? Get all your info on the #4 LRC-ranked team in the NCAA straight from the boss. Graduating Stuart Eagon, Matt Withrow and Christian Wagner, Wisconsin looks for some help from the best freshmen and redshirt freshmen in the country and a couple of All-American veterans. Byrne talks about his team, "the best cross-country course in the country" (NOT in Terre Haute, but Madison) and his fundamental training advice. Enjoy.
LRC Season Preview: Young Badgers Earn #4 LRC Ranking
adidas YouTube Video Of Haile Gebrselassie - The Emperor Talks About The Importance Of Coaching
New Running Calendar For Kids Here
*Updated* Latest Photo Albums From PhotoRun.net
Recent LRC Recommended Reads
*LRC: The Week That Was Last week was quite a week, as Ryan Hall got ready for New York, the #1 and #2 marathoners in history squared off in Berlin and some sprinters ran really fast in Shanghai. We break it all down for you and tell you why Ryan Hall most certainly is NOT the favorite for NYC and tell you how 9.69 is not as fast as 9.71.
*LRC: Ryan Hall Looking Good For New York
*Recommended Read: Candid And Unbelievably Interesting Interview With Brad Hudson
*Berlin: Gallant Geb Goes For It But Bonks Beyond 35k!
Recommended Reads - You Can Buy The Books Online
One for the Mind: Running Within
One for the Soul: Best Efforts
More Great Deals