LetsRun.com Bank Of America Chicago Marathon Women's Preview - Two Fastest Marathoners Of The Past Four Years Face Off In Twilight Of Their Careers
LetsRun.com
October 8, 2009
Germany's Irina Mikitenko and America's Deena Kastor headline the Bank Of America Chicago Marathon this Sunday starting a little after 8am eastern time.
Main Contenders
Mikitenko, 37, has won her last three marathons after switching to the longer distance from the track. The reigning 2-time Virgin London Champion and 2008 real,-Berlin Marathon champion has the 2009 World Marathon Major championship locked up. Her career was going along in perfect rhythm even in her late 30's until a hiccup this summer.
Mikitenko had planned on racing the Berlin World Championship Marathon in front of what would have been a raucous home crowd. The crowds were already amazing in Berlin but to have Mikitenko battling with the Chinese and Japanese at the front would have been electric. Instead, Mikitenko had to pull out after the sudden death of her father sadly sidetracked her training.
Chicago 2009 will be only the fifth career marathon for Mikitenko and the first race since the death of her father. Despite running only four marathons, Mikitenko should be viewed as a women's great thanks to her big wins and sub-2:20 pb. Her personal best time of 2:19:19 set in Berlin last year makes her the 4th-fastest woman of all-time at the distance (she trails Paula Radcliffe, Catherine Ndereba and Mizuki Noguchi).
Mikitenko lost her chance to win a world championship in Berlin, but she has other goals as well. "My hope is to win each of the five World Marathon Majors and a victory in Chicago would be the next big step toward that achievement," she said when announcing Chicago. The German goes for number three on Sunday with Boston and New York being the others missing from her resumé. American marathoning fans may have the chance to see Mikitenko a few times more in the coming years, and perhaps as soon as April if she decides to run Boston.
American Hopes Rest On America's Best
Deena Kastor, 36, might provide just the competition Mikitenko needs to go under the 2:20 mark again, though it is highly doubtful we'll see anything faster than 2:19 and even that would be a great day. Paula Radcliffe has the Chicago course record of 2:17:18, a mark that almost certainly will not be challenged by 36- and 37-year-olds who are seemingly overcoming adversity as well as aging bodies.
Kastor has had an amazing career and is certainly one of the best American road racers of all-time. But her performances have been shaky lately. Remember, Deena's last race was in New York City where she ran a staggeringly poor 73:48 for the Half Marathon (pictured, right). That is still a decent for most runners but not for a woman who is the fifth-fastest marathoner of all time with a 2:19:36 personal best.
Recently Kastor's coach Terrence Mahon was interviewed by Duncan Larkin and he mentioned that for a marathoner like Deena who has been through the build-up so many times, training has to come very differently than it used to. Rather than training all year for one marathon, they use a quicker build-up and different workouts to keep it interesting. Deena, on her website, mentions that her mileage hasn't been as big as previous marathon preparations but her workouts have gone well. She seems very happy and healthy.
A great performance in Chicago would be a welcome turnaround from some recent disappointments. Kastor's NYC Half-Marathon performance isn't the only worrying trend for the Olympic silver medalist. She had to drop out of Beijing with a broken foot and took a long time to get back healthy. We look to May '09 as her best performances in the past year as she won the BUPA Great Edinburgh Run 10k and was 3rd in a quick Bay To Breakers 12km.
Speaking of Bay To Breakers, Ethiopian Teyba Erkesso won that race and will be in the Chicago field. She has run 68:39 for the half-marathon this year, 2:24:18 for the marathon in her Houston win back in January, and is one of the hottest road racers in the world that you probably haven't heard of. Erkesso has had a great, great 2009. Outside of her Houston win she had excellent performances at Bay To Breakers, Bloomsday, Ottawa, Bolder Boulder and Freihofer's Run For Women. The only worry is her DNF in Chicago in 2007 bringing back bad memories. But the weather in Chicago this time looks like it will be in the 40's rather than the freakish 80's and 90's of 2007. Look out for Erkesso especially given the recent disruptions for Kastor and Mikitenko.
Russian Lidya Grigoryeva is the reigning Chicago champion. Another consistently strong 30-something women's marathoner, 35-year-old Girgoryeva has won marathons in some of the world's greatest cities. Austin '99, Paris '05, L.A. '06 (in her pr 2:25:10), Boston '07 and Chicago '08. She has won a significant marathon in each of the last four years, and she's running out of time in '09 after her 6th-place finish in Boston in April. She definitely has a chance in this field but no more than 10:1. Her win in the heat in '08 (2:27) was slower than any other win since 1997 other than the super-hot 2007 race. The competition should be way tougher this year.
Lilya Shobukhova was third in London this year in 2:24. That's enough evidence for us to call her even more of a contender than the returning champion. Shobukhova ran the 10000m in Berlin this year and ran 32:40, which doesn't bode as well (her 30:30 earlier in the year... now that's impressive). Shockingly, only three women have run under 2:24 this year (Mikitenko, London; Mara Yamauchi, London and Yoko Shibui, Osaka [Shibui will be running New York on Nov 1 actually it's Japanese star Yuri Kano, we apologize for the error]) so Shobukhova is one of the best marathoners in the world in 2009 by time, but she is not a star. In the 2000's, most years have seen a dozen or more women break 2:24 but this year has not been kind to women's marathoners. For Shobukhova A win against THIS field would do a lot for her career and her bank account.
Japan's Mizuho Nasukawa is the dark-horse contender. She had a big breakthrough in March to win the Tokyo Marathon in a 5-minute personal best of 2:24. If conditions are ideal on Sunday there is a chance she can improve her personal best again, but that doesn't seem to be the way it goes in the marathon. After a big breakthrough it's hard to knock off even more time. This is her first big marathon outside of Japan.
Romania's Adriana Pirtea probably SHOULD be a returning Chicago champion. She lost the 2007 Chicago race - a brutally hot day - after blowing a huge lead in the final half mile to Berhane Adere. Pirtea did get her money's worth as she "won" the race in her mind for a few minutes. She waved to the crowd (who were screaming back as Adere was sprinting to catch her in the final minute, which Pirtea did not know, a scene that is oddly humorous when we picture it) and she got to slap hands with a few lucky bystanders on her way to victory (or what she thought was victory... maybe she should have looked back!). The great video is to the right.
Americans Other Than Deena
The other American elites are Tera Moody (2:33 PB), Melissa White (2:37 PB) and Carol Jefferson (Debut). Runner's World did an interesting piece on Moody a few months ago. Moody has a lot of trouble sleeping but is a great runner despite it. Jefferson and White are Brooks-Hanson's team members. Jefferson was an NCAA qualifier for Liberty University and White ran for DIII SUNY-Geneseo.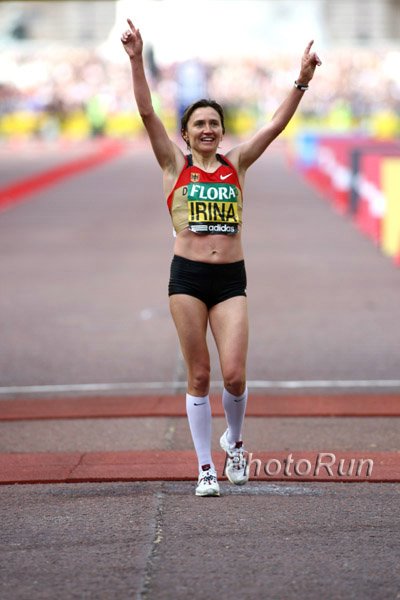 The LetsRun.com Picks (Note: Employee #1 is doing these picks and his picks have been terrible all year so don't bet the nest egg on anything he says)

1. Irina Mikitenko - She has been the most dominant marathoner in the world for two years. Her worst ever performance in a marathon was second place in Berlin. We'll see if she, at the age of 37, comes back even stronger after the unexpected death of her father just before the Berlin World Championships. Expect a pose like the one to the left coming just before 11am on Sunday morning.

2. Teyba Erkesso - We think Erkesso could win this race, or could fade after a long year of many races. Her Houston win in January was followed by a string of solid road races this summer that earned her a ton of cash. Has she prepared adequately for the marathon? Is she simply the most talented in the field? Probably she is the most speedy but Mikitenko is the toughest until proven otherwise.

3. Lidya Grigoyeva - We think the reigning champion will make the top-3 and get another solid pay-day.

4. Deena Kastor - 73:48 in New York just a few weeks ago doesn't make sense for someone hoping to win Chicago. We think Deena could win the race, as she has done before, but we wonder if she really can grind it out with the best anymore.

5. Lilya Shobukhova - Her performance in London (3rd) was great, but her Berlin 10000m stunk and she might not have it going this fall. Honestly though, we thought about picking her for 2nd based on her tough London run.

6. Mizuho Nazukawa - How will she do in her first non-Japanese marathon? If she can deal with culture shock from Japan to Chicago she'll do fine. Then again, that's a big culture shock.