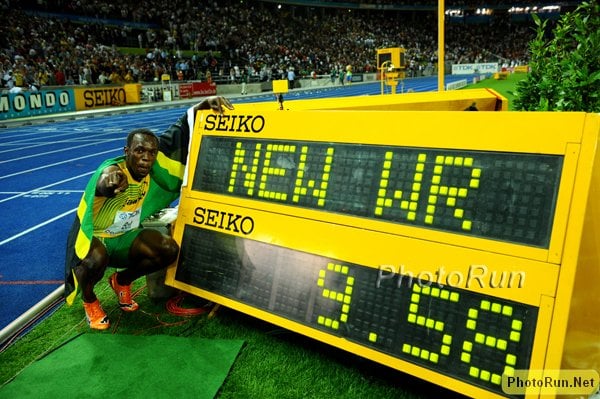 9.58 WR!!!
Usain Bolt Does The Unthinkable
Usain Bolt ran a stunning 9.58 and Tyson Gay a very game American record 9.71.
LRC Commentary: Usain Bolt Superhuman, Tyson Gay... We try to come up with words to give some perspective to Bolt's 9.58 and Gay's 9.71. Darvis Patton may have said it best: "There are no words to describe him (Usain Bolt). He's like a created game person. He's like a cheat code. That's how good he is ..." Monzavous Edwards compared Bolt to Michael Jordan BEFORE the record run. Plus post-race interviews and more.
*Donovan Bailey's Comments On The Race With Video Replay
*Bolt Runs Mind-Blowing 9.58
*Bolt Predicted 9.5 Back In July
*USATF: "Thank You, Tyson Gay." Gay set the AR at 9.71 in second.
*Bolt Says Anything Is Possible He notes that the 200m will be a bigger challenge for him this year.
*Not Bad: 5.2 Million Tuned In To BBC2 To Watch Bolt Reportedly 10 million watched in Germany.
*Quotes From Jamaicans In The Streets Watching, Celebrating Bolt Pretty awesome scene as traffic stops and everybody has an opinion on the big man.
*Biomechanical Analysis Of Bolt's 100m Dash Compared to his semifinal, Bolt's last 20m was 0.11 seconds faster. It took him 1.61 seconds to go from 60m to 80m.
*Chart Shows How Bolt Has Changed The Game
*Word Was: Berlin Track Too Soft For Fast Times!
*Bolt Lowers His Record A Massive 0.11 Seconds
*Bolt Lowers 100m Record In The Last Year More Than It Had Been Lowered In Decades
LRC Women's 10,000m: 9,950 Meters According To Form And A Very Bizarre Finish This race had it all. Craziness, stupidity, and drama - all in the final 50 meters. Recap, photos, and video interviews, plus interviews with Americans Amy Yoder Begley (6th in a PR) and Shalane Flanagan.
*Day 1 Is Complete: Check Your Prediction Contest Scores link fixed
Day 1 Photos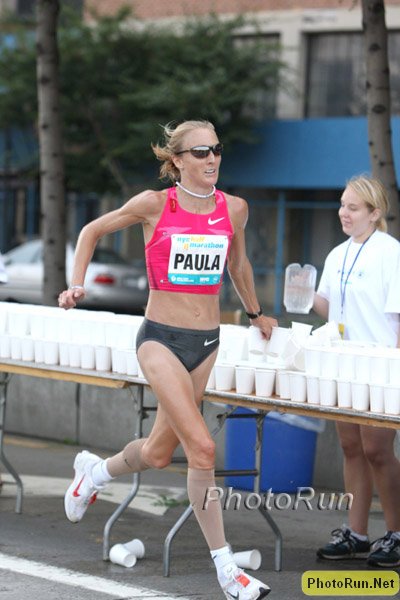 Paula Radcliffe And Tadese Tola Win NYC Half Marathon LetsRun.com recap coming. Radcliffe is heading to Berlin but has not made a firm decision on whether she'll run Worlds.
*Top Results
*New York City Half Marathon Photos

LRC Covers The NYC Half Robert Johnson talks with the sport's biggest names: Ryan Hall, Deena Kastor, Paula Radcliffe, Hendrick Ramaala, Catherine Ndereba and Tadese Tola before they race Sunday.
Great LetsRun.com Offer 10% Off AND Free Shipping From RoadRunner Sports Click Here
LRC Exclusive With Greg Brock: Part 2: Brock Explains His Key "Connector" Workout, Talks About What His Goals For Vessey In Europe Were And Now What Her Goals For Berlin Are LetsRun.com caught up with Greg Brock, the coach behind the #1 story in US distance running in 2009, Maggie Vessey. Brock, a former 5th-placer at the US Olympic Marathon Trials and longtime HS coach, didn't hold anything back as he shares all, including key workouts and even the last workout Vessey will do prior to Berlin. Brock may be the one man in America not totally stunned by Vessey's season as, in his mind, it's long overdue in some ways as he always expected Vessey to be an 800-meter star. What Brock said may surprise you but his insight is very educational and this is an absolute must-read for coaches and/or true students of the sport. Part 2 of 2 appears today.
LRC: Event-By-Event World Championships Previews The best previews you'll find ... because we heart our readers.
LRC: Worlds Events By Day Get an idea of the schedule of Worlds and don't miss your favorite events. We've got all our event previews here, as well as television and internet coverage schedules.
*Recommended Reads: NY Times' Liz Robbins Interviews Ryan Hall We feel like we recommend every Ryan Hall article, but seriously this one is good, too.
*Inspiring: Ross Dammann's Wife (Sophia Hawker Is Her Maiden Name) Kicked His Butt Into Gear And He's Enjoying Running More Than Ever Really good read if you're needing your own kick in the butt.
*More On Hall: *LRC Exciting Fields Set For Sunday's NYC Half Marathon Give our mini-preview a read ... NYC half has some fascinating fields.
NYC Half Marathon Invited Athletes
*Radcliffe To Run NYC Half Marathon This Weekend, Then Decide On Worlds All eyes will be on New York this Sunday as Ryan Hall will be racing and Radcliffe will test out the wheels before Berlin.
Bolt, Jamaica, Chambers And Scientists Getting Ready For Berlin
"The World Championships, that is our baby. We take care of our baby, ..." - IAAF's Pierre Weiss talking about "suggesting" to the JAAA that they let their own stars compete.
*Coach Mills On Bolt: "I'm confident that he will emulate what he did in Beijing." The most interesting quote is Mills' statement that the Berlin track likely isn't as fast as the super-fast Beijing track.
*Bolt Says Jamaican Sprint Team Not Worried About Controversy Bolt's not worried about anything ... at least not that he'll admit.
*Huge Project Studying Biomechanics To Be In Place In Berlin We know some coaches who started drooling while reading that headline.
Dwain Chambers With Some Hilarious Quotes On Usain Bolt Scaring His Competitors "His (Usain Bolt's) antics automatically sent everyone into fear in Beijing. It's a message like one of those deers that prances up and down to show how elegant they are. The rest thought they were running for second place, but Bolt didn't even think he was going to win. It's about putting fear into people. I wanted to make people quiver in their boots. Muhammad Ali did it. You need a poker face. I learnt that from watching Roger Federer - you can tell he was mad as hell but he never shows it." - Dwain Chambers, who got a lot funnier since having his life turned upside down thanks to using PEDs.

Men's 400m Showdown Highly Anticipated
Merritt/Wariner Article Shows Former Champ Hungry To Get His Top Ranking Back
Betting Odds Give Big Nod To Merritt *LRC Gives Nod To ...
USA Today Sports Cover Story: World's Fastest Humans Gay And Bolt On Collision Course The most anticipated 100m in a long time starts Saturday and ends Sunday and USA Today (thanks to Dick Patrick) once again proves it covers track way better than just about any other major paper. *USA Today Also Has Feature On Jeff Demps - The US junior record holder at 100m seems focused on football and is hoping for a big 1,000-yard season.
IAAF Announces Over 1,000 Tests Will Be Done At Worlds As Victor Conte would say, this is an enormous waste of money unless you're testing the athletes randomly year round, saving the samples, and using the most advanced tests. In 2007, they did 1,000 tests and zero athletes came up positive. The good news is they'll be saving and documenting the samples to start "biological passports" for the world's elite.
Make Sense Of The Madness: LRC's Monday Worlds Preview Monday is a big distance day with the men's 10k, women's steeple, men's 1,500 semis and women's 800m semis. Things get going around 1:30 Eastern.
*Lagat Driven By Beijing Failure NY Times
*Simon Hart: Bekele In Pursuit Of 4th Consecutive World 10,000m Title
*Isinbayeva, 26-Time World Record Setter, Eyes Another Crown
Big Injury News
*Meseret Defar Likely Out Of 5,000m With Injury And Fatigue After her meltdown in the final meters of the 10k we were having our doubts about her running the 5k.
*Mark Wetmore Confirms Tirunesh Dibaba Will Run 5,000 Heats Dibaba is fighting injury but has give thumbs up to give the 5k a go.
*Ennis Out Of Hurdles And Dwain Chambers Out of 200m Ennis won gold and is emotionally drained. Chambers got 6th in the 100m.
NYC Half - LRC: Tadessa Tola Dominates as Does Paula Radcliffe
America's Brightest Hopes Have Totally Opposite Days as Ryan Hall Leaves Race Very Excited About His Fall Season And Deena Kastor Endures 73 Minute Disaster Tadesse Tola did his best Sammy Wanjiru impersonation as he hammered it from the gun despite hot and humid weather and was rewarded with a large victory but the defeat couldn't stop Ryan Hall from feeling very good about his 62:35 performance. Hall, "I should be able to run this pace twice over." New: LRC Photos *Top Results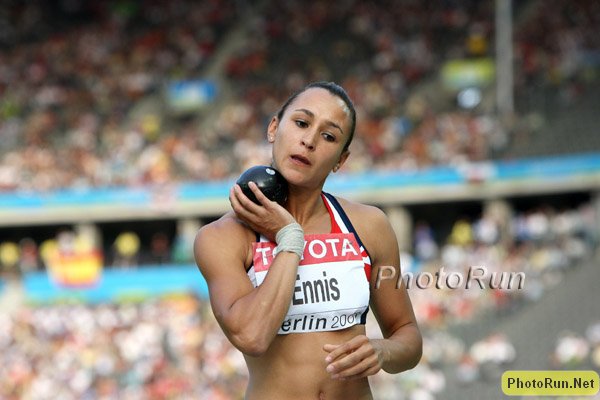 LRC Worlds Sunday PM Recap We cover the women's shot put, heptathlon, 400, 100 and men's 400 hurdles semis that were just as crazy as the first round.
*Vili Becomes Double World Champion - Dominant Kiwi shot putter overcame stiff competition.
*Ennis, First Brit Heptathlon World Champion, Gives Country More Hope For 2012 Glory If the Brits perform like the Germans are performing at this WC, they'll get tons of medals.
LRC Worlds Sunday AM: 800: Janeth Jepkosgei Goes Down, All 3 US Women Advance updated Things started off with a bang on Sunday as the defending world champ Janeth Jepkosgei got tripped by 2009 world leader Caster Semenya with 150m to go in her heat. Jepkosgei went down and out (but was put into the 2nd round after a lengthy appeal). All 3 Americans advanced to the semis, including US sensation Maggie Vessey.

Mens Steeple: LRC Mahiedine Mekhissi-Benabbad Makes An Ass Of Himself, Americans Bomb In the men's steeple, France's Mahiedine Mekhissi-Benabbad, the guy who did the ridiculous celebration in Paris at the Golden League meet, dropped out and then made an ass of himself in the media room. We got some of it on video. The American men did horribly with 2 last places and one DNF.
LRC Saturday PM: Men's 1,500m Round 1 - All 4 Americans Advance! It was a great day for the Americans as the veterans and new guy Dorian Ulrey each advanced to the semis. The Kenyans also got everyone through, while the Algerians lost their top two.
*Men's Shot Put: American Christian Cantwell Wins Thrilling Shot Competition Cantwell came up big yet again on the big stage as he took down a game Tomasz Majewski by a few centimeters on his 5th throw.
*Heptathlon: Jessica Ennis Overcomes Pressure To Take Big Lead Into Day 2 Ennis was on fire all through day 1.
*Men's 400h: 2-Time Oly Gold Winner Angelo Taylor Misses Semis Gets Into Semis Thanks To DQ!
*The men's 400m hurdles was full of drama for the US as these post race videos below show. Johnny Dutch made the semis then puked his guts out, Angelo Taylor thought he didn't make the semis and was upset and Bershawn Jackson had to charge hard the last 100 because of a bad hamstring.
*Women's 10k: Recap Of An EPIC Win For Linet Masai Of Kenya!
*Saturday Post-Race Interviews
LRC Saturday AM: Women's Steeplechase Prelims: Jenny Barringer Survives A Scare Some were saying she is America's best female distance hope, but she only secured a last-second spot in the final thanks to a mad dash and a couple of competitors stopping before the line. Recap, results, video interview with Barringer, plus Bridget Franek. Olympic champ Gulnara Galkina looked great, but the next 4 from the Bejing final aren't in Monday's final.
Saturday AM Berlin Session Highlights
*Women's Heptathlon Jessica Ennis Off To Great Start In Heptathlon 2 events in, Ennis has big lead over Ukranians. Sharon Day is in second.
*Women's 400 Round 1 Women's 400m Heats Provide Lots Of Intrigue As Brits Advance, Russia Looks Good And Richards Runs Smoothly
*Men's 100 Round 1 Powell Almost Misses 2nd Round; Bolt, Chambers, Gay Win Heats Powell slowed down so much he finished 3rd in his heat and narrowly moved on.
*Men's Shot Put Qualifying Elder Statesmen Adam Nelson Throws HUGE Seasonal Best To Join Americans Cantwell and Hoffa In Shot Put Final What a performance for Nelson to make the final.
*Men's 20k Walk Russia's Borchin, Busted For Doping At The Age Of 18, Wins 20k Walk
LRC: Prediction Contest Event-By-Event Predictions
*Hooker, Torn Adductor And All, Now 70% To Compete Update your picks. Is there a button for "70% likely to win"?
*Tirunesh Dibaba Still Possible For 5k Starting Mid-Week We don't see it happening. A fit Defar will smoke her anyway.
LRC $1,000,000 World Championships Prediction Contest The World Champs are here and now that we've got you covered with our detailed event-by-event previews, you can enter our world famous prediction contest. All you do is pick from our list the top 3 in each running event and a couple of field events. It's very easy and even if you don't know too much, we give you a guide on the competitors. You've got until Saturday early in the AM to get your first picks in.
We Know You're Tired Of Bolt vs. Gay, But These Quotes Are Great
*Tyson Gay: Bolt Is Funny. I Am Boring Article says a lot about quiet underdog/undercard Tyson Gay. He's basically a supporting actor in a Broadway act called "Bolt!!!"
*Chicago Tribune's Phil Hersch Is In Berlin - Writes On Bolt & Gay 100m starts Saturday, ends Sunday.
*Idiocy: Wall Street Journal And Ato Boldon Talk Of US Sprinters Stinking It Up Our favorite article of the day talks about how bad the US sprint team is. Somewhere they must have missed the part where the US sprint team is undeniably the best in the world.
Women's 400m Intriguing To Say The Least
*Pretty Funny: Super Sanya Gets A Dancing Lesson From Usain Bolt During Practice In Berlin Sanya, known for coming up short under bright lights, got a lesson in relaxation from El Señor Bolte.
*Interview With 2008 Olympic And 2007 World Champion Christine Ohuruogu Ohuruogu is one tough competitor. She hasn't done quack this year but don't count her out for a MAJOR upset.
*Ohuruogu Uncertain Of Fitness But Certain Of Confidence
*WACKY: Ohuruogu And Super Sanya In Same Opening Round Heat!
WC Opinion
*Miami Herald: For Many US Stars, Berlin Offers Chance At Redemption For Olympic Disappointment
*Steve Cram Reflects On World Championships, Including His 1983 Win It's hard for some former athletes to write an article without mentioning their accomplishments somewhere in the text.
*Science Of Sport's 2nd Interview With Doping Researcher Worth a read.
NWR: Non-Worlds Related
*Len Johnson Comments On IAAF Decision To Axe World XC In Half World XC is going to be every other year, the evens.
*USATF Names Cal Poly SLO Coach Terry Crawford Head Of Coaching
*Golf And Rugby Up Next For Summer Olympics In 2012 And 2016 XC in the winter Olympics?
Exciting Distance News Related To Worlds
*Must-Read For LRC Prediction Contest: Bernard Lagat Talks About His Chances In Berlin Bernard definitively fires some warning shots across the bow saying nobody, no matter their age, is tougher than him. Before we put up the Greg Brock article, we had the following quote from Lagat as our QOD: "These are young guys and I am still out there thinking, 'If you are strong enough, come and beat me. I am tough, and if you are not tough enough you know you aren't going to beat Bernard Lagat.'"
*Encouraging Profile Of Kenyan Racewalker David Kimutai Kimutai's story is definitely an inspiring one. Kenya's best racewalker says he tries to convince young Kenyans to do the racewalk but they say it's way too hard on the body.
Usain Bolt Tyson Gay Press Conference
"There are no words to describe him (Usain Bolt). He's like a created game person. He's like a cheat code. That's how good he is ..."
Vessey Gets Through
Bernard Lagat Celebrates With Dorian Ulrey As All 4 Americans Make The Semis
Flashback: Kiprop And Webb Lead In '07 Osaka 1,500m
LetsRun.com's Week That Was We start off with news regarding the world's best milers (Alan Webb, Asbel Kiprop and German Fernandez's new rival), head to some Kenyan semantics and finish with a look at the drug fiasco currently unfolding in Jamaica. It's our last "Week That Was" before the World Championships, so enjoy it while you ponder Bolt vs. Gay and the rest of the upcoming WC rivalries.
Men's 800m Race From Osaka Worlds