LetsRun.com Previews/Recaps/Results By Day
** IAAF World Championships - 2009, Berlin **
Below you will find LetsRun.com's coveraeg of the 2009 IAAF World Track & Field Championships from Berlin, Germany organized by day. It includes race previews, race recaps, photos, interviews,and links to outside coverage. To see our coverage organized by event, please see the following link:. *LRC Previews/Results/Recaps Event By Event

More: *LRC Prediction Contest Scores *LRC Post-Race Video Interviews *LRC Photos From Photorun.net *IAAF Berlin Page
*LRC Homepages From Each Day Of Worlds *Mon (Aug. 24) *Sun (Aug. 23) *Sat (Aug. 22) *Fri (Aug. 21) *Thu (Aug. 20) *Wed (Aug. 19) *Tue (Aug. 18) *Mon (Aug. 17) *Sun (Aug. 16) *Sat (Aug. 15)
---
Sunday August 23 *Results
LRC Bekele Holds Off Lagat & Completes Historic Double To Stamp Himself As The Greatest of All Time Kenenisa Bekele and Bernard Lagat had a strech run for the ages but in the end Bekele had claimed a 10th global track crown. Now can we all agree he's the G-O-A-T?
LRC Tumult Mars Women's 1,500 As Rowbury Wins Bronze Natalia Rodriguez and Gelete Burka got tangled up with 200m to go, causing Burka to fall and Rodriguez (the winner) to be DQed for running inside the track. With that, Maryam Jamal retained her world title despite getting steamrolled by Rodriguez in the final 100, while Shannon Rowbury was moved from 4th to 3rd for America's first medal in the event since Regina Jacobs.
*Dobriskey Celebrates Silver
LRC Women's Marathon: Bai Xue Leads Chinese Red Army China's Bai Xue pulled away the final kilometer from Yoshimi Ozaki of Japan to get the world title, as China took 3 of the top 5. American Kara Goucher was in contention but finished 10th after throwing up her fluids from the second water stop on and fellow American Desireé Davila was 11th.
*Yoshimi Battles The Robots And Wins Japanese Marathon Silver
LRC Malaudzi Completes South African Sweep Of 800m Races The wild men's 800m finished in style - with an unexpected winner in a tactical, physical race that saw defending champion Alfred Kirwa Yego come up just short of defending his title and American Nick Symmonds running 750m of perfection. Yusuf Saad Kamel grabbed his second medal, a bronze, to match his father Billy Konchellah's medal haul from Worlds back in the '90s.
*Mulaudzi Quotes After His 800m Win

Americans Finish Strongly *Brittney Reese (LJ) And 4 x 400m Win Gold On Final Day Usain Bolt was dominant, but the American 4 x 400m relays were perhaps just as far ahead of the rest of the world, as Jeremy Wariner and Allyson Felix ran ridiculously good second legs to put the race out of reach early. The US finished with 22 medals and the #1 spot with 10 golds ahead of Jamaica's 7. Reese jumped a world-leading 7.10 to win the long jump.

Kenya News
*Vivian Cheruiyot On Her Winning Plan To Take Down Defar
*IAAF Head Tells Nairobi Paper That Kenyans And Ethiopians Are Killing Cross-Country This article has some really interesting quotes.
So, How'd It Go? We Say It Was Pretty Awesome!
*Doug Logan Does A Great Job Of Summing Up The American Team Performance At Worlds He's got a really sensible outlook.
*Unreal: Usain Bolt Given 2-Ton Section Of Berlin Wall With His Image Painted On It This is unbelievable.
*Kenyans Have Wild Championship Week Ending With 3rd-Most Medals Behind Jamaica And US The Kenyans seemed to miss out on a lot of medals but they also had a ton of bright moments, including 1-2 in the women's 5k, men's marathon and men's steeple (and 1-3 in the men's 1,500, except those Kenyans had different jerseys on).
*Bolt Hopes His Exploits Can Help Change Track For The Better They already have.
FINALS: W Marathon, M/W 4 x 400, M 800, W 1,500, M 5,000, M Jav, W Long Jump
TV: 2:00 - 4:00 p.m. NBC (US only, times EST)
Net: 5:05am EST & 9:45am EST Universal Sports
---
Saturday August 22 *Results

Men's Marathon:
Abel Kirui On Top Of The World The unheralded Kenyan nearly ran sub-2:05 his last time out but was only third in the Rotterdam Marathon. Now he's the world champion and his life is changed forever. As he said afterwards, "My life is now high exposure." Emmanuel Mutai of Kenya was second and Tsegay Kebede got his third straight global bronze. Dan Browne was the first American in 24th.
*Great Quotes From Ethiopians And Kenyans After Dual In Marathon Goes To Kenyans
*Ethiopian Complains About Corners And Heat After Training In Cool Ethiopian Winter
*Kenyans Pleased With "B Team" Spanking Of Ethiopia's Best
*Kenyans Wonder What Happened To Kiprop And Choge In 1,500m Final
*Ezekiel Kemboi A Real Character: More Quotes In Kenyan Paper After His Steeple Win
Women's 5k Final: LRC Kenyan 1-2 Sweep Caps Greatest World Champs For Kenyan Women On The Track Just like in 2007, the last lap was in 58.6 and the winning time 14:57.9. This time, however, the winner was not Meseret Defar, but Vivian Cheruiyot, the 2007 runner-up. Defar let up right before the line for the second time in a week, giving the silver to Kenya's "Forgotten Lady" Sylvia Kibet. American Jen Rhines was 9th. The two medals gave the Kenyan women a record 6 medals on the track (they had 7 total ever combined prior to 2007).
*Amazing Men's Pole Vault Aussie Steve Hooker Overcomes Injury To Clear 5.90m On First Attempt! At first when he was injured, Hooker gave himself no shot at even competing. Then he was 50-50. Then in the prelims, he took one jump to get to the final. He said he had no chance at winning. Then in the final, Hooker soared over 5.85 but hit it on the way down. His second jump won him the gold as he got 5.90 on his first attempt. He is an amazing competitor.

World Record (And $100k) For Polish Hammer Thrower As Germans Get Another Medal!!! The Germans have been incredible. They won 0 medals in Beijing and now have 9 in Berlin after their women's 4 x 100m dove for bronze. The new WR holder twisted her ankle celebrating and sat out 4 throws. Germans have won a medal in every throwing discipline and the fans are loving it.
*Latest Medal Table Looking Interesting

Butterfingers? Despite Extra Practice, American Men And Women Fail To Make 4 x 100m Final The women's team really had it rough, as Muna Lee pulled something and couldn't finish her leg. The men exchanged out of the zone by about 1 inch and Great Britain protested to get them tossed.

*4 x 100m Finals: Bolt And Powell Blast Away From T&T To Give Jamaica Another Gold In 4 x 100m GBR got another medal in 3rd while Carribeans locked up gold and silver in both 4 x 100s. It was Bolt's first final without a WR since 2007, though their 37.31 is the 2nd-fastest ever run and a championships record. Despite the #2 performance of all-time, Steve Ovett was giving them advice on how to really run a fast time.
*Jamaica and Bahamas Go 1-2 In 4 x 100m Women's Final
*Veronica Campbell-Brown Kicked Off Jamaican 4 x 100m Team They won without the world champ.
*Amazing Men's Long Jump 73 Years After Jesse Owens, American Dwight Phillips Wins Long Jump Gold For US In Berlin, the former Olympic and world champion, who almost quit the sport, had his gold medal presented by relatives of Jesse Owens and Luz Long, who were friends long ago.
FINALS: M Marathon, W 5,000, M/W 4 x 100m, M Long Jump, M Pole Vault, W Hammer
4 x 400m Prelims
TV: 1:00 - 3:00 p.m. NBC (times EST)
Net: 5:35am EST & 11:45am EST Universal Sports
---
Friday August 21 *Results
Men's 800m Semis Friday PM: LRC Absolutely Wild 800m Semis See Favorites Kiprop, Kaki And Ismail Fail To Advance We knew the 800m semis were going to be crazy, but we couldn't have expected such mayhem. Nick Symmonds advanced, as did 1,500m champ Kamel, reigning world champ Yego, Laalou and Olympic champ Borzakovskiy.
Women's 1,500m Semis Friday PM: LRC 3 Americans Run Perfectly To Advance While Kenyans And Russians Make Surprise Exit Favorites Burka and Jamal won the heats but behind them were some big surprises from the Americans and Kenyans. 2008 Olympic champ Nancy Lagat took a dive across the line right on her face but missed the final.

Semenya Man-ia/Hysteria - Day 2
*LA Times: Semenya Has Heard The Gender Comments Her Whole Life
We Agree 100%: Caster Semenya's poise under spotlight earning respect
*Man, Woman Or Both? Analyzing Gender Is Difficult
*Sports Illustrated: IAAF Has No Right To DQ Semenya
*LRC Video Shows Up In Britain's Daily Telegraph
*LRC Video Up To 320,000 Views *Semenya Video #2 *Semenya Video #3
"Underdog" US Sprint Teams Rally Back Before Men's 4x100 Gets Dairy Queened (thanks, Brits)- Allyson Felix got the US women their first home-grown sprint gold before J Wariner and L Merritt won silver and gold, respectively. Felix is the most elegant sprinter. We said earlier in the year that Merritt is the king of the 400, despite Wariner being the 2-time world champion (and some of you wrote in calling us idiots). Well, despite Wariner's efforts, he cannot beat Merritt. Video: Post-Race Press Conference With Wariner And Merritt
*Felix And Merritt Dedicate Victories To Memory Of Jesse Owens
*Correct Analysis: Merritt Crushes Wariner Again
*NY Times: Jamaican Rise Starts - But Doesn't End With - Bolt
*Carribean "Magic" Continues 32-Year-Old Bahamian Debbie Ferguson Setting Lifetime Bests In Sprint Events She beat American Muna Lee for bronze.

Aussie News
*Aussie Long Jump Duo Look To Make History In Final
*Steve Hooker Jumping On Torn Adductor, Going For All Or Nothing

FINALS: M 400, W 200, M High Jump, W Discus
M 800, 4 x 100m, Jav qualifying
W 1,500, long jump qualifying
TV: 1:30 - 3:30 p.m. Versus (times EST)
Net: 3:10am EST & 10:55am EST Universal Sports
---
Thursday August 20 *Results
19.19!!! Bolt Does It!!!
*"It will be a great thing for the Queen to dub me, 'Sir Usain Bolt.'" Maybe after you run sub-42 in 2012, Usain.
*Michael Johnson: "A ridiculous race. The bend is unbelievable. No one has ever run a bend like this and probably never will." Johnson awed crowds with record winning margins of 0.33. Bolt? In horse racing he won by 20 lengths, in human racing 0.61 seconds.
*Bolt Entered Stadium With T-Shirt Reading "Ich Bin Ein Berlino" Then he ran 19.19 and got a 20-minute standing ovation love-fest. If he needed another career he could be a PR specialist (PR = public relations).
*Jamaicans Celebrate Back Home - Why Not?
*Better Than Saying The Alternative ... Bolt Says: "I'm Clean."

5k Prelims - Thursday PM: LRC 3 Americans And 3 Kenyans Advance, Saif Shaheen Out
Thursday AM: LRC 800m Round 1 Men: ALL The Favorites, Nick Symmonds And KD Advance, Kiprop And Kamel Square Off Again

*Women's 400m Hurdles Shocker Walker Blasts World Leader Demus In 2nd-Fastest 400m Hurdles Time Ever Run

Men's Decathlon: New "World's Greatest Athlete" Is ... Surprise! American Trey Hardee! With Olympic champ Bryan Clay out with injury, Texas Longhorn alum Trey Hardee not only won the decathlon in a huge personal best and by a huge margin, he also stamped himself as #10 all time in the world in the event. He almost broke the World Championships record with an 8790.
*Cuban Success: Cubans Get 4th WC Medal Without Dayron Robles - That's more medals than Great Britain. Cuban Leonel Suarez won the silver medal in the decathlon, joining 3 triple jump teammates as medal winners. Some of the Cuban decathletes were throwing the discus in running shoes. How do they train for all the events?
*Men's 110 Hurdles: Robles Crashes Out! Brathwaite Wins First Barbados World Title He won by 0.01 over two Americans with the best lean. *Robles Quoted In Communist Paper Saying He Hoped To Present The Medal To Castro As Birthday Present


*Men's Pole Vault: Aussies Love To Talk About Their Balls - Steve Hooker Definitely Has A Big Pair Vaulting on a partially torn adductor, Olympic champ Hooker had a monster clearance of the automatic height on his only attempt of the day before laying in the pit in huge pain. He did no warmup and says he's going to just go for a medal in the final. Watch his post-jump interview here, where he says he can't beat the young Frenchman Lavillenie (left).
*Speaking Of 1 Jump: Dwight Phillips Through To Final With Huge 8.44 The American sent a big message with 1 jump far better than anyone else's on the day. 2 Aussies are also in the final and zero Jamaicans.

"Beautiful Blanka" Performs Under Pressure And Wins 2nd Consecutive WC High Jump Who says field is boring?


FINALS: M 200, M 110h, W High Jump, W 400h, Decathlon Day 2
M 800, 5,000m, Long Jump, Pole Vault qualifying
W 200, Hammer qualifying
TV: 1:30 - 3:30 p.m. Versus (times EST)
Net: 3:55am EST & 11:45am EST Universal Sports
---
Wednesday August 19 *Results
LRC Men's 1,500m Recap: Kamel Follows In His Dad's Golden Footsteps
LRC Caster Semenya Dominates Women's 800, But Is She "Entirely Female"? For the 2nd straight year, an 18-year-old African dominated the women's 800, but this year the winner is garnering worldwide headlines as people wonder, "Is she entirely female?" Behind Semenya, there was a great 3-way battle for the final two medals. *Semenya's Mom: "She is my little girl. I raised her and I have never doubted her gender."*Good Morning American Story On Semenya That Uses LRC Footage *Phil Hersh Article On Semenya *LRC: Message Board Thread On Semenya Here *Watch our interview with Semenya here.
Wednesday AM: LRC 5k Heats: Favorites And Jen Rhines Advance, Abeylegesse Doesn't Start The Women's 5k feats were a nearly complete waste of time as only 7 women were eliminated and Meseret Defar felt the need to sprint all the way to the finish. American Jen Rhines advanced. Interview with her and American Julie Culley. In other action, the decathlon got underway and Dayron Robles nearly blew it. He started real slow and was only 3rd, the last automatic qualifier in his heat in the hurdles.
LRC Men's 400m Semifinal Recap Wariner and Merritt Look Great In Semifinal Wins

*Latest: Caster Semenya Will Run 800m Final Despite Questions About Her Gender *LRC: Message Board Thread Here
*Science Of Sport's Take On Caster Semenya's Tough Case
*Doping-Suspected Jamaicans Out Of Relay Pool The IAAF have stepped in to look into this case more closely. The Jamaicans will still have unbelievable relay pools.
*Women's Disc: Dietzsch's Failure Marks End Of DDR Links, Brown-Trafton Barely Makes Final

FINALS: Men's 1,500, W 800, W 100h, M Discus, Decathlon Day 1
M 400, 200, 110HH, High Jump qualifying
W 5,000, 200, 100h, Discus qualifying
TV: 1:30 - 4:00 p.m. Versus (times EST)
Net: 4:05am EST & 12:05am EST Universal Sports
---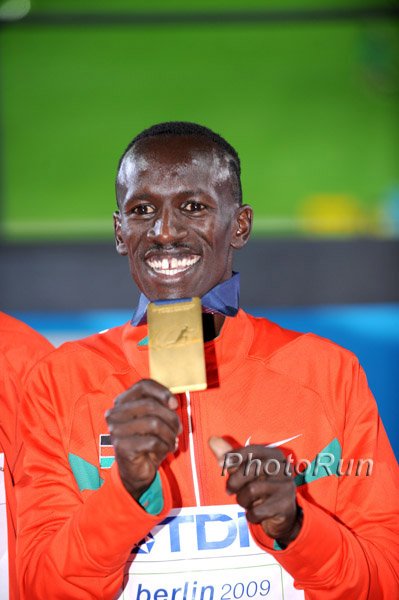 Tuesday August 18 *Results
Day 4 Photos (photorun.net)
Day 4 Videos (letsrun.com)
LRC Men's Steeplechase Kemboi And Mateelong Go 1-2 In Amazing Men's Steeple
LRC Women's 1,500 Recap: Shannon Rowbury Goes Down In Fall, But Put in Final
*Rowbury Reinstated To 1,500m Semifinal After Fall All 3 Americans will now advance.
*Steph Twell In Tears After Poor Performance

*Surprise Surprise! A Moroccan Distance Runner Provides Berlin's First Positive Drug Test
*IAAF Expected To Rule Before Final As To Whether Caster Semenya Is Male Or Female Watch our interview with Semenya here. *LRC: Message Board Thread Here

Recommended Read: Dick Patrick Writes About World #1 Lashinda Demus' Decision To Uproot Family And Get Serious

*Men's 400m Hurdles Torch Officially Passed As Clement Wins 2 In A Row - Felix Sanchez Last - 17-Year-Old 4th Clement looked amazing and Batman Jackson charged hard for third running on an injured hamstring. 17-year-old Jehue Gordon's time of 48.26 moves him to #2 all-time for juniors.

*Women's 400: Sanya Gets Monkey Off Her Back, US On A Roll Jamaican-born Sanya Richards (the most prolific producer of sub-50 times in history) ran a world leader in the final in a brilliant tactical race to get her first individual WC or Olympic title. She executed her and coach Clyde Hart's strategy with a big move in the 3rd 100m to run away from a talented field. Brit Christine Ohuruogu couldn't get up for a medal.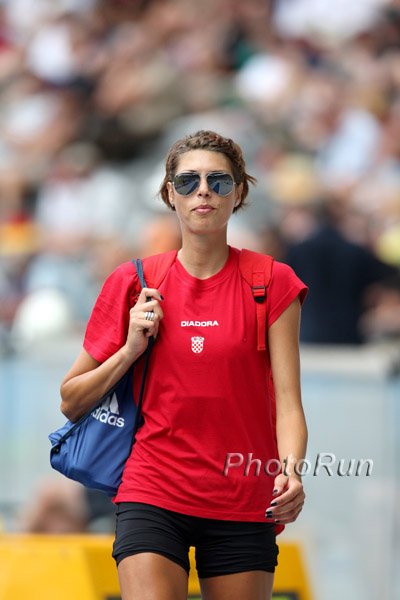 *NY Times: Richards Can Finally Celebrate Title
*Richards: "I enjoyed every step of my race."

*Men's 200m Rounds 1 And 2 Were Today Tired Bolt Makes 200m Semis And Just Wants A Good Night's Rest

*Men's TJ: Idowu Joins Ennis As GBR First-Time Gold Winners Despite being way behind the board, Britain's Phillips Idowu jumped a clutch personal best and world-leading performance in the final to get the gold he has been talking about for a long time over Portugese Nelson Evora.

*W Jav: Germany's Steffi Nerius Wins First Global Title In Her Final Competition Before Retirement Really her javelin win is a fairy tale story.

*W HJ: Vlasic and Friedrich make powerful statements on first day

FINALS: Men's Steeple, Men's 400h, Women's 400, Men's Triple Jump, Women's Javelin
M 200, 400, Discus qualifying
W 1,500, 400h, 100h, High Jump qualifying
TV: 1:00 - 3:00 p.m. Versus (times EST)
Net: 4:05am EST & 11:45am EST Universal Sports
---
Monday August 17 *Results
*Day 3 Photos
Monday *Results

LRC Men's 10k: A Day After Bolt's Electric 100m Run, Bekele Reminds Us He's Even More Dominant Than Bolt Kenenisa Bekele remained undefeated at the 10,000 meter distance for his life as he won in a championship record 26:45 thanks to a 13:05 2nd 5k. Eritrean Zersenay Tadese got a well-deserved silver after he put on a spirited front-running effort that would have broken anyone on the planet but Bekele. American Dathan Ritzenhein ran the race of his pro career to move up to 6th in 27:22 as Galen Rupp faded to 8th and had to be helped from the track.

LRC Women's Steeple Final - Barringer Just Misses Medals Spain's Marta Dominguez got the win while Jenny Barringer's 9:12 American record was short of the medals in a come-from-behind bid.

LRC Men's 1,500 and Women's 800 Semis Recap It was polar opposites for the Americans as three made the 1,500 final and none made the 800 final. Pamela Jelimo dropped out while Leo Manzano almost outkicked Asbel Kiprop. We're recapping the event as we speak ...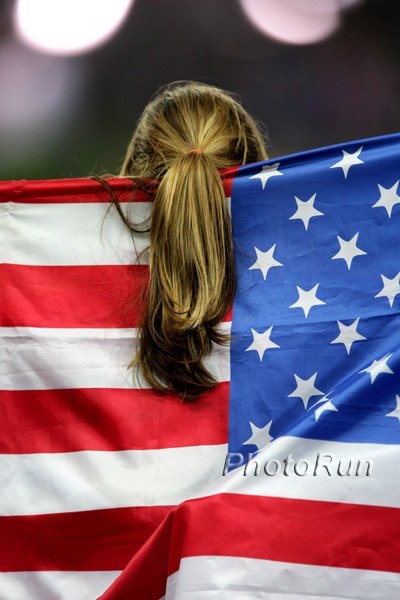 News And Recaps From Monday At Worlds
*Tyson Gay Decides Not To Run 200m - USATF And Doug Logan Release Statement Of Support To perform like he did while not 100% is absolutely amazing. After 2 golds in 2007, Gay has had to fight hard just to medal.
*Bolt's 100m The Best Ever Track and Field Performance According To IAAF Charts 9.58 equals a 1:38 800m!
*USA Hero Chelsea Johnson Scores Pole Vault Silver Chicago Tribune's Phil Hersh writes about the daughter of 1972 olympic bronze medalist Jan Johnson.
*Isinbayeva: "I have no explanation for this." One of the world's most recognizable athletes couldn't clear a single bar. She put her head in her hands, got herself together, waved to the crowd while Poland's Anna Rogowska celebrated her 2nd straight win over the Russian.
*Triple Bogey: Hungary's Kristian Pars Has 18-Meet Win Streak Snapped By Olympic Champ Kozmus In Hammer If you got to watch the meet online, this event was awesome. Massive Kozmus became the tiny country of Estonia's first world champion while Pars choked.
*Castros Happy: Cuba Goes 1-2 In Women's Triple Jump Their male triple jumpers were at one point the best in the world but their form has fallen. The women (Yargelis Savigne and Mabel Gay) dominated.

Pole Vault Surprise Isinbayeva No Heights But American Chelsea Johnson Wins Silver!
Women's 100m Jamaican 1-2 But Carmelita Jeter Breaks Up Sweep
Big Injury News
*Meseret Defar Likely Out Of 5,000m With Injury And Fatigue After her meltdown in the final meters of the 10k, we were having our doubts about her running the 5k.
*Mark Wetmore Confirms Tirunesh Dibaba Will Run 5,000 Heats Dibaba is fighting injury but has given the thumbs up to give the 5k a go.
FINALS: Men's 10k, Women's Steeple, Women's 100, W PV, W TJ, M Hammer
M 1,500 semis
W 400h, 100, 800 semis
TV: 1:00 - 4:00 p.m. Versus (times EST)
Net: 11:45am EST Universal Sports
---
Sunday August 16 *Results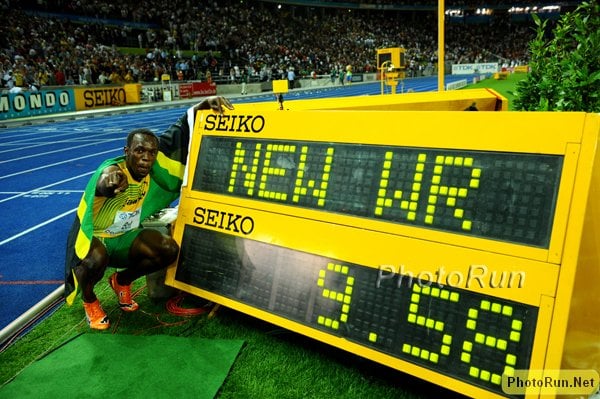 9.58 WR!!! Usain Bolt Does The Unthinkable!
*Bolt Runs Mind-Blowing 9.58
*Bolt Predicted 9.5 Back In July
*USATF: "Thank You, Tyson Gay." Gay set the AR at 9.71.
*Vili Becomes Double World Champion - Dominant Kiwi shot putter overcame stiff competition.
*Ennis, First Brit Heptathlon World Champion, Gives Country More Hope For 2012 Glory If the Brits perform like the Germans are performing at this WC, they'll get tons of medals.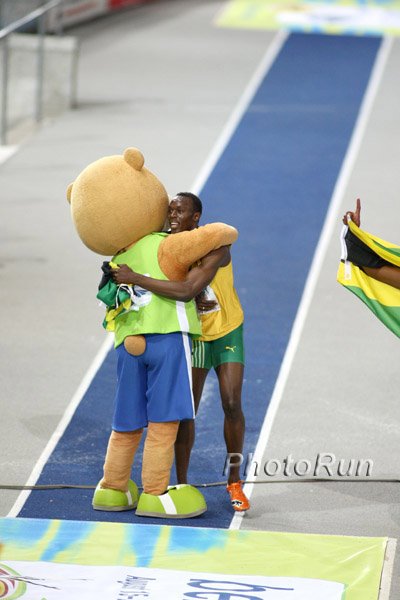 Day 2 Worlds Photos!

LRC Recaps Non-100m Events Jessica Ennis Blows Out Heptathlon Field, 400m Hurdle Shock, Vili Retains Title
LRC Worlds Sunday AM: Janeth Jepkosgei Goes Down, All 3 US Women Advance updated
LRC Mahiedine Mekhissi-Benabbad Makes An Ass Of Himself, Americans Bomb

*Chart Shows How Bolt Has Changed The Game
*IAAF Recap Of Bolt Taking Man Where He Has Never Been Before
*Word Was: Berlin Track Too Soft For Fast Times!
*Bolt Lowers His Record A Massive 0.11 Seconds
*Dazzling Bolt Stuns The World
*Bolt Lowers 100m Record In The Last Year More Than It Had Been Lowered In Decades

LRC Commentary: Usain Bolt Superhuman, Tyson Gay ... We try to come up with words to give some perspective to Bolt's 9.58 and Gay's 9.71. Darvis Patton may have said it best: "There are no words to describe him (Usain Bolt). He's like a created game person. He's like a cheat code. That's how good he is ..." Monzavous Edwards compared Bolt to Michael Jordan BEFORE the record run. Plus post-race interviews and more.

LRC Worlds Sunday AM: Janeth Jepkosgei Goes Down, All 3 US Women Advance updated Things started off with a bang on Sunday as the defending world champ Janeth Jepkosgei got tripped by 2009 world leader Caster Semenya with 150m to go in her heat. Jepkosgei went down and out (but was put into the 2nd round after a lengthy appeal). All 3 Americans advanced to the semis, including US sensation Maggie Vessey.

Mens Steeple: LRC Mahiedine Mekhissi-Benabbad Makes An Ass Of Himself, Americans Bomb In the men's steeple, France's Mahiedine Mekhissi-Benabbad, the guy who did the ridiculous celebration in Paris at the Golden League meet, dropped out and then made an ass of himself in the media room. We got some of it on video. The American men did horribly with 2 last places and one DNF.
FINALS: Men's 100m, W Shot Put, Heptathlon Day 2
M Steeple, Triple Jump, 400h qualifying rounds
W 100, 400, 800, Shot Put, Javelin qualifying rounds
TV: 2:00 - 4:00 p.m. NBC (times EST), 7-9 p.m. Versus (tape delay)
Net: 4:05am EST & 12:05am EST Universal Sports
---
Saturday August 15: *Results
LRC Recap: Women's Steeplechase Prelims: Jenny Barringer Survives A Scare
LRC Recap: Men's 1,500m 1st Round: Americans Go 4-For-4
LRC Recap Women's 10,000m: 9,950 Meters According To Form And A Very Bizarre Finish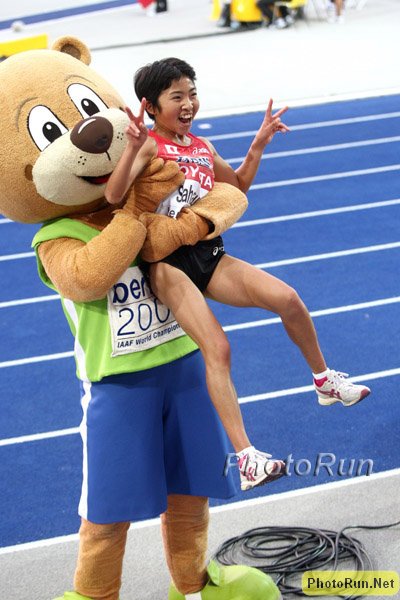 Day 1 Photos From Worlds: Men's Shot Put Final, Women's 10k Final, Men's 1,500 Rd 1, Men's 100m Rds 1 & 2, Men's 400h Rd 1, Women's 400 Rd 1, Heptathlon Day 1 and more ...

Saturday PM Berlin Session Articles
*Men's Shot Put: American Christian Cantwell Wins Thrilling Shot Competition Cantwell came up big yet again on the big stage as he took down a game Tomasz Majewski by a few centimeters on his 5th throw.
*Heptathlon: Jessica Ennis Overcomes Pressure To Take Big Lead Into Day 2 Ennis was on fire all through day 1.
*Men's 400h: 2-Time Oly Gold Winner Angelo Taylor Misses Semis Gets Into Semis Thanks To DQ!
*The men's 400m hurdles was full of drama for the US as these videos show. Johnny Dutch made the semis then puked his guts out, Angelo Taylor thought he didn't make the semis and was upset, and Bershawn Jackson had to charge hard the last 100 because of a bad hamstring. Plus 2007 world champ Kerron Clement looked great as he and Coach Bobby Kersee have finally got his steps worked out.
*Women's 10k: Recap Of An EPIC Win For Linet Masai Of Kenya!
*Saturday Post-Race Interviews

Saturday AM Berlin Session Highlights

*Women's Heptathlon Jessica Ennis Off To Great Start In Heptathlon 2 events in, Ennis has big lead over Ukranians. Sharon Day is in second.
*Women's 400 Round 1 Women's 400m Heats Provide Lots Of Intrigue As Brits Advance, Russia Looks Good, And Richards Runs Smoothly
*Men's 100 Round 1 Powell Almost Misses 2nd Round; Bolt, Chambers, Gay Win Heats Powell slowed down so much he finished 3rd in his heat and narrowly moved on.
*Men's Shot Put Qualifying Elder Statesmen Adam Nelson Throws HUGE Seasonal Best To Join Americans Cantwell and Hoffa In Shot Put Final What a performance for Nelson to make the final.
*Men's 20k Walk Russia's Borchin, Busted For Doping At The Age Of 18, Wins 20k Walk
FINALS Previews: Women's 10k, M Shot Put, Heptathlon Day 1
M 100, 400h, 1,500, Hammer qualifying rounds
W Steeple, Triple Jump, Pole Vault, 400 qualifying rounds
TV: 1:00 - 3:00 p.m. NBC (times EST)
Net: 4:05am EST & 11:35am EST Universal Sports
---
---
Runner's World &
Running Times



Combined Only $22
a Year
Save $87

---

Running & Track and Field Posters
---
---