IAAF World Championships Berlin - Day 2 PM (non-Men's 100m) - LRC Recap
By LetsRun.com
August 16, 2009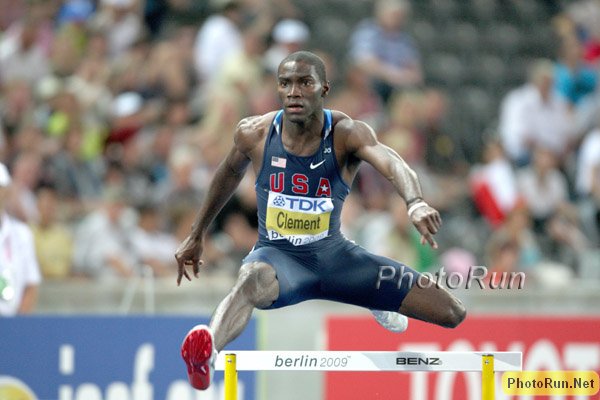 Men's 400m Hurdles Semifinals - Major Shakeup!
Some events will surely go to form in Berlin, but the men's 400m Hurdles will not be one of them.
World #1 L.J. Van Zyl of South Africa finished 6th in the first of two semifinals and was automatically out. After all, only the first three and next two best times advance to the final.
In front of Heat 1 was American reigning world champion Kerron Clement, who ran a seasonal best and world-leading 48.01 seconds, ahead of resurgent former dominant champion Felix Sanchez of the Dominican Republic. Trinidadian Jehue Gordon, only a remarkable 17 years old, followed his world junior record in the first round with a 5th-place finish in the 2nd round to propel him to the final on time.
Heat 2 featured similarly shocking results. Injured American Bershawn Jackson, a pre-race favorite, this time took his race out quickly for less than 100m before taking his foot off the pedal. Ahead of him shot leading Jamaican Isa Phillips, for many THE favorite in the event outside of the Americans. But Phillips would have massive trouble, hitting the final hurdle while fading back to 4th place.
Charging for home came a wily Batman Jackson who took the heat ahead of surprising Brit David Greene who set yet another huge personal best at 48.27 for second in the heat. Jackson was WAY behind at 200m.
Phillips' time of 48.93 put him 0.16 seconds behind Gordon for the last spot in the final, and joins Van Zyl as very disappointed pre-race favorites.
2 out of the original 4 Americans made the final, and both won their semi-final heats. The next-best looks to be Britain's David Greene but he'll likely have to set yet another PB to get a medal ahead of the veteran legend Felix Sanchez and Greek former Olympic medalist Peraklis Iakovakis.
Heat 1
Heat 2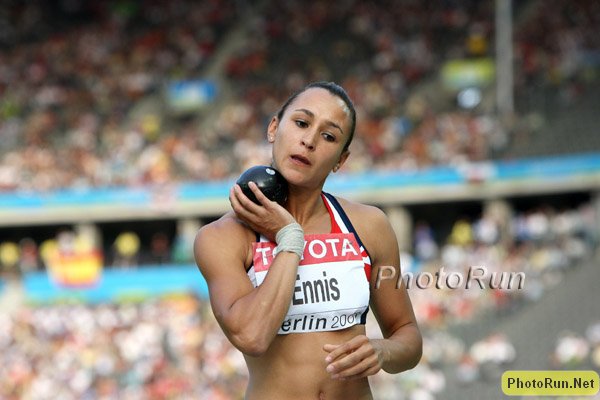 Women's Heptathlon Final Scores - Britain's Jessica Ennis Fully Arrives With Huge Win Over Olympic Champion
Arriving in Berlin with enormous pressure from the British Athletics team and British sporting press, 5'4" Jessica Ennis (right) overcame any nerves to win her first world championship over, among others, 2008 Olympic Champion Natalya Dobrynska (UKR).

Using her strengths in the running and jumping events, Ennis got off to a great start on Saturday in the hurdles and high jump. Her shot put performance was her best ever, and she cruised from there, running a nervy and gutsy 800m (starting in 27.95 for 200m!) to win her top heat in 2:12.22 after an opening lap of 1:00.12.

Ennis, recovering from double stress fractures that kept her out of Beijing, ended up adding 144 points to her career best in the multi event in a staggering performance.

Olympic champion Dobrynska gave her best effort in the 800m but could not make up enough ground to even score a medal. The fans were on their feet for yet another German rising to the occasion - Jennifer Oeser winning silver.

Basically simultaneously on the track, German women won silver medals in both the shot put and heptathlete.

Gold: Ennis (GBR) ::: Silver: Oeser (GER) ::: Bronze: Chudzik (POL)

Top 4 Results
Jessica Ennis GBR 6731 WL, PB
Jennifer Oeser GER 6493 PB
Kamila Chudzik POL 6471 SB
Natalya Dobrynska UKR 6444
Full Results
Women's Shot Put Final - Vili Overcomes Major Challenge To Maintain Dominance
German crowd favorite Nadine Kleinert put a major shock through the Berlin Olympic Stadium with a massive personal best in the second round. Her 20.20m put was a full 31cm further than she has thrown since 2005 in any competition.
But the great champion Valerie Vili was game to respond, living up to her world #1 ranking (she had the top-7 throws in the world so far this year) by putting it 20.25m and later 20.44m, deflating the packed crowd slightly.
Chinese youngster (only 20) Lijiao Gong continued her outstanding year with the first big throw of the final. Screaming at the top of her lungs for almost a full 5 seconds after each throw, Gong led three Chinese final round qualifiers. Gong earned the bronze medal to give China already three medals, including 2 from the 20km race walk.
Normally the women's shot put is not a fan-favorite, but this year it took place right before the men's 100m. The crowd was packed with Germans and a German was fighting for a medal against an enormous favorite, making for a very exciting event.
Gold: Vili (NZL) ::: Silver: Kleinert (GER) ::: Bronze: Gong (CHN)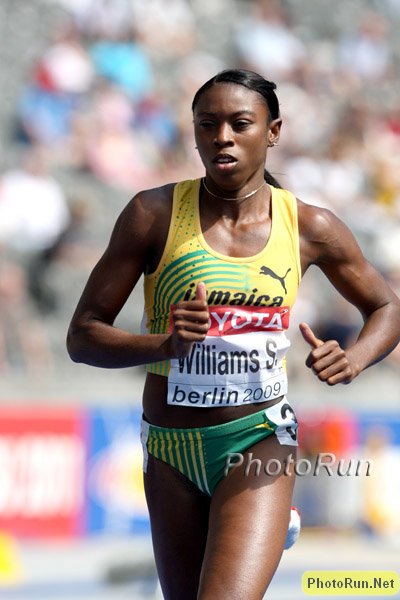 Women's 400m Semifinals - Favorites Advance With Shocking Fast Times
All of the favorites advanced in the women's 400m, including reigning world and olympic champion Christine Ohuruogu of Great Britain, who came in behind Sanya Richards in the third heat to nab the second automatic spot.
But the big waves came in Heats 1 and 2 where Jamaican Shericka Williams (right) won her heat in a lifetime personal best 49.51 ahead of the new Russian in town Antonina Krivoshapka, who proved she can run fast outside Russia with a 49.67. Not to be out-Dunn, American Debbie Dunn ran her own personal best in 49.95.
In Heat 1 Jamaican Novlene Williams-Mills and Botswanan Amantle Montsho ran their best of the season with 49.88 and 49.99.
Sanya Richards, the clear race favorite, saw her rivals run very fast but also had it very easy in her heat. Having a huge lead with 100m to go, Richards let off the gas with 50 to go, just pushing a bit at the end to make sure she held off a charging Ohuruogu. But Richards' rivals have to feel confident knowing they are, for the most part, at their peak fitness.
Heat 1

Heat 2

Heat 3

Women's 100m Quarterfinals - No Surprises As Favorites Run Fast And Advance
There is nothing major to report from the women's 100m quarterfinals. Americans Carmelita Jeter advanced with a fast 10.94 win while Muna Lee and Lauryn Williams ran seasonal bests. Williams was encouraging because the potential medalist won her heat in 11.06.
But the Jamaicans were very strong with Kerron Stewart and Veronica Campbell-Brown winning their heats in sub-11.00 times. Tomorrow the medals will be decided and it will be a major shock if a non-Jamaican or non-American wins any hardware.
Results: Click Here