The Week That Was August 3 - August 9, 2009
August 11, 2009

By LetsRun.com Editorial Staff
To read last week's LRC Week That Was, click Here.
To read any 2009 LRC Week That Was, click Here.
An LRC Week That Was guest writer, Employee #1, combines forces with co-founders Rojo and Wejo to present our take on the biggest news of the week. We start off with news from the world's best milers - Alan Webb, Asbel Kiprop and German Fernandez - head to some Kenyan semantics and finish with a look at the drug fiasco currently unfolding in Jamaica. It's our last "Week That Was" before the World Championships, so enjoy it while you ponder Bolt vs. Gay and Wariner vs. Merritt, to name just two exciting rivalries coming up from Berlin.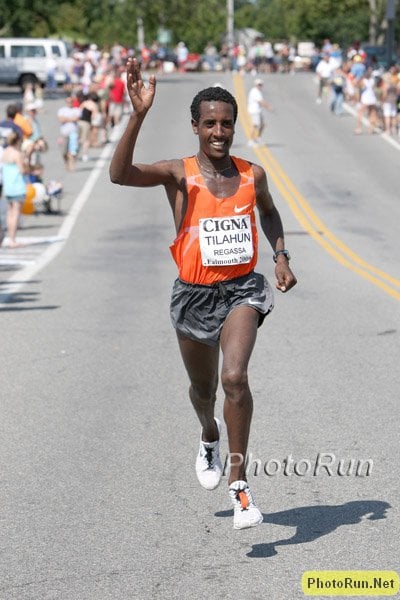 Introduction: What The Hell Happened In Falmouth On Sunday?
Answer: Ethiopian Tilahun Regassa (apparently only 19 years old) smoked a talented, veteran field by going out in 8:44 for 2 miles on the 7.1-mile, hilly, warm course. Left in his wake were 2009 Boilermaker and Cherry Blossom champion Ridouane Harroufi, 2009 Beach To Beacon Champion Ed Muge, Meb Keflizighi and a bunch of other studs.
Nobody went with the young gun as the veterans assumed he was being an idiot. What actually happened was startling, and the veterans would regret their passive approach. Starting at three miles, Regassa was ahead by so much and feeling so good that he blew kisses to the crowd and smiled, as you can see in Victah Sailer's photo to the right.
If you click through the PhotoRun photo gallery, you can see the other runners covered with sweat, strain enveloping their faces. Compare them to Regassa's pictures. It looks like he's out for a jog. We'll keep our eyes out for Regassa, another potential Ethiopian road-race super-star like Deribe Merga.
On the women's side, Mamitu Daska made it look even easier, crushing 2nd place Rebecca Donoghue by just under 60 seconds. Donoghue has had a solid year, winning Club National XC and now beating everyone but Daska in Falmouth.
*Men's Falmouth Recap
*Women's Falmouth Recap
Topic #1: Miling News - Alan Webb Heads To Salazar Group, Kiprop Might Double, German Fernandez Gets A Competent Rival In James Brewer
Westward, Webb
(note: this section edited after initial publication: 2:20pm eastern August 12)

It came as a big shock that longtime northern Virginia resident Alan Webb had decided to leave his coach Scott Raczko and head to Portland to join Alberto Salazar. We give Webb a Thumbs Up for making what must have been a very, very tough decision. Under the tutelage of Raczko, Webb ran the fastest mile ever for an American prep (3:53.43), set a new American record in the mile (3:46.91), and was the world's best miler in 2007 despite tightening up in the last 100m in Osaka.
One thing we wondered was how the decision was made. Whose idea was it? According to the article linked below, it was Webb's idea. His agent Ray Flynn said: "It's an amicable decision between (Alan) and Scott. He [Alan] likes the resources and the infrastructure of the Oregon project. Scott has coached him to the highest level of any American miler ever. Alan was to be respectful of what Scott has done for him. But he's reached a stage in his career now at 26 years old that he feels needs to make a change. The Oregon project is presenting itself as the best option for him where he feels he can make … positive changes in his career. Sometimes we all need a change."
We're not convinced it was Webb's decision on his own. One rumor we've heard this summer is that Nike is putting two contracts before its athletes, a much more lucrative one if you're coached by who they want you to be coached by and another one if you're not (hence more athletes are moving to Portland to be coached). Some may not like these tactics, but it's definitely within Nike's rights as they are the ones paying the bills. Regardless of how it came about, clearly Webb needed a change as things didn't go right in 2008 or 2009. This must have been one of the most difficult changes in his life but perhaps it marks an exciting new beginning for one of the world's most talented-ever junior middle-distance runners.

*On The Boards: Webb Heading To Oregon
Alan Webb & Raczko Are Finished - Webb's Now Moving To Oregon To Be With Salazar
German Gets A Potential Rival - James Brewer

Cal-Berkeley announced their recruiting class, and the headliner certainly caught our attention. James Brewer, member of the senior Great Britain 1,500m team in Berlin and 3:54.80 miler, will be moving into a dorm next year. This is great for the fans and great for Oklahoma St. star German Fernandez. Fernandez has personal bests of 3:55.01 (world junior indoor record) and 3:39.00 (set while winning the 2009 NCAA 1,500m title).
We don't mean to put pressure on Brewer as if he's the only guy who can possibly challenge Fernandez, but having him out there certainly adds intrigue to the otherwise bland proposition of Fernandez just smoking everybody in the NCAA track meets every year. Brewer has the talent to compete, and gives Fernandez another reason not to go pro early.
*3:54 British Miler James Brewer To Run For Cal Berkeley Next Year
Worlds: Kiprop To Go For Mid-Distance KO - Women's Marathon Loses Luster

Asbel Kiprop may be the most exciting distance runner on the planet, so when news came out that he would be entered in both the 1,500m and the 800m at the World Championships, we were thrilled. Intriguing personalities make sporting events more interesting. Charisma and physical appearance certainly have a huge effect as well. Kiprop has sort of a relaxed, bad boy mentality, a knack for showmanship in the big moments, and a spidery, tall appearance that is truly outlandish.
Kiprop is the total entertainment package.
Read our LetsRun.com men's 1,500m and 800m previews for more, including a video of Kiprop and Webb side-by-side heading into the final 200m in the Osaka World Championships. That's right, unlike some suspicious stars, Kiprop didn't become world-class all of a sudden. He has been very good for a long time and now he gets the chance to win his first global title (not counting his likely Olympic gold).
*Asbel Kiprop To Try 1,500/800 Double At Worlds
WORLD CHAMPIONSHIP MARATHON UPDATE
In less heartening news, it was announced this week that Irina Mikitenko, Zhou Chunxiu and Paula Radcliffe are unlikely to compete in the women's marathon in Berlin. Mikitenko is the current best in the world and anticipated competing for gold in front of the home crowd. But her father died recently and her preparations were derailed. 2007 world marathon medalist and London Marathon champion Zhou is injured, prompting the Chinese to wonder if they will win any medals at this championship. And the world record-holding Radcliffe, while still hoping to start, is rumored to have suffered complications with her surgically-repaired foot, casting her chances for competing well in doubt.
All of these unfortunate dropouts certainly help the chances of Amerian medal hope Kara Goucher. Without Mikitenko and Radcliffe, Goucher should feel even more confident that her best performance will yield more World Championships hardware. For more info check out our women's marathon preview.
Topic #2: Kenyan Bravado Explained
Have you been like us all these years in that you find yourself totally confused when reading a preview article of an upcoming championship in a Kenyan paper? Confused by the fact that there always is some ridiculous bravado-type quote from an athlete or official where the Kenyan seems 100% confident of doing something that isn't necessarily likely to happen like "slaying the Ethiopians"?
For years we've read ridiculous quote after ridiculous quote and didn't know what to make of it all. Was it some remnant of proper British colonial speak? We had no idea.
This week we may have finally started to have our mystery answered.
2004 Olympic steeplechase champion Ezekiel Kemboi of Kenya famously mouthed off last year prior to the Olympics, "I'm going to Beijing to defend my gold. If I don't win gold, I will never return to Kenya." A great quote that we had up on the website. Well what happened? He didn't even medal but he did return to Kenya.
This week we found an article in The Standard that stated that Kemboi explained himself last year after Beijing with the following disclaimer: "Those are the kind of things we say to make the game a bit interesting. Kenya is home; I don't have another home."
Fair enough. It sounds like Kenyan athletes are no different than American ones - some of them like to make hollow guarantees.
Drug Stories And Analysis
Drugs dominated the track and field newswires in this, the penultimate week leading up to the 2009 IAAF World Championships in Berlin, Germany. By far the most interesting debate centers around Jamaican sprinters.
Jamaican 5 Test Positive, Pardoned By JADCO - Then JADCO Appeals JADCO's Decision - We're Not Kidding
Five Jamaican sprinters - including teen phenom Yohan Blake and lesser-known Marvin Anderson, both training parterns of Usain Bolt - tested positive at their national championships for methylhexanamine (we will refer to it as MHA from here on out). Basically, MHA is a stimulant. From what we have read, MHA is more powerful than caffeine and less powerful than ephedrine, depending on relative doses. The IAAF removed MHA from their banned list several years ago. MHA is found in natural sources, so there is debate about whether it is a pharmaceutical or a natural supplement.
It should come as no surprise that sprinters, or almost any elite athletes, are taking stimulants before races. Sure, the sprinters may deny that they knew they were taking anything illegal (and it turns out they really were not taking anything illegal; rather, something that resembles something illegal), but the truth is either way they and their coaches/managers were looking for a stimulant to get them ready to race as fast as possible.
Brief History Lesson - Drug Testing In Jamaica
Before we go any further, we want to point out that the Jamaican Anti-Doping Committee (JADCO) was formed in 2005. In 2008, they developed a legal and executive framework to actually test Jamaican sportspeople under proper international guidelines and in accordance with the IAAF. As this article points out, JADCO performed their first official sample collections and tests beginning January 15, 2009. Before this time, as far as we can tell, any testing done in Jamaica by Jamaica was not done under any kind of legally-binding supervision. Prior to January 15, 2009, elite Jamaican athletes certainly were on World Anti-Doping Agency (WADA) testing lists and therefore were subject to testing year-round (mostly at and between spring and summer European meets) by the international agency.
Not Your Average Case
Before any sort of hearings or trials took place in the most recent case, quotes started coming out from Jamaica. The following quote comes from The Daily Telegraph (Sydney, AUS) writer Mike Hurst, in his article Jamaica's Speed Trap. Hurst quotes Dr. Herb Elliot, the Olympic team doctor for Jamaica and JADCO discipline committee member (that's the committee ultimately in charge of deciding guilty or not-guilty in the doping case). That's quite the interesting dual role. The quote: "It's not anything major. I can assure you, it wasn't major stuff," is pretty interesting given who it was coming from and his position on the panel. This quote signaled to the world, yes they tested positive, but it's not a big deal.
The problem is, it was a big deal because the positives involved big, big names in track and field. Blake, for one, just signed a huge contract with adidas and trains with world-renowned coach Glen Mills and Usain Bolt.
The next piece of news to come out was that Sherri-Ann Brooks (Jamaican 4 x 100m and 100m member in Berlin) would walk free because her B-sample testing was improper. Officials and lab technicians didn't test it properly. So without a B-sample, Brooks can't officially test positive (the A- and B-samples must come back positive for it to be official and for someone to get banned or even be considered guilty of taking whatever substance). This was interesting because it made us think about a nation testing their own athletes. If the nation decides to screw up the B-sample intentionally, but say it was an accident, then that is a serious problem. There is no evidence that tampering took place in this case, but it is an interesting scenario.
Reading the article from The Jamaica Observer by Kayon Raynor called Brooks Walks! is interesting for two reasons: 1. because it reveals who exactly is making the decisions on the JADCO disciplinary panel. And 2. the JADCO officials offer totally different statements to the press.
JADCO chairman Kent Gammon told the press about the situation, saying Brooks has to be cleared due to procedural errors. The article also mentions another JADCO member, current coach and former Worlds gold medalist Bert Cameron. Having a national sporting hero and current coach on the board seems like having Alberto Salazar hearing drugs cases for the United States Anti-Doping Association (USADA).
Later in the article we get this quote: JADCO's executive director Dr. Patrece Charles-Freeman said: "The proceedings have not been concluded yet and I cannot make a comment." So one JADCO official is contradicting another to the worldwide press. Clearly this is not the way drug cases should be handled. Clearly this is a committee still learning the ropes.
Bear in mind here, JADCO's testing program was started after Jamaica's enormously successful Beijing Olympics. Before JADCO, there was basically no reliable testing in Jamaica (what this means is that there was testing, but the Jamaicans were not held accountable, legally or by unbiased observers, for their testing). The testing there had about as much legitimacy as the US testing in 1984 (more on that below). This reason, combined with the sudden, extraordinary success of the sprinters from the tiny Carribean nation, makes many people including Victor Conte (who knows the drug scene better than Victor Conte?) very suspicious of the Jamaicans.
The Conte/Elliot Verbal Battle
Before we go any further, we want to talk about the debate that is likely going on in your mind: are the Jamaicans clean or not? To help illustrate both sides, we'll use the opinions of Victor Conte and Dr. Herb Elliot.
Leading up the 2008 Olympics, an LA Times article by Lance Pugmire called Victor Conte Suspicious Of Carribean Sprint Success was published with quotes from BALCO drug wizard Victor Conte about the Jamaican sprinters. Conte was personally responsible for chemically aiding the performances of athletes such as Marion Jones, Dwain Chambers, Barry Bonds and Bill Romanowski*. Conte, released from his jail sentence, had met with then-WADA head Dick Pound several months before the article was published because he (VC) was concerned with the trend of Jamaicans avoiding out-of-competition testing in the final months of 2007. To us, this seems like a decent argument given Jamaica's lack of an accredited national drug testing policy or committee and Conte's proximity to the world of athletics and cheating.
*We still remember watching an NFL pre-game profile of Romanowski where the reporter spoke with unfiltered adoration about the number of pills Romanowski took every day to keep in tip-top shape. They showed a clearly borderline-psychopath Romanowski actually chugging his pills before practice. We remember thinking: that looks crazy. Of course, we were like 10 years old. It's kind of crazy that Fox or CBS decided that was a good idea. Of course, this took place in that brief, happy window of time where the dot-coms were booming and guys like Mark McGwire were simply looked at with pure awe and admiration for their size, durability and strength. This was the pre-Balco, pre-baseball-steroid-scandal era.
Conte's meeting with powerful world drug enforcement higher-ups and his leveling of "suspicion" certainly did not strike aforementioned JADCO Member and Jamaican Olympic doctor Herb Elliot very well. The Jamaican doctor fired back, "We are far in advance of the U.S. record for [preventing] doping. We preach, cajole, and test. ... Sports is such a part of our culture that the disgrace [of doping] is so great that the Jamaicans that live here wouldn't even consider it."
This quote - like his quote before the "Jamaican 5" drug hearings even commenced saying it was "nothing major" - is interesting. We see potential truths in the statement but also some huge potential logical and semantic pitfalls.
First we'll start off by blasting the statement that Jamaicans wouldn't even consider doping because of some cultural moral superiority to every other nation that has dopers. This is a ludicrous statement with no proof. The statement shows a disturbing lack of rational thinking.
On the flip side, it IS likely true that, historically speaking, Jamaica has prevented doping better than the US. Mainly because the US has done little to prevent doping in sports, and much to encourage it, up until recent years. You can turn to sports like American football for innumerable examples of promotion of or ignorance of harmful and illegal drug use by players. Read this Orange County Register article for more on systematic USATF cover-ups leading up to the 1984 Los Angeles Olympics. The OC Register article shows that in 1984 the US committee (full of proud, flag-waving dignitaries like Elliot) wasn't preventing doping, it was preventing positive test results that mattered, results that would tarnish the "national image." They, in fact, were fine with doping as long as nobody knew about it.
Being "far in advance" of the US record is nothing to be proud of, because very few US athletes (in any sport) that used drugs have actually tested positive. Saying Jamaica is "far in advance" because they "preach, cajole, and test" is like saying track and field was a cleaner sport in 2007 than cycling because zero athletes tested positive at the IAAF World Championships in Osaka (that actually happened somehow).
Let's examine whether preaching, cajoling and testing in Jamaica has prevented Jamaicans from using illegal performance-enhancing drugs.
Preaching: There is absolutely no way to know if preaching prevents drug use. There is no way to know if preaching even takes place there, or if the preaching is pro- or anti-drug.
Cajoling: The definition of cajoling is "to persuade with flattery or gentle urging especially in the face of reluctance." (Merriam-Webster Online Dictionary). We do know several Jamaicans and they are very good at cajoling, for sure, but cajol-ability does not mean your nation's athletes are not taking illegal performance-enhancing drugs. Persuading people who are reluctant means that Jamaicans, like any other athletes, want to be the best at what they do, and they might think using drugs is a good idea as a means of getting there quickly. So, if anything, the need to cajole suggests there has been a problem.
So far we have serious doubts that preaching and cajoling are proof that Jamaica is far in advance of the rest of the world in drug prevention in sports. Perhaps preaching and cajoling are more oft-used mechanisms in Jamaica and perhaps Jamaican athletes are particularly susceptible to positive reactions to preaching and cajoling. But there is no proof.
Testing: The third credential that might offer proof of good behavior by Jamaican athletes, according to Dr. Elliot, is "testing." His other credentials don't pass any sort of test other than "He is Herb Elliot, so we should all believe everything he says."
Testing, on the other hand, is something we can actually measure. Do the Jamaicans independently test, report to WADA, and undergo supervision by unbiased, technically advanced higher-ups randomly and year-round? Not before 2009. So the Jamaicans, in terms of testing (which we can easily see is the only measurable factor offered by Dr. Elliot), were far below the Americans, Europeans, Asians ... in fact many other countries. When Jamaican athletes went to the big meets, they were tested by independent agencies such as WADA (and they knew the tests were coming; as Conte said, WADA is basically wasting their money). But when they were at home in the off-season training and lifting weights, there is not really any legitimate proof that they were tested and that the testing was done up to world standards. That doesn't mean they were not tested, it means we don't have any proof that legitimate, random testing was performed and athletes were dealt with appropriately.
Jamaicans Might Not Be Cheating At All
It's easy to read this essay and assume we believe the Jamaicans are cheating, or are cheating more than other countries. We do not have proof of that. We do think the Jamaicans have excellent sprint coaches. We do think they have an excellent environment for promoting youth to take up track and field and strive to be the best. We do not think they are cheating more than other countries.
Here is a great letter from Warren Blake (JAAA member in charge of anti-doping matters, so it's hardly coming from an impartial perspective). Blake addresses the suspicions Conte and others voiced in 2007 and 2008. One of Blake's principal arguments is that Jamaican athletes were subjected to the 5th-most tests by the IAAF in 2008 of any nation in the world. But this is not proof of anything. 1,000 drug tests were done in Osaka and zero were positive. So was everyone in Osaka clean? These tests of Jamaicans were done mostly in Europe, during the competition season. The high number of Jamaicans being tested stems from the high number of Jamaicans being really good at sprinting, not because Jamaicans have a great independent off-season testing program or are hyper-interested in having their athletes tested (who would sign up for that?).
Blake's other argument is that taking steroids and other drugs involves a lot of things that Jamaica doesn't have. People have to make the drugs, acquire them, use them properly, disguise them ... it's a process. And, according to Blake, since Jamaica doesn't have any pharmaceutical production plants, then how could Jamaican athletes possibly take drugs? This is not good evidence of innocence, though it may be true. On the contrary, there are thousands of examples of people taking steroids in places you wouldn't think would have steroids. In Jamaica, there is huge incentive to be good at track: money, making a good living, getting an education. Thus, there is a good incentive to cheat. Neither theory, ours or Blake's, provides proof either way.
Proof comes with scientifically intelligent, impartial, random, unnanounced, year-round, independent testing. The Jamaicans have not had that. So there is no proof that Shelli-Ann Fraser and the Jamaican women's 1-2-3 100m sweep in Beijing was clean. But there's no proof that it was dirty, either.
Can times provide proof? Victor Conte pronounced proudly, "I told you so," after his warnings of Carribean shenanigans pre-Beijing preceded unusual Carribean dominance in the Birds Nest. Fraser, 100m champion with braces, lowered her best time from a ho-hum 11.31 to a spectacular 10.78 seconds in one year. A huge improvement? Yes. Proof that it was done by off-season steroid or HGH use? Nonexistent.
But based on this "Jamaican 5" trial - how it was handled in the press, hearing room, and in the laboratory - we do not think the Jamaicans have had a good independent, off-season or in-season testing system. And Victor Conte does not think so either. We also think that this current testing system is held to a far higher standard than it was in the past, so we cannot conclude that the Jamaican testing system pre-2008 was up to par (basically if their system now seems unprofessional and partial, it's doubtful the preceding system was any better).
Conclusion: Jamaican Drug Officials Should Support Athletes But Must Be Impartial
We think it is important that any nation's drug testing officials be impartial, scientifically trained, and connected to the track and field world. This is obviously not easy to ensure. However, how else can you trust anti-doping officials? If the officials believe that their nation's culture is such that no athlete could even possibly dream of cheating, this is a disturbing problem. That is, we can't trust this country's administrators to test, report, reward and punish their athletes properly.
But we must make it clear that athletes have to be protected, too. Nothing is worse for a person who honestly believes they have never cheated to be accused of cheating and immediately pronounced guilty in the court of public opinion. Oh, what to do with such a predicament? Each one of us reacts differently and views athletes and sports and cheating and drug use differently.
One thing is for sure: national administrators often make sweeping generalizations that have nothing to do with reality. The next time you hear a Russian track administrator proclaim, "No Russian would ever dream of cheating. Sports are too important here, and our cajoling is so strong that no athlete would dare cheat," or an American administrator say, "America stands for freedom and justice, and our athletes hold those virtues highest in their hearts. So high, in fact, that they would never disgrace themselves or their country by doping," demand proof from impartial, scientifically trained, well-connected people before you trust the sweeping declarations of moral purity from administrators who believe they have everything to gain and lose from their charges' successes.
What Will Happen To "Jamaican 5"?
Currently JADCO is appealing the JADCO decision to let all of the 5 positive testees (not testes) free. It's okay to chuckle, though we doubt Yohan Blake and company find it funny. The JADCO Appeals Committee is unhappy with the JADCO Disciplinary Committee's decision to pronounce: Innocent! and let them compete at Worlds. So it looks like there is no chance these five athletes will compete at Worlds, and their future ability to compete remains in doubt. The IAAF will likely take the appeal to the Court of Arbitration for Sport (CAS) and this could be a lengthy process for what seems like, honestly, just a little thing.
We feel a bit sorry for the Jamaican 5 now that JADCO is appealing JADCO. Can you imagine hearing that news? Sir, you're no longer free. Your lawyer's boss just appealed your winning decision.
Perhaps if the head of the committee had treated this seriously from the get-go - putting his own opinion aside and letting the facts come out in an unrushed manner - this case would be heading in a better direction. Instead, more lawyer's fees, more controversy, and more doubts will certainly fly as this stimulant dubbed as "nothing major" could make a major stink for a major period of time.
In Other Drug News ...
Brazilians, Sheikh Mo And NBA Step Into Doping Spotlight
Various Reports On Jamaican Drug Fiasco
*JADCO Appeals JADCO - Jamaican 5 Unlikely For Worlds
*Wait A Minute: Jamaican 5 Still On Berlin Roster For Now
*Drug Case In Jamaica Gets More Muddled As Reports Now Say They Are Confused About The Drug Taken
*Sherri-Ann Brooks Walks - She's Cleared On B Sample Technicality
*2nd Jamaican Paper Says Sheri-Ann Brooks May Not Be Cleared
*Mike Hurst Reminds Us To Take A Second Look At Jamaican Scandal And History The first helpful analysis we've seen of the drug fiasco down in Jamaica. Sure, it looks like it's no big deal, but so did BALCO at first.
*Wires Report That Sheri-Ann Brooks Is Cleared Due To Irregularity With B Sample
Other Drugs News Links
*Pat Butcher On The US Drug Cover Up In 1984 Learn from the past or we're doomed to repeat it. Or, you can be like USATF and say, "what past?"
*LA Times' David Wharton Paints A More Complete Picture Of The 1984 LA Steroid Scene It's hard to believe that was 25 years ago.
*Sheikh Mohamed Banned From Endurance Horse Racing For 6 Months An embarrassing blip for the most powerful/rich man in the horse industry.
*Brazilian Doctors Take The Blame For Shooting Up Olympic Track Athletes With EPO Without Their Knowledge Russia. Brazil. US. East Germany. Spain. China. Wall Street. "We are the world!"
*An Interview With Edwin Moses Concerning Honor In Sports Moses is right. You can either get depressed thinking about all the people who cheat, or get inspired by the guys and gals who have some honor.
*BBC Sports And Discovery Special On DDR Doping In 1980s We've heard that the average American does 12 minutes of actual work a day, or something like that. So you should have plenty of time to listen to this BBC World special.
*Random Drug Tests In Brazil Nab At Least 6 For EPO And Other Drugs There are 44 in the camp. We're presuming they didn't test everyone. So 6 positives speaks volumes.
*Marion Jones' Film Producer Feels For The Fallen Star He wrote and directed Boyz in da Hood.
*NBA Gets In The Mix With First High Profile Suspension! We heard guys on the radio saying they never thought NBA players would be taking 'roids.
*Drug Cheat Katerina Thanou Rejects IOC Offer To Get 2000 Olympic Gold Medal The IOC wanted her to admit to doping in 2004 and they'd give her gold for 2000. We say, "Don't give her anything."
Final Action Before Worlds
Cottbus Recap: Tyson Gay Rests, US Women Run 8th Fastest 4 x 100 (41.58), US Men 37.85 That pretty much is it in terms of track action until next week's World Champs, which start on Saturday.
*Cottbus Results (Jenny Barringer 2:02.56 PR, US Women 41.58, US Men 37.85)
Recommended Reads From Last Week
A MUST READ!! Luz Long & Jesse Owens Showed In Berlin What Humanity (And Sports) Can Be The German Long died in the war, but not before he wrote a letter urging someone to introduce his son to Owens. His son and Owens' granddaughter will hand out medals in 2009.

*Beautiful Story Of A Kenyan VILLAGE That Has Produced Most Of Their Steeplechase Greats If we're reading this correctly, all four of Kenya's male steeplechasers live within a 5km radius of the center of this village.
*LA Times' David Wharton Paints A More Complete Picture Of The 1984 LA Steroid Scene It's hard to believe that was 25 years ago.
*Excellent Interview With US World Marathoner Matt Gabrielson Gabrielson talks about the challenges he's faced running his first two marathons and why he thinks he can run 2:12 in Berlin. Plus read about the Berlin course, the Team USA preparations earlier in the year in Colorado Springs, and Matt's take on his shot at the 10k this year.
Great Article On Dwain Chambers Dwain Chambers is one of the few former cheaters on the planet to come clean and do something productive and he's being blackballed while dozens of lying, hypocritical former cheats (and National Associations, and doctors) prosper all over the world.
LRC: Employee #1 Kills Negative Thought With Ethiopian-Inspired Super-Workout With a little help from Ed Moses and his 17-year-old world-traveling friend, Employee #1 put a positive spin on sports and drug use thanks to an energizing summer workout.
A Legend Continues To Run: Joan Benoit Samuleson - Still Going Strong 25 Years After LA She'll be running ING NYC this fall. A definite recommended read.

Remembering The Last Week With The Quotes of the Day - Day By Day:
Monday: "I have had the majority of my professional success in the steeple but have been working so much this year on my 800 and 1,500 fitness. I am very excited about the 1,500 right now and think I have a shot to do very well at Worlds ... (In) the steeple I didn't feel as confident in my ability to place top 3."
- Anna Willard, talking about why she decided to run the 1,500 at Worlds instead of the steeple. She, Christin Wurth-Thomas and Shannon Rowbury will all be looking to become just the 3rd American (and 1st not later convicted of a doping offense) to ever medal in the 1,500.

Sunday: "I always watch a video of Wilson running his 1:41.11 record, I wonder how he did it and still managed to look so calm and untroubled.
The funny thing is I've never talked to him ... apart from seeing him very briefly at a meeting two years ago. But he was in a hurry so I've never had the chance to talk to him properly about how he set the record and ran so fast."
- world 800m champ Alfred Yego on Wilson Kipketer's 1:41.11 (video in the right hand column of the homepage).
Saturday: "When my wife, Yordanos, saw me in pain and take about 5 minutes to crawl, just to go to the restroom in the hotel, she was scared about the effects of running. She said there is a better way to make a living, 'we have our education and I have no problem going back to work.' My reply to her was 'Let GOD's will be done.'"
- American Meb Keflezighi on breaking his hip during the 2007 Olympic Marathon Trials, recovering, and coming back with a spectacular 2009, including personal bests in the marathon, half marathon and 7 miles and 3 national titles.

Friday: "Now, can you quit?"
- Joan Benoit Samuelson's mother's first words to her daughter in the LA Coliseum after Joan's historic 1984 Olympic marathon victory. Quit isn't in Joan's vocabulary as despite saying the 2008 Trials were her last competitive race, she'll be running the 2009 ING New York City marathon.

Thursday: "I stand with all the athletes who believe in doing things right. The ones who win and the ones who lose while knowing they have been cheated out of their positions. There are thousands if not tens of thousands, if not hundreds of thousands, of those kinds of athletes out there. We have to remember them."
- Edwin Moses gives his thoughts on the 1984 LA Olympics US drug coverup.

Wednesday: "It's Going To Be Very Tricky."
- Kenyan Alfred Kirwa Yego on defending his Worlds 800m title. The 800m races are going to be some of the most wide-open events of the entire championships. By the way, the World Championships start August 15th and will be shown on Vs. for 9 days, ending with the women's marathon and men's 800m on August 23rd.

Tuesday: "Give us the names. That's my reaction. If they ever came forward with the names, it would be a who's who of the best medal winners. Let them start answering questions. A lot of them have been scott (sic) free and holier than thou."
- Coach Pat Connolly on her reaction to the Orange County Register's article stating that at least 34 US track & field athletes tested positive in secret USOC screenings leading up to the 1984 Olympic Games.