LRC: The Week That Was This week, we get ready for Usain Bolt to move to the 400, break down the Reebok Grand Prix in depth, give props to Tyson Gay and heap praise on Anna Willard. We also sadly have to officially write off Alan Webb for 2009 (with a tiny asterisk). The facts show clearly if anything Webb is getting worse as the season goes along.
British Running News
*Paula Radcliffe And Mara Yamauchi To Provide Strong 1-2 Punch For GB WC Marathon Team *Paula Passing Up Payday To Run Berlin World Championships Having Paula in the race immediately makes it more compelling.
*Dwain Chambers Has Invitation Revoked From Small German Track Meet Dwain is finding it very tough to find races.
Interesting Japanese News From Brett Larner
*New Tokyo Marathon To "Feature" 10km-Long Underwater Tunnel Section This will undoubtedly be a good place for runners to employ tunnel-vision focus.
*5 Japanese Runners Save The Life Of A Fellow Marathoner Suffering From A Heart Attack On The Course This may be the only time it is deemed honorable for a Japanese runner to drop out of a race.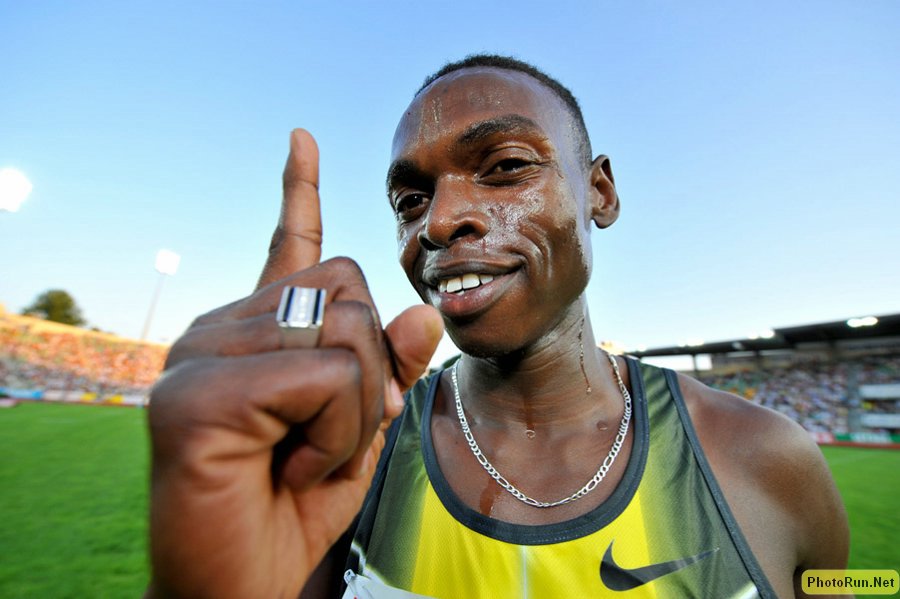 Hengelo Meet Sizzles *LRC Recap *LRC Thread *Hengelo Results There were some unexpected results in Hengelo including Kenenisa Bekele dropping out of the 1,500, and some super performances including another impressive win by the man to the left (Abubaker Kaki) and a sub-4:00 run by Gelete Burka. Americans Reese Hoffa and Dwight Phillips had tight contests with international stars Thomasz Majewski and Irving Saladino plus all 3 steeplechase medal winners from Beijing squared off. Find out more in our recap including who became the first man under 13:00 in 2009 (you will be surprised).
*IAAF Recap
*Churandy Martina Breaks 10.00 For The First Time This is the guy to whom Shawn Crawford gave his Olympic medal after he (Martina) was DQed for running out of his lane to the outside.
*Canada's Lopes-Schliep Third, Bekele Drops Out There is a brief mention of Bekele appearing injured but we haven't heard anything more on that yet.
*Ohuruogu Gets 200m PR In Good Meet For Female British Runners
*Athletics Weekly Gives British Rundown From Hengelo Their mid-d women, led by 2008 NCAA champion Hannah England, were great.
*Reports Trickling In: *Geb Fails To Get 1-Hour Record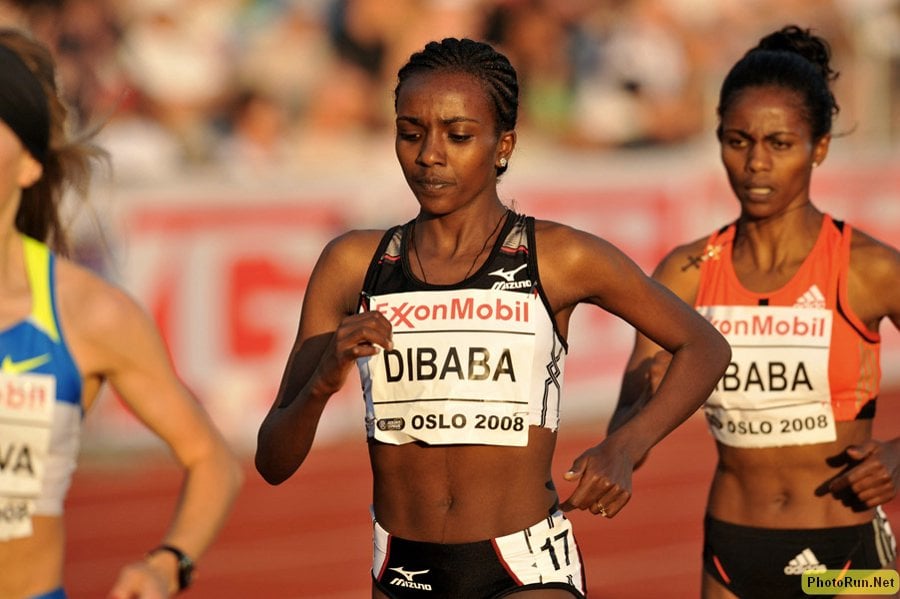 Not a good weekend for Ethiopia's Mega-stars: Kenenisa Bekele drops out of a 1500m in Hengelo and world-record holder Tirunesh Dibaba looked flat as Kenya's Linet Masai beat her by 5 seconds in New York. Also, Haile Gebrselassie fell short of re-setting his 1-hour world record. But hold on; Ethiopia has much to celebrate, including Ali Abdosh, who became the first man to crack 13:00 for 5k this year, Gelete Burka, who ran 3:58 for a big 1,500m win also in Hengelo and, of course, perhaps the runner of the year so far, Deribe Merga, who won again on the roads in a 10k in India.
Rashid Ramzi's B-sample Results Are Coming Soon - FYI Rumors Are Swirling About Possible Negative
Usain's Got A Rival: TYSON GAY 19.58!!!
*Post-Race Quotes From Event Winners
*Ethiopian Press: "Out of Shape Dibaba Loses In NYC"
It seemed that since the Olympics everyone in the sport (but us) had forgotten that the fastest man in history (all conditions) at 100 meters is a Mr. Tyson Gay. Gay's 19.58 200m shows that when he's healthy, he can challenge Bolt.
*In other action, the meet was unreal. Leo Manzano won the men's 1,500 in 3:34 as Alan Webb basically embarrassed himself with a 3:42 showing (although he did beat Lukezic, who ran 3:43) that has sparked pleas for him to change coaches or just give up. Webb wasn't the only star to do awful as Asafa Powell was terrible in the men's 100. The men's 5k was absolutely stellar, as three guys ran faster than anyone had previously had on American soil. Bernard Lagat ran 13:03 and lost to Micah Kogo. In the women's 5k, Linet Masai upset double Olympic champ Tirunesh Dibaba. Wurth-Thomas was spectacular in the women's 1,500 (4:03). So much more, including a great men's 400h race. Allyson Felix got a win in the women's 400 as Anna Willard ran 1:59.23 to win the 800 and KD got the win in the men's 800.
*Overall Meet Recap Here
South African Milers Move Up To 3rd And 5th In 1,500 All-Time In Reebok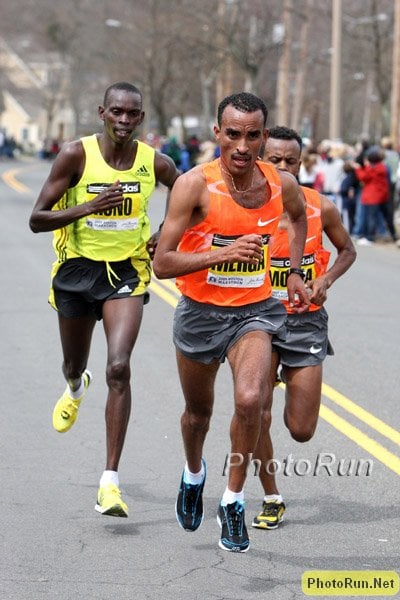 Merga Wins Again! This Time In A 10k In India Ethiopian road warrior Deribe Merga won another long road race on Sunday. Merga, who has won the Houston Marathon, set the world record for 15km at the RAK Half, won Boston, won the Ottawa 10k in 27:24 and now has won another 10k, says he is done racing until the world championships marathon, which should be a stupendous race.
Albany's Freihofer's 5k Run For Women: Benita Johnson's Win Streak Ended By Erkesso *Results *Photos
Runner's Tribe Interviews Felix Sanchez This is one of the better interviews we've seen as the multi-time world champion and 2004 Olympic Champion has some great quotes.
Prefontaine Classic Is Sunday And It Will Be Loaded
Track Stars In The News Around The World
Interviews And Opinion

National Running Day Is Wednesday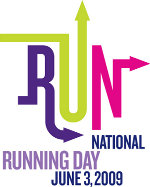 Tell Us What You're Doing On National Running Day If you're in the DFW area, join Wejo at 6:30pm at Fort Worth Running Company on Camp Bowie. If you're in Boston, you can run with Bill Rodgers.
NCAA Regionals
Amazing Page: All Regional Results On One Page
Busy Weekend Photos
*Freihofer's 5k Run For Women PhotoRun
*San Diego Rock 'N' Roll Marathon PhotoRun
*Reebok Photos PhotoRun
*Hengelo Photos Durand Photo
*NCAA East Regional Photos PrettySporty