Hengelo Grand Prix Recap
Bekele Quits In 1500m, Geb Comes Up Short In 1-Hour, Many Others Impress In Top Quality Meet - Kaki, Kiprop, Burka, Saladino, Hoffa, Jamal, Martina Headline As Event Winners *Results Here *2008 Hengelo Photos
LetsRun.com
June 1, 2009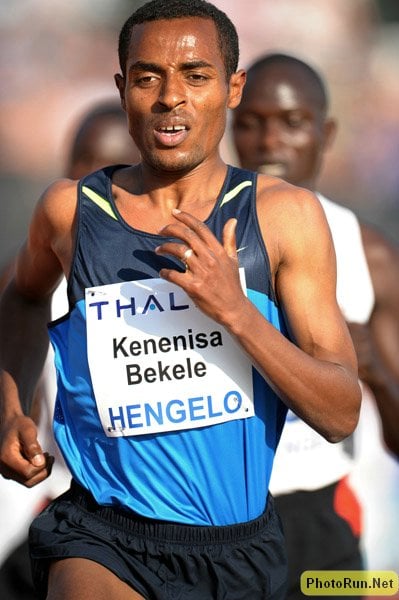 Men's 1500m Results
Double Olympic Champion Kenenisa Bekele dropped out of the race mid-way after languishing near the back of the pack while likely soon-to-be 2008 1500m Olympic Champ Asbel Kiprop of Kenya cruised to a 3:34.45 victory over Ethitopian Deresse Mekonnen. Bekele appears to be both out of form fitness-wise and out of sorts injury-wise heading towards this summer's big meets. Bekele elected not to compete in a very competitive 5000m at this event, instead opting for a 1500m, but he clearly struggled despite the rabbit leading through 800m at only 1:55 (sure, this is relatively fast for a 1500, but typically not for Bekele).
Men's 1 Hour Run Results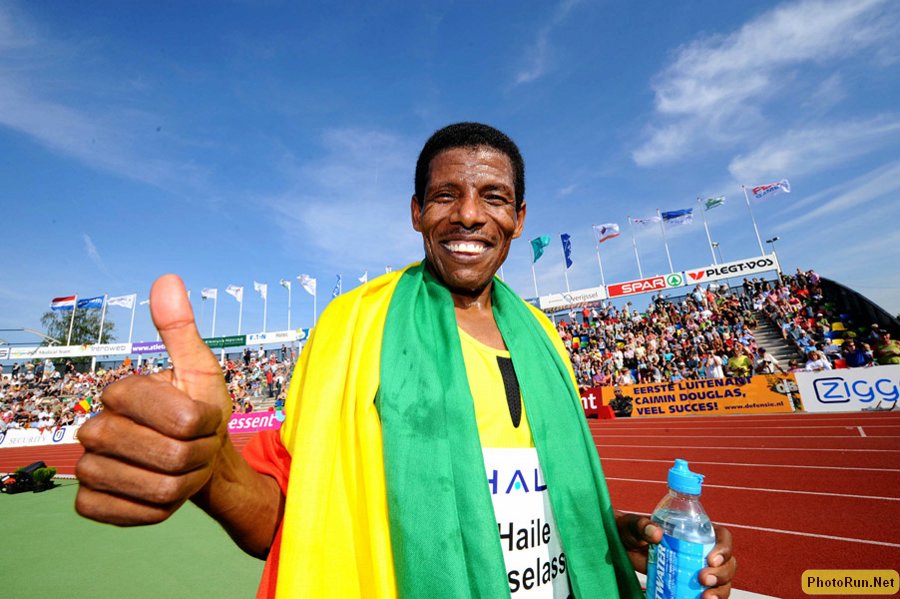 Flanked by pacemakers for much of the race, Haile Gebreselassie overcame a mix of sun and rain to come within 400m of his 1-hour world record. Geb had a good kick at the end, but couldn't muster the mojo to come very close to his record. The crowd stood, cheered and applauded the world's greatest ever distance runner. After the race, Geb lamented the weather and said the rabbits went out a bit too hard. He said he really wanted to break the record for the people in the stands.
Women's 1500m Results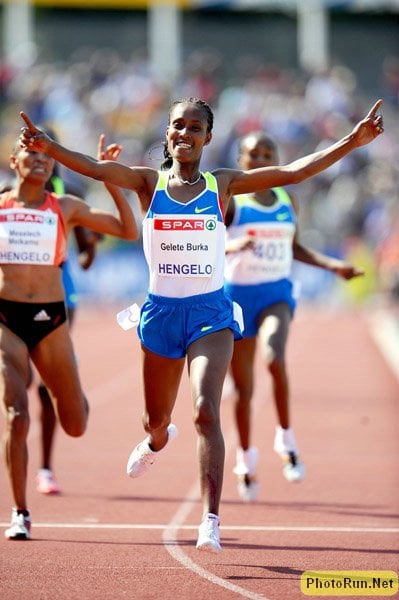 Ethiopia's Gelete Burka ran a world-leading and meet record 3:58.79 at the same meet where last year she won the 5000m. Olympic champion Nancy Lagat was 11th - her second straight international 1500m disappointment - in a race that was rabbited at an insane pace. The first quarter was covered in 60 seconds, followed by more realistic 64 and 65 before Burka closed in a 49 for the final 300m. Great Britain's Hannah England (formerly of NCAA's Florida State) ran a pr 4:05.
Men's 100m Results
Churandy Martina (Netherlands Antilles) pleased the crowd by running 9.97 for the 100m (wind -0.1) for the early-season world lead. Left in his wake were Kim Collins, Shawn Crawford and Marlon Devonish. Great Britain's Simeon Williamson became the third Englishman to crack 10.10 this weekend along with Dwain Chambers and Mark Lewis-Francis.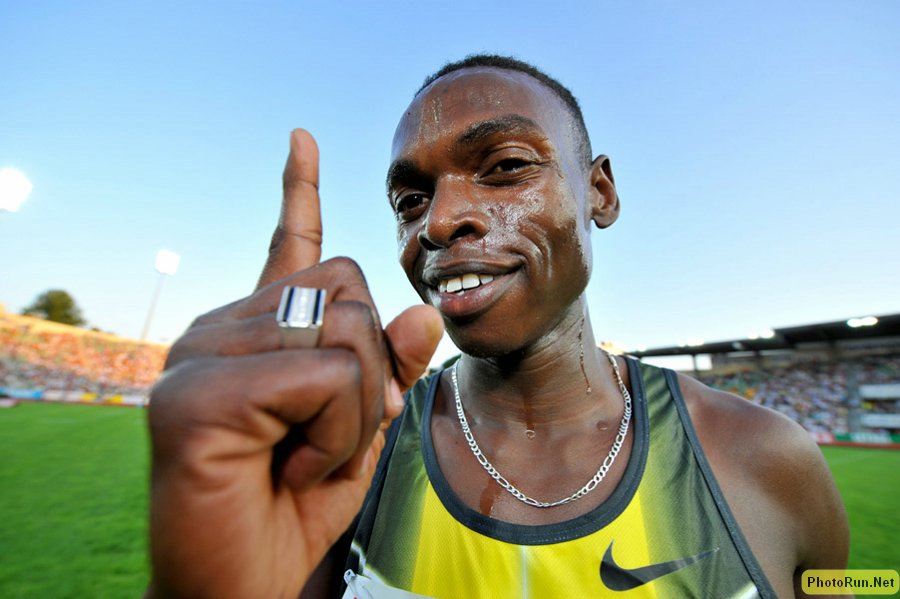 Men's 800m Results
Abubaker Kaki of Sudan ran down Kenyan star David Rudisha for another fast 800m in 1:43.10. Kaki made some celebratory gestures after the race including a little throat-slashing gesture that made us do a double-take.
Shot Put Results
American Reese Hoffa hrew a huge 21.59m (70'10") on his last throw to defeat Olympic champion Thomas Majewski of Poland and set a new meet record. Hoffa was pumped up. American star Christian Cantwell finished in third.
Men's 5000m Results
Ethiopian Ali Abdosh became the first man in 2009 to crack the 13:00 barrier for 5km as he beat a strong field to win in 12:59.56. The time is significant because it was in Hengelo in 2008 that countryman Kenenisa Bekele won the race just under 13:00. Abdosh answered the strong pace of Eliud Kipchoge with an aggressive finishing 500m to take the title. 6 star Kenyans including Augustine Choge (13:00), Eliud Kipchoge (13:00), Edwin Soi (13:01), Abraham Chebii (13:09), Thomas Longosiwa (13:16), and the young Matthew Kisorio (13:09) were among the vanquished in the top-notch race. There were no entrants in the race aside from Ethiopians, Kenyans and Ugandans.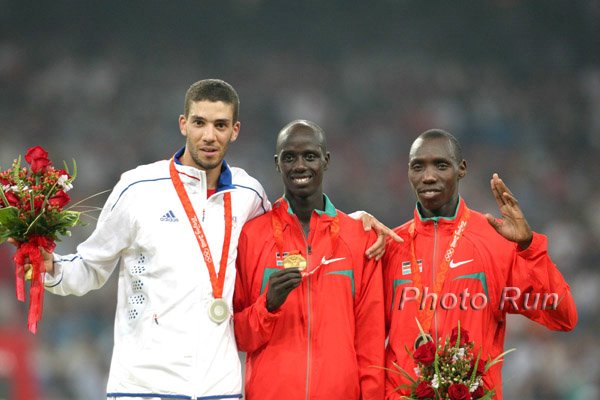 Men's Steeplechase Results
Kenya's 2008 Olympic steeplechase champion Brimin Kipruto uprooto'd the competition with a narrow win over France's Mekhissi (also an Olympic medalist). His 8:06 winning time left a trail of Kenyans in his wake inluding the third Beijing steeple medalist Richard Matelong. All three are pictured to the right.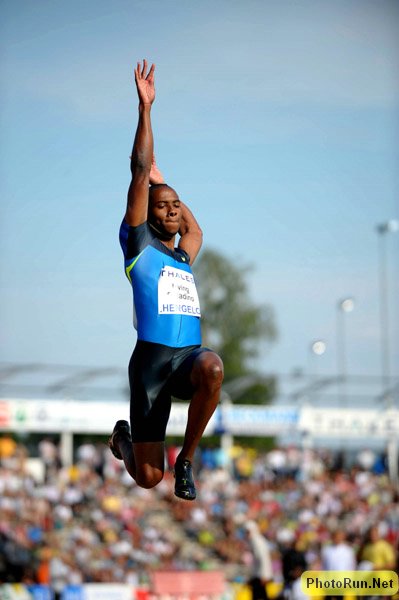 Men's LJ Results
The USA's Dwight Phillips and Panama's Irving Saladino (the flying man pictured left) waged a great battle in the men's long jump. Phillips had himself and the crowd jumping for joy as he had one of his most spectacular meets, but his 5th jump of 8.54m was just short of Saladino's new meet record and world-leading 8.56m. Phillips had another jump of 8.45m on his 2nd run.
200m Women Results
Great Britain's 400m Olympic Champ Christine Ohuruogu and countrywoman Joyce Maduaka ran 22.85 (pb) and 23.22 (sb), respectively, but were defeated by United States' Virgin Islands' Laverne Jones who ran a fast meet record 22.46. Jones had a meet to remember as she also won the women's 100m over Stephanie Durst by less than 1/100th of a second in 11.13 (results).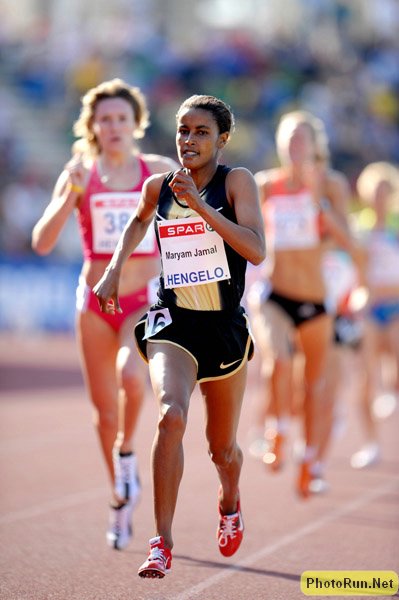 800m Women Results
Bahrain's Maryam Jamal (right) got the win in just under 2:00. Big news for British running fans as Jenny Meadows and Marilyn Okoro both ran 2:00 to finish 3rd and 4th, respectively.