Oregon News
Only at Oregon could a guy who is top 10 at NCAAs in cross be considered overshadowed
*Oregonian: "Overshadowed" Shadrack Biwott Coming Into Fine Form At Right Time The guy had a hell of a PAC-10 meet as he lost to an Olympian in the 10k by two seconds before losing the 5k to the collegiate leader by .06.
*Nice Oregonian Article On Whether Regionals Are Good Or Bad For Track Dan Steele bases the format while Vin Lananna gives a more measured response (he used to coach the little guy at Dartmouth so we think he's staying true to his roots).
*Meet Director Expects Jelimo To Break Meet Record At 800 Although his comments came before her shocking loss last weekend.
*After Two-Year Hiatus, 400 Hurdles Will Be Back on Men's Side At Pre Classic With All 3 Olympic Medallists
Prospect That Wild Lion Might Eat You Made Richest Race Ever In Kenya "Exciting" Says Race Winner We didn't realize the Sotokoto race was held in a national park.
LRC Week That Was This week we give praise to Scott MacPherson, tell you why it may be okay to dislike the French after all, give you free coaching advice, and marvel at how a running book is actually on the New York Times Best Seller list. Speaking of NY, we also start to get ready for Reebok Grand Prix. Plus we announce the arrival of Deriba Merga as a true great, and mourn Pamela Jelimo's first-ever loss at 800.
Soccer News That Distance Fans Can Appreciate Venezuela Arrives 12 Days In Advance Of Match Vs. Bolivia If you thought playing football in Denver's "Mile High Stadium" was tough, try Bolivia's "2.25 Mile High" stadium, where they famously trounced Argentina 6-1 after Maradona's boys got there 2 hours before game time. That's right, Bolivia plays their World Cup quallies at 3,600m altitude. How they get away with that we don't know.
More Road News From Last Weekend
Easy Money: Man Wins $1000 For 2:39 Marathon
*50 Year Old Man Gets 3rd In Ogden 20k And Wins $750
*Former NC State Runner John Crews Wins Men's VCM
*Heidi Westerling Shatters CRecord & Wins 3rd Vermont City Marathon
World Marathon Majors Champion Irina Mikitenko To Run Worlds Hoping To Medal "At Home" Mikitenko, the dominant woman's marathoner not named Paula right now, is undoubtedly passing up a huge payday at NYC or Berlin to run for German glory at the World Championships. Or maybe she's planning to do 2 fall marathons.
USAIN BOLT MANIA BUILDING FOR JUNE 13TH RACE IN TORONTO
Recommended Read: Canadian Olympic Columnist - Buy Your Tickets For Bolt Race Now: "You can have your Michael Phelps and all your swim medals -- I've seen a bunch of them the last two Summer Olympics -- but I wouldn't necessarily pay to watch him swim. I'm buying tickets so my kids can say they saw Usain Bolt run in Toronto. The way my brother saw The Beatles when they were here. The way so many went to Woodbine to watch Secretariat run."
*Shawn Crawford To Face Bolt In Toronto June 13th
Former All-American Erik Heinonen Writes About Peace Corps Experience In Moldova
Dick's Sporting Goods Bolder Boulder 10k: Results: Men Women
Men: 19-Year-Old Tilahun Regassa With Smashing Victory Over Central Park 10k Record-Setter Tadese Tola Boulder Daily Camera 28:17 for Regassa as the Ethiopian men dominated and the US men, led by James Carney in 29:53, got 2nd. The Kenyan men did horribly as the fastest Kenyan of the day was Simon Cheprot in the Citizen's Race.
*Men's Photos At Bolder Boulder

Women: Mamito Daska Runs Fastest Winning Time Since 1999 Denver Post Not a good showing for the US women (5th) as the first was Tera Moody in 14th. On the men's side, James Carney led the US team to a relatively narrow 24-19 team loss to Ethiopia.
*Women's Photos At Bolder Boulder
Good News: Bolder Boulder Still Doing Very Well Financially www.dailycamera.com
Mo Farah Sets New GB Road 10km Mark At 27:40 27:50 In Winning BUPA London 10km Kim Smith won easily on the women's side, running 31:38. Our original info gleaned from the BBC was wrong, as this thread pointed out. Mark Scrutton held the old record at 27:55.
*University Of Oregon Applying For Nike Town "Track Town USA" Trademark Good thing, because Carson, CA was trying to steal that name.
*Eugene's Register Guard Has A Bunch Of Articles On The OR State Track Championships This Weekend The Eugene newspapers certainly give comprehensive coverage of track and field.
Ryan Hall Gets Advice From Stoned-Out Hippie
Warning: Don't Do The Triathlon: You are twice as likey to die doing that as a marathon
Busted Steroid Dealer Says He Dealt Drugs To Washington National & Capital Players "You name the sport, and I've sold steroids to athletes who play it."
Getting Ready For Saturday's Reebok Grand Prix in NYC
*Nutrilite Free Ticket Giveaway Each Day On LRC Click here for more info. 10 pairs of tix available Thursday. The question is now up. We'll give away the final 5 pairs on Friday.
*MBoard Talk About Who Will Win Men's 5k
*Kennedy's 5K AR to go at Reebok on Sunday?
It's Official Christine Ohuruogu To Skip Golden League Jackpot Opportunity By Missing Berlin The Brits are acting like this is a big sacrifice. In reality, she isn't good enough to win them all.
World Championship Marathon News
*Mara Yamauchi Hoping To Continue Breakthrough At World Champs Intersting to learn that the Brit spent part of her youth in Kenya.
*Irina Mikitenko And Sabrina Mockenhaupt To Headline Host Germany's WChamp Marathon Team
Random Links
IAAF Recap Of Big Throwing Action At Czech Meet Reigning Olympic and World champion Gerd Kanter beat former World champion Virgilijus Alekna.
*2-Time 400-Meter Hurdles WChamp Jana Rawlinson On Comeback Trail With New Coach Not a surprise since she was married to her old one and they broke up.
NCAA Regionals Start Friday Afternoon
East Info *Declared M *W *Heats M *W
West Info *Declared M *W *Heats M *W
Mid-East Info *Declared M *W *Heats M *W
Mid-West Info *Declared M *W *Heats M *W
9 men in the West Region qualify for the 100m and 10 for the 400m compared to 32 and 33, respectively, in the East region. 8 women in the west 200m.
Where are the meets? East: NC A&T. West: Oregon. Mid-East: Louisville. Mid-West: Oklahoma.
Recommended Read Amazing Article On Fam, Arguably The Best American Runner In 2009 Anthony Famiglietti fell apart in the 2007 US championships, getting upset (he was a 27:30/13:10 guy) by three guys in the steeple and failing to make it to Osaka. Since then Fam has been on a tear thanks to - in his opinion - a new lifestyle.
More On Wesley Korir's 5-Minute Marathon PR From IAAF Can you say Karma? "On Sunday, having bought his usual pair of tuna sandwiches - planning to eat one that night and then one after the race on Monday - on exiting the shop and seeing a homeless woman asking for help he gave her one of the sandwiches, and ate the other."
Morgan Uceny On The Comeback Trail Universal Sports Cornell alum Morgan Uceny had a stellar 2008 in the 1500m and 800m but is coming back from injury in 2009.
Pat Butcher's Latest Blog Reviews A Running Book On The NYTimes Bestseller List And 2 Others Born To Run by Christopher McDougall is one of the top-selling books in the country as it looks at the Tarahumara Indians of Mexico and their ability to run hundreds of miles as they hunt food. One of McDougall's ideas was to have US ultra-marathon legend Scott Jurek compete against some of the Tarahumara.
LA Marathon
It's Korir Day! 2:08:24 And $189,000 For The 2:13 (Formerly)/13:40 Louisville Alum Wesley Korir ... LA Course Record!
Ron Mann-coached Wesley Korir breaks away for the surprising win and huge payday. Epic! Korir trains alone in Kentucky at 0 ft. altitude. His previous running career highlight was getting 3rd at NCAAs and now he is almost $200,000 richer.
*LRC Memorial Day LA Marathon Live Blog
*RRW: Wesley Korir Is Big Winner At LA Marathon
*LRC Los Angeles Marathon Thread
Video: Men's Highlights *Women's Highlights *Full Video

PreRace: L.A.Times Article On Frank McCourt's Struggle To Raise The L.A. Marathon's Status
*400 US Soldiers In Iraq To Run Half Marathon Or Marathon On Memorial Day
Comrades, Copenhagen And Sotokoto Marathon Results
*Comrades Marathon Results And Recap The Russian course record holder was beaten at his own game by a Zimbabwean who credits his coach for his victory.
*Japanese Sweep Copenhagen Marathon Wins
*Inaugural Sotokoto Half Marathon Won In 62 Minutes In Nairobi National Park
Doug Logan In London Times Talking About Justin Gatlin & Cleaning Up Steroid Scene
Sad News
Final Sprint Founder Adam Jacobs Dies At Age 24 Jacobs' death came way too early and reminds us how precious life is. Jacobs, in addition to running The Final Sprint, organized the Running Film Festival at last year's Olympic Trials. His passion for the sport will be missed.
*Message Board Thread On Adam Jacobs Passing Here You can also pay your respects on The Final Sprint.
Leo's Back
Leo Manzano Runs 3:55.29 Mile In St. Louis
*Message Board Thread
*Video

NUTRILITE Ticket Giveaway To 2009 Reebok Grand Prix
Each day this week, we'll be giving away at least 5 pairs of homestretch tickets to the 2009 Reebok Grand Prix to the first five people to correctly answer the daily trivia question. Click here for more info. Thursday's question is now up. 10 pairs on the line Thursday.
Click For Details
We're bringing back our summer training programs and are using our original banner from 2001. Learn from LetsRun.com's world-renowned JK and a former pupil of the LetsRun.com initital summer training program who went on to be an NCAA All-American. Yes, ladies and gentleman, that is right - we've had one summer training program in the past and it produced one All-American.
Non-D1 Collegiate Nationals This Past Weekend
NCAA DII: St. Augustine Stops Abilene Christian's String of 7 Straight DII Crowns, Lincoln Women Win 6th Title in 7 Years
*DII National Results
Previous: *Day 1 Recap Queens' Tanya Zeferjahn won the 10,000 in 35:38 while Harding's Daniel Kirwa won in 29:46 over Adams State's Brian Medigovich. *Tons Of Articles Available Here Thanks To Great Coverage By San Angelo Standard-Times
NCAA DIII Wartburg ( Iowa) College Wins Nationals On 4 x 400, University Of Wisconsin-Oshkosh Men Win
*Info *Men's Results *Women's Results *Video Interviews Of All Event Winners
*LRC: Message Board Thread On DIII NCAAs As It Takes Place *Hamilton's Peter Kosgei wins 3rd straight steeple title and then wins the 5k even though he lost his shoe 4-6 laps into the race.
NJCAA Outdoor Meet At Hutchinson *Meet Website *Results
NAIA Nationals *Aron Rono Gets 4th Straight 10k *Live Results And Info
Recommended Reads
Recommended Read: Pat Butcher's Blog A Gem Again - Professor Craig Sharp On Lasse Viren, Doping, Stretching and Other Topics
Recommended Read: Interview With Athlete/Coach Who Is "More Lydiard Than Lydiard" - New Zealand's Barry Magee With all the information out there, we always find it refreshing to read one of Arthur Lydiard, Barry Magee and LetsRun.com's favorite lines on training: "Train, don't strain."
LRC: The Week That Was May 11-17 Conference Action, adidas Carson, Edwin Moses and more.
LRC Review: Must Read Kenny Moore's Best Efforts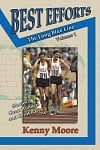 Kenny Moore's Best Efforts Is Back In Print When this book showed up at LRC corporate headquarters to be reviewed, the response was, ""Holy sh*t! That book is one of the top 2 running books I've ever read." The offical LRC review is in and it is very positive: "I believe a great work only receives the label 'great' if it has passed the test of time. Best Efforts passes the test because it will refresh the man or woman who was following the runners of the 60s, 70s and 80s." Also as a special to LRC readers, you can buy an autographed copy of the book for only $14.95.