The Week That Was* March 3 - 10, 2008
March 11, 2008
*Last week's week in review (world's riches road race, college superstars, and more) can be found here
By LetsRun.com
The first full week of March was dominated obviously by the 2008 World Indoor Track & Field Championships. We won't give you a blow by blow recap of the world indoors. So for a full recap of last week's action, feel free to read the old homepages (indoors was Friday-Sunday):
Monday, Tuesday, Wednesday, Thursday, Friday, Saturday, Sunday, Monday
We'll start with by giving out some awards to people for good (and bad) showings this week before covering some happenings outside of world's from last week.
Thumbs Up: KAKI
To our LetsRun.com Male Performer of the Week - Abubaker Kaki.

Just weeks ago, on March 21st, people were asking on the messageboard: "Has anyone ever heard of Abubaker Kaki?" People wanted to know if anyone had heard of him before he ran a 2:15.77 1k?.

We probably had heard of him but will be the first to admit we didn't remember who he was. Well we did some research ourselves, realized almost immediately he was the real deal and quickly jumped on the bandwagon. Hell we didn't just jump on the bandwagon. We were driving it.

In our weekly recap on February 25, 2008, we wrote:
"In 20 years, no one will remember any single event from some European indoor meet early in an Olympic year.

But one thing everyone may remember is the name - Abubaker Kaki. Who is Kaki? Simply put, Kaki very well may be the future of the 800 on the men's side."

Take out the "very well may be" part of that and it was dead on. Kaki simply is a sensation. EB55 said it best on the messageboard Kaki = Awesome.
Indeed. At the ripe old age of 18, leading wire to wire (after a delayed poor reaction start) to win the world indoor title in only the 4th indoor 800 of your life. Unbelievable. (The entire men's 800m race was incredible. The first 4 set national records, and every single athlete set a personal best including the USA's Nick Symmonds who finished 6th and last, but showed his promise with a stunning victory in his semifinal).
Men's running right now is getting pretty exciting. Sammy Wanjiru (now 21) is the perhaps the greatest teenage marathoning sensation in history and Kaki fits the same label for the 800.
Other considered for weekly accolades included Tariku Bekele, who joined his big brother Kenenisa as a world champion by destroying the often hyped Craig Mottram and others with a 3:56 last mile. Very impressive. But how can we give the award to someone who isn't even the best runner in his family?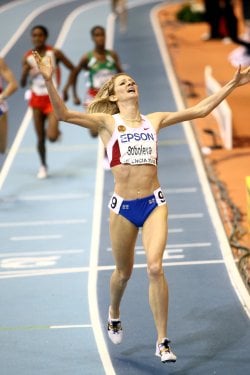 Photo by Jiro Mochizuki
Photorun.net
Thumbs Up- Yelena Soboleva
To our LetsRun.com Female Performer of the Week - Yelena Soboleva. Soboleva was a no-brainer selection as she broke her own world record and picked up $90,000 by winning the 1,500 at world's. A world record at a world championship. A very rare occurrence. The race was the greatest women's 1500m ever indoors as 4 women went sub 4:00, all running personal best, which the fifth place finisher did as well. Well done ladies.
There were a slew of other potential winners, with non being more deserving than Australia's Tasmyn Lewis. After making her first, world championship final. Lewis made the most of it and won the final. It doesn't get any better than that. The 29 year old credits her resurgence to her brother who is now her coach
*Australia's Tasmyn Lewis shocked the field to win the women's 800.The
Video: *Tasmyn Lewis Wins 800 at Worlds
Thumbs Downs: The Great One

To Haile Gebrselassie.Yes, that's right. A thumbs down to our all-time running idol. Honestly, we were totally dumbfounded by the announcement on Monday that Geb will not be running the Olympic marathon. He says the pollution will be too bad but that he will likely run the 10k instead.
To us this makes no sense, Geb has zero chance in the 10k. In the marathon, he is one of the world's very finest, the world record holder, who earlier this year just missed breaking his own world record. The one thing missing from his resume, particularly being an Ethiopian, is the Olympic marathon gold. Geb is the greatest distance runner in history in our minds but an Olympic gold in the marathon would put him on top likely for eternity.
We were dreaming of just getting the opportunity to see Geb attempt to to win the marathon gold and thought Geb should have run the marathon in 2004. If he crossed the line first in Beijing in the marathon, we already knew what we were going to do with the site.
We were going to turn the site black, put a picture up of him at the finish with the caption, "An imperfect world just got perfect."
Nothing else.
Now he's not going to even try? What does he have to lose? Start the race, if the pollution is too bad, you lose. Big deal. We don't get not trying. It's not like there won't be pollution in the 10k.
If Geb doesn't run the 10k in Olympics (which in our mind seems to be a very real possibility given the other great 10kers Ethiopia has), it is unfortunate that in this day of illegal drug use there will be whispers, but that is how things operate.
*Geb Out Of Olympic Marathon
*Message board thread Some of course are suspicious.

Thumbs Up To Ethiopia

Now that they are winning world titles at 1,500. It appears to be all over. They've ruled individual xc ever since Bekele started competing. They've ruled the 10k and 5k since Geb started his reign and now they have a world champion at 1,500.
What is left for Kenya? Ok it's not officially over but it will be over if Ethiopia ever wins a steeplechase world title.
The scary thing for Kenya is the 1,500 is the one flat distance event where Ethiopia had only had limited success and Mekonnen is only 20 years old.
We're not sure why but Ethiopia clearly does a much better job of developing talent than Kenya does.
*Deresse Mekonnen Dan Komen Deresse Mekonnen Wins 1500
Thumbs Down: Sanya Richards

To Sanya Richards for proposing that the US Olympic selection be changed from the long-standing "top 3 at the trials go" format. In case you forgot, Richards is the one who totally choked in the 400 at US nationals last year and let up before the finish, not realizing she wasn't in the top three. As a result, she didn't go to World's but did win the Golden League jackpot. Thus, we understand why she said the following, "Anything can happen on any given day and, if someone is prepared to represent the country at a high level, I think they should be given an opportunity. The best system would be to have two places and one wild card that is picked by the coach or a committee of people."
While we certainly understand why she, as the best 400 meter runner on the planet (well for sure if Allyson Felix isn't running), doesn't want to have to run US nationals. That doesn't mean we agree with her sentiments. What if she was the 5th best runner in the US?
Track is the purest and simplest of sports. No judges. No scores. Just who crosses the finish line first. If you are going to be a world champion, you should be able to finish in the top three. America (like it or hate it) has always been a society that rewards winners and punishes losers and provides very little of a safety net. There is nothing more American than our current selection process and it should be kept.
We just think the Trials should be moved closer to the Olympics.
Thumbs Up: Mo Greene

To Maurice Greene. If anyone should hate the US selection process, it probably should be a US 100 meter runner as a false start or a stumble at the start and your chance for glory is finished. And it's not like you have to overcome the possible hiccups just once in the finals - there are trials, semis and then the finals.
Yet Maurice Greene likes the US Selection process and says it needs to remain the same.
Maurice Greene, "That's the life we live. In the United States we have so many great athletes that when you go out to compete, you have to be ready for the day. We're not like other countries where they have only one great athlete in each event. We have six great athletes in every event and that's why our system is what it is."
*Greene/Richards Talk To AP About US Olympic Selection Process
Thumbs Down

To the LetsRun.com viewers. Look at their picks in the men's 3k and men's 1,500 at world's. In the 1,500, admittedly the win by the neophyte Deresse Mekonnen was a big shock, but to think that 50% more people thought Mottram would win the 3k than Bekele was absurd and Bekele proved that as Mottram finished out of the medals.


Who Will Win the 1500m Final?

| | |
| --- | --- |
| Daniel Komen | 44.2% |
| Rashid Ramzi | 26.9% |
| Nick Willis | 21.5% |
| Youssef BabaJuan | 2.5% |
| Mekonnen Gebremedhin | 1.7% |
| Deresse Mekonnen | 1.2% |
| Arturo Casado | 1.2% |
| Suleiman Kipses Simotwo | 0.8% |
| Carlos Higuero | 0.0% |

Who Will Win the Men's 3000m Final?

| | |
| --- | --- |
| Craig Mottram | 49.2% |
| Tariku Bekele | 34.4% |
| Paul Koech | 10.0% |
| Edwin Soi | 4.5% |
| Other | 1.9% |
Thumbs Up: 101 Yr Old Drinker, Smoker and Marathoner
To 101 year old Charlie Mullins who is training for the London Marathon. That alone is impressive but his lifestyle and training methods are what really impress us. As one friend said of Mullins, "He smokes, drinks, stays out late, (and he runs) which is probably why he is still alive. Oh yeah, Mullins un-retired three years ago and now works for a plumber because he was bored.
*BBC Article on 101 Year Old Mullins Here
*Message board thread on Mullins: At 101 he took a beer break during his last race.
(Some are a bit suspicious of Mullins actually being 101. Hopefully a birth certificate can be found soon)
And a last thumbs up to Liu Xiang and Allen Johnson. We enjoy the hurdles mainly because we think Johnson is a great ambassador for the sport. A 37-year old getting silver is impressive. Even more impressive is Lix Xiang successfully dealing with the pressure of being China's poster-boy for the Olympics and starting out the season with indoor gold. But the pressure wasn't 1/100th what it will be in Beijing, and in Beijing, Dayron Robles, possibly the top hurdler in the world, likely won't screw up the start and not make the finals (*Video: Dayron Robles Thinks There is a False Start and Stops in 60m Hurdles).
*Video: *Liu Xiang Gets Gold over Allen Johnson in Hurdles
*Liu Xiang got his first indoor gold and all that is left is gold in Beijing- Allen Johnson 2nd. .
Worlds Photos: *Saturday PM *Saturday AM (Qualifying) *Friday
Continued: Page 2 of the Week That Was: The end for Takahashi? The Great State of Japanese Marathoning, The Sad State of American Women's Marathoning, Gate River Run US 15k Champs and More.
* Don't Worry We Haven't Forgot Your Suggestions and Will Rename This Column Soon

Got an opinion, news, info, or results? How about a name for our column? "The Week That Was" is not too catchy. Email us at [email protected]