2008 World Indoors : *Results
*Event by Event Recaps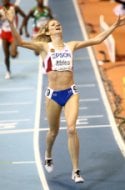 Sunday: Recap Soboleva 3:57.71 WR in 1500, 18 Year Old Kaki Wire to Wire 1:44.81 in 800, Bekele JR Wins 3k, Bryan Clay Wins Heptathlon (Reuters recap above)
*Race Results Weekly Distance Recap Here
The performers at worlds saved the best for last. Most impressive was the women's 1500 where Yelena Soboleva broke her own wold record and picked up $90,000 as she led 4 women under the 4 minute barrier as the top 5 all set PBs. 18 year old Abubaker Kaki was almost as impresive in the men's 800, as the 18 year old led wire to wire to win in a 1:44.81 personal best as the entire field set personal bests including Nick Symmonds who finished last (6th). Tariku Bekele was nearly as impressive as his older brother as he went 3:56 the last 1600 to get the win in the 3000m as Craig Mottram finished out of the medals. Lastly, Australia's Tasmyn Lewis shocked the field to win the women's 800.The 29 year old once was a precocious 16 year old who ran in the Commonwealth Games. She credits her resurgence to her brother taking over her coaching..
Video: *Tamsyn Lewis Wins 800 at Worlds
Video: *Defar Wins 3k at Worlds
Video: *Liu Xiang Gets Gold over Allen Johnson in Hurdles
*On the boards: *Kaki=Awesome (Nick Symmonds= Runnersworld Model)
*Soboloeva wins $90k
*Women's 1500 WR, 4 Sub 4:00, 5 PBs
*T Bekele averages 29.1 sec's for the last 7 laps of World Ind. 3k! (3:56 last 1600, 3:54 pace last 1400)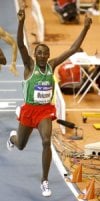 Saturday: Is there anything left for the Kenyans? Deresse Mekonnen Dan Komen Deresse Mekonnen Wins 1500 Mekonnen originally won the race but was DQd along with Nick Willis (for stepping on the infield.). The DQ was protested and Mekonnen was made the winner. (message board thread on DQ here) The 1500 was the one event Ethiopians had not had a lot of success in and Mekonnen is only 20, so Kenya had better watch out (they still dominate the steeple at least). In other action Meseret Defar blew away the field in the women's 3000m with a 28.8 last lap. Nick Symmonds looked incredible in his 800m semifinal. Liu Xiang got his first indoor gold and all that is left is gold in Beijing. American veteran Allen Johnson got the silver.
High Jump: Stefan Holm Wins 4th World Indor High Jump Title
Hurdles:*Lolo Jones Gets World Indoor Gold
*Liu Xiang Gets His First World Indoor Gold
Long Jump: Britain's Chris Tomlinson Gets Silver in World Long Jump
Photos: *Saturday PM *Saturday AM (Qualifying)
*Friday
Video on Demand and Highlights:
Entire meet on demand on WCSN
*Day 2 Highlight Video: 2 Minutes
*Dayron Robles Thinks There is a False Start and Stops in 60m Hurdles
*Cantwell Wins Shot
*Fasuba Wins Men's 60
*Angela Williams Wins 60
Morning:
*Dayron Robles Out in Hurdle Qualifying!!
*Jamal and Fomenko Top Qualifiers in 1500 QualifyingChristin Wurth Thomas has been sick and didn't make the final.
*(Un)Official Worlds Discussion Thread
*Photos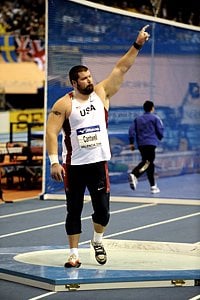 *Friday Recap: Christian Cantwell Wins Shot, Angela Williams and Olusoji Fasuba Win 60 Olusoji Fasuba got Africa's first gold in the indoor 60 as Britain's Dwain Chambers ran a pb to get silver in what may be his final race as everyone is trying to blackball the ex drug cheat from the sport.
*Day 1 Evening Distance Recap: Maria Mutola Takes First Step Towards Eighth World Indoor Title Americans Khadevis Robinson and Nick Symmonds looked good in making the 800m semifinals. Fellow American Nicole Teter ran a seasonal best to make the 800 semis on time. Kiwi Nick Willis (looked good) and made the 1500m final.
Shot: Cantwell Wins Shot Gold, Says Critics Can Kiss His Ass IAAF
60: *Dwain Chambers Gets Silver at World Indoors Guardian
*Dwain Chambers May Retire BBC
Heptathlon:Tia Hellebaut Wins Heptathlon IAAF
*Kelly Sotherton Comes Close But Settle for Silver in Heptathlon
Friday Morning:
*Most of Favorite Advance in 3k Heats at 2008 World Indoors
*S. Africans Do Well on Day 1 of World Indoors
*Mo Farah Makes 3k Final
IAAF Previews: Men *Women
In Case You Missed it: The Incredible Heather Dorniden She falls 400m into a 600m race at Big 10s, gets up, and then the rest is history as the announcer goes nuts.
On the boards: Another Marathon Cheating Story - Women's Winner of Sarasota Marathon DQd
Guy Who Ran 3:02:26 at Little Rock Marathon Dropped Dead at Finish
LetsRun.com: The Week That Was We recap all that occurred in the last week in track including the richest race in history as well as the final Japanese Olympic marathon team selection race. We cap it all off by praising some of the heroes from the American collegiate conference action including LSU's John Kosgei, Wisco's Brandon Bethke, Minnesota's Heather Dorniden, Georgetown's Joanna Rogers, Cornell's Jeomi Maduka, Chris Curtis Vollmar and the Eastern Michigan men as well as D3 stars Erin Kelly-and Peter Kosgei.
*Page 2: Collegiate Stars Of the Weekend
Kenyans XC Camp To Start Wednesday With 33 Athletes For 27 Spots Several wild cards have been added. People who show up late will be booted off the team as Kenya is serious about putting forward a good showing to try to help repair the country's image.
104 Year Old Philip "Flying Phil" Rabinowitz Dies He reached his athletic pinnacle at the age of 100 when he set the 100m world record for 100 year olds.
4 Olympic Trials Qualifiers at Kaiser Permanent Napa Valley Marathon
Former Olympic Sprinter, Stony Brook All-American Roger Gill Dies in Car Crash
Irish 5k Star Marie Davenport Has a Baby Girl
Lake Biwa Marathon: World Champ Silver Medalist Mubarak Hassan Shami Wins in Lake Biwa Shami is the guy who celebrated too soon and gave away the 2005 World Half Marathon champs.
Stephen Kibiwot, Linah Cheruiyot Win Paris Half Marathon IAAF
Conference XC Track Action:
SEC: Results Arkansas men win again. LSU women. The most impressive performance was by LSU's John Kosgei, who may have emerged as a new star at the NCAA level. 3k and mile wins, going sub-4 for the mile win. (If you know of an athlete who had a super impressive performance in their conference meet email us.)
Big 12s: Recap: Texas Men Won by 2, Texas A&M Women Results Colorado Men 1,2,3,4 in 3k. Sally Kipyego double wins. Manzano mile and DMR wins.
Big 10s: Men's Results: Wisconsin Wins 8th straight. Minnesota Women.
*More coverage from Big 10 Network.
On the Boards: The next big Wisconsin runner??? ....BRANDON BETHKE He won the 3k and 5k.
Heps: Blog and Results Cornell men (Rojo's team) with the most impressive performance ever at the Heps. The Cornell women lost for first time in 6 years.
ACC: Results Virginia Tech Women, Florida State Men Dominate
All other conferences here
*McDougal Runs 7:54 Opener
Victor Conte: "Justice is certainly very important in this world, but so is forgiveness"
*Conte Says Let Chryste Gaines Compete BBC
Official Sammy Wanjiru and Lornah Kiplagat Win $300,000 and Zayed International Half Marathon (the World's Richest Road Race)
Wanjiru pulled away from Fabiano Joseph of Tanzania. Kiplagat absolutely crushed the field (Geti Wami included). We can't believe more top pros weren't there. Next year we'll have the race pay us $100,000 and we'll do their publicity, get their elite field, and clean up afterwards.
*Message board thread
*Wanjiru to Buy His Mom a Tractor With His Winnings
2008 AT&T USA Indoors: *Full Results Here*Event By Event Results Here


Sunday: LRC Thrilling Men's 800 Highlights, Rob Myers Proves He's Class of Men's 1,500 and Nicole Teter Takes Down Women's 800. Track races can't be any more exciting than the men's 800, which more than lived up to the hype and turned into an epic duel between KD and Nick Symmonds.
*Controversy in Men's Shot Put Boston Globe The big story perhaps should have been Adam Nelson not making the team, but instead it is the feud between Cantwell and Hoffa. (We received news of Cantwell calling Hoffa a "f****** hypocrite" at the post-meet press conference) You'd think at this level, the guys or Nike or someone would make sure they have the 16 lb shot they want. Nelson won't compete for $40,000 at Worlds but did get $25,000 for winning the Visa Championships series.
*Day 2 Photos
*Winners Quotes From Day 2


Saturday: LRC Favorites Tegenkamp, Wurth-Thomas Win, Shannon Rowbury Surprise Winner of 3k
Matt Taylor's recap of the 3ks (and how boring the meet was) for Letsrun above
*Boston Globe Recap of 3k, 1500
It was Tegenkamp's first race of 2008, but he is at a level above the rest of the 3000/5000 m runners in America not named Lagat, and his class trumped the sharpness of his training partners as he led a 1-2-3 Wisconsin sweep, as he was followed by Chris Solinsky and Olympian Jonathon Riley (thread here). Wurth-Thomas blew away the field in the women's 1500, and Shannon Rowbury showed the benefits of training with Shalane Flanagan as she upset Jen Rhines in the 3k.
More:
*USATF Recap: Favorites prevail Saturday at AT&T USA Indoor Championships
*USATF Wants New CEO by June 1, Weather Delays Caused Problems for Athletes
*Madison 1-2-3 at USATFs
* Brad Walker Wins Pole Vault at USATFs
*Jillian Camarena Wins Her 4th Straight Indoor Shot Title
*Photos of Day 1 of 2008 USATF Nationals
*Athlete Quotes - Day 1
*Post Race interviews