The Week That Was, Coming Later Today
This Weekend: Ryan Hall Ready for US Cross Showdown With Ritzenhein Hall will skip World Cross to run London.
*Free Asics Distance Summit With Joe Vigil, Steve Scott and Terrence Mahon at US Cross link fixed
World XC News: Free Seminar With John Treacy, Ian Stewart, Liz McColgan Friday Before World Cross (You Must Reserve Now If You Want to Go)
Ryan Hall Mania in Australia: Ryan Hall's Dad Honed His Running Coaching Skills in Australia He lived there for 5 years and Ryan's older brother was born there.
Dwain Chambers Update: Olympic Javelin Gold Medallist Tessa Sanderson Says Chambers Should be Allowed to Compete
*Former British National Coach Frank Dick Says Dwain Chambers Should be Allowed to Compete at Worlds
*Steve Cram: Kids Need Heroes Besides Dwain Chambers
Japanese 10k Record Holder Toshinari Takaoka Runs 47:40 for 10k in Japan
World Records Galore: Yelena Soboleva 3:58.05 A day after she ran 1:56.49. Plus the women's 4*800 record fell.
*Susanna Kallur Breaks 60m Hurdles World Record to Highlight Karlsruhe Meet IAAF
And all of Britain is Horrified: Dwain Chambers Storms to 6.55 Victory at British Trials
*British Champs Recap and Results
*Jason Gardener, The Fastest All Time Clean 100m Runner in Britain, Says Drug Free Athletes Can Succeed
*Dwain Chambers Win Leaves British Selectors With a Quandary
*Dwain Chambers in No Win Situation Times of London
More Indoor News: Kenenisa Bekele Defeats His Brother in 3k in 7:36 in Valencia IAAF
Olympic News: British Athletes Being Told to Sign a Clause Saying They Won't Criticize Chinese Human Rights Record The Brits also made their athletes give the Nazi salute back in 1938. When in Rome...
New Zealand Athletes May Have to Pay Out of Their Own Pocket to Go to 2012 Olympics
Ras Al Khaimah Half Marathon
*Photos Finishes Galore
Patrick Makau won a 2 way photo finish on the men's side as Salina Kosgei won a 3 way photo finish on the women's side. Each got $25,000 for their efforts. This is the richest half marathon in the world.
*2008 RAK International Half Marathon Results
4 guys went under the 1 hour barrier, Million Wolde clearly needs to lose a lot more weight as he ran 1:12 (after going out at only 33 minutes for 10k)
Move Over Liu Xiang: Dayron Robles Runs 7.33 in Dusseldorf, #2 Time Ever, Borzakovskiy Dominates Xiang now officially has his hands full. Robles is younger and keeps getting faster and faster. IAAF
*Video Highlights of Dusseldorf Meet (Robles race, women's hurdles, and last part of Borza's 800)
Saturday XC Action: Prisons and Police Recap in Kenya: Gideon Ngatunyi 4th at Last Year's World XC Wins Prisons Title
It's Official: Ryan Hall Running US Cross Country
As We Predicted: Another Marathon Major: Tokyo Talks About Adding Women's Field, Big Prize Money
LetsRun.com: The Mythical Steve Sherer
Who is the unknown, unsponsored American who ran a startling 3:56.00 full mile on Saturday in his first time under 4? Learn all about the man who openly admits that he's "kind of a princess with my training" and that "coaches hate me." His self-designed training philopsopy is revealed and bound to create lots of discussion on the message boards. An Olympic hammer thrower advises him, he does NO long runs, he has no traning partners, but he had enough belief in himself to move across the country and do it his way. And with a drug reference from Rojo, Wejo feels proud.
*Audio Interview here
USTFCCCA Indoor Polls Released (Tennessee Men, LSU Women #1)
Article on Dwain Chambers: "This weekend an entire sport could haemorrhage in less than seven seconds." Perhaps a bit dramatic. UK Athletics should just let him compete since they never made a rule preventing him.
Nick Willis Training in Florida Under the Watchful Eye of His Brother
2005 110m Hurdle Champ World Champ Ladji Doucoure Cuts Short Indoor Season With Injury
Mara Yamauchi: A Genuine Threat to Paula Radcliffe? Radcliffe certainly is the favorite for gold but the Japanese speaking and Asian-based Brit Yamauchi is now getting big time press in Britain. Yamauchi knows very well her chances: "It will be unrealistic to run a PB in those conditions, but I think the top six is realistic and Olympic champions have often been very unexpected. They are difficult races to predict... I'm second on the all-time British list but can think of ten Japanese off the top of my head who have gone faster,"
We certainly will miss him
IAAF Article on Mo Green's Retirement Greene, "It is now more than 11 years since I packed my bags and, with the help of my father, drove to Los Angeles in a bid to fulfill my sprinting dreams. Never, then, would I have thought that it would be an adventure that would last so long, delivering Olympic gold medals, World titles and World records along the way. Now, though, I have reached journey's end."
LetsRun.com! The Week That Was Jan. 29 - Feb 3, 2008 Millrose, Stuttgart, Mo Greene, Jeremy Wariner stabbing Clyde Hart in the back, and more. We've got it all covered letsrun.com thumbs up, thumbs down style.
Audio Weekly Review: Runnerville Podcast #3 Wejo chimes in for the first time thanking Mo Greene, plus Millrose, and running as a cash cow.
Tyson Gay and Adidas Crew are in Beijing Gay, Allyson Felix, and Jeremy Wariner all run for adidas. Craig Masback better start working hard. Gay is training 3 times ad ay in his attempt to get 3 Olympic golds.

Dwain Chambers Ready to Go to Court to Compete This Weekend at British Indoor Trials BBC
*Steve Cram Both Sides Getting it Wrong in Dwain Chambers Affair
RRCA Seeking Road Scholar Applicants
A Legend Calls it a Career: Mo Greene Retires 2 Olympic Golds, 5 World Champ Golds. A 100m World Record. And a lot of personality.
The Australian Age: "That's "greatest of all time," in case you missed it, and if Greene may have fallen just short of that status, it wasn't for want of self-belief. It also wasn't by much."
*Message Board Thread on Mo Greene
Millrose
*Results

LetsRun.com! 2008 Millrose Games Recap: Lagat Gets #6, Nelson Entertains, and Goucher Gets It Done Track and field's biggest indoor event saw Bernard Lagat capture his 6th Wanamaker mile, Kara Goucher get an exciting woen's mile win, and our hero Adam Nelson throws some bombs and entertains the crowd. Plus, upsets in the women's pole vault, women's hurdles and more.
*NY Times: Lagat Outduels Mottram
*LetsRun.com! Recap of 2008 Millrose Games High School Miles The boys mile is always the loudest event at Millrose.
*On the boards: Congrats to LetsRun.com Poster Crazystreaker on Winning the Boys' High School Mile
*Distance Photos
Saturday: Reebok Boston Games
*Results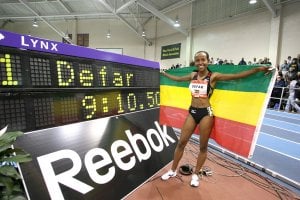 *LRC: 2008 Reebok Boston Games LetsRun.com Recap: Defar and Dibaba Restore Order in Boston The fans in Boston have been spoiled the past few years at the Reebok Boston Games and it looked like they might go home disappointed until Meseret Defar (& Kim Smith) and Craig Mottram put on a show in the nights two final events. Defar smashed drug cheat Reginald Jacobs' 2 mile world record and Craig Mottram took down Haile G's 3000m All Comers record. We break down all the action with quotes, photos and more.
*LetsRun.com! 2008 Reebok Boston Indoor Games Photos
Added: *Reebok Boston Photos by Victah Sailer
*Khadevis Robinson Makes Our Day With Is 2008 Reebok Boston Indoor Games Post Race Interview Khadevis is probably our favorite person in the US to hear talk after a race. Always entertaining, animated, and interesting. Hear him talk about algebra, riding a bike, but best of all see him imitate his son crying and learn why he's called Zion
More:
*Race Results Weekly Distance Recap: Records, Upsets Highlight 2008 Reebok Boston Indoor Games
*Boston Globe: Defar and Mottram Close Out the Night
*Boston Globe: Stuczynski misses mark, but settles for win
*Boston Globe on Hometown Said Ahmed
*USATF Recap
*AP Recap


NCAA Men: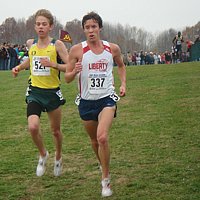 LetsRun.com Men's Recap: OREGON and McDougal
McDougal Triumphs in Great Stretch Battle over Rupp on Live TV
Josh McDougal had won everything in collegiate cross country except for the NCAA championships. That changed on Monday thanks to a thrilling victory over Galen Rupp. Rupp however got some redemption as he put a #1 on the board in team scoring, as Vin Lananna's Oregon Ducks got the NCAA team title, restoring Oregon's XC tradition much quicker than anticipated. Don't underestimate the gutsy performance of Oregon's Mercado twins. Plus we tell you who bombed at nationals, and how some big time streaks in collegiate XC could be coming to an end next year. Article edited to reflect Iona was within 20 poionts at 8k. Photo of McDougal at Finish.
*Results: Men's Team Results
*Men's Individual Results
*LetsRun.com 2007 NCAA Cross Country Men's Photo Gallery
*Video Archive of Race (Once you log in you can skip to any point in the CSTV coverage)
*Photo of the Day: Rupp Celebrates Earlier we thought it was Salazar as well but not any more.
More: Nice Recap from Terre Haute Paper: "I think we probably ran right around 14 minutes for that last 5K … that was into the wind and that's not fast conditions. It was just flat out in the last mile-and-a-half almost. That last 50 meters I almost fell over my legs were so heavy" -Josh McDougal
*Post Race Recap and Quotes from GODucks.com
*CSTV Post Race Recap
*Post Race Interviews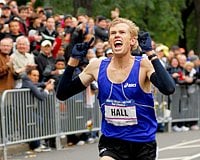 RYAN HALL 2:09:02 Ryan Hall put on one of the most impressive performances ever in American marathoning history, as he destroyed the field and coasted to victory in an incredible 2:09:04 (after a 1:06:17 1st half, yes that's a 1:02:47 2nd half on the hills of Central Park) on the very difficult NYC course. Dathan Ritzenhein ran a very impressive 2:11:07 to get 2nd while Brian Sell got the 3rd Olympic spot in 2:11:40. Former World Record holder Khalid Khannouchi ran a very gutsy race to finish 4th.
Ryan Hall is the real deal in case you didn't know. Here are his 5k splits on the very difficult NY course to prove how incredible he is at the marathon: 16:44, 15:41, 15:27, 15:12, 15:05, 14:48, 14:28. Yes that's right a 14:28 from 30 to 35k. Hall pumped his fist, pointed to the heavens, and waved to the crowd the final mile savoring the incredible run and still ran a 15 minute 5k pace for the final 7.2k (14.56 from 35 to 40k)
*Results
Race Recap From RunnersWorld's Amby Burfoot Amby did an excellent job covering the lead up to the Trials so it is fitting we link to his race article.
*NBCOlympics Recap of 2008 Olympic Marathon Trials: Triumph and Tragedy
*Quotes
*Video: Watch the on Demand (For Free, Skip to Any Crucial Point Instantaneously. Thank you NBC)
*Post Race Press Conference Videos Top 3, Meb, Culpepper, Khannouchi, Lehmkuhle
*Dathan Ritz Quotes
*Brian Sell Quotes
*Khalid Khannouchi 4th at Trials A great great run for Special K. He got 4th hobbling around the park.
*Photos Excellent ones from letsrun.com message boarders skylon
2007 ING NYC Marathon: Paula Radcliffe and Martin Lel Win With Big Finishing Kicks For the second straight day, there was thrilling action in New York's Central Park. Paula Radcliffe led for nearly 26 miles before Gete Wami took her first lead with less than a half mile to go. That move sparked an amazing finishing kick by Radcliffe who got her second NY title in her first marathon in two years. Wami gota nice consolation prize - the $500,000 world marathon majors title. In the men's race, Martin Lel outsprinted Abderrahim Goumri just as he did in London.
Video: Highlight Video from NBC Sports (3:47) NBC did a great job on its coverage this weekend. You can watch for free the entire men's trials here on demand (skipping to any point you want). If you paid $3.99 using code RUN2007 you can watch the full NYC marathon on demand.
Mo Greene's Finally Gets Some Tributes From the Mainstream Press:
LA Times: Mo Greene: "I hope you all enjoyed the show I put on. I hope you enjoyed it as much as I enjoyed putting it on"
Sports Illustrated: John Smith on Mo: "Most guys would have quit. People look for a reason not to fight on, you know. "
Washington Times "Most of all, he was a champion and a humanitarian who made watching the sport fun."
Delilah DiCrescenzo Looks Like a "Pop Star" On Red Carpet at Grammy's
*Photo of Delilah DiCrescenzo at Grammy's
Scientists May Finally Have an Explanation for Why Muscles Get Tired: Calcium Lactic acid apparently was tossed out as a reason a long time ago. Shows what we know.
40 Years after Tommie Smith and John Carlos:
*Chinese Are Hoping Athletes Follow Olympic Charter and Don't Protest at Games
XC Weekend Action: Ethiopia:Gelete Burka, Abebe Dinkessa Win Ethiopian XC Champs
Japan:Kenyans Dominate Chiba XC IAAF
NCAA/Open Indoor Action From USA:
*Two Sub 4 Miles At TTech Invitational - Messageboard thread here
Valentines Meet in Boston - Women's Result and Men's Entries Here
*New Zealand's Kim Smith Runs 4:24 Full Mile!! Very impressive. An Olympic medal certainly isn't out of the question for the former Providence star who absolutely destroyed the New Zealand record. Race Video Here - Message Board Thread Here
New Balance Collegiate Meet At Armory - Updated Results
*Bobby Curtis Goes 7:50 (sick) as Manzano gives Texas wins in DMR and Mile
*Illinois' Gakologelwang Masheto Runs New Collegiate Record In Men's 500m - 60.82
*Race Video Here
*Leo Manzano Profile in NY Times
Meyo Invitational At Notre Dame -Day 1 Results
*Michigan Women Run National Leading 11:01 in DMR Wisco's Matt Withrow won the men's 5k in 14:11.
As We Predicted: Another Marathon Major: Tokyo Talks About Adding Women's Field, Big Prize Money
IAAF Valencia Meet Is Saturday
World Record Attempts at 3k/Loaded Men's 1500 Field Highlight Totally Loaded Mid-D and Distance Fields The world's top stars will be in Valencia to race in the same building where world's will be in a month. In the men's 3k, Kenenisa Bekele will go after Daniel Komen's 7:24.90 world record (which celebrated it's 10th year anniversary on Feb. 6). The men's 1500 is absolutely loaded as double world champ Rashid Ramzi will compete against last year's junior sensation Asbel Kiprop as well as Ethiopia's Mekonen Gebremedhin (#2 on 2008 list) as well as a strong Spanish contingent. In the men's 800, 4 of the current 6 fastest 800 guys will race including reigning indoor champ Wilfred Bungei. The women's 3k will feature a battle amongst 3 Ethiopians. Meselech Melkamu, who just missed beating Defar when she set the world record last year by .02, will square off against world indoor 5k record holder, Tirunesh Dibaba, as well as 2006 world 4k xc champ Gelete Burka who will be running her first indoor race ever.
XC News: Next Week: San Diego Hosting US Cross for First Time Since Frank Shorter in 1971
*Colleen De Reuck Still Going Strong as She Gears Up for Olympic Marathon Trials We missed reporting she won the "Best XC Race on the Planet" in Boulder 2 weekends ago. And almost as interesting to us was that Melody Fairchild, Footlocker phenom, was in the race (she's now 34)
*Best Cross Country Race on Planet Women's Results *Men's Results
A Slew Of Kenyan And Chinese Athletes Confirm Their Participation In Next Week's Grand Prix In Sydney This meet counts in the point standings for the world athletics final. Sprinters Asafa Powell and Jeremy Wariner will be there as well.
Good News
Cross Country To Return To Rift Valley In Kenya Two major meets were called off last weekend but racing is expected to resumethis weekend. *Kericho District Champs To Also Be Run
High School National Signing Day Was Wednesday Find out who is going where.
On the boards:
*USATF Sending Full Team to World XC Thanks to LetsRun? Power
*Cathal Lombard, former EPO guy returns with good result
*Running = Child Abuse In US? -
*There is a plethora of posters over 45 on this board
Jeremy Wariner Brushes Aside Questions About Clyde Hart - Says He'll Break 400m World Record in 2008 If he doesn't break the record, he will be criticized.
Recommended Read Profile on 2003 World 5k Champ Eliud Kipchoge The 23 yr old's life story is remarkable. Interestingly, while he says that he wants to win an Olympic gold medal, he says a world record would mean more to him.
Repeat Champs In Empire State Building Run-Up - 86 flights in 10:08 (men) and 12:44 (women)
Dwain Chambers Saga Continues*
Dwain Chambers Cleared To Run British Indoor Trials
*Even If He Wins Trials, UK Athletics May Use Loophole To Keep Chambers Off World Indoor Team
*British Olympic Association Will "Vigorously Defend" Any Challenge Dwain Chambers Makes To His Olympic Ban
*Seb Coe Does Not Want to See Dwain Chambers in a British Vest Again
Bernard Who? Alan Webb to Run US 8k Champs March 15 to Open 2008 Season In case you forgot Webb had the top 1500 and mile times in the world last year, and #2 at 800.
Footlocker XC
Girls: 2007 Footlocker Girl Recap: Ashley Brasovan Wins
Brasovan the LetsRun.com darkhorse pick for the meet came out on top as she stayed off of the suicidal opening pace set by Jordan Hasay and rallied for the win over the final mile. Next year, the past 3 champs will all be back to race one another for supremacy.
*Results
*Foot Locker 2007 Webcast Archive
*2007 Foot Locker Girls Race Photos
*Photos of All 40 Footlocker Girls
*More Post Race Coverage: Dyestat, Milesplit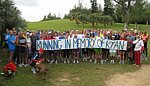 Ryan Shay Run in Bermuda a Huge Success
Organizers Ashley Couper Estwanik and Chris Estwanik were expecting a handful of people, but instead hundreds showed up.
UK Doping News: Paula a Bit Disappointed Christine Ohuruogu Didn't Do More to Get to Her 2nd Missed Test
*UK May Get an Independent Drug Agency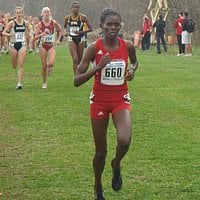 NCAA Women:
LetsRun.com Women's Recap: Stanford Three peats, Kipyego Dominates Sally Kipyego showed she is still head and shoulders ahead of the competition and Stanford showed there was a reason they were #1 in the country all year. Plus we take a look at next year's NCAAs. The Pac10 is so tough Stanford could go from three peating at nationals to 4th in their conference.
*Results:
*Women's Team Results
*Women's Individual Results
*LetsRun.com 2007 NCAA Cross Country Women's Photo Gallery
More: Sally Kipyego Cruises to Another NCAA XC Crown www.tribstar.com
*The Oregon Women Hadn't Made NCAAs Since 2000 and They Leave the NCAA Runnerups www.oregonlive.com
Olympic Champ Noguchi Wins Tokyo Marathon in 2:21:37 She booked her ticket to Bejing with the win.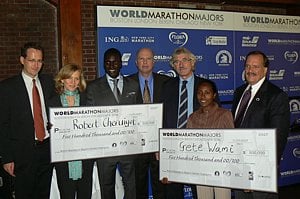 Robert Cheruiyot and Gete Wami Honored With Inaugural World Marathon Majors Titles and Their $500,000 Checks in NYC Both athletes were very humble as they accepted their prizes and were already focused on the future instead of spending their paydays. Cheruiyot is the greatest rags to riches story in sport. Text, photos and video.
*NY Times Article on World Marathon Majors Awarding $500,000 to Cheruiyot and Wami
*London Director Dave Bedford Expects World Marathon Majors to Raise Purse
LaSalle Bank Chicago Marathon Women
Unbelievable
Adriana Pirtea Blows It
Just watch the video above. Shorter video here if you're impatient
*Chicago Tribune Recap of Ivuti's Narrow Win
Adriana Pirtrea, a runner basically no one has heard of (including ourselves) (she did finish 2nd at an NCAA indoors once), was on her way to winning the Chicago Marathon. She had been clear of Berhane Adere for miles. Pirtrea, as she took the final turn, was high fiving the crowd. She had a 15 second lead with 58 seconds of runing left. Little did she know that Adere had overcome whatever problems she had had and was quickly making up ground. Pirtrea never looked back and was strolling into the finish thinking about her career changing win. Meanwhile, Adere was in an all out sprint on the other side of the road. She flew by Pirtrea and Pirtrea had no chance to respond. A truly incredible turn of events as Adere made up a 15 second deficent in 47 seconds. Watch it to believe it.
*Former Yalie Kate O'Neill 3rd in Her Debut
*Wheelchair Race Decided by 1 Second All the races in Chicago were close.
AL OERTER 1936-2007 The death of this legend basically is being ignored in the US but thankfully the NYTimes gave him the homage he was due in this tremendous article by Frank Litsky on Oerter. And we like Oerter's anti drug stance and honesty (admitting to trying roids in 1976). When he quit competitive throwing he said, "The drug culture had taken over."
*Daily Telegraph in Britain Remembers Al Oerter
*Kansas City Star Remembers Al Oerter
*More Oerter: *Message Board Thread
*More on Oerter from Florida Paper
*Article on Oerter and His Painting: "I know this won't sound right but painting is the same dadgum thing I found in training for the Games"
LetsRun.com 2007 World's Coverage:
*Sunday Homepage Ndereba marathon
*Saturday Homepage
*Friday Homepage Tyson Gay
*Thursday Homepage Lagat
*Wednesday's Homepage Lagat
*Tuesday's Homepage Bekele 10k
*Monday's Homepage Tyson Gay
*Sunday's Homepage Dibaba/Goucher 10k
*Saturday's Homepage Kibet Marathon
LaSalle Bank Chicago Marathon Men
Unvelievable:
Invuti Wins Unbelievable Finish in Chicago Words don't do it justice just watch the video above.
*Chicago Tribune Recap of Ivuti's Narrow Win
It's hard for words to describe the greatest finish in (Chicago) marathon history. It came down to two time world champ Jaouad Gharib and former track/xc star Patrick Ivuti, fresh off his 59:27 half marathon. Gharib surged ahead going up a slight incline down the finishing straight. Ivuti then battled back and took the lead on the downhill. Gharib dug back and retoook the lead as they barreled towards the finish and the two guys still standing there with the finish tape which is only about 5 feet wide. Ivuti surged back right at the finish and it was too close to tell but Ivuti got the win. Hot weather took its toll on everyone.
*Video: Patrick Ivuti Talks About His Narrow Win In Chicago