Justin Gatlin By 2-1 Ruling Gets His Doping Suspension Reduced to 4 Years, Other Arbitrator Wanted Less Gatlin says he was "robbed" and we have some sympathy for him getting 4 years while others get less, but Gatlin still has not confessed to the doping. If he admitted to doping, we'd have a lot more sympathy.
Documents:
*Justin Gatlin's 53 Page Arbitration Ruling
*22 Page Dissent in Justin Gatlin's Arbitration Hearing
More: Justin Gatlin Says He Was Robbed
*Jason Gardener Does Not Think Justin Gatlin Will Compete in 2012
Japan Ekiden Mania:
Japan is the only country in the world where distance running is on LIVE national television for 5 or 6 hours a day, 3 straight days in a row. Things started on New Year's Day with the pros:
Team Konica Minolta Wins New Years Ekiden in Japan (Led by Takayuki Matsumiya Sub 1:00 Half Marathon Equivalent Stage)
but as Brett Larner reports the most popular Ekiden in Japan and the most widely watched is the 2 day Hakone University Ekiden. Yes 2 days, all live on national TV, something only the Boston Marathon can manage to accomplish in the US.
*Recap of Day One of Hakone Ekiden
*Excellent Preview and History of Hakone Ekiden Read what it is all about.
Russians Olesya Bufalova, Tatyana Veshkurova, and Svetlana Cherkasova May be In Trouble with Doping Authorities
IAAF Year in Review:
*800 and 1500
*Steeple, 5k, 10k
*Road Racing and Marathon
*Sprints
Leonard Mucheru to Defend His Marathon Title in Israel as He is Now Competing for Kenya Once Again
Charlie Wells, Marion Jones' Ex Agent, Gets 2 Year Suspension from USATF after He Plead Guilty to Bank Fraud Charges
Profile Of Kenya's Mid-D Sensation Janeth Jepkosgei: Jepkosgei is the latest of a series of amazing 800 runnners to come from her village which has already produced two sub 1:42.3 guys. Unbelievable. Her 2007 season was also unbelievable.
FormerAbilene Christian Track Coach J. Oliver Jackson Dies at 87: He coached athletes that won 4 gold medals and set 15 world records
Paul Kipsiele Koech Came From Behind To Win Lotto Cross Smart running paid off as he was 50m behind early on
Falsely Convicted Gareth Turnbull Wins Boxing Day Greencastle 5 Miler and Breaks Course Record This is the deadest time of the year for running. Take a break from letsrun.com until 2008 and you won't miss much.
No Chance: Organizers Think Junior Stephanie Twell Can Have Impact in Senior Edinburgh XC Race on January 12th
Lee McConnell Quits 400m Hurdles for 400 Due to Injury Concerns
World Master Athletics President, Italy's Cesare Beccali Dies IAAF
For Some Reason IOC, USOC Don't Believe in Following Precedent in Marion Jones Relay Case A case went to CAS and said Jerome Young's teammates got to keep their medals. Young didn't run in the final, but it seems like the cases are otherwise similar.
World Junior Champ Record Holder and All Africa Games Champ Willy Komen Has Eyes on Olympics EA Standard
Sunday's Action: Veerle Dejaeghere and Paul Kipsiele Koech Win Brussels Lotto Cup XC Race, Lornah Kiplagat Suffers Calf Strain At this point it does not look like the calf strain will keep Kiplagat from going for the biggeest payday in the sport of running, the $250,000 Standard Chartered Dubai Marathon on January 19.
Roger Clemens Issues Video Denial It took him 2 weeks to come forward. His denial means nothing. Remember, Bill Clinton didn't have sex with that woman and Marion Jones took up all of page 166 of her biography with this. Hopefully, the truth one way or the other will come out.
*Message board thread
Documents Released Related to Marion Jones' Doping in Conjunction With Her Court Case We're reminded by Steroid Nation, how Marion in her biography flatly denied ever doping and pointed to a lie detector test she took. The documents revealed show how comprehensive the doping was. Insulin, HGH, EPO, roids, and not much of a concern for testing positive. She was taking EPO a week before most meets and never tested positive, although she did have an EPO "A" positive and "B" negative. But we're a bit surprised USADA wasn't able to nail her for a non-analytical positive with all the info apparently out there.
*Marion Continued to Lie After Agreeing to Cooperate With Prosecutors
*Message board thread on Marion's Doping
World XC Champ Lornah Kiplagat, Moses Masai, Paul Kipsiele Koech Headline Sunday's Brussels Lotto Iris Cross Cup This is Kiplagat's only race before she goes for the biggest payday in all of running, the $250,000 first prize at the Dubai Marathon. Masai ran a 2:10 world junior record in the marathon at 18.
Bernard Lagat and Lornah Kiplagat 2007 RRW Athletes of the Year
For Every Death in a Marathon, 1.8 Lives are Saved From Less Traffic Fatalities Due to Road Closure Not to mention the thousands of lives saved from people living healthier lives.
*Study Recap here
A New Challenger to Paula and Noguchi in Athens? Kayoko Fukushi to Make Marathon Debut in Osaka She's the Japanese 3k, 5k, and half marathon record holder and smashed Olympic Champ Noguchi with her 1:07:26 half debut. But the marathon is a whole different beast which the Japanese know more than anyone. In fact, the Japanese have such respect for the marathon, that Fukushi has entered Osaka as an independent runner instead of as an elite runner. "We entered as an independent runner rather than as an elite to show that she is aware that she is new to the marathon and is not resting upon her past achievements." How bad ass is that? The other big news from Japan is that Yoko Shibui, the former national record holder in the marathon, has given up on trying to qualify for the 2008 Olympics.
Lagat and Mottram to Square off Again at Wanamaker Mile Our sport should be embarrassed if they can not sell out the Garden. A Cornell-BU hockey game sold out the Garden this year. The 100th Millrose wasn't even a sellout.
Good Read: "It has limited my life. I'm a prisoner of routine, but I've become comfortable with it."
-Robert Kraft who has run every day since January 1, 1975 in an excellent article in ESPN the Magazine (only $14.95 a yr) on running streaks. Kraft is only 11th on the US list. The US leader is a former Olympic Marathon Trials runner Mark Covert, who has averaged 9.7 miles a day for 39 years (and hasn't missed day). Incredible. Plus he claims the streak doesn't consume him.
Tokyo International Women's Marathon Cancelled, Does This Open the Door for the Tokyo Marathon to Join the World Marathon Majors? In one simple word - yes.
A New Star Emerging in Kenya? Sammy Kitwara Wins 4th XC Meet of Winter in Kenya If you win 4 races on your block in Kenya, much less the whole nation, you're probably pretty damn good.
Spain: Ethiopia's Tadesse Tola and European Champ Marta Domínguez Win in Spain IAAF
Japan: Team Mitsui-Sumitomo Wins 2007 All Japan Women's Ekiden IAAF
MLB Drug Scandal: Drug Researcher Don Catlin Says He Could Take a Lot of Steroids Without Being Caught Latimes.com We've said for a long time that testing is not that effective unless you 1) Put much, much more into research and/or 2) do sophisticated profiles of athletes' over time.
*Blood HGH Test Supposed to be Completed Soon New York Times
*Don Catlin Says MLB Was Antsy About Sen. Mitchell Talking to Him Perhaps they didn't want Mitchell to know that their funding for anti doping research is a joke.
*Without HGH Test, Drug Testing in MLB (and Everywhere Else) Is All Academic New York Times
Ted Corbitt RIP 1919-2007 We knew very little about this man until people on LetsRun started talking about him recently but he is definitely someone we would have loved to meet. An Olympian, an ultrarunner pioneer, the godfather of all course measurers, second president of the Road Runners Club of America, and co-founder and first president of the New York Road Runners, Corbitt definitely had a full life and contribute so much to the sport we all love. The grandson of slaves born on a S. Carolina cotton farm, Corbitt remembered stories of his grandfather being a runner. Corbitt was a true pioneer who will be missed.
*Ted Corbitt Message Board Remembrance Thread
*Great article from 2002 on him here (He went 300 miles in 6 days at the age of 82)
*Ted Corbitt NYRR Obituary
*IAAF Obituary
Zatopek Classic Today in Australia IAAF
*Dan Batman Running 400 in Zatopek
LRC The Week That Was
(The week that was is on hiatus until 2008)
We review the last week in the running world. Of course we cover the big stories like Foot Locker's, Xman's arrest, Honolulu, European XCs, (and the biggest race of the week in terms of money the Lagos Half Marathon) but we also go behind the scenes and tell you of some people you might not be aware of like Sgt. Nathan Pennington and Lineth Jepkirui (get used to seeing her name). Plus we praise the winners and losers of the week and are doing our part to make the 100th finisher at NCAAs All American.
"(Perhaps) Marion Jones isn't a villain or bad person. She just picked the wrong sport. If she was in the NFL or MLB, she could sit out a month, and now come back and train for Beijing while starring in Nike commercials."
-LetsRun.com writing about the MLB drug policy in our well received new feature, "The Week That Was"
Footlocker XC
Boys: 2007 Footlocker Boys Recap: Midwest Champ Michael Fout Wins Luke Puskedra took it out in a suicidal pace and Fout, the Midwest champ, hung just a few seconds back and stormed to the win as the Midwest Region swept 5 of the top 10 spots. Pre Race Favorite German Fernandez was third.
*Results
Photos:
*2007 Foot Locker Boys Race Photos
*Photos of All 40 Footlocker Boys
*More Post Race Coverage: Dyestat, Milesplit
On the boards: Move Delaware to the South It and Arkansas have never qualfied anyone for the finals.
LetsRun.com Contest Recap: Women Dominate 2008 LetsRun.com Men's Marathon Trials Contest
8th Grader Wins Contest and 4 from Her PE Class in the Top 30
Yes, ladies and gentleman an 8th grade girl who does not even do track won our contest. It's a great story. Read up on how a letsrun.com fan, got his PE class to follow the 2008 Olympic Marathon Trails.
LRC The Week That Was In what we hope will be a weekly take on the week that was in distance running action, LRC takes a look back at the last two weeks of action (hey it was Thanksgiving). We give big props to young upstart Sammy Wanjiru who could become the man who overcomes Kenya's failure in the Olympic marathon (Kenya has 2 medals ever in the Olympic marathon, all from Japanese based Kenyans. Guess where Wanjiru trains?) We totally break down the NCAA meet and tell you who had the best and worse days and seasons. We give out a slew of Thumbs Ups to everyone from the last-place Stony Brook women to the 3rd-place Oklahoma State men as well as a many Thumbs Downs including one to the entire Northeast Region. Josh McDougal gets official Old School Status andSammy Wanjiru is labelled a Sensation. Wanna guess how many people watched the NCAA XC meet live on the Internet? We tell you the answer. We even tell you how Rojo got a UVA runner All-American honors.
Editor's Note:Updated 9am eastern with story on Devine Racing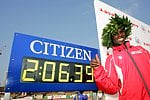 Fukuoka Marathon: Sammy Wanjiru Runs 2:06:39 for Win in Fukuoka in His Marathon Debut World half marathon record holder Wanjiru pulled away from Deriba Merga over the final 2k to get the win in the most competitive marathon ever in Japan (2 sub 2:07s, 3 sub 2:07:15). Wanjiru is barely 21 and his marathon future is bright (the marathon debut record is 2:05:50 by Evans Rutto)
*More on Race from Japan Running News Blog
*Fukouka Photos
*200+ Thread With Live Race updates and Impressions

NCAA Men: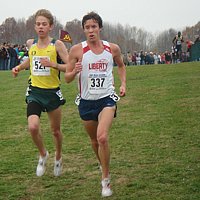 LetsRun.com Men's Recap: OREGON and McDougal
McDougal Triumphs in Great Stretch Battle over Rupp on Live TV
Josh McDougal had won everything in collegiate cross country except for the NCAA championships. That changed on Monday thanks to a thrilling victory over Galen Rupp. Rupp however got some redemption as he put a #1 on the board in team scoring, as Vin Lananna's Oregon Ducks got the NCAA team title, restoring Oregon's XC tradition much quicker than anticipated. Don't underestimate the gutsy performance of Oregon's Mercado twins. Plus we tell you who b