What are the Most Popular Running Shoe Brands on LetsRun.com?
Nike is #1 on LetsRun.com in Popularity
By
LetsRun.com
What are the most popular running shoes? Which brand makes the best running shoes?
We get these questions a lot.
As anyone could tell you, the most popular often does not necessarily mean the best. Our BetterRunningShoes.com review site is designed to help find the best shoes for you as an individual.
Below we tell you the most popular running shoe brands on LetsRun.com and the most popular shoe for each brand.
Article continues below player.
Our measure of popularity is simple: how many reviews a shoe gets on LetsRun.com.
Quick Links:
Most Popular Brand: Nike A Dominant #1, with Saucony a Surprise #2
Nike is the most popular brand on LetsRun.com in terms of overall reviews, training shoes, and racing shoes. The numbers really aren't close: Nike is ahead of its competitors in terms of the number of reviews across the board.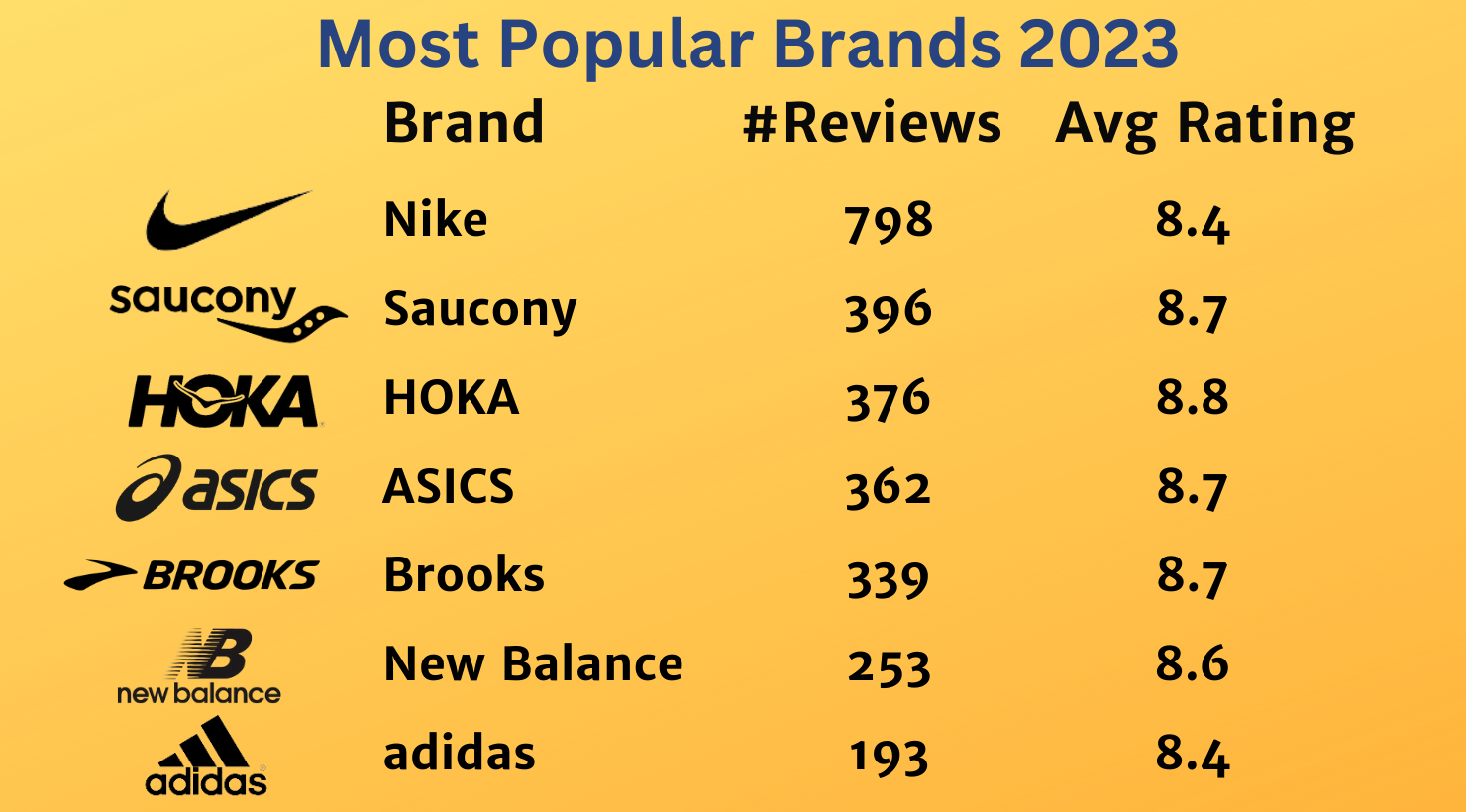 Nike is a behemoth in the track and field and running world. It is the most profitable shoe brand in the world and sponsors the most Olympians, so it makes sense that Nike is #1 on LetsRun.com. As long as we have had shoe reviews on LetsRun.com, the Nike Pegasus line has been the most popular trainer. Likewise, Nike is known for its racing shoes, and Nike dominates the super racing shoe category.
---
11/10 (Ad) Many styles of the Nike Pegasus 40 – the most popular shoe on LetsRun- (including the Eliud Kipchoge version) are 30% off on RunningWarehouse today. Check it out here.
---
After Nike, Saucony, HOKA, ASICS, and Brooks are in the same relative ballpark of popularity. Then there is a drop off to New Balance and a further drop to adidas.
The fact Saucony does so well is to us the biggest surprise. Saucony, HOKA, ASICS, and Brooks are all known to make good shoes and do relatively well in specialty running. Saucony, however, punches above its market share on LetsRun.com.
How? The Kinvara has always been a popular line on LetsRun.com, but now Saucony is doing very well in the max cushioned training department with the Endorphin Speed line. After Nike's supershoes, Saucony's supershoe, the Endorphin Pro, is the next most popular. Plus Saucony has trail shoes like the Peregrine.
Since brands can excel in different categories and runners are often looking for a specific type of shoe: training, trail, or racing, it makes sense to look at those categories individually.
Training Road Shoes: Nike still on top, ASICS #2
Nike comes out on top in terms of popularity for training road shoes. The Pegasus 40 is the most popular shoe on LetsRun.com (and available today 11/10 for an incredible $90.97), but now Nike is also making relatively popular superfoam training shoes with ZoomX foam, like the Invincible Run and Streakfly.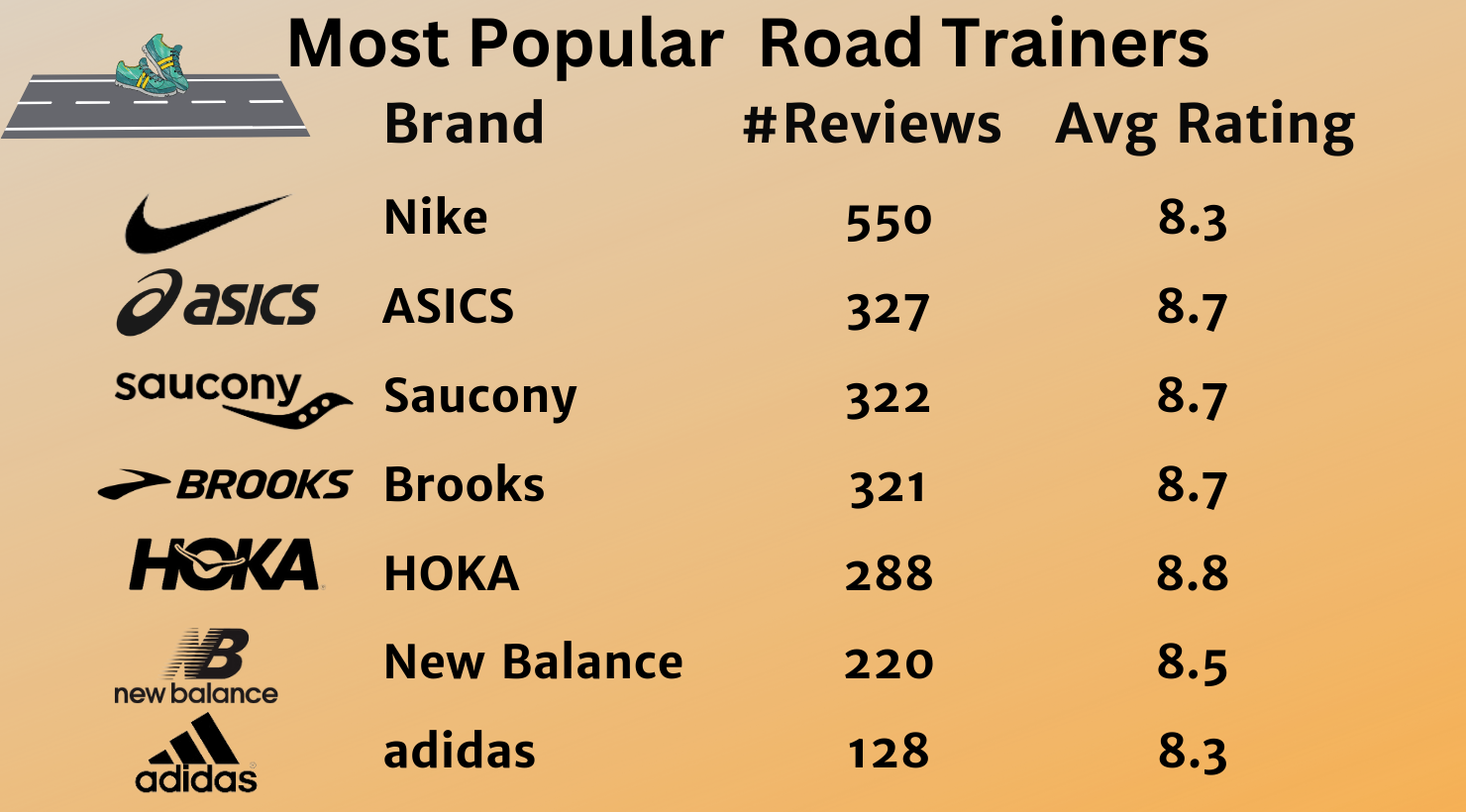 ASICS, which a decade ago used to dominate specialty running, is making a nice comeback with its road shoes. The Kayano and Nimbus lines have always been relatively popular, but now ASICS is doing well with shoes using some of the newer foams. The Novablast 3 is a popular all-around trainer used by Cam Levins and Deena Kastor, that uses an OBC foam that is durable with rebound. ASICS also has the #1 ranked max cushioning SUPERBLAST which embraces superfoams for max cushioning.
Saucony and Brooks are virtually tied with ASICS in terms of road popularity on LetsRun.com. We discussed Saucony above, but there is a reason Brooks is #1 in specialty running, they make shoes everyday runners love. The Brooks Ghost 15 is the latest in the flagship Ghost line and is currently the #2 rated shoe on all of LetsRun. It is a great super popular all-around trainer. (The Ghost 14 is available still for a steal of $89 if you want to try it out). The Brooks Glycerin is also a popular neutral trainer, and the Brooks Adrenaline 23 is the most popular stability shoe on LetsRun.com.
Most Popular Trail Shoes: HOKA #1

One area where Nike is not #1 in popularity is trail running shoes. HOKA comes out on top in popularity in trail running. It would be totally inaccurate to call HOKA a trail running company, as their road training shoes are super popular on LetsRun.com with the Clifton line being the 2nd most popular line on LetsRun.com. The Clifton 9 is the #3 rated shoe on LetsRun.com currently.
However, HOKA stands out in popularity with its trail shoes. The HOKA Tecton X 2 is the most popular and most highly rated trail shoe on LetsRun.com. A very good combo (a shoe that costs $225 needs to deliver and this one does). Trailshoes may no longer be HOKA's identity but they are a big part of the brand's lore and HOKA also has the Speedgoat 5 and the hybrid Challenger.
Altra is a company whose identity is in the trail market and zero-drop shoes, so it makes sense it is #2 in the LetsRun.com popularity trail rankings. The Lone Peak 7 is just behind the Tecton X 2 in overall trail popularity and the Olympus and Superior are in the top 10 of popularity for trail shoes.
Most Popular Racing Shoes: #1 Nike, #2 adidas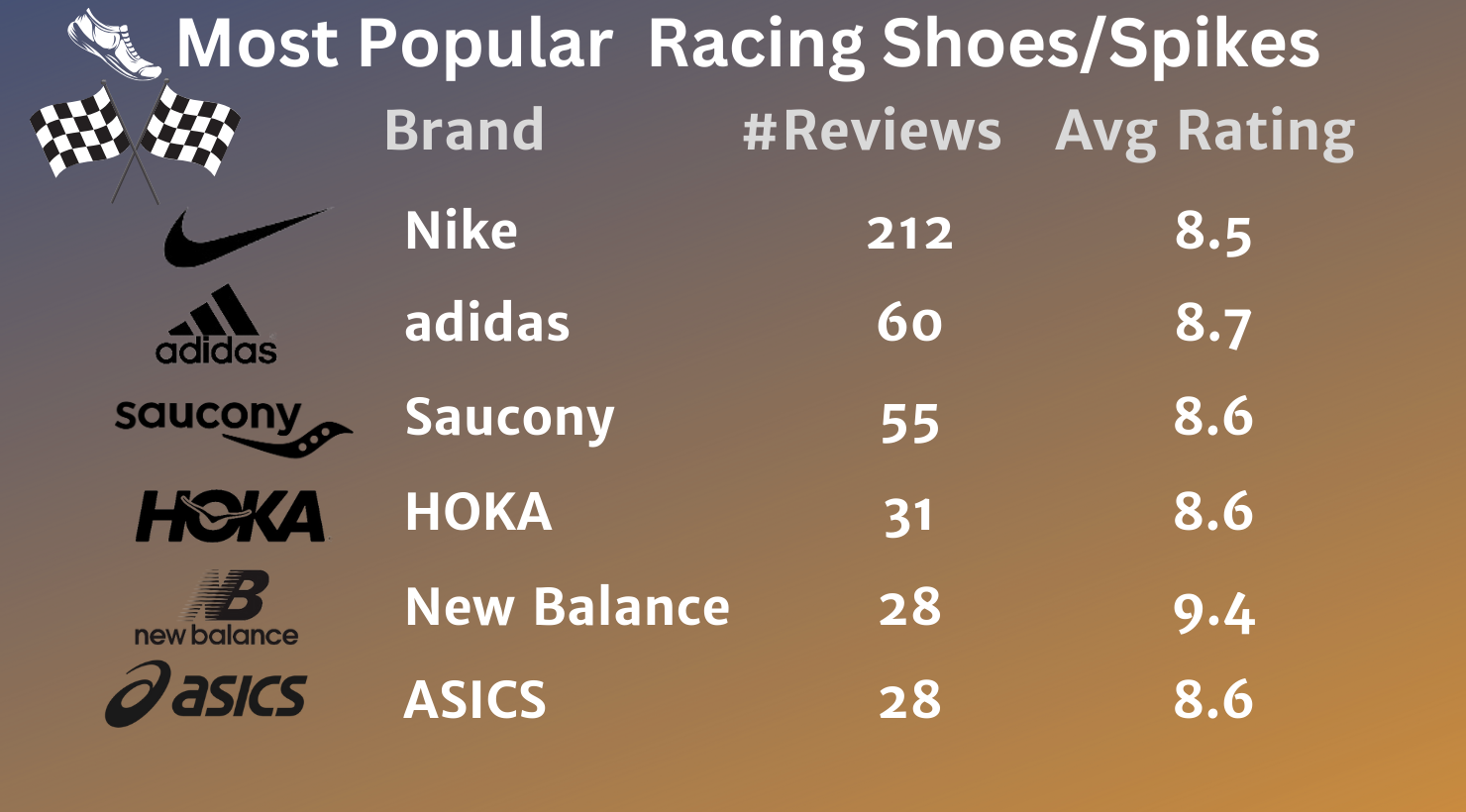 No one should be surprised Nike is the most popular racing shoe. They not only make the most popular and highly rated supershoes (the Alphafly Next% 2 and Vaporfly 3) but also the most popular and highly rated track spike, the Dragonfly (don't be confused by the 8.5 average rating above for Nike's racing shoes. Nike makes some lesser spikes that aren't as highly rated but their racing shoes are loved and highly rated on LetsRun). So it's not even close they are the #1 racing shoe.
adidas, the second biggest running shoe company in the world in terms of sales, has taken a decline in popularity on LetsRun.com in terms of training shoes with TPU foams no longer being the rage in the industry. adidas lags at the #7 spot in popularity for overall shoes and training shoes, but it does clock in at #2 in racing shoes. adidas' supershoe racers, the adios Pro 3 and Prime X Strung, are relatively popular on LetsRun.com. Morover, adidas still makes some more conventional racing shoes like the Takumi Sen 9, which is popular and highly rated; the adizero adios 8 is also popular, likely because many LetsRunners use it as a lightweight trainer.
Missing Brands: On and Puma
Some very big brands, like Puma (#4 in the world) and On (growing like a rocket) are not on the list above. It doesn't mean they don't make great shoes. The Puma Deviate Nitro 2 is rated the most durable shoe on LetsRun. On's Cloudmonster is the 8th most popular shoe on LetsRun.com. In the future, we'll be highlighting more of the most popular and top-rated shoes for each brand but have a small chart below showing the most popular and top rated training shoe for the brands discussed above.
Want a better running shoe? Check our our BetterRunningShoes.com site.
Note: We may get affiliate commissions if you purchase from our links. No one paid us for this review.