The Most Durable Running Shoes of 2023
Runners Want Their Shoes to Last Longer
By
LetsRun.com
Looking for the holy, grail? A super cushioned running shoe that is also super durable? So is everyone else. We've got a few contenders below.
While LetsRun visitors like their running shoes in general, they tend to rate the durability of their shoes far lower than other shoe properties.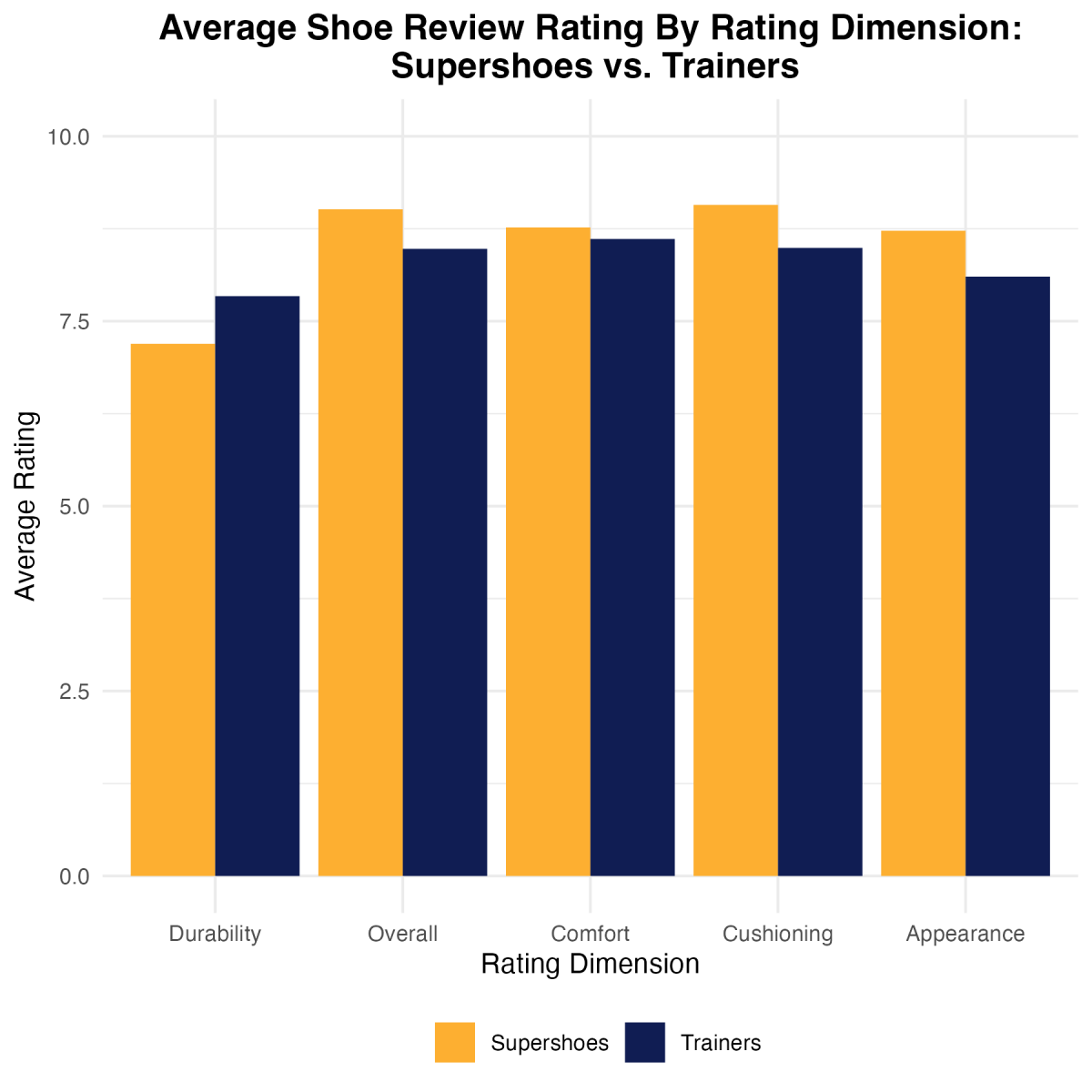 While some would argue that a shoe's durability can be objectively measured by how quickly a shoe breaks down, things are more complicated. In practice, how quickly a shoe breaks down depends on a host of things including a runner's stride, weight, and the surfaces they train on. Moreover, runners may have different expectations going in on how long they expect a shoe to last, particularly for different types of shoes (e.g., racing vs. trainer shoes).
Our LetsRun.com Durability Ratings, however, provide us a bird's eye view on all the shoes on the market, allowing us to systematically rank shoes on durability.
Big Changes in Running Shoes The Last Decade
Running shoe construction has changed tremendously in the last decade. In 2013, adidas came out with its BOOST™ shoes, based on a TPU foam, meant to be cushioned and durable. They were very popular on LetsRun and very durable. For the first time there were better alternatives to EVA foams which had burst onto the scene since the late 1970s.
More change was coming. Superfoams were not yet used in running shoes, the ultra cushioning revolution was in its infancy, and carbon plates weren't yet in training shoes. Not only did expectations change on what people wanted in running shoes (more cushioning) over the last decade, but so did what was possible (combining foams, stacking them with a plate, even a shoe with a TPU plate).
Today, shoes with traditional TPU foams by-and-large are viewed as too heavy.
| | |
| --- | --- |
| Overall | |
| Comfort | |
| Cushioning | |
| Durability | |
| Appearance | |
| Value | |
Top 7 Ranked Shoes By Durability Today
Below, we take a look at the seven highest rated running shoes on durability on the LetsRun.com Better Running Shoe site. You'll see they have various builds and foams. A key commonality between shoes rated highly on durability is a grippy sole that doesn't wear down.
Three of the seven shoes highest in the durability rankings are stability shoes. It makes sense that shoes designed to limit overpronation might also as a result be more durable as some of the materials for stability are designed to be rugged. Stability shoes in general are heavier than neutral shoes and there is a moderate correlation between weight and higher durability rankings.
(Click on a shoe below to see the full review)
What People Love
#1 ranking on durability for all shoes for sale Fall 2023

Amazing grip

Praised for performance on multiple surfaces

Carbon plated trainer with mix of foams
Cons
Middle 50% on cushioning and comfort.

Multiple reviewer complaints about narrow toe-box.

Some complaints that it feels bulky.
The Puma Deviate Nitro 2 is a carbon-plated shoe designed for training with great grip. It is a relatively new concept in the running world, a carbon-plated trainer. Traditionally, most carbon plated shoes have been designed for racing, and the designers didn't care too much about long-term durability. But the calculus clearly changed for Puma when it built this carbon-plated trainer, and you all love the result.
First, Puma took care of business with the sole of the shoe. The Deviate Nitro 2 uses the PumaGrip technology that is designed for all surfaces and gets rave reviews for being good in all conditions. It is pretty simple, but if the sole of the shoe is built to last, it protects the rest of the shoe from degradation.
Puma then combined its PEBA superfoam, the Nitro Elite, with its more traditional firmer Nitro foam, along with a carbon plate, and the result is durability (and cushion) LetsRun.com runners love.
ASICS GEL-Kayano 30
10.7 oz. (men's), 9.3 oz. (women's), moderate stability pronation, 40mm stack height
What People Love
Top 1% in durability

Top 25% in Comfort and Cushioning
Cons
Over 10 ounces which some people don't like
The ASICS GEL-Kayano 30 is a durable stability shoe that people love. ASICS totally revamped the GEL-Kayano line with the 30th revision, providing it with a higher stack height and a "4d Guidance System" for stability. Like the Puma Deviate Nitro 2, the GEL-Kayano 30 has a very durable sole, this one made of AHAR Rubber. The GEL-Kayano 30 uses Flytefoam Blast Plus Eco foam which is a combo of traditional EVA + Dupont's OBC (Olefin Block Copolymers) which is designed with stability in mind. 
The result of these improvements is a standout shoe that not only is rated #2 in durability, but is the #1 stability shoe on LetsRun.com and #5 in our overall rankings at the time of writing. Moreover, both overpronators and neutral runners rate the shoe highly. For example, reviewer malebcorehart says "While they're marketed as a "stability" shoe, they can still work well for neutral runners. "
What People Love
Superior durability.

Best-rated Shoe by Overpronators.

Top 25% in Cushioning and Comfort
Cons
No wow factor.

Over 10 ounces
Brooks is known for its solid all-around training shoes that can take a pounding. The Brooks Adrenaline GTS 23, a stability shoe, is the first of three Brooks shoes with DNA Loft foam in our top seven durability rankings.
The Adrenaline GTS 23 uses DNA Loft V2 foam which combines EVA, rubber and air to provide cushioning with great durability. The sole uses blown rubber with flex grooves for durability and traction. The Adrenaline GTS 23 also sports the GuideRail System for support. Like the GEL-Kayano 30, it tips the scales just a tad above 10 ounces. This shoe is the #1 ranked shoe for overpronators.
Brooks Ghost 15
9.6 oz. (men's), 8.4 oz. (women's), neutral pronation, 35mm stack height
What People Love
Great marks on the holy grail: comfort, cushioning, and durability.

Most popular Brooks shoe on LetsRun.com
Cons
If you want super bounce look elsewhere
The Brooks Ghost 15 is a standout shoe: of all the shoes in our durability rankings, it is the most popular and highly rated overall.
Like the Adrenaline GTS 23, it has DNA Loft V2 foam, which gets great marks for holding up to a pounding. Its outsole, the rubber Segmented Crash Pad, was designed with durability and traction in mind.
Multiple users reported getting more than 400 miles out of the shoe. One reviewer notes: "I've used my Brooks Ghosts to walk in after about 400-500 miles of running, and they last for a couple years (roughly 1000 miles) after that."
Ranked #2 overall, #4 on durability, and top 10% in comfort in our rankings, the Ghost 15 is one of the best running shoes on the market.
What People Love
Great all-around ratings

Now available at an amazing price
Cons
Doesn't have DNA Loft V2 foam that GTS 23 has
We won't say too much about the Adrenaline GTS 22 as it is very similar to its most recent revision, the Adrenaline GTS 23, which we discuss above. The GTS 22 uses DNA Loft V1 foam and gets just slightly lower ratings than the GTS 23. It can be found at a great price as it is about to disappear for good.
ASICS SUPERBLAST
8.4 oz. (men's), 8.4 oz. (women's), neutral pronation, 45mm stack height
What People Love
#1 ranked shoe on LetsRun as of Oct 2023

Praised for all types of running: everyday training, long runs, workouts, and races.

Superlight, yet responsive and supportive and good marks for durability.
Cons
Hefty price tag.

Not eligible to be used in official races.

Some complaints about narrow midfoot and large toe-box

Some reviewers think this shoe runs too big, by about a half-size.
ASICS spent a lot of effort in developing the ASICS SUPERBLAST and the result was a home run. A durable max cushioned trainer, the SUPERBLAST not only tops the charts on durability, it is also rated #1 overall and #4 on cushioning.
This big stack height shoe is illegal to be used in World Athletics races and doesn't have a plate, but the SUPERBLAST got its durability by the ways ASICS combined foams. The SUPERBLAST has ASICS superfoam, the FLYTEFOAM Blast Turbo, in the midsole, and tacked above it is the firmer FLYTEFOAM Blast+, designed to give the shoe some stability and durability. The shoe uses AHARPLUS rubber on the outsole for protection and traction.
These technologies combine to make a maximally cushioned shoe with great durability scores, something that was viewed as impossible a decade ago.
Saucony Triumph 20
9.8 oz. (men's), 8.7 oz. (women's), neutral pronation, 39mm stack height
What People Love
Commonly praised for being a good, all-around workhorse shoe.

Rated among the top 5% of shoes overall.

Top 10% in comfort, cushioning, and durability.
Cons
Some reviewers felt it was slightly unstable
The Saucony Triumph 20 is a max cushioned shoe with great durability and E-TPU foam. Bargain hunters around the world (which includes most of the LetsRun.com staff) might want to buy this shoe now as it is currently for sale under $100. 
If you've seen a consistent theme in the rankings above, it is a good rubber outsole, and the Triumph 20 has a blown rubber outsole for durability and grip. The result is a durable cushioned trainer. Perhaps it shouldn't be a surprise this shoe ranks well in durability as its foam is Saucony's PWRRUN+ which is E-TPU (expanded thermoplastic poly- urethane), an improved version of the TPU foam that revolutionized the industry a decade ago. 
The Triumph 20 gets great marks in cushioning, comfort, and durability. A rare triple crown contender.
What People Love
Lives up to its hype with the vast majority of reviewers rating it well.

High marks on durability.

Popular shoe among LetsRun.com readers.
With the LetsRun.com rankings, we rank supershoes and trail shoes separately from every day trainers. But if we ranked them all together the HOKA Texton X 2 would be ranked as the #2 shoe overall and in the top 10 for durability. So trail runners, it's hard to go wrong with this HOKA shoe, except in the pocketbook as it will set you back $225.
Not Sure Which One to Buy?
Want to buy one of the shoes above but can't decide? Those who want to try and latest and greatest without a budget should try the Superblast 20 ($200), bargain hunters should spring for the Triumph 20 ($99), tech geeks should go for the Deviate Nitro 2 (carbon plated trainer), those who want to make sure they don't go wrong the Brooks Ghost 15 (most popular of the group above on LetsRun), people who want a trail shoe the Tecton X 2, and the people who want a stability shoe can pick either the GEL-Kayano 30 or the Adrenalin GTS.
While the shoes all above get great durability rankings, we still saw quite a few reviews like this one where people wished their shoe lasted longer. Who knows what will happen in the next decade? Our bet is technological advances allow shoes to get even more durable.
*More: Check out the durability rankings on LetsRun.com or the LetsRun.com Better Running Shoe Site