WTW: The Mythical Sub-16 NCAA 4 x Mile Remains A Myth & Fast Teens Continue To Roll
By
Robert Johnson
The Week That Was in Running, April 24 – 30, 2023
Each week, I try to make the sport more fun to follow by putting the prior week's action in perspective for you. Past editions of our Week That Was weekly recap can be found here. Got a tip, question or comment? Please call us at 844-LETSRUN (538-7786), email us, or post in our forum.
****
Stat of the Week
15:30.66 – cumulative mile PBs for the University of Washington milers entered in the 4 x mile at the 2023 Penn Relays (Luke Houser 3:52.87/2023 NCAA indoor champion, Sam Ellis 3:53.13, Nathan Green 3:52.76, Joe Waskom 3:51.90/2022 NCAA outdoor champion).
16:14.31 – time run by the University of Washington in the 4 x mile at Penn on Saturday, where they were just third in a wild race where the top six teams all ran 16:14.
Breaking 16:00 is no joke and doing it at Penn isn't easy as a) It's often windy and B) Things often turn tactical. On Saturday in Philly, it wasn't too windy but it was wet. Still, sub-16 was within reach after the first three legs as five teams handed off right next to each other in 12:03-mid.
Article continues below player.
Rather than run for history — sub-16, the collegiate record (16:03.24), and Penn Relays record (16:04.54) were all within reach — the anchors immediately ran like cowards this.
The disgust and disappointment in the announcers' voices (Hayden Cox and Trevor Fulkerson) was palpable.
In the end, Liam Murphy ran an incredible final 200 to give Villanova the win in 16:14.03 (4:10.20 split). It was the Wildcats' 21st win in the 4 x mile at Penn, breaking a tie with Arkansas for most all-time. Murphy went from 7th to 1st, going way out into lane 3 as they were five-wide down the home straight.
Seriously, watch the final 200 if you haven't as he comes from a nearly impossible position to win comfortably.
###
UVA was fourth in the 4 x mile at Penn. UVA finishing fourth shouldn't come as a shock as they are loaded with sub-4 guys.
Back at home on Sunday, the Cavaliers' Jack Eliason was grinding it out and going for time at the Virginia High Performance meet. And in the end, he got what he wanted; the first sub-4 of his life, 3:59.64.
3:59.64#GoHoos⚔️ pic.twitter.com/FN0NqPKh6U

— Virginia Track & Field and Cross Country (@UVATFCC) April 30, 2023
UVA now has seven student-athletes on its track team who have broken 4:00. Washington has eight — seven who have done it this year, plus Leo Daschbach, who did it as a high schooler. (Kieran Lumb also did it for UW this year indoors, but he just turned pro and signed with On).
UVA's Sub-4 Milers (All times from 2023 unless noted)
Conor Murphy, sophomore, 3:55.24
Wes Porter, sophomore, 3:56.83
Gary Martin, freshman, 3:56.83
James Donahue, freshman, 3:57.44
Yasin Sado, junior, 3:58.92*
Nathan Mountain, sophomore, 3:59.01
Jack Eliason, junior, 3:59.64
*Run in 2022, has run 3:40 for 1500 this year
Not only did Eliason get the coveted sub-4, he also helped a high schooler break 4:00 as North Carolina's Rocky Hansen ran 3:59.56 for the win. Hansen is the 18th high schooler to break 4:00 and the first new addition to the club in 2023.
Race video (filmed by Gary Martin)
###
In the open mile at Penn, Geordie Beamish showed yet again that you don't want him in a race that comes down to a kick as he got the upset win over Worlds 4th placer Mario Garcia Romo, 3:57.68 to 3:57.98. In the women's 1500, Josette Andrews raced for the first time outdoors as a member of the On Athletics Club and dominated teammate and 2022 NCAA 1500 champ Sintayehu Vissa, 4:04.88 to 4:07.27.
###
In the men's 4 x 800 at Penn, Penn State's 7:11.17 meet record, which has stood since 1985, survived a scare as Ole Miss got the win in 7:12.37. Given Ole Miss's mid-d prowess in recent years, their winning wasn't a shock but at the beginning of the year most wouldn't have believed that Cade Flatt would run the slowest leg for them (1:50.85 leadoff; he handed off in 5th). But Flatt wasn't healthy indoors and it's hard to run fast if you aren't healthy.
1. Ole Miss, 7:12.37
[Cade Flatt, 1:50.85; Shane Bracken, 1:47.04; Tiarnan Crorken, 1:46.70; Baylor Franklin, 1:47.78]
2. Penn State, 7:12.96
[Evan Dorenkamp, 1:48.65; Darius Smallwood, 1:48.49; Olivier Desmeules, 1:47.37; Handal Roban, 1:48.46]
***
Nikki Hiltz Impresses / Colleen Quigley Is Healthy Again
Things were busy last week in Iowa as Des Moines hosted the US road mile champs on Tuesday followed by the Drake Relays. Here are my three big winners:
Nikki Hiltz – Hiltz took down 2022 US champion Sinclaire Johnson to win $7,500 in the Grand Blue Mile in 4:28.0. Hiltz came back for the track meet and won the women's 1500 as well in 4:09.02 (Johnson did not double back). It was Hiltz's second US road title — Hiltz also won in 2019, which is the last time Hiltz made the US Worlds team.
Colleen Quigley – Quigley ran 4:31.4 in the road mile to finish 4th, her best running result in years. Still only 30, Quigley certainly could find herself in the hunt for a 2024 Olympic spot in the women's steeple. Prior to the race Quigley wrote on Instagram, "I feel so grateful to come into this race with a healthy body and a rock solid support system behind me. This is what I wrote down on the plane yesterday: 'I step to the line with all my experiences- both good and bad- I bring it all with me because it's all been part of making up who I am today. I have so many tools in my belt from all these experiences that I can pull out in any given race scenario.' So let's go!!!!"
Loras College men'x 4 x 800 team – The team of Wyatt Kelly (1:52.29), Ryan Harvey (1:51.28), Carter Oberfoell (1:50.45), and Mike Jasa (1:48.16) ran 7:22.17 to set an NCAA DIII 4 x 800 record, winning the collegiate section by more than 15 seconds. They also ran faster than the 7:25.78 winning time put up by Nebraska in the DI (University) section.
##
There is one other college result of note. Congrats to Richard Etir of Tokyo Kokusai University. Etir set a Japanese collegiate 10,000 record a week ago at the Nittei University Time Trials when he ran 27:06.88. The Nittei time trials featured 18 sections of the men's 5k and 10 of the men's 10,000. The US collegiate record, if you're curious, is 27:08.39 by Sam Chelanga of Liberty, set at the famous 2010 Payton Jordan Invitational won by Chris Solinsky.
****
Don't Do This In Your Next Road Race
For the third straight year, adidas last week held its ADIZERO: ROAD TO RECORDS event where many of its top distance runners race on the adidas campus in Germany. You can see all results here, but the most entertaining finish and perhaps most significant result came in the women's 5k. The race came down to a sprint finish between 2015 world championship silver medallist Senbere Teferi, 2022 RAK Half champ Girmawit Gebrzihair (21 years old, 64:14 half pb), and Medina Eisa, the 18-year-old world U20 5000 champ from last year who also snagged silver at World U20 XC in Australia earlier this year.
Watch the final 40 seconds of the race here:
Teferi celebrated early and Eisa was your winner in a world U20 best of 14:46. Eisa's track pb is 14:59.53 from 2021 Hengelo.
𝗡𝗘𝗪 𝗪𝗢𝗥𝗟𝗗 𝗨𝟮𝟬 𝗥𝗘𝗖𝗢𝗥𝗗 🌍🤯

WHAT a finish to the women's 5km. 😵‍💫

Medina Eisa and Senbere Teferi both cross the line in 14:46… but the win is awarded to 18-year-old Eisa, who now stands alone for her age group. 🌟

👟 #Adizero Takumi Sen#RoadToRecords pic.twitter.com/iRB74At7V9

— adidas Running (@adidasrunning) April 29, 2023
The other result of note was Takele Bikila, 20, winning the men's half marathon in 60:04. Now 20-year-olds running half marathons is no longer newsworthy like it was 20 years ago, but what's significant about Bikila is he won world U20 silver on the track in 2021 in the steeple, when he ran 8:09 and went to the Olympics as an 18-year old. Normally a guy like that would stick aroud for a track career, but maybe the lure of the road $$ is too much?
More: adizero results *Full video of all the races – 5ks, 10ks and half marathon
***
Colin Sahlman Runs a Big PB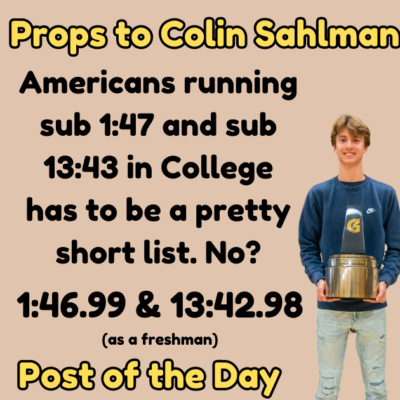 Colin Sahlman was America's best high school distance runner last year, but his freshman fall (151st in XC) and winter (didn't qualify for NCAA indoors or break 4:00) for Northern Arizona weren't great for the 3:56 high school miler. Now that he's had some time to adjust to training at 7,000 feet in Flagstaff, however, the California native is picking up steam. Outdoors this year, he's either won or set a PR in every race he's run. Last week, he did both as he won the 800 at the Desert Heat Classic in a big pb of 1:46.99 (previous pb of 1:48.07) in a race where second place was just 1:48.39, meaning Sahlman has as many sub-1:47 clockings in his life as the great Jakob Ingebrigtsen. The 19-year-old Sahlman has also run 3:38.30 and 13:42.98 outdoors this year.
MB: Colin Sahlman 1:46 NAU haters go home devastated
****
Fast Teen Sprinters Continue To Roll
There were some crazy fast times put up in the sprints last week. Leading the way were a bunch of teenagers. In Botswana, 2021 and 2022 world U20 100 champ Letsile Tebogo of Botswana ran 9.91 (+2.3) in the 100, finishing second to Kenya's Ferdinand Omanyala, who blitzed a 9.78. Then Tebogo came back and gave his home fans what they wanted — a victory, as he won the 200 in a pb of 19.87 (-0.3). Olympic champ Andre De Grasse was just 7th in 20.41.
Back in the US, 18-year-old high school senior Issam Asinga stayed hot as he dipped under the 20.00 barrier for the first time by running 19.97 at Texas Tech (+1.3). Asinga is just the second US high schooler to break 20, though he's still got a ways to go to catch Erriyon Knighton, who ran 19.49 as a senior last year.
(It's worth noting that both races were run at a little bit of altitude. Gaborone, Botswana, is at 1,010m/3310 feet & Lubbock is at 978m/3209 feet).
That got me thinking. How many different sprinters are still teenagers and super fast?  There are five current teenagers, potentially representing five different countries, who have either broken 10.00 for 100 or 20.00 for 200 or both. Here they are, listed from youngest to oldest.
5 Super Fast Teens
Issam Asinga – USA/Zambia/Suriname – 18 yrs, 124 days – 9.83w, 19.97
Bouwahjgie Nkrumie – Jamaica – 19 yrs, 75 days – 9.99, world U20 100 silver
Erriyon Knighton – USA – 19 yrs, 93 days – 9.98w, 19.49, Sr Worlds bronze in 200
Blessing Afrifa – Israel – 19 yrs, 188 days – 19.96, world U20 200 gold
Letsile Tebogo – Botswana – 19 yrs, 329 days – 9.91, 19.87 world U20 100 gold/200 silver in both 2021 and 2022
###
Did you see what 15-year old Quincy Wilson did at Penn? Wilson, who ran 48.8 for 400 as an 8th grader and then won the New Balance Indoor Nationals this year in 46.67, split 45.06 in the 4 x 400.
MB: 9th grader Quincy Wilson splits 45.06 in Penn Relays prelim
###
Muzala Samukonga of Zambia isn't a teenager but he only turned 20 on December 9 and he had arguably the performance of the weekend as he ran 43.91 to win the 400 in Botswana, making him the 17th-fastest man in history and the 22nd person under the 44.00 barrier outdoors. Last year his best was 44.66 to win Commonwealth Games gold.
###
In women's sprint action, Olympic 200m bronze medallist Gabby Thomas ran a huge 400 pb in Austin. She came into the race with a best of 51.15 but left with a 49.68 pb. It wasn't a shock to me as I was on the mic when she split a 49.44 at Ivy League championships five years ago for Harvard (104 women have broken 50.00 according to Tilastopaja).
Really solid weekend of work at home at the Texas Invitational. I wanted to see where my fitness was before we head into Diamond League season. Very pleased with my wins in the 200 and 400- 22.21 and 49.6 🙌🏽 pic.twitter.com/NauEBkRWvJ

— Gabby Thomas (@ItsGabrielleT) April 30, 2023
What an incredible final leg of the 4x400m relay for Gabby Thomas and Harvard wins it! #GoCrimson #IvyHeps pic.twitter.com/PNT6uz6Ld1

— Harvard T&F | XC (@HarvardTFXC) May 6, 2018
*MB: Gabby Thomas 49.68 at Texas Invitational
*MB: Sydney Who? Gabrielle Thomas (Harvard) runs epic 49.44 4×400 split at Heps (with video)
***
Recommended Read
LRC "I Was Born For Drama": Revisiting the 5 Most Dramatic Moments of Sifan Hassan's Career From her Diamond League double in 2018 to her Olympic triple in 2021 to her London Marathon heroics, Hassan creates excitement wherever she goes.
To see our favorite reads from other weeks, go here.
***
Quotes Of The Day And Last Week's Home Pages
To see the quotes of the day from last week or last week's home page or any home page, go to our archive page.
Talk about this article on our world famous fan forum/ messageboard.
***
Got a tip, question or comment? Please call us at 844-LETSRUN (538-7786), email us or post in our forum.