The Biggest Questions Ahead of NCAA XC Conference Weekend
By Jonathan Gault
October 26, 2022
It's officially late October. Leaves are falling, grocery stores are overflowing with candy, and a cloud of pumpkin spice has once again descended upon the United States like a biblical plague.
In the college cross country world, the last week of October means conference weekend and a chance to earn bragging rights for the next 365 days (though conference "weekend" has become a bit of a misnomer — almost every major conference meet this year will be held on Friday). The mad dash for football TV money has left the major conferences increasingly unrecognizable — get ready for BYU in the Big 12 next year and UCLA in the Big 10 the year after that — but the history of some of these conference meets is still pretty cool. Did you realize they've been running the Big 10 Cross Country Championships since 1908?
Article continues below player
There's also a lot to sort out before the NCAA Championships on November 19, which are just over three weeks away. Which teams are getting hot and/or healthy at the right time? Will any individuals make a statement with a big win on Friday? Who should be the favorites heading into NCAAs?
This year, the top NCAA teams are unusually spread out. The top seven men's teams in the most recent USTFCCCA coaches' poll all hail from different conferences, while on the women's side, the top five teams are spread out — the highest-ranked matchup on either side is the #1 NC State women against #6 Notre Dame at ACCs. Ar we set for a weekend of chalk, or will someone crash the party and spring an upset? Here's what to look for at each of the major conference meets, along with the biggest question from each race as we head toward NCAAs.
(LRC Update: The results of our fan polls have been tabulated. You can find them here: LetsRun.com Cross Country Fans Poll Results – Find Out Who Is Favored To Win NCAA XC Conference Titles This Weekend)
SEC Championships — Valby vs. Chelangat; is Arkansas' run of dominance over?
Ole Miss Golf Course, Oxford, Miss. *Results *Streaming link
Women's race 11:08 a.m. ET, men's race 11:50 a.m. ET
Ranked teams
Men: #17 Tennessee, #22 Alabama
Women: #7 Alabama, #21 Arkansas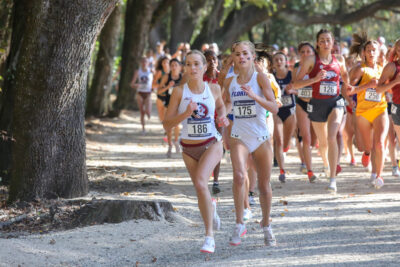 Arkansas has dominated SEC cross country for the last decade. The women have won the last nine conference titles, while the men have claimed 10 of the last 12. But 2022 has been a down year in Fayetteville as the women are ranked 21st nationally and the men aren't even ranked. The time is ripe for some new blood. But conference titles aren't handed out; they're earned.
Tennessee and Alabama are the two ranked teams in the men's race. The two raced each other at Notre Dame on September 30 and Tennessee won, 104-126. Alabama has a strong front three (Victor Kiprop, Eliud Kipsang, Hillary Cheruiyot) but Tennessee is deeper; in a smaller field at SECs, that gives the Volunteers the edge. Individually, Kiprop, Kipsang (the reigning champ), NCAA 10k champ Dylan Jacobs of Tennessee and his teammate, NCAA DMR champ Yaseen Abdalla, should all vie for the title.
A win for Tennessee would be the program's first since 1990 and a remarkable turnaround for coach Sean Carlson in year one. Tennessee hasn't finished higher than 4th at SECs since 2001 but thanks to transfers like Jacobs, Abdalla, and Jacob Lewis, the Volunteers should do a lot better than that on Friday.
On the women's side, it finally looks like Alabama's year. The Crimson Tide may have their best team ever while Arkansas is on the decline. The Razorbacks were only 19th at the Nuttycombe Invite, behind squads like Notre Dame and Toledo — both of whom Alabama beat convincingly at Notre Dame. With a fierce front three of Mercy Chelangat, Hilda Olemomoi, and Amaris Tyynismaa, the Tide should roll to their first conference title since 1987.
The big question: How much does Parker Valby win by?
In her season debut at the Arturo Barrios Invitational at Texas A&M, Florida's Parker Valby, the NCAA 5000 runnerup in the spring, ran the best race by any collegiate athlete this fall, taking 25 seconds off Dominique Scott's course record by running 18:58.2 for the 6k course. Valby's run was so impressive, it had us wondering whether she should now be the favorite at NCAAs over Katelyn Tuohy.
Valby won't race Tuohy at SECs, but she will face 2020 NCAA XC champ/2022 NCAA 10k champ Mercy Chelangat of Alabama. Chelangat raced Tuohy at Notre Dame and finished 12 seconds behind her.
Comparing Valby to Tuohy won't be an exact science as there are some confounding variables. ND was a 5k course, SECs is 6k. And those 12 seconds all came over the final 1k — the gap could have been larger if Tuohy pushed earlier. But after racing Chelangat this weekend, we'll get a slightly better idea of how Valby and Tuohy compare.
Editor's note: While we think Valby will win, we think Jonathan's bold title asking how much she will win by is a little disrespectful to Chelangat and others. But let us disrespect Chelangat a little bit. Are we even sure she'll be the Alabama #1? At their last meet, she was #3 in the race and #3 for Alabama as 2020 NCAA XC 3rd placer Amaris Tyynismaa got the win with teammate Hilda Olemomoi second.
Big 12 Championships — Cook vs. Roe vs. McCabe
Chaparral Ridge Cross Country Course, Lubbock, Tex. *Results *Streaming link
Women's race 11:00 a.m. ET, men's race 12 p.m. ET
Ranked teams
Men: #4 Oklahoma State, #23 Texas
Women: #3 Oklahoma State, #28 West Virginia
The team races in Lubbock aren't particularly interesting as Oklahoma State is heavily favored on both the men's and women's side. The Cowboy men have only lost this meet three times in the last 14 years. This year's squad, led by Cowboy Jamboree champ Alex Maier, is at least as good as the OK State teams that finished on the NCAA podium in 2020 and 2021, and with #23 Texas the only other ranked team in the field, the race should not be close. Likewise, the OK State women looked very impressive in winning the only meet where they've run a full team this fall, defeating top-10 squads NAU, BYU, and Stanford at the Cowboy Jamboree in September. They should cruise to a second consecutive title.
The big question: How does the Natalie Cook-Taylor Roe-Ceili McCabe battle shake out?
This may be the most tightly-contested individual battle at a major conference meet. In her collegiate debut at the Cowboy Jamboree, freshman phenom Natalie Cook of Oklahoma State defeated her older teammate Taylor Roe — the NCAA 3k champion — and everyone else to claim the victory. After both women sat out Pre-Nats, they should be back at Big 12s for a battle against West Virginia's Ceili McCabe, who was 3rd at NCAA XC last fall and has won her two races this fall at Louisville and Penn State. All three women have the ability to finish in the top 5 at NCAAs.
ACC Championships — Top-ranked NC State women are favored; Notre Dame leads men's field featuring 7 ranked teams
Panorama Farms, Earlysville, Va. *Results *Streaming link
Men's race 10:30 a.m. ET, women's race 11:30 a.m. ET
Ranked teams
Men: #6 Notre Dame, #8 Wake Forest, #12 NC State, #13 Virginia, #16 Syracuse, #18 North Carolina, #29 Duke
Women: #1 NC State, #6 Notre Dame, #8 North Carolina, #15 Syracuse, #25 Virginia
No conference meet will feature more ranked teams this year than ACCs, which will see seven ranked men's teams and five ranked women's teams square off at the site of the 2023 NCAA championships at Panorama Farms. Notre Dame, after finishing 5th at Nuttycombe, will be favored on the men's side, but Wake Forest won the Panorama Farms XC23 Invitational on this course two weeks ago and has its best shot at a conference title since 1994.
Another storyline worth following: coaches Vin Lananna (Virginia) and Chris Miltenberg (North Carolina) – who both at one point coached at Stanford – were both hired at their respective schools in 2019, to much fanfare. Both are now in year four, and so far the highest either has placed a men's team at ACCs is fourth. That speaks to the strength of the conference, but you've got to think they'll be feeling some pressure to crack the top three (at least) this year.
Individually, the man to beat is North Carolina's Parker Wolfe, who was 28th at NCAAs last year as a true freshman and has only gotten better in year two.
In the women's race, NC State's Katelyn Tuohy will be going after her first individual ACC XC crown and is the clear favorite after wins at Notre Dame and Nuttycombe. Her biggest threat is teammate Kelsey Chmiel, the defending ACC champion who finished as runner-up to Tuohy (five seconds back) in her season opener at Nuttycombe two weeks ago; before that race, Chmiel had won her last five XC races against Tuohy.
After battling a foot injury last spring, however, Wolfpack coach Laurie Henes has said they are going to try to limit the amount of time Chmiel sends in spikes this fall. NC State is deep enough to win on Friday without her, so don't be shocked if Chmiel sits this one out.
The big question: Can the NC State women make a statement ahead of NCAAs?
Heading into the 2022 season, the NC State women were heavy favorites to win a second straight NCAA title. Just over three weeks out from NCAAs, the Wolfpack are still the favorites, but they're no longer a slam dunk to win.
It would be unfair to say NC State has underperformed. They've beaten the #2 team in the country, New Mexico, twice already, and both times NC State held out a key athlete (Chmiel didn't run at Notre Dame and Marlee Starliper didn't run at Nuttycombe). But New Mexico closed the gap from 13 points at Notre Dame to 0 at Nuttycombe (NC State won on a tiebreaker).
The Wolfpack are going to win on Friday, but an ass-kicking win — something along the lines of their 20-point total at ACCs last year — would send a message to the rest of the country that they remain the clear #1.
Pac-12 Championships — Super-tight women's race; Stanford big favorites on men's side
UCR Agricultural Operations Course, Riverside, Calif. *Results *Streaming link
Women's race 11:40 a.m. ET, men's race 12:40 p.m. ET
Ranked teams
Men: #1 Stanford, #10 Colorado, #15 Oregon, #20 Washington
Women: #9 Stanford, #10 Utah, #11 Colorado, #12 Oregon, #19 Washington, #30 Oregon State
The women's race at Pac-12s should be incredibly tight. Stanford, Utah, Colorado, and Oregon were 7th, 8th, 9th, and 11th at Nuttycombe, and the CU website notes that if you scored only the Pac-12 schools at that meet, the scores would have been nearly identical for the top three — 67 for Colorado, 68 for Utah, and 69 for Stanford.
Colorado and Stanford, two of the sport's blue bloods, have split the last three titles, with the Buffaloes winning last year. A win for Utah would be huge: across three conferences (WAC, Mountain West, Pac-12), the Utes have never won a conference title. This is also the first conference meet for Oregon under the guidance of Jerry Schumacher and Shalane Flanagan, and it shouldn't surprise anyone if the Ducks swoop in for the title.
Individually, Oregon State's Kaylee Mitchell was the top Pac-12 finisher at Nuttycombe (4th) but Colorado's Bailey Hertenstein and Utah's Emily Venters were right behind her in 5th and 6th, respectively. Venters is a Colorado transfer.
On the men's side, expect the Stanford trio of Ky Robinson, Charles Hicks, and Cole Sprout to go 1-2-3 in some order. They were 1st, 3rd, and 7th at Nuttycombe. Will they battle it out for individual glory or cross holding hands?
The big question: Can the Stanford men lay the smackdown?
For the past decade, Colorado has dominated the Pac-12 on the men's side. Since joining the conference in 2011, the Buffs have won eight of the 11 titles on offer. That includes last year, when Colorado took down Stanford, 39-52. Even when seemingly undermanned, Colorado always brings it at this meet, and though Stanford will be the clear favorites to win the men's team title, don't expect the Buffaloes to give up their title without a fight. Four of their top five from last year's Pac-12 title team are back in 2022, but so far Charlie Sweeney and Brendan Fraser haven't been able to replicate their 2021 form. If those two can bounce back, Colorado could at least make things interesting, but barring a Stanford meltdown, beating the Cardinal will be tough.
After scoring 54 points at Nuttycombe, Stanford earned the unanimous #1 ranking in the coaches' poll and their mission at Pac-12s will be similar to the one the NC State women face at ACCs: to back it up. The last three men's national champs to come out of the Pac-12 (2008 Oregon, 2013 Colorado, 2014 Colorado) all scored 30 points or fewer at conference and that will be the expectation on Friday for the Cardinal. Considering they have the three best runners in the conference, that seems attainable.
One other thing to watch is whether Washington can put things together. The Huskies are full of talent but finished a disappointing 15th at Nuttycombe. Coach Andy Powell likes his teams to come on strong late — Washington were 14th at Nuttycombe last year and 13th at NCAAs — but they'll need to show some signs of progress on Friday. Outside of the Stanford guys, the Huskies' Brian Fay (13:16) is the most talented distance man in the conference. After a long track season that included an 8th-place finish in the Euros 5k for Ireland, Fay was 34th in his season opener in Nuttycombe; how much can he improve at Pac-12s?
Big 10 Championships — Wisconsin men go for #53
University of Michigan Golf Course, Ann Arbor, Mich. *Results *Streaming link
Women's race 10:45 a.m. ET, men's race 11:45 a.m. ET
Ranked teams
Men: #9 Wisconsin, #29 Michigan
Women: #17 Wisconsin, #22 Ohio State, #23 Michigan State, #26 Michigan, #29 Northwestern
There's a reason I saved the Big 10 for last. From a national standpoint, there just aren't that many compelling storylines. The women's race features five ranked teams, but none are serious NCAA podium contenders and there is no star power — five Big 10 schools ran at Nuttycombe two weeks ago, yet there were no Big 10 women in the top 30. Michigan State's Katie Osika was the top Big 10 athlete in 37th, meaning she wouldn't have scored for either of the top two teams in the race, NC State or New Mexico.
Wisconsin was the top Big 10 team at Nuttycombe, finishing 14th overall; Ohio State is their top challenger after winning the Arturo Barrios Invitational with just 38 points — though there were no other ranked teams in the field. The Buckeyes have never won Big 10s; in fact, they've never finished higher than 4th.
On the men's side, there are only two ranked teams, #9 Wisconsin and #29 Michigan. The Badgers treat the Big 10 title like their birthright — they've won the last four men's crowns, 34 of the last 41, and a staggering 52 overall. No other Big 10 team came within 300 points of their total at Nuttycombe, where Wisconsin finished 7th overall, and the Badgers also have the individual favorite in defending champion Bob Liking, who was 4th at Nuttycombe.
The big question: None
The aim of the "big questions" in this article was to see what we can learn from conference weekend that will have an impact at NCAAs. And in the Big 10, frankly, there isn't anything that can happen that will shake up the NCAA landscape. The Wisconsin men are the best team in the meet, but even if they dominate, it will be hard to gauge how meaningful that is considering the next-best team in the conference is #29 Michigan. The top two Big 10 teams at NCAAs last year were the Minnesota women (7th) and Wisconsin men (11th), and neither were near the podium. It's likely that is again the case in 2022.
Other conferences
The Mountain West meet in Laramie, Wyo., is the best non-Power 5 competition this weekend. #2 New Mexico leads the way in the women's race, which also features #20 Colorado State. The Lobos will be going for their 15th straight conference title. The men's race has three ranked teams (#5 Air Force, #24 Utah State, #28 Colorado State), which is more than the SEC, Big 10, and Big 12.
Northern Arizona (ranked 3rd on the men's side and 4th on the women's side) will be looking to sweep the Big Sky meet in Cheney, Wash. Though the competition isn't what it was two weeks ago (#21 Montana State is the only other ranked team), the Lumberjacks could use a bounce-back performance after Nuttycombe. Pre-Nats champ Duncan Hamilton, an 8:18 steepler, won't be afraid to take it to NAU's top two of Nico Young and Drew Bosley.
The Heps are back at Van Cortlandt Park — where they should be — for the first time since 2019. The biggest storyline here is the Harvard men chasing their first Heps title in fifty years (and first outright title since 1969). Coach Alex Gibby has been impressive since coming to Cambridge in 2017, leading the Crimson to 15th at NCAAs in 2019 and 12th last year. Harvard has two studs up front in Acer Iverson and Graham Blanks — both All-Americans last year. But that may not be enough to fend off the depth of Princeton, who dominated this meet last year and has already beat Harvard twice this year, first at HYP and then at the Cowboy Jamboree in September.
The Big East meet — which will be held at the Coogan Cross Country Course in Attleboro, Mass. — is the biggest meet that will take place on Saturday. Each race features two ranked teams, with #11 Villanova facing #26 Georgetown on the men's side and #12 Georgetown taking on #18 Providence in the women's race.
Talk about the conference action on our messageboard.
MB: It's 2022 NCAA XC conference weekend -what are you most looking forward to?
LRC Update: The results of our fan polls have been tabulated. You can find them here: LetsRun.com Cross Country Fans Poll Results – Find Out Who Is Favored To Win NCAA XC Conference Titles This Weekend