2022 Berlin Marathon Preview: How Much Lower Can Eliud Kipchoge Take the World Record?
By Jonathan Gault
September 22, 2022
The 2022 fall marathon season kicks off in earnest on Sunday with the Berlin Marathon. And, as usual when he is in the field, double Olympic champion Eliud Kipchoge is the story. Though there is one man in the field who could challenge the GOAT on the right day, the second half of this race is likely to be Kipchoge vs. the clock as he chases the world record of 2:01:39.
Wait a minute. He's going after the world record again? Doesn't Kipchoge already have the world record? And isn't this the guy who claims he wants to win every major? Why is he running Berlin for the fifth time instead of doing New York?
Article continues below player
That's what the running world wanted to know after Kipchoge was announced for Berlin this fall. He could have gotten more money in London. He could have checked another World Marathon Major off his list in New York. So I asked his agent, Valentijn Trouw: why Berlin?
"He had a feeling that his training went well for the last couple of marathons and he was feeling like Berlin is a course where normally you run fast times," Trouw says. "And that is something that motivates him at this moment, to see if he can run another fast time."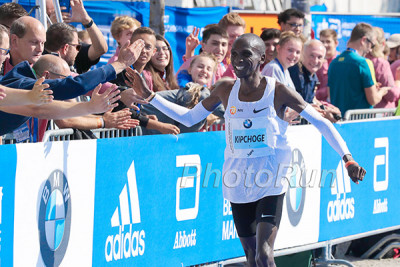 It may be a case of striking while the iron is hot. Kipchoge is so much better than every other marathoner on the planet that he may not need to be at his absolute best to win New York. He could afford to wait a year and (potentially) decline a little. But to break the world record, Kipchoge has to be better than the best marathoner in history: himself. Kipchoge believes he is in shape to run fast right now, and he wants to make the most of the opportunity.
Let's be real, though: predicting Kipchoge's inevitable decline is impossible. The dude has ruined all marathon actuarial charts as he closes in on a decade as the undisputed greatest marathoner in the world. No one knows when Kipchoge is going to fall off, and considering his last two marathons consisted of winning the Olympics by 80 seconds and running 2:02:40 in Tokyo (the #4 time in history) despite making a wrong turn, he has shown no signs of decline. When it comes down to it, Kipchoge is running Berlin for a very simple reason: right now, lowering the world record motivates him more than winning New York.
Breaking 2:01:39
Can Kipchoge break the world record on Sunday? Absolutely. The weather will have to be good, and so far it looks as if it will be EXCELLENT.
The race starts at 9:15 a.m. local time on Sunday (that's 3:15 a.m. in the United States), and it looks like during the men's race the temperature will be between 53-58F with miniscule wind (4 mph). What about the humidity/dewpoint? Also ideal. The projected humidity at 10 am is 89% (98% at 8 am) which actually is ideal as moist air is less dense than ordinary air. The projected dew point during the race is 53-54 (Weather update provided by LetsRun.com weather guru Robert Johnson).
Kipchoge also has to have the fitness to run the world record. Trouw does not believe that will be an issue.
"If you look at the 2:01 in 2018 or the 1:59 in Vienna, he was in similar kind of shape [for those races]," Trouw says. "He's in quite similar fitness now as well."
Trouw believes pretty much everything went right for Kipchoge in 2018, which is why his time in that race, 2:01:39, is 58 seconds faster than any of his other legal marathons. But there are a couple of areas of potential improvement.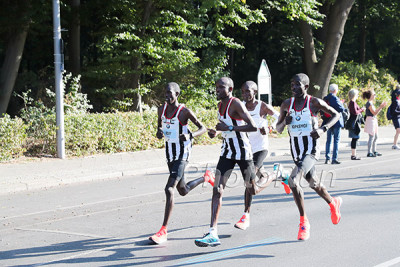 The first is the pacing. Kipchoge ran a negative split in that race, splitting 61:06 for the first half and 60:33 for the second. His aim had been to hit halfway in 61:00, but his pacers struggled to run that fast and at 15k (43:38), they were only on 2:02:44 pace. Kipchoge was able to right the ship, but he may have left some seconds on the table. If his pacers on Sunday — 60:52 half marathoner Noah Kipkemboi, 59:31 half marathoner Moses Koech, and one other TBD — can shepherd Kipchoge through the early miles on pace (or if he drops them quickly if he realizes they cannot), Kipchoge may be able to save some time through more efficient pacing.
There is another key, somewhat related difference. When Kipchoge attempted the world record in 2018, he had already run 2:00:25 in the Breaking2 exhibition race in Monza, but his official personal best was still 2:03:05. That's one of the reasons Kipchoge targeted 61:00 for his first half. He believed it was a pace he could hold the entire way for a "normal" marathon. But he wasn't 100% sure.
It turns out 61:00 was actually a little slow as Kipchoge was able to pick it up to 60:33 for the second half. Four years on, Kipchoge knows he can run well under 2:02 and can set his pace goals accordingly (though they likely won't decide on target splits until Friday or Saturday).
"The only thing that could be improved, and what automatically is a little bit improved is his mindset," Trouw says. "…In 2018, it was new territory for him and now he knows what he can expect if he is in those kind of times."
It's a world record attempt, so Kipchoge can't afford any mistakes — that means no ear blockages, and no wrong turns. But if everything goes smoothly, he has a great chance to run under 2:01:39 on Sunday.
Will anyone go with Kipchoge?
Dating back to the start of 2014, Kipchoge has won 13 of his 14 marathons, and in most of them he has not been seriously challenged in the final miles. One of the exceptions was the 2017 Berlin Marathon, hyped as a world record assault by Kipchoge, Kenenisa Bekele, and Wilson Kipsang. Wet conditions led to the WR attempt falling apart over the final miles, and after Bekele and Kipsang dropped out, even Kipchoge looked vulnerable. With 5k to go, Ethiopian Guye Adola, making his marathon debut, pulled ahead of Kipchoge for a few minutes before Kipchoge came back to win the race in 2:03:32.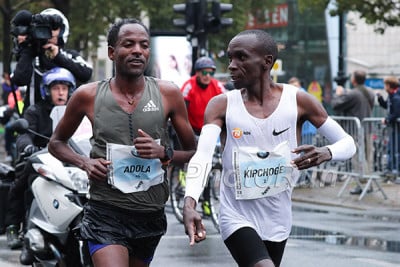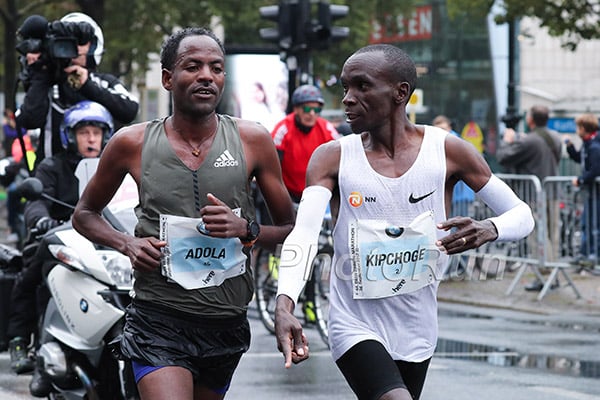 Adola's gutsiness and his time — 2:03:46 in less-than-ideal conditions, at the time the fastest debut ever — marked him as a name to watch moving forward. But he struggled with consistency and raced just one marathon in the next two years, barely getting over the line in London in 2018 (he finished in 2:32). Adola returned with a 2:04:42 to finish 3rd in Valencia in 2019 and last fall ran 2:05:45 in warm conditions to win Berlin, his first major victory. He hasn't raced since then, and a world record attempt could prove beyond his capabilities, but Adola is the only athlete who might reasonably consider going out with Kipchoge.
Berlin has touted its 2022 field as the best in the history of the event, and that may be true strictly by personal bests (six men sub-2:06, 13 sub-2:07). However, only two of those men have broken 2:05 — Kipchoge and Adola. If someone else wins this race, it likely means both of those men have blown up spectacularly.
Eritrea's Ghirmay Ghebreslassie is a name marathon fans will recognize as he was the world champ in 2015 and won New York in 2016 after finishing 4th at the Olympics. Over the next four years, he dropped out of three of his four marathons, but Ghebreslassie is coming off a 2:05:34 pb in Seville in February so he may have some life in him yet.
Kenya's Bethwel Yegon, the 2021 runner-up, is another guy to watch, though he was only 12th in his most recent marathon in Boston in April.
JG prediction: Kipchoge gets the world record. Usually when Eliud Kipchoge sets his mind to something in the marathon, he accomplishes it. He looked great in his last two marathons, and the fact that he chose Berlin over London (one of his favorite races) and New York (which he needs if he is to complete the WMM grand slam) shows that he believes taking a chunk off the world record is attainable. Perhaps a significant chunk. Kipchoge ran his second half in 60:33 at 2018 Berlin. Could he try to run both halves at 60:30 or faster and challenge the 2:01 barrier? That may be a bit ambitious, but after his 1:59:40 in Vienna I'm done putting limits on this guy. I'll predict 2:01:15 FTW.
One last thing. Before I finished speaking with Valentijn Trouw this week, I had to ask him: after turning down the chance to run the race this fall, is Kipchoge really still planning on running New York one day?
"The way I view it at this moment is that before Eliud is ending his career, that he is absolutely competing in New York, yes…For Eliud, there are two things in the front of his mind and one is already — it sounds a bit crazy because we just had the Olympics last year — but already Paris is coming a little bit closer, so the Olympics is in his mind. And the other thing in his mind is that he would like to run all six majors. He has done four of them and there are two still missing and those two are absolutely part of his plans."
Do you think Kipchoge will break the WR? Vote in our polls and then talk about it on our world famous messageboard / fan forum.
Will Kipchoge Break the marathon WR on Sunday?
Your vote has been counted. Thank you!
How fast will Eliud Kipchoge run on Sunday?
Your vote has been counted. Thank you!
MB: The forecast for Berlin looks PERFECT. Just how fast will Kipchoge go?
More: 2022 Berlin Marathon Women's Preview: Keira D'Amato Chases American Record & Historic Victory For the first time in a generation, an American is the favorite at a World Marathon Major.