2022 Berlin Marathon Women's Preview: Keira D'Amato Chases American Record & Historic Victory
By Jonathan Gault
September 22, 2022
Something will come to pass on Sunday at the Berlin Marathon that has not happened for a generation. Not a world record. Not an American record. We've seen both of those in the last few years.
No, the rare event is this: when the gun fires to send thousands of athletes on their journey to the Brandenburg Gate, the favorite to win the women's elite race will be an American, 37-year-old Keira D'Amato.
American women have won World Marathon Majors in recent years — Shalane Flanagan in New York in 2017 and Des Linden in Boston in 2018. But both of those results were surprises. You'd have to go back to the heyday of Deena Kastor — the woman D'Amato supplanted as American record holder in January — to find the last time an American woman was the genuine favorite to win a World Marathon Major. After winning the 2005 Chicago and 2006 London Marathons, Kastor was regarded as one of the best marathoners in the world and was the favorite to add to those titles in New York in the fall of 2006 (she finished 6th). She was also among the favorites in Boston the following spring, where she finished 5th. And that's the last time an American was favored.
Article continues below player.
Until now. So how did we get here?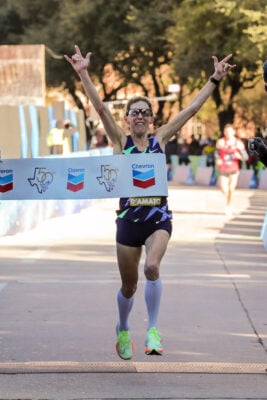 A couple things had to happen. Obviously, D'Amato had to run fast. She did that in Houston in January, running 2:19:12 to win the race and break Kastor's 16-year-old American record. But in the year 2022, 2:19:12 is not always fast enough to make you a favorite at a World Marathon Major. D'Amato is only 13th on the world list this year. If she were running London or New York, she wouldn't be among the top three favorites.
But D'Amato is running Berlin, where the field, frankly, is not that strong. After the withdrawal of Valencia champ Nancy Jelagat, D'Amato is the only woman in the field with a pb under 2:20 (compare that to four in New York and eight in London). There are five other women in the field who have run 2:20, plus debutante Rosemary Wanjiru, who has run 65:34, so D'Amato is not a slam-dunk for victory. But with a pb almost a minute faster than anyone else in the field and strong races in the leadup to Berlin, D'Amato is the woman to beat.
It's worth remembering just how insane it is that we're in this position. D'Amato was out of the sport from 2009 to 2016 and when she returned to running in March 2017, she ran her first marathon in 3:14. The last time she ran Berlin, as a 34-year-old in 2019, she ran 2:34. Now she's the favorite to win the damn thing.
D'Amato could, presumably, have earned a bigger appearance fee by racing either Chicago or New York this fall but chose Berlin because she felt it gave her the best chance to lower her own American record — something the 37-year-old mother of two wants to do ASAP.
"There's a number of American women that I think are also gunning for that record, so I think if I don't lower it myself, it's not going to be mine for very much longer," D'Amato says.
So can D'Amato do it? And can she, in the process, become the first American to win the Berlin Marathon? Let's break it down.
American record #2?
All signs point to D'Amato having a good shot to break the American record on Sunday. The temperature (53-58 F) and wind (4 mph) are close to ideal for marathoning, and while there will be a fair amount of humidity (around 90%), the dew point will be 53-54, which is great for racing. D'Amato chose Berlin over Chicago for her record attempt because she felt there was a better chance of good weather, and that appears to be a wise decision.
As for D'Amato's fitness, it appears to be on point. D'Amato ran the previous AR in January and has stayed healthy in the interim, so she's starting from a position of strength. And her race results in the ensuing eight months have been terrific. 31:03 at the NYC Mini 10K on June 11. 31:17 for a commanding win at the BAA 10K on June 26. 36:14 for 7 miles to become the first American female champion at the Falmouth Road Race in 11 years on August 21. And, most recently, 64:29 to win the US 20K champs on September 5 in hot and muggy conditions in New Haven. That last result is 68:01 half marathon pace — very similar to the 67:55 D'Amato ran (in better conditions) in the leadup to her 2:19:12 AR in Houston.
The only thing that might give the uninformed observer pause is the fact that D'Amato ran a marathon in the middle of her buildup. How is someone going to go from running 2:23:34 at the World Championships in Eugene on July 18 (in ideal conditions, I might add) to more than four minutes faster two months later?
Since you're reading LetsRun.com, you're probably not an uninformed observer, but in case you forgot, D'Amato only had two weeks to prep for Worlds as she was a late replacement for the injured Molly Seidel. With that in mind, 2:23 isn't all that bad. And her runs in Falmouth and New Haven show she's recovered from the effort quite nicely.
The main reason to believe D'Amato can run faster than 2:19:12 in Berlin is the weather. In Houston, temperatures were in the 30s with winds between 10 and 15 mph. D'Amato herself admitted it was tough running into the wind — she slowed significantly from 20k to 30k — but was able to pick it up and close strong to get the AR. That shouldn't be a problem in Berlin, so if D'Amato can produce the same sort of effort on Sunday — certainly not a given, since a lot of things can go wrong in a marathon — she will have a good shot to break the AR again.
If D'Amato runs, say, 2:19:00, will that be good enough to earn the win? History says yes: only one edition of the Berlin Marathon has seen a winning time faster than 2:19 (that was 2018, when Gladys Cherono set the course record of 2:18:11). But with the way this race is expected to play out, 2:19:00 may not be enough. Five other women in this field have run 2:20. If D'Amato goes out somewhere in the 69:15-69:30 range, I'd expect most or all of them to go with her. And with near-perfect racing conditions, chances are good that at least one of those women has a great day and holds on to run 2:19:00 or faster. Which one? Glad you asked.
The Other Women Who Could Win
Keira D'Amato may go off as the favorite on Sunday, but her odds of winning are probably still not much better than one in four. That's just how it works in the marathon — too many things can go wrong for one athlete to be favored over the entire field unless they're a megastar like Eliud Kipchoge, Peres Jepchirchir, or Brigid Kosgei. So who are the women who could beat her? I've highlighted the four with the best shot below.
Vibian Chepkirui, Kenya, 28 years old, 2:20:59 pb ('22 Vienna)
Chepkirui has run two career marathons, both in Vienna, and has won them both. She debuted with a 2:24:29 last year before improving to 2:20:59 this spring. Her 68:02 half marathon pb, run in Lisbon in November 2021, is very close to D'Amato's best of 67:55.
Bekelech Gudeta, Ethiopia, 24 years old, 2:22:56 pb ('22 Prague)
Gudeta has run a bunch of performances this year that suggest she is ready to run a big pb in Berlin. She ran a 66:35 half in Istanbul in March, then followed it up by running 2:22:56 in May to win the Prague Marathon by 2:15. She ran 68:05 in her tuneup half marathon in Klagenfurt on August 28 to win by more than a minute. She looks ready to go on Sunday.
Rosemary Wanjiru, Kenya, 27 years old, debut (65:34 half pb)
Wanjiru is the most talented athlete in the field. She ran 29:50 for 10k on the roads in 2020 and 65:34 in the half marathon later that year. In 2022, she has run 67:36 for the half at adidas' HQ in April, 31:04 at the Peachtree 10K Road Race in July (though that was only good for 5th), and most recently 48:54 to win the Utica Boilermaker 15K on July 10.
You never know what to expect from a debut, but it's easier to debut in Berlin than a technical course like Boston or New York. And with pacers in the field, no one should be making any crazy early moves: just go out with the leaders and try to hang on as long as possible. Remember, Gotytom Gebreslase won this race last year in her debut.
Maurine Chepkemoi, Kenya, 24 years old, 2:20:18 pb ('21 Amsterdam)
Chepkemoi is coming off back-to-back strong marathons, running a pb of 2:20:18 to finish 2nd in Amsterdam last year before running 2:21:10 to win in Enschede in April by 2:43. Running pbs and winning races are two big signs of progess, and she'll have the chance to do both with a strong race in Berlin.
JG prediction: How about this: I think D'Amato gets the AR but doesn't win the race. Everything indicates D'Amato is in shape to shave some time off her record and perhaps become the first American woman under 2:19. But I think there will be enough women going with that hot pace that one of them hangs with her and outlasts her at the end.
What do you think? Vote in our polls and then talk about it on our world-famous messageboard/fan forum.
Will Keira D'Amato break the American marathon record on Sunday?
Your vote has been counted. Thank you!
Will Keira D'Amato win the 2022 Berlin marathon record on Sunday?
Your vote has been counted. Thank you!
MB: For the 1st time in 15+ years, an American is favored to win a major marathon? Will Keira D'Amato pull it off?
More: Men's Preview: How Much Lower Can Eliud Kipchoge Take the World Record? Kipchoge delayed his quest to win all six majors by deciding to chase his own world record of 2:01:39 in Berlin.