Was Devon Allen Screwed? There's At Least A 99.9% Chance That He Was
By Robert Johnson
July 18, 2022
(Update: Robert has published a 2nd article showing even more support for Allen: The Data Keeps Pouring In and It Continues To Look Bad For World Athletics and Great For Devon Allen)
Do you want a daily podcast from the LetsRun.com crew discussing the inside scoop from Eugene? Support independent journalism and join the LetsRun.com Supporters Club today. Plus you get big savings on running shoes.)
EUGENE, Ore. – Sunday was a historic day here at the 2022 World Athletics Championships. The US won a record nine medals, the most ever won by a country on a single day. Jamaica's Shelly-Ann Fraser-Pryce became the first athlete to win five world titles in an individual running event as she captured the women's 100 at the age of 35, making her also the oldest world champion in an individual event on the track. But all anyone wants to talk about is someone who didn't win a medal — Devon Allen.
Article continues below player.
Allen, the former Oregon Duck who was trying to win the men's 110 hurdles just weeks after the death of his father and just weeks before he tries to begin a career in the NFL (he signed with the Philadelphia Eagles in April), was DQ'd from the men's 110m hurdle final for a false start. His reaction time was recorded at .099 – or 1/1000th of a second faster than the permissible 0.10 reaction time.
Allen, who earlier this year ran 12.84 seconds to become the third-fastest hurdler in history, insisted he hadn't false started. Grant Holloway, who was in the lane next to him and would go on to repeat as world champion in Allen's absence, insisted Allen hadn't false started either and told him to protest it. Allen did indeed plead his case with the starter but the starter refused to budge — the computer said it was under the allowable limit and that was that.
But could something be off with the computer system? It blew my mind that earlier in the day it took meet organizers several minutes to get the basics like the top four results up on the video board after the men's 10,000. So I figured it was worth looking into.
Before I left the stadium, I bumped into Devon Allen's agent Paul Doyle in the mixed zone last night. He too insisted Allen hadn't false started. He said he thought that the reaction times for the sprints this year were faster on average than in years past. He said we were seeing a lot more 0.11s and 0.12s than usual.
And he appears to be correct.
A messageboard visitor to Track & Field News, "Jc100", has compiled the median reaction times for the three sprint events held at Worlds so far this year — the men's 100, men's 110h and the women's 100 — and compared them to last 12 global championships. The median reaction times are the lowest they've ever been in all three sprint events by a significant margin.
The odds that Eugene would show the average lowest reaction times in all three sprint events is miniscule – 1/13 x 1/13 x 1/13 or 0.05%. So there is a 99.95% chance that something is off with the timing system.
And my simple statistics may be underestimating it. A messageboard poster on the LetsRun.com forum using the handle "Timing…." compared the average reaction times from the 2019 Worlds in Doha to Eugene. Using just the semis and finals from the men's 100, men's 110h, and women's 100, he or she came up with the following.
Doha Avg. Reaction time: 154.4ms, 3 120ms or better
Eugene Avg. Reaction time: 133.2ms, 20 120ms or better
They calculated the odds of a difference that large just being random is 1 in 377,358,490.
The world's best track athletes didn't clearly just all become better starters in Eugene. Check out this chart created by messageboard poster "Bra-ket"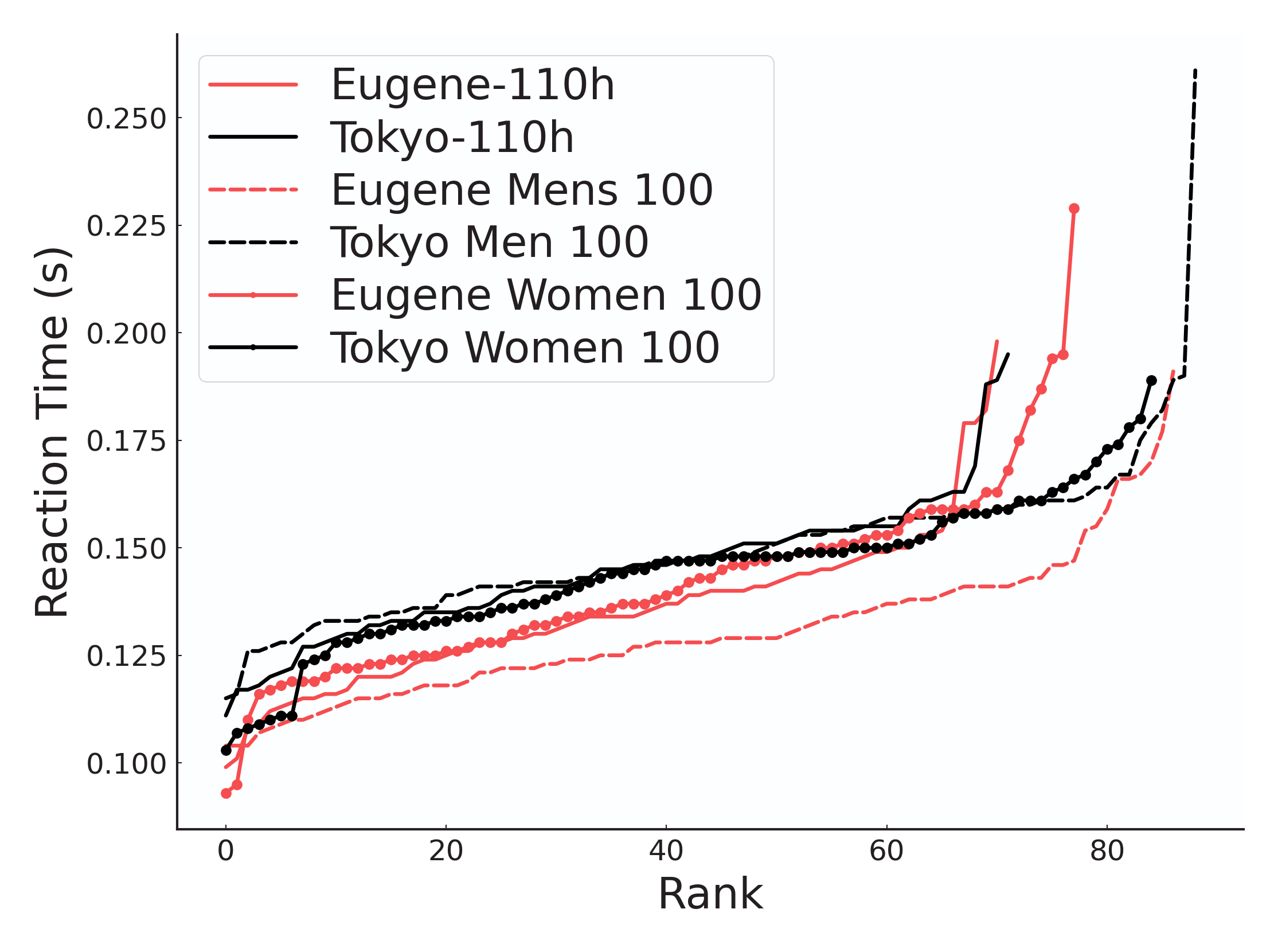 Or how about this tweet from sprint coach PJ Vazel?
🔫 Number of reaction times recorded under 0.115 at world championships men's 100m & 110m hurdles (all rounds) during the past decade (same FS detection provider)

2011 – 0
2013 – 0
2015 – 0
2017 – 2
2019 – 3
2022 – 25 !

Not the same standard, however the 0.100 rule still stands https://t.co/FWINtqkplJ

— PJ Vazel (@pjvazel) July 18, 2022
Another LetsRun reader sent us a compilation of reaction times of all the short sprints in Tokyo last year (100, 200, 100/110 hurdles) compared to the same events in Eugene (the 100 hurdles and 200s haven't been run yet).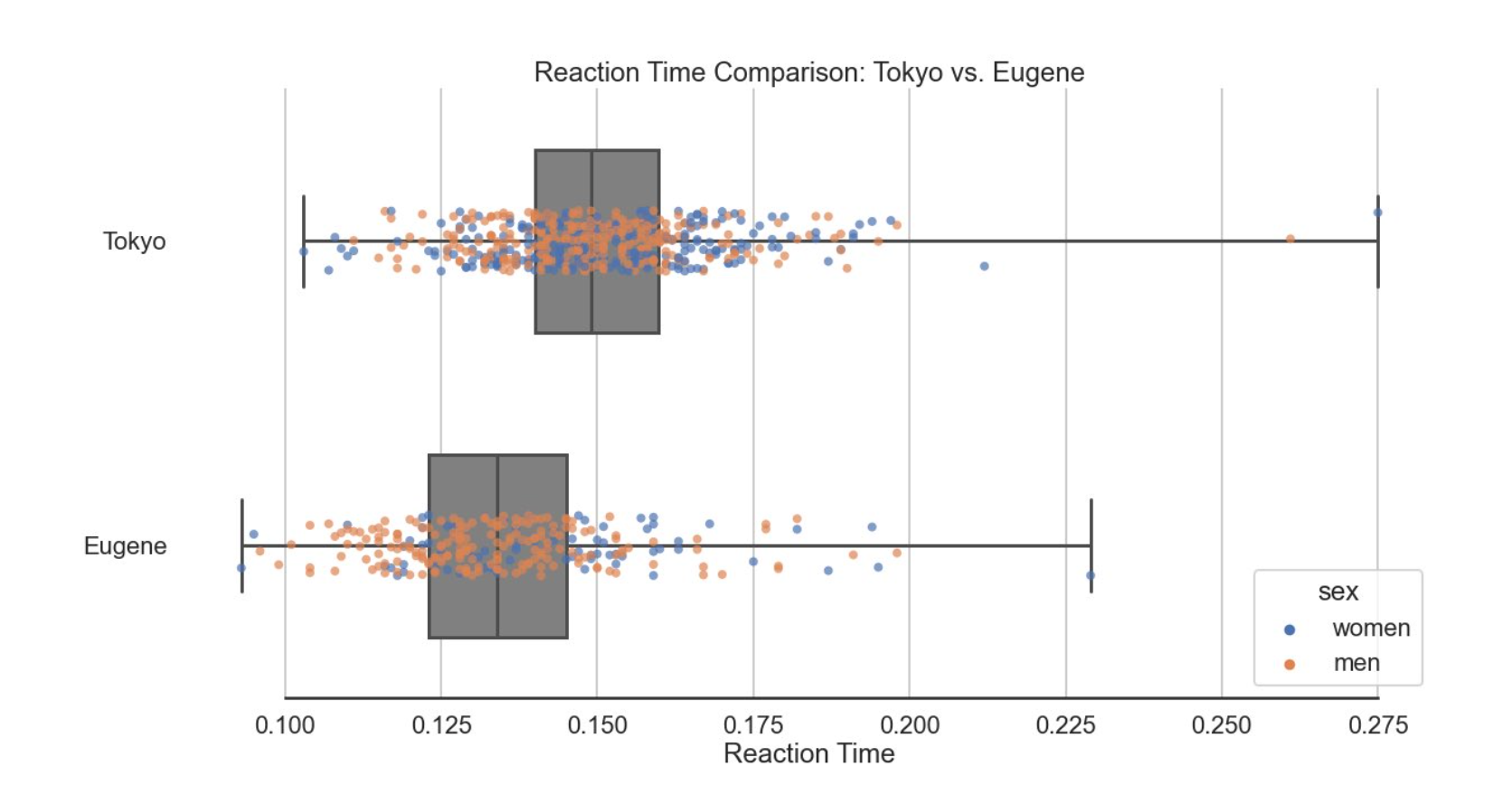 Moreover, World Athletics recently commissioned a study looking to see if there was any validity to the 0.10 rule. In a study published on World Athletics' own website, the authors concluded that the 0.10 standard isn't low enough and needs to be changed.
Seven national-level Finnish sprinters took part. A comprehensive approach was used to study force reaction on the blocks, the movements of the arms and the activation profiles of several muscles. The authors found great variation in individual reaction times and confirmed previous reports of simple auditory reactions as fast as 80ms. They recommend that the 100ms limit be lowered to 80 or 85ms and that the IAAF urgently examines possibilities for detecting false starts kinematically, so that judges' decisions are based on the first visible movement regardless of the body part.
Devon Allen was screwed. World Athletics needs to make amends. At a minimum, an exhibition race with him and Grant Holloway and anyone else who wants to show up needs to be held. There would be great interest in and when I asked Grant Holloway if he'd be interested he said yes: "run it back."
PS. The other interesting thing about Allen's DQ is his reaction time in the semis was .0101. So according to the timing system, his two starts were with 0.002 of each other.
Talk about the Devon Allen fiasco on our world-famous fan forum / messageboard
More: Robert has published a 2nd article showing even more support for Allen: The Data Keeps Pouring In and It Continues To Look Bad For World Athletics and Great For Devon Allen
---
Did you like this article? Do you want a daily podcast from the LetsRun.com crew discussing the inside scoop from Eugene? Support independent journalism and join the LetsRun.com Supporters Club today. Plus you get big savings on running shoes.
Robert Johnson is the co-founder of LetsRun.com.
Call or text him at 844-LetsRun.com. Email him at robert@letsrun.com.