The Data Keeps Pouring In and It Continues To Look Bad For World Athletics and Great For Devon Allen
by Robert Johnson
July 19, 2022
(Do you want a daily podcast from the LetsRun.com crew discussing the inside scoop from Eugene? Support independent journalism and join the LetsRun.com Supporters Club today. Plus you get big savings on running shoes.)
Yesterday, I published a piece that made the argument that something is amiss with the reacting timing equipment at the 2022 World Athletics Championships. After former Oregon Ducks star Devon Allen was DQd from the men's 110 hurdle final thanks to a 0.099 reaction time – just 1/1000th of a second under the allowable limit of 0.100 (his semifinal reaction time was 0.1001) – people across the globe started to dig into the data looking for anomalies in the reaction times at these championships.  Anecdotally,  sprint experts felt there were a lot more quick reaction times this year as compared to year's past and Allen wasn't the only DQ casualty. NCAA 100m champion Julien Alfred of Texas, the pride of St. Lucian and the fourth fastest woman of 2022, was tossed from the women's 100 semifinals earlier on Sunday night after a 0.095 reaction time while the Bahamas Tynia Gaither was tossed two heats later after a 0.093.
Article continues below player
Like our coverage from Albuquerque?
The data showed something shocking. In the men's and women's 100s as well as the men's 110h, the median reaction times for the semis and finals of the 100h, 110h and men's 100 were faster this year than in any of the previous 12 global championships.
The odds of that happening by chance is tiny –  1/13 x 1/13 x 1/13 or 0.05%. So there is a 99.95% chance that something is off with the reaction timing system.
Don't tell that to World Athletics. They issued the following statement.
"Seiko's timing system uses two systems to identify false starts – pressure sensors in each starting block and two high-speed cameras which capture different angles on the athlete reaction times.
These systems are calibrated and synchronised before any competition begins to ensure they are accurate. Both of these systems are available to assist start officials to reach their decisions. This process has been used for the past three world championships and was functioning as normal for the men's 110m hurdles final.
All approved starting systems go through rigorous testing procedures at the University of Cologne in Germany before they are approved by World Athletics.
The 0.1 sec threshold to measure a false start was established based on the science on standard reaction times.
It is standard procedure after each world championships for the World Athletics Competition Commission to review the championships and recommend any rule changes."
Well another day has passed and so we have some more reaction time data to scrutinize. This afternoon, I went and put all of the start reaction times from the opening rounds of the men's and women's 200s yesterday into a spreadsheet. Would they also be faster than in the past?
One doesn't even need formal statistics training to see how obvious it is that something is amiss with the timing equipment. Before I had even finished typing all the valjues into a spreadsheet, it was clear things were WAY faster in 2022 than 2019. You can look at the whole spreadsheet here but just look at the fastest 20 reaction times in 2019 versus 2022 below.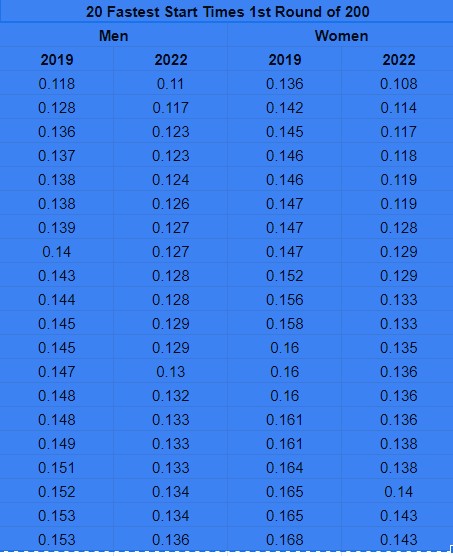 When I ran the numbers here is what it totalled up to.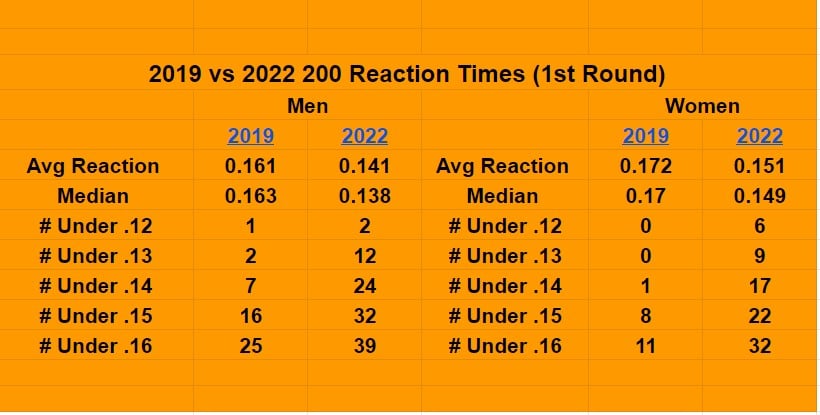 So for both the men and women, the average and median reaction time in the first round of the 200 came down by more than 0.02.
That was for the first round. I was hoping to actually get this piece published before the semis were run in case there was a fale start I could say, "I warned you." Thankfully, there wasn't a false start but we have even more data. And it's very consistent with the data from the first round.
The average reaction for the 23 runners that competed in the semifinals tonight in the men's 200 was 0.139. In 2019, it was .161 for 22 runners – so .022 slower. For the 24 women that ran in the women's semis, it was .155 as compared to .172 in 2019. The fact that every single sprint event, hell every single round of every sprint event is recording faster reaction times in 2022 as compared to 2019 shows that something is drastically different.
I've asked World Athletics if they are aware of all the data that has come out since the DQs on Sunday night and if they are still standing by their statement that they trust the equipment. It's pretty obvoius something is much different than in the past and the world's sprinters didn't all suddenly get better at reacting to a starters gun. Abandoning 0.10 standard needs to be abandoned for the rest of the championships.
More: Was Devon Allen Screwed? There's At Least A 99.9% Chance That He Was
Talk about the Devon Allen fiasco on our world-famous fan forum / messageboard
Robert Johnson is the co-founder of LetsRun.com. Call or text him at 844-LetsRun.com. Email him at robert@letsrun.com.