USATF Day 2: Cade Flatt's Dream Comes to an End, Favorites Cruise
by LetsRun.com
June 25, 2022
Friday night at the 2022 USATF Championships there were only two finals on the track, but they were big ones, the men's and women's 100 meters. Fred Kerley put on an exhibition as he ran 9.76 in the semis and 9.77 in the finals to get his first USATF 100m title. NCAA 8th placer Melissa Jefferson pulled the huge upset in the women's 100 getting the win in a wind-aided 10.69. (A recap of the 100s as well as some field event finals can be found here: LRC USATF Day 2: Fred Kerley Sends a Message, Melissa Jefferson Springs SHOCKER in 100m Finals).
In the distances, there were semifinals in the women's steeple and women's and men's 800m. All the big favorites advanced, but in the 800, 2021 Olympian Isaiah Jewett did not make the final and neither did high schooler Cade Flatt, who was the first person to miss the final.
The most impressive running was in the women's 800 where four women in one heat ran 1:58.
We recap all the mid-d and distance races below.
In the other running prelims, Alaysha Johnson's incredible season in the 100 hurdles continued as she had the fastest time of the day in heat 1 (12.41) of the first round, American record holder Rai Benjamin led the men's 400h qualifiers at 48.41, world record holder Sydney McLaughlin made 52.90 in the women's 400 hurdles look way too easy, Michael Norman looked good in the men's 400 as he beat NCAA champ Randolph Ross in semi #1, 44.28 to 44.36, NCAA champ Talitha Diggs of Florida led the women's 400 qualifiers in 50.88 as Allyson Felix made one last final on time (51.32) and assured herself a spot on at least a relay at Worlds.
Women's steeple prelims: The favorites make it through with ease
For the last five years at USAs, Emma Coburn has won the women's steeple and Courtney Frerichs has finished second. There is doubt as to whether that will be the case in 2022 as Frerichs has struggled a bit as she's battled low iron and Celiac disease, but you'd never know that tonight as Frerichs looked great and took heat 1 in 9:31.25 with Coburn taking heat 2 in 9:40.53.
Article continues below player.
Behind them, everything pretty much went according to form. Of the 10 fastest Americans in 2022 that entered the race, 8 of them moved on to the final. The only casualties were the  8th fastest American of 2022, Alex Teubel, who didn't start, and 9th seed Colorado's Madie Boreman of Colorado, the NCAA 4th placer,  who didn't advance after running 9:50.44 in heat 1.
Heat 1 also featured the third-fastest American in history, Colleen Quigley, in just her second race of the year (she ran 9:39.27 at the Portland Track Festival on June 10 in her first steeple in almost three years). Quigley was never in danger of missing the final and slightly improved her season's best by running 9:36.26 to finish third in heat 2, but she was dropped late in the race by Frerichs and Gabbi Jennings and didn't look totally comfortable on the last lap. Quigley, who still needs the Worlds standard of 9:30.00, did not come through the mixed zone after the race.
2021 Olympian Val Constien, who was a big question mark coming in as she hadn't raced since April 14, finished just behind Quigley in 9:36.73.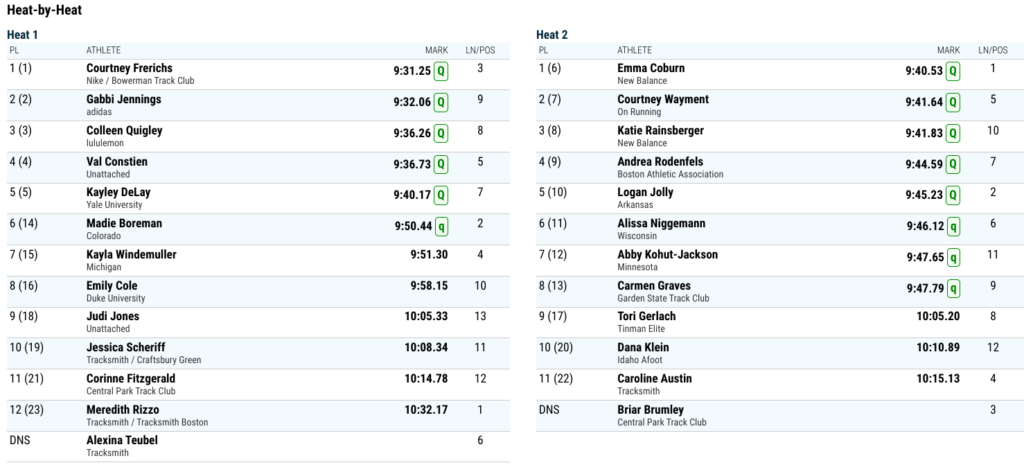 Quick Take: Emma Coburn said it's taken a little longer than usual to get up to speed in 2022 but is happy with where she is at right now
After opening up in 9:08 in 2018, 2019, and 2021 (she didn't run any steeples in 2020), Coburn only ran 9:18 this year at Pre but wasn't overly stressed as her training under coach/husband Joe Bosshard has still been going well. And that showed on June 11 when she ran 4:04.44 for 1500 at the Portland Track Festival, less than second off her 4:03.82 pb.
While that race showed that Coburn is indeed fit right now, she said today she wasn't in need of any sort of confidence boost. Coburn, 31, said it took a bit longer to get into racing shape in 2022 than in previous years, but she is there now – as she usually is come championship season.
"I don't know if that's because I didn't do indoors, I don't know if it's the nature of our training this year – it was a little bit different with more volume and more threshold/strength stuff," Coburn said. "Maybe it just took me a little more time to get back in the groove for racing, I don't know. But that 4:04 was the proof that Joe and I knew was there."
Men's 800: Cade Flatt's Dream Comes to an End
While Donavan Brazier did not start and will rely on his bye as defending world champ to get to Worlds this year, favorites Brandon Miller, Bryce Hoppel and Clayton Murphy all advanced to Sunday's final, as the biggest casualty was 2021 Olympian and NCAA champ Isaiah Jewett who tried to go wire-to-wire in heat #1 but rigged up late and did not advance. High school sensation Cade Flatt also did not make the final as he was 4th in heat #1 in 1:47.00, missing out on the final by just .07. Unlike the NCAAs, which took advantage of the fact that Hayward Field is a 9-lane track and ran 9 in the final, USATF is only going to run 8 in the final.
MB: Come on USATF, Hayward field is a 9 lane track. Please put Cade Flatt in the final. 9th in semi!! rojo 
Heat 1 – Jewett likes to front run and in heat 1, he tried to go wire-to-wire. He led at 400 (52.92) and opened up a slight gap on the chasers at 600 (1:18.99) led by the Brooks Beasts' Brannon Kidder and Isaiah Harris. Jewett would lead down the homestretch but then Kidder and Harris went by half-way home and would finish 1-2. Flatt, who made a big move from last to 4th just before the bell, was trying to move up on the outside as Jonah Koech was making an inside move and both went by the fading Jewett. Koech before the finish then tried to move into lane 1 as there was more space there, but his back kick clipped Jewett which caused Jewett to slow even more. The contact did not affect the order of the top 3, as Kidder and Harris were 1-2 with Koech third. Flatt was 4th in 1:47.00 and would have to see if he would advance as a time qualiifer to the final, but he would come up .07 short.
Heat 2 – NCAA indoor champ Brandon Miller went wire-to-wire. At 400 (52.18), Miller had a gap on the field led by Hoppel (52.88). Miller would keep the gap at 600, and onto the homestretch.  Hoppel and Murphy would close the gap, but not catch Miller as they were close together and took the 3 auto-spots. 
Pacer extraordinaire, Erik Sowinski, and Baylor Franklin of Ole Miss would get 4th and 5th and adance to the final on time ahead of Flatt.

Quick take: The final is wide open
The final is wide open. Based on past accomplishments and current form we think the top 3 in heat #2 (Miller, Hoppel, and Murphy) are the favorites for the Worlds team, but the Brooks Beasts guys looked good in heat #1, and not a single American has run under 1:45 this year.
Props to Franklin for making the final, as he did not make the NCAA final and was 4th at SECs this year.
Quick take: Cade Flatt more than held his own at USAs
Two weeks ago on the LetsRun.com Track Talk podcast, Flatt revealed he wanted to do the US senior champs instead of the U20 champs because he wanted to race the best, and also to let the people in Benton, Kentucky see him on TV.  He more than held his own at these championships even though he came up short of the final and Michael Granville's high school national record of 1:46.45.
It will be interesting to see if Flatt ends up at Ole Miss or if he goes elsewhere or goes pro as the architect of Ole Miss's mid-d success Ryan Vanhoy has taken the Cal Poly job.
(Videos with Clayton Murphy, Bryce Hoppel, Brandon Miller here)
Women's 800: The Big 3 Are Still the Favorites, But 3 Others Go 1:58 in Semis
The Big 3 of Olympic medallists Athing Mu and Raevyn Rogers as well indoor world champ Ajee' Wilson came into USAs heavily favored to book their tickets to Worlds and that certainly is still the case as Wilson (2:00.81, 61.83 1st lap), and Rogers (2:01.15, 61.40 1st lap) went 1-2 in the tactical first semi while Mu led semi #2 from start to finish, winning in 1:57.55. 
Behind Mu, the times were fast as Mu took a slew of runners to new personal bests. Sage Hurta ran a big pb of 1:58.30 to take second (previous pb of 1:59.59), Olivia Baker lowered her pb from 1:59.80 to 1:58.46 for third, Allie Wilson ran 1:58.50 for 4th and Brooke Feldmeier dipped under 2:00 for the first time to grab the final time qualifier in 1:59.44 (previous pb of 2:00.92).
It will be a high quality final on Friday as of the 12 women who have broken 1:58.50 on the year, six of them are American and all six are in the final.
In the first heat, NCAA champ Kristie Schoffield of Boise State had the lead at 400 but things were slow (61.33). Ajee' Wilson, who had gone out midpack at 300 (4th), found herself way back as she hit the 500 mark, as others had come around her and she had to drop back into last to find space to move up on the outside. Wilson moved up with great ease and was third with 600 to go thanks to a 14.45 100 and then finished things off with a 28.74 (14.50-14.24) to win the heat.
In the second heat, Mu went out aggressively for 300 (27.0 and 41.57) before backing off over the next 300 (46.09, 600 in 1:27.66) before accelerating again and closing in 29.90.

Semi 1 Race Video
Quick take: The big 3 are still the favorites
Athing Mu should win the final, but Ajee' Wilson has looked very impressive. Tactically she was in a terrible position with 300m to go being in last place. No problem, she didn't panic and smoothly went from last to first the final 300m. Betting against Raevyn Rogers for the third Worlds spot would probably be a mistake, but considering 3 women not named Athing Mu, Raevyn Rogers, and Ajee' Wilson ran 1:58 in heat #2, shows the quality and depth in this event is amazing. 1:58.50 for 4th in a semi-final at a national championships is pretty amazing.
(Videos with Ajee', Raevyn, Olivia Baker here)
Quick Take: Congrats to Brooke Feldmeier
Coming into the year, the 26-year-old former Oregon Duck hadn't PR'd since 2017 when she ran 2:01.54 at NCAAs to place 3rd. This year, she ran 2:00.92 indoors. But outdoors, she didn't open up until May 21 and came into USAs having gone 2:03.77, DNF, 2:03.41. But USAs have gone superbly. In the prelims, she ran an outdoor pb of 2:01.45 to make the semis and then tonight she blew her old PBs out of the water by running 1:59.44 to place 5th in heat #2 and get into the final as the final time qualifier.
Talk about the day 2 action at 2022 USAs on our world-famous messageboard.
More: USATF Day 2: Fred Kerley Sends a Message, Melissa Jefferson Springs SHOCKER in 100m Finals No one is laughing at Fred Kerley for moving down to the 100 anymore as he is now just the second human to run two 9.7s on the same day. Meanwhile, the US women's champ was just 8th at USAs.