USATF Day 2: Fred Kerley Sends a Message, Melissa Jefferson Springs SHOCKER in 100m Finals
By Jonathan Gault, with field event reporting by Robert Johnson
June 24, 2022
EUGENE, Ore. – Fred Kerley is not a big talker. That's okay. On Friday night at the 2022 USATF Outdoor Championships, his performance sent a far louder message than any sound bite.
A day after running a world-leading personal best of 9.83 seconds in Thursday's preliminary round of the 100 meters, Kerley ran another personal best/world leader of 9.76 in the semifinals to move into a tie for 6th on the world all-time list. 100 minutes later, Kerley ran 9.77 in the final to win his first US 100-meter title on a warm night at a Hayward Field that sat roughly 75% empty.
The win was historic for a few reasons. Kerley joined Jamaica's Asafa Powell as the only men in history to break 9.80 twice in the same day. It also gave Kerley US titles at both 100 and 400 meters (winning the latter in both 2017 and 2019), a remarkable feat of sprinting versatility. 
But after the race, Kerley had no interest in revisiting the past – even the very recent past. Could he have run even faster in tonight's semi where it looked like he relaxed before the finish? Was he going all-out?
"That race is over with," he said. "You've gotta think about the right now, going forward."
Article continues below player.
So let's talk about the right now. Right now, American 100-meter running has reached a boil after percolating for most of the spring. Entering USAs, only one American man had broken 9.90 seconds this year. Tonight, four men did that in the semifinals, with Kerley, runner-up Marvin Bracy (9.85), and third-placer Trayvon Bromell (9.88) all repeating the feat in the final (the other sub-9.90 man from the semis, Christian Coleman, did not run the final but has an automatic spot on Team USA as the defending champion). All seven finalists broke 10 seconds – the first time in history that seven men have broken 10.00 in a 100.
And right now, everything is clicking for Kerley. Despite a mediocre start – he was sixth of seven at 10 meters – Kerley was too much for reigning champ Bromell, who started well but faltered to third as Kerley held strong late in the race.
"Speed coming at the right time," Kerley said. "When everybody dying, I'm just passing."
That could apply as much to the timing of Kerley's season as his race tonight. To this point in 2022, Kerley's best performances had come in the 200, where he clocked 19.80 at Mt. SAC and 19.75 behind Noah Lyles in Doha. He had run well in the 100, running between 9.92 and 9.99 every time out, but lost twice and lacked a signature performance. Now Kerley has the #1, #2, and #4 times in the world this year and a win in the most competitive race of 2022.
With Olympic champion Marcell Jacobs sidelined since May 18 with a thigh injury, Olympic silver medalist Kerley may now be the favorite for the World Championships, which will be held on this same Hayward Field straightaway 22 days from now. But there will be challengers, lots of them. Jacobs is returning to action on Saturday at the Italian championships. 2011 world champion Yohan Blake ran 9.85 to win the Jamaican championships on Friday – his fastest time in a decade. Bromell and Coleman, who now sport identical 9.76 pbs to Kerley, will be back in Eugene next month as well.
| | |
| --- | --- |
| Overall | |
| Comfort | |
| Cushioning | |
| Durability | |
| Appearance | |
| Value | |
But Kerley is ready for them. He wouldn't make a prediction for next month's worlds, other than to say that "it's going to be something special."
That's it? No details? No time predictions?
"Special," Kerley repeated. "I'll leave it like that."
As usual, he will let his legs do the real talking.
Race Video
Results (If they are too small go here)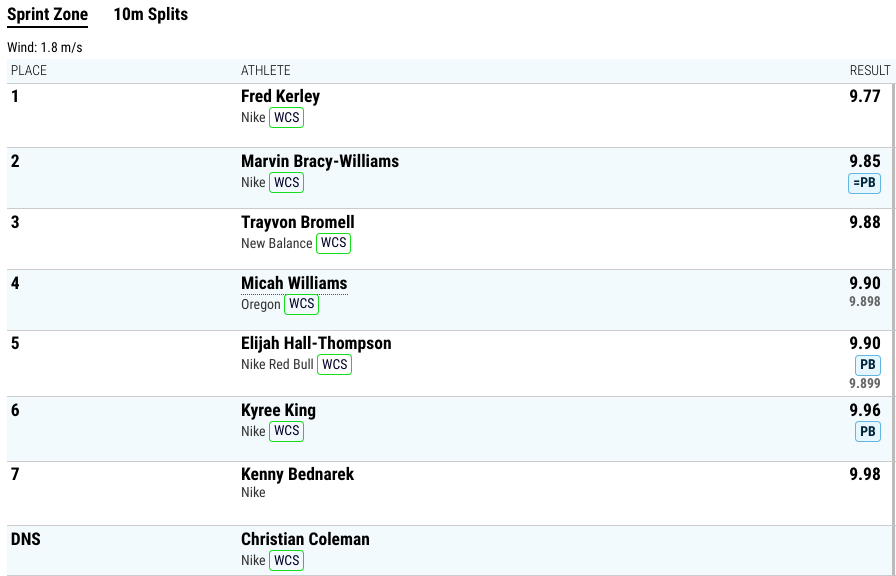 Jefferson goes from 8th at NCAAs to the US champion
Melissa Jefferson began the 2022 season with the goal of making the US World Championship team. At the time, it seemed a tad ambitious. Last year, in her second season at Coastal Carolina University, Jefferson finished last in her semifinal at the NCAA championships and did not even compete at the Olympic Trials. Her 11.22 season's best made her the 33rd-fastest American of 2021.
Turns out, Jefferson may not have aimed high enough. After running a wind-aided 10.69 (+2.9) to win tonight's women's 100-meter final – the #3 all-conditions time in the world this year – Jefferson will enter the World Championships as the US champion and a bona fide medal contender. 2018 US champ Aleia Hobbs (10.72) and Twanisha Terry (10.74) will join her on the team – an entirely different squad than the US sent to Tokyo last year (neither of which featured Sha'Carri Richardson).
Jefferson announced herself this year with an 11.00 season-opener in April, followed by a 10.88 pb to win the Sun Belt championships on May 14. But after running just 11.24 for 8th at the NCAA championships two weeks ago, her chances of making the World Championship team appeared to be dying.
Not so. Jefferson smoked a 10.82 pb (+0.5) in the semis tonight, followed 106 minutes later by that 10.69 (worth 10.84 in still conditions). So how does one go from 8th at NCAAs to 1st at USAs in 12 days?
"I wouldn't say anything went wrong [at NCAAs]," Jefferson said. "I was just fatigued."
It's not uncommon for college athletes to feel worn down by NCAAs. But sometimes, they bounce back – just three years ago, Teahna Daniels finished 4th at the NCAA meet for Texas before winning the US title later that summer. Within the span of a month this spring, Jefferson ran the 100, 200, and 4×100 for Coastal Carolina at the Sun Belt, NCAA East Regional, and NCAA meets. At USAs, Jefferson only had the 100 to worry about.
At Worlds, the Americans will enter the women's 100m as decided underdogs to the Jamaicans, who, led by Elaine Thompson-Herah, swept last year's Olympic podium (Thompson-Herah was only third at the Jamaican champs on Friday, running 10.89 in Kingston to finish behind Shericka Jackson's 10.77 and Kemba Nelson's 10.88). The US, meanwhile, will be sending three women who have never competed at a global championship before. Jefferson is still only 21. Terry is 23. The US may not get a medal this year, but after getting shut out of the podium in 2019 and 2021, they at least have some hope moving forward (Richardson, if she can get it together and make a team, is 22).
Women's Race video:
Results (If they are too small, go here)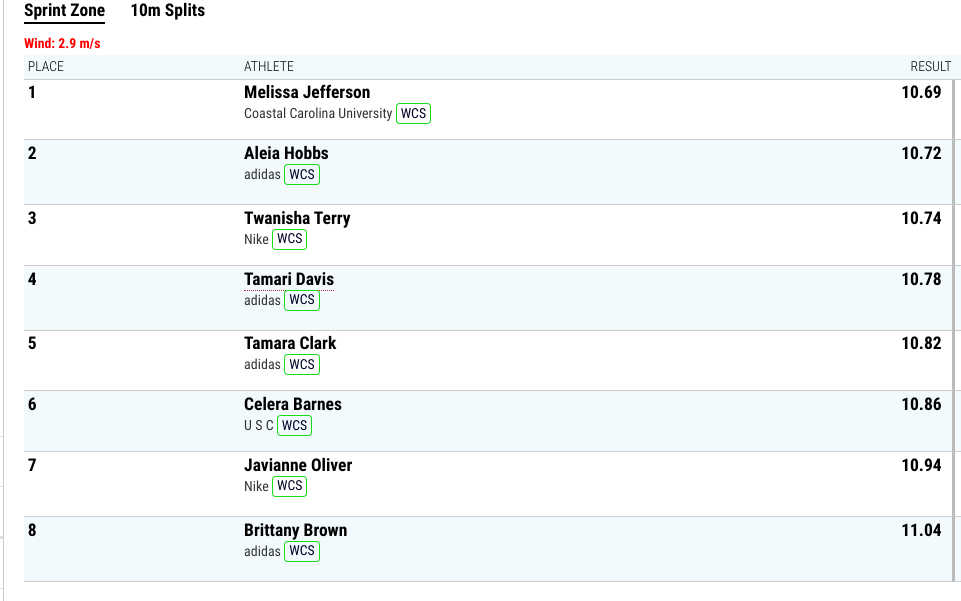 ###
In the field event finals held today, LSU's Rayvon Grey pulled off a stunner in the men's long jump. The 2019 NCAA indoor champ, who didn't even score at the SEC meet this year (11th) and was only 7th at NCAAs, won the competition with a 8.19 pb in round 3, his only jump over 8 meters in the competition and just his second 8+ jump of the year. The 2022 long jump struggles of JuVaughn Harrison, who made the Olympic team in both the HJ and long jump last year, continued as he was only 11th (7.86). Last year, he participated in 12 long jumps and broke 8 meters in all of them except for the first one. This year, he's long jumped five times and has only broken 8 meters once
In the women's pole vault, the incredible unbeaten season of 2017 and 2019 World silver medallist Sandi Morris continued as she won with a world-leading 4.82, after surviving a scare on her opening height of 4.60, where she missed on her first two attempts. Morris' training partner Katie Nageotte, the reigning Olympic gold medallist, also made the Worlds team with a 4.65 clearance after also missing twice at 4.60.
In the women's high jump, Vashti Cunningham did what she always does at a US champs – win. Her 1.93 clearance gave her the win and means she's now won all 10 of the US championships that have been held since the start of 2017 (5 indoor, 5 outdoors).
In the men's shot, Olympic champ and world record holder Ryan Crouser was very good as he had 3 throws over 23.00 (and a fourth at 22.98), including a third round, world-leading 23.12.
Olympic champ and 2022 world leader Valarie Allman cruised in the women's discus with a 66.92 mark as she had three throws better than runner-up Laulauga Tausaga-Collins (64.49), but 66.92 is well off Allman's world leading 71.46.
There were no running finals besides the men's 100. We recap the running prelims held today here: USATF Day 2: Cade Flatt's Dream Comes to an End, Favorites Cruise The HSer came up just short of the final after running 1:47.00 as the heavy hitters in the men's and women's 800s as well as women's steeplechase all looked good save for Olympian Isaiah Jewett who was eliminated.
(If the results below are too small, go here)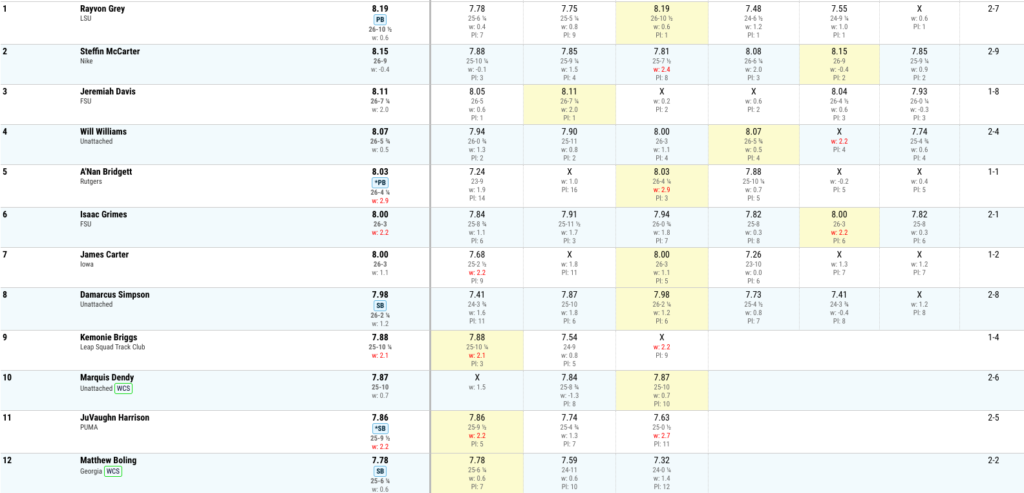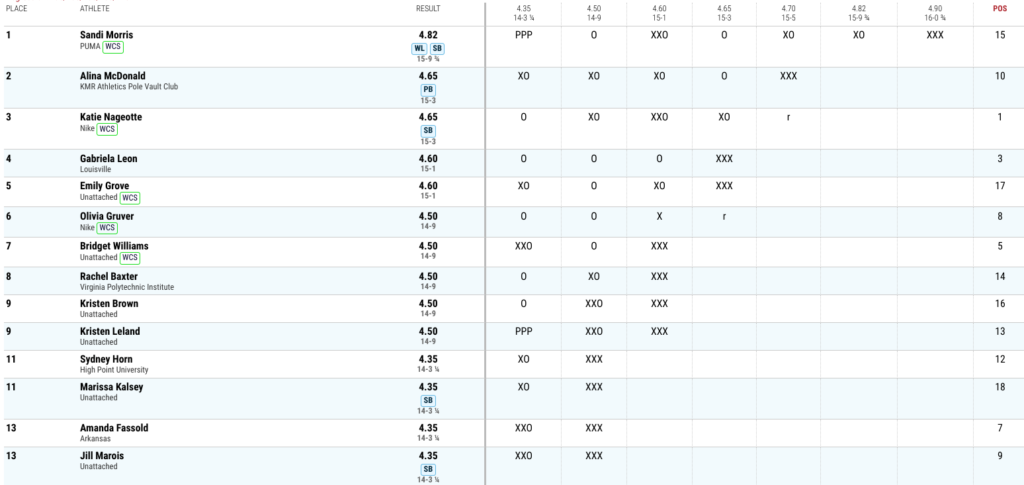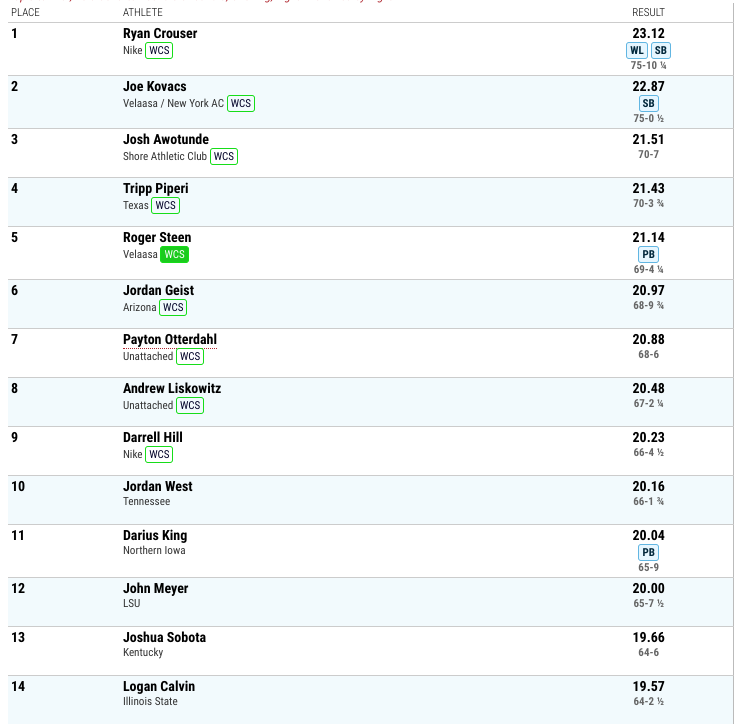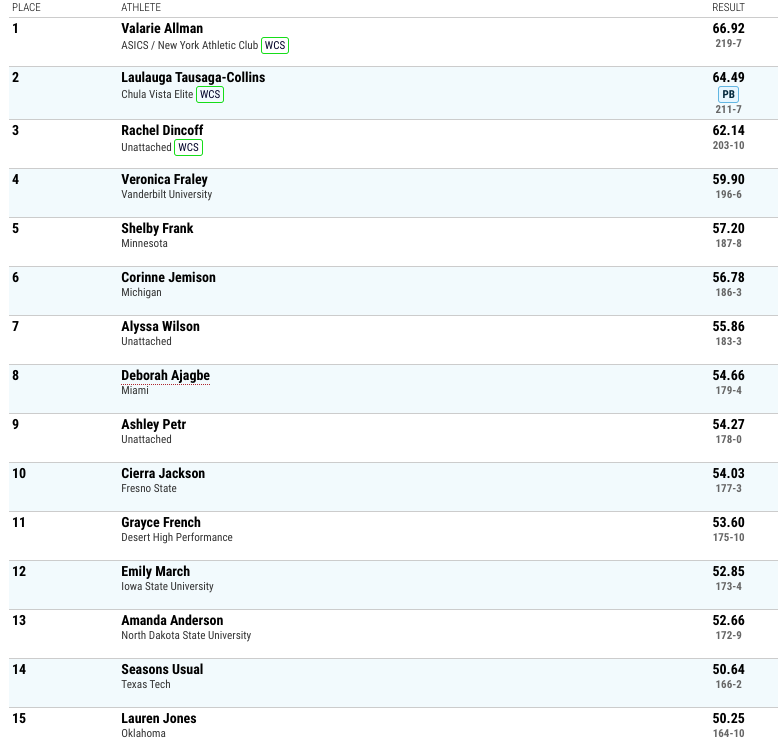 A recap of the day 2 running prelims is here: USATF Day 2: Cade Flatt's Dream Comes to an End, Favorites Cruise The HSer came up just short of the final after running 1:47.00 as the heavy hitters in the men's and women's 800s as well as women's steeplechase all looked good save for Isaiah Jewett who was eliminated.
Talk about the 2022 USATF meet on our world-famous messageboard.