2022 Boston Marathon Men's Report Cards
by LetsRun.com
April 20, 2022
The 2022 Boston Marathon was glorious. Stellar elites fields, exciting pro races, and capacity fields running from Hopkinton to Boylston Street on Patriots' Day.
That's what is supposed to happen in Boston every spring.
Article continues below player
The return of normalcy in Boston also means the return of LetsRun.com Boston report cards. It may be Spring Break for much of America, but the LetsRun.com team has been hard at work grading the pros at the 2022 Boston Marathon.
And since this is LetsRun and not the rest of the sycophants in the running media, there is no grade inflation here. Every A+ is earned.
We going to give grades to the top 10 in the men's and women's races, some of the Americans not in the top 10, and some other random things.
Below is our men's grades. Our women's grades are here: 2022 Boston Marathon Women's Report Cards.
2022 Boston Marathon Overall = A+
Boston was back on Patriots' Day. Loaded fields. Glorious weather. Maybe the deepest set of results ever in Boston. Exciting men's and women's races. We said we weren't going to do any grade inflation, but we loved it all.
Evans Chebet 2:06:51 Kenya  A
When you destroy a huge pack over the final 5 miles by running a 13:55 5k to get your first World Marathon Major win, you definitely earned an A. Chebet ran 2:03:00 to win Valencia in 2020, which was the most impressive marathon performance of 2020. Now he has a win in the deepest race so far of 2022.
2. Lawrence Cherono 2:07:21 Kenya B+  
Cherono was arguably the #2 marathoner in the world coming in and did what he does nearly every time he runs a marathon these days – run well and place high. But he was beaten by a better performance. He only gets a B+ because he's one of the best in the world.
3. Benson Kipruto 2:07:27 Kenya B+ 
Kipruto was the defending champ, but this year's Boston was LOADED with London shifting to the fall whereas last year's Boston was watered down with London (and three other majors) being in the fall. Kipruto lost to two of the best marathoners in the world. If they had been in Boston in 2021, they likely would have beaten him as well. Time is sort of meaningless in Boston, but Kipruto's winning time was only 2:09:51 last October.
4. Gabriel Geay  2:07:53 Tanzania B+

Before this, Geay was best-known in the US for pulling off the Bay to Breakers, Boilermaker, Lilac Bloomsday triple in 2019. He dropped out of his first two marathons, but then last year ran 2:04:55 (only for 6th in Milan) and 2:06:10 in Valencia and dropped out of the Olympics. Performing really well in a World Marathon Major is a nice addition to the resume. He was the athlete who stayed with Chebet the longest when Chebet made his break. It may have cost Geay a podium finish, but he established himself as one to watch going forward.
5. Eric Kiptanui 2:08:47 Kenya  B

Kiptanui was 3rd in Chicago, so 5th here is a good performance.

6. Albert Korir 2:08:50 Kenya B-
Korir was the surprise winner in New York so finishing 6th here isn't going to help his resume, but it was about what was expected for him. He's a modern-day Kenyan version of Meb. Very good in non-rabbitted races. It's hard to believe that in the super shoe era a guy can have finished 13 marathons in his career and never broken 2:08:02 but have a World Marathon Major victory on his CV. More than that, in fact: Korir's 2nd and 1st in New York in 2019 and 2021 meant he was the World Marathon Majors Series XIII champion.
7. Scott Fauble 2:08:52 USA A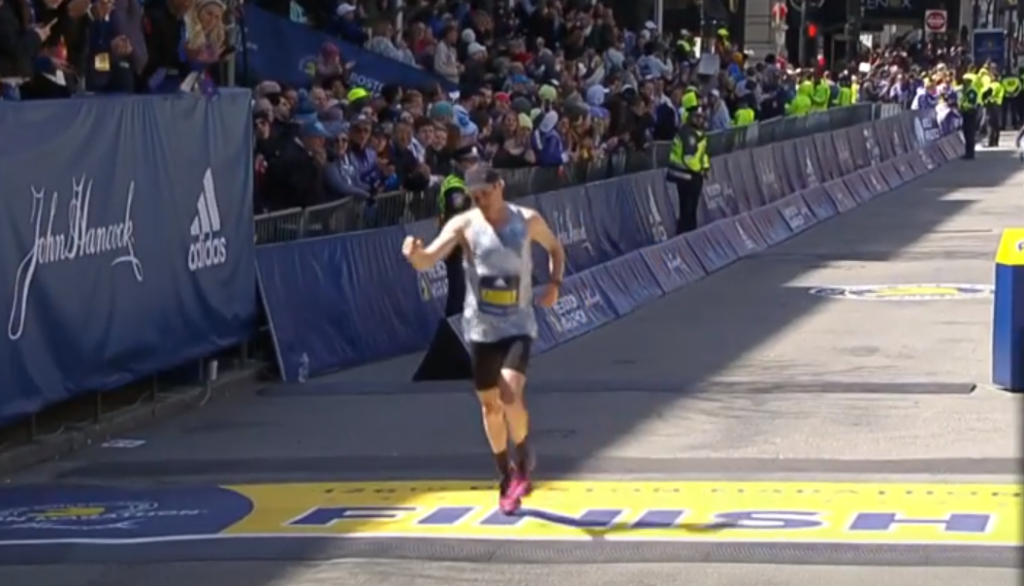 Fauble got the FA crown (First American) by running faster than he ever had in a marathon. What was most impressive was how he did it. He bet on himself before and during the race. At the end of 2021, he chose to leave behind a sure contract with HOKA ONE ONE with the hope that he would be able to rejuvenate his stagnating career, and as a result, he entered Boston unsponsored. That increased the pressure to run well. Then during the race, he let the lead pack get away from him because he felt the pace was too hot. Fauble was only 22nd in 1:04:26 at halfway. But he ran a perfectly equal split of 1:04:26-1:04:26 to finish 7th in 2:08:52.

All else being equal, you might argue Fauble running a slight PR in super shoes for the first time deserves an A-, but he gets an A for executing his race to perfection while under a lot of pressure. But from here on out, it's going to take a top 5 or a much faster time for Fauble to get an A from us as he's established he's a very good marathoner and this performance isn't that different from what he did in the past. *Interview with Scott after Boston *Interview with Coach Joe Bosshard
8. Jemal Yimer 2:08:58 Ethiopia B-
The 25-year-old was one of the best half-marathoners in the world and set the Ethiopian record at 58:33 (2018) before making his marathon debut in Valencia in 2020 (DNF). He ran a PB on Monday but was third in Boston in his only other marathon finish last October (2:10:38).
9. Elkanah Kibet 2:09:07 USA A
Kibet was 4th in New York in the fall but if you think his 9th-place showing in Boston was disappointing, you don't realize Boston was loaded (New York was not). The reality is Kibet stayed at the front for 21 miles and ran a big PB (previous pb of 2:11:15) at age 38. That's excellent — easy A. He said his focus is the World Championships in Eugene, and this is two great marathons for Kibet in a row. Although he finished behind Fauble for first American honors, he wasn't passed by Fauble until just about a mile to go. He took a home run swing and ended up sliding in for a double, whereas Fauble focused on making solid contact and ended up with a stand-up double.
10. Kinde Atanaw 2:08:16 Ethiopia C

Atanaw was shockingly good in his marathon debut in Valencia in 2019 as he won in 2:03:51, really good running for someone with a modest 60:13 half pb. Since then, the results have only gotten worse, a DNF in Valencia in 2020 and 6th in Prague in 2021. A DNS in London in 2021 due to a COVID-19 positive test resulted in him going back to Valencia last fall, where he was 7th.
13. CJ Albertson 2:10:23 USA B+
Talking to the self-coached Albertson after the race on Monday, he seemed caught in two minds. Albertson the athlete was disappointed about his late-race fade in Brookline, where his muscles began to cramp on him, causing him to split just 16:15 for the downhill 35k to 40k segment. But Albertson the coach has to view Monday's race as a step forward. He was three places lower than in 2021 but ran 81 seconds faster, clocking a pb of 2:10:23 (previous pb: 2:11:18).
And Albertson arguably had a bigger impact on the race in 2022 than he did last fall. While Albertson had a 2+ minute lead at halfway in 2021, what he did had a minimal effect on the rest of the field. Albertson and the pack were essentially running two different races, and once they caught him in the Newton Hills, the top guys passed him and paid him little additional mind. This time around, Albertson deliberately ran a very fast 16th mile (4:34), hoping to put a hurt on the leaders and make them less reluctant to push the pace and drop him on the hills. That strategy worked as planned except for one thing: Albertson himself didn't have anything left by the top of the hills. But running a big pb and remaining a big factor in the race through 20 miles is worth no less than a B+.
14. Matthew McDonald 2:10:35 USA B+
A guy runs a 2:10 pb in Boston and only gets a B+? Maybe McDonald deserves an A- but McDonald has run 2:11 before and ran 2:12 on the difficult Olympic Marathon Trials course to place 10th. Boston had a lot more depth this year with London being moved to the fall, but in the era of super shoes (which may not have that much of an effect in Boston), 2:10 isn't what it once was.
16. Reed Fischer 2:10:54 USA B+
As we get further down the results, more and more guys have to be a little bit upset there was no London this spring. Just about any other recent year in Boston this might have been a top-10 performance. Fischer is finding his event is the marathon. His marathon debut was a 2:24 at the Trials on a difficult course. Then he was 9th in Chicago last fall (2:14) and improved again here after a strong run at the NYC Half (7th place). But he was only 16th and we didn't notice him until we saw his name in the results.
17. Mick Iacofano 2:11:48 USA B
If you're going purely by end result, maybe Iacofano, who runs for the Idaho Distance Project, deserves a C. But he also deserves credit for putting himself in position to do something big. He hit halfway in 63:24 – over a minute faster than his official pb of 64:42 – and was one of just three Americans in the lead pack at 25k (Albertson and Kibet were the others). Yes, he was run down over the final 10k by a few guys, but you don't get a big breakthrough without taking some risks. Some at LetsRun.com wanted to give him an "A" but that isn't giving him any credit for already having run 2:09:55 at the Marathon Project in 2020.
18. Geoffrey Kamworor 2:11:49 Kenya D-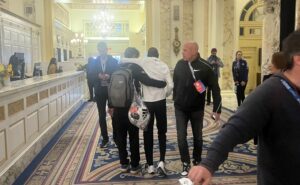 If you told us before the race Kamworor would be part of a 15-man lead pack at the top of Heartbreak Hill, we would have loved his chances of winning the race, or at the very least finishing on the podium. Yet Kamworor totally crumbled over the final five miles and barely made it to the finish line, running his final mile in 6:56. Kamworor has had his share of injury woes over the last two years, but everyone in his camp said he was ready to go for this one and he wound up nearly five minutes behind the winner. He did not cite any sort of injury in his post-race Instagram post, though he had to be supported through the lobby of the meet hotel after the race.
19. Colin Bennie 2:12:08 USA  C
Bennie has run three hilly marathons and run between 2:12:14 and 2:11:26 in all three as he ran 2:12:14 at the 2020 US Olymic Marathon Trials, 2:11:26 for 7th in Boston last October and now 2:12:08 in Boston. This was an average result for him and his drop in place shows you how much more competitive Boston was in 2022 than 2021, but he was hoping for a breakthrough but couldn't get it after going out in 64:26.
26. Jared Ward USA 2:15.25 D
Ward chronicled how he reduced his mileage and started taking thyroid medication to try and regain the form that saw him make the Olympic team in 2016. Afterward, he said he felt like his old self for part of the race and viewed the race as a step in the right direction. But he's an Olympian, and has run 2:09 in Boston before (2019).
One more crazy stat on how much deeper Boston was this year. This year, Ward ran 3 seconds faster than he did in 2017. Guess what place he finished that year?  
10th. But we still gave him a C- for that performance. This one gets a D, even if all things considered, it was sort of what he needed.
34. Jake Riley USA 2:30:48 F
When you are a male Olympian and you hit halfway in a time that is much slower than women's WR pace (68:36), you are getting an F almost no matter what happens. He did finish but only in 34th in 2:30:48.
Birhanu Legese Ethiopia DNF F/incomplete

Legese, the fastest man in history not named Kipchoge or Bekele (his pb is 2:02:48), was with the leaders at 21 miles but had dropped out by 40k. After sensational 2019 and 2020 seasons, Legese is moving in the wrong direction as he was 5th in London in his only marathon of 2021 and is now a DNF in Boston.
Lelisa Desisa Ethipian DNF F
he two-time Boston champ and two-time Boston runner-up has had a rough go of things since having a great 2019 when he was 2nd in Boston and first at WOrlds. In 2020, he was 35th in Valencia. In 2021, he DNFd the Olympics and now he didn't even make it 30k in Boston
Other Notes
A record 12 people broke 2:10 this year in Boston, only the 4th time that 10 more did it and the first time it's ever happened without the help of some wind. Monday's race was run into a slight headwind (Dark Sky lists a 5 mph wind out of NE at 10 am). 11 people broke 2:10 in both 1994 (huge tailwind of 19 mph) and 2011 (16-20 mph), while 10 people did it in 2019 with a small tailwind.
1994 Boston Marathon Sub-2:10 Results *51 F, Wind out of NW 19 mph
Cosmas Ndeti Kenya 2:07:15
Andrés Espinosa Mexico 2:07:19
Jackson Kipngok Kenya 2:08:08
Hwang Young-cho South Korea 2:08:09
Arturo Barrios Mexico 2:08:28
Boay Akonay Tanzania 2:08:35
Bob Kempainen United States 2:08:47
Luketz Swartbooi Namibia 2:09:08
Sam Nyangincha Kenya 2:09:15
Moses Tanui Kenya 2:09:40
Lee Bong-ju South Korea 2:09:57
2011 Boston Marathon Sub-2:10 Results *46 F, 16-20 W / SW Wind
Geoffrey Mutai Kenya 2:03:02
Moses Mosop Kenya 2:03:06
Gebregziabher Gebremariam Ethiopia 2:04:53
 Ryan Hall United States 2:04:58
Abreham Cherkos Ethiopia 2:06:13
Robert Kiprono Cheruiyot Kenya 2:06:43
Philip Kimutai Sanga Kenya 2:07:10
Deressa Chimsa Ethiopia 2:07:39
Bekana Daba Ethiopia 2:08:03
Robert Kipchumba Kenya 2:08:44
Peter Kamais Kenya 2:09:50
2019 Boston Marathon Sub-2:10 Results *58F, Wind WNW 1-2 mph
Lawrence Cherono Kenya 2:07:57
Lelisa Desisa Ethiopia 2:07:59
Kenneth Kipkemoi Kenya 2:08:07
Felix Kandie Kenya 2:08:54
Geoffrey Kirui Kenya 2:08:55
Philemon Rono Kenya 2:08:57
Scott Fauble United States 2:09:09
Jared Ward United States 2:09:25
Festus Talam Kenya 2:09:25
Benson Kipruto Kenya 2:09:53
Discuss: Boston Marathon Men's Report Cards Are Here – Tell us what you think 
Women's article: 2022 Boston Marathon Women's Report Cards
More: 2022 Boston Marathon Men's Recap: Evans Chebet Flies Downhill For the Win
Did you run Boston this year? Share your experience here: Official you ran Boston 2022 thread – post your experience here