WTW: Ruth Chepngetich Gets Rich, Newbury Park & Natalie Cook Run Fast, & Praise for Katelyn Tuohy
The Week That Was in Running, March 7 – 13, 2022
By Robert Johnson
March 15, 2022
Each week, we try to make the sport more fun to follow by putting the prior week's action in perspective for you. Past editions of our Week That Was weekly recap can be found here. If you love this written recap, you'll have even more fun with our weekly podcast, which we record on Wednesdays. Got a tip, question, or comment? Please call us at 844-LETSRUN (538-7786), email us, or post in our forum.
Article continues below player
If you missed our extensive coverage from the 2022 NCAA Indoor Track and Field Championships, catch up here: 2022 NCAA Indoor coverage.
To see our favorite reads from other weeks, go here.
****
Ruth Chepngetich Wins $250,000 By Running 2:17:18 In A Women's-Only Marathon
On Sunday, 2021 Chicago Marathon champ Ruth Chepngetich of Kenya won the biggest official prize in professional running, the $250,000 that was offered to the winner of the Nagoya Women's Marathon. Rather than play things safe, Chepngetich passed the rabbits at 5k and ran solo all the way to the finish. She ran a negative split 2:17:18 (69:03/68:15) for the second-fastest time recorded in a women's-only race (only Mary Keitany's 2:17:01 in London in 2017 is faster).
What's crazy is that even though Chepngetich was running a big negative split, she was almost caught at 30k by Israel's Lonah Chemtai Salpeter. Salpeter was 49 seconds back at 20k but only 4 seconds back at 30k as she blitzed that in a 32:02 — that's 2:15:10 pace. Salpeter ended up second in 2:18:45 and won $50,000 with her fourth career sub-2:20 marathon. Did you know Salpeter is now tied for 2nd all-time with the most sub-2:20s?
Most Sub-2:20 Marathons
Brigid Kosgei – 6
Paula Radcliffe – 4
Lonah Chemtai Salpeter – 4
Degitu Azimeraw – 3
Ruth Chepngetich – 3
Worknesh Degefa – 3
Birhane Dibaba – 3
Tirunesh Dibaba -3
Mary Keitany – 3
Catherine Ndereba – 3
****
Newbury Park Boys Run 16:29 In 4 x Mile
Keeping track of the US high school indoor nationals is next to impossible. Do you realize there were three different high school nationals last weekend? One sponsored by adidas in Virginia, one sponsored by Nike in Staten Island, and one sponsored by New Balance at the Armory.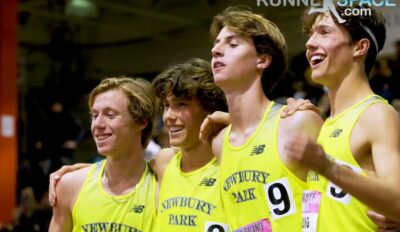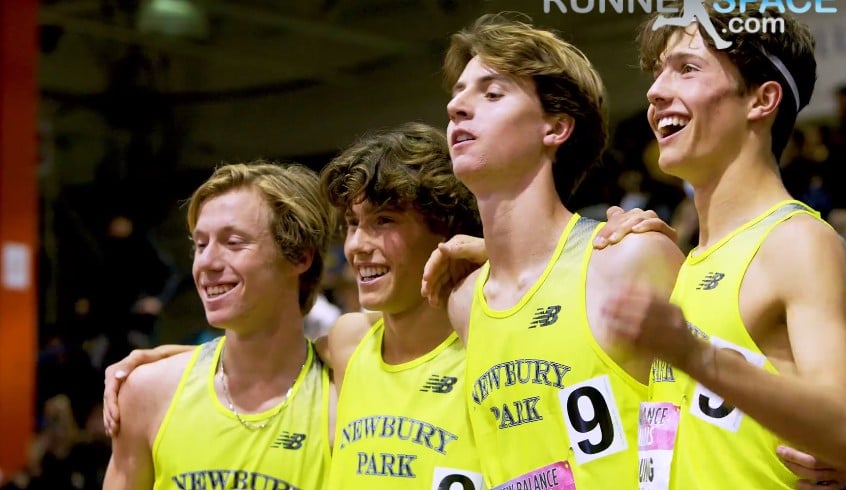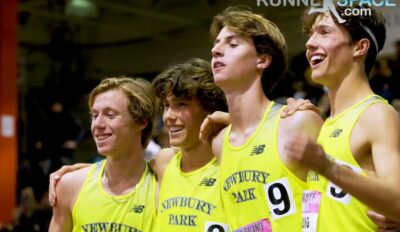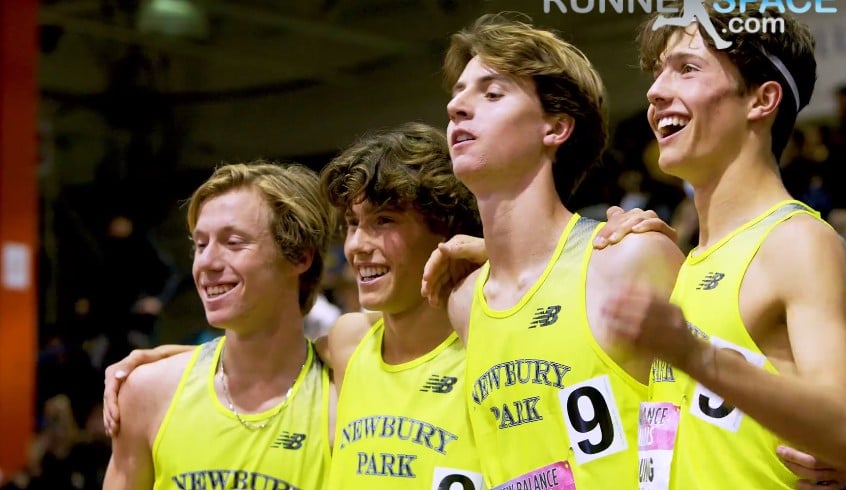 The Newbury Park boys crushed the US HS 4 x mile record by running 16:29 at the Armory: Aaron Sahlman led off at 4:11, then Leo Young ran 4:06, then Lex Young ran 4:07 before Colin Sahlman closed things out with a 4:03. We really would love to see them at Penn Relays but have been told that Penn won't let them run the Championship of American 4 x mile against the collegians (it's possible there is a pro/open 4 x mile on Friday night. Update: Newbury Park has been confirmed in the pro/open 4 x mile). We understand why Penn doesn't want to regularly start running great HS teams in the college sections as it would end up watering down the HS stuff, but this Newbury Park team is SUPER special. We would love for an exception to be made. Penn isn't the NCAA meet, it's a relay carnival. They should allow it.
Newbury Park wouldn't embarrass themselves. Yes, it's often windy at Penn, but the winning time in the event the last four times it has been run has been over 16:20.
2019 Wisconsin 16:39.82
2018 Villanova 16:23.75
2017 Oregon 16:21.81
2016 Penn 16:26.30
*Penn 4 x mile history
Do I think Newbury Park would win? No. Here, are the 1500/mile PBs of the 2019 Wisconsin team when they ran 16:39.82. That time is misleading.
Olin Hacker – 4:01.82 (7:53 3000)
Zach Benning – none (he'd run 3:49 for 1500 in May)
Oli Hoare – 3:37.20 for 1500 (reigning NCAA 1500 champ)
Morgan McDonald – 3:57.83 (reigning NCAA indoor 3k/5k champ)
Here are the mile PBs of the Newbury Park guys:
Aaron Sahlman – 4:03.57 (8:01.72 3000)
Leo Young – 4:07.66 (that's from last year – he's better than that given his split and his 8:39 3200)
Lex Young – 4:08.76 (that's from last year – he's better than that given his split and his 7:57.06 3000)
Colin Sahlman – 3:58.81
That being said, it's not like the odds of them winning are 0%. Here are the PRs of the 2016 Penn team at the time they won the 4 x mile.
Keaton Naff – 3:48.80 1500
Chris Hatler – 3:43.64 1500
Nick Tuck – 3:46.14 1500
Thomas Awad – 3:57.03
So Penn basically had a 4:06 guy, a 4:01 guy, a 4:03 guy, and a 3:57 guy. Sure that was pre-super spikes, but by the time the Penn Relays roll around in 2022, I'd expect if you added up the 1500/mile pbs of Newbury Park and compared it to the 2016 Penn team, Newbury Park's would be lower. Right now, we know they have 4:03 guy in Aaron Sahlman and a 3:58 guy in Colin Sahlman and it seems like the Youngs are probably in that 4:01-4:02 range. The Youngs are two of the best guys in HS not named Colin Sahlman and last week at the Armory, four different HSers broke 4:03 in the mile.
MB: Newbury Park Racing Klecker-McDonald-Hoare-Beamish In 4xMile at Penn Relays
****
Natalie Cook Runs 9:44, Jordan Anthony Runs 20.64
A few other things from the HS nationals that caught our eye.
Eastbay XC champ Natalie Cook was sensational in the girls 2-mile at the Armory, running a big negative-split 9:44 (4:57/4:47, 68 last 400), the #2 time ever (Mary Cain has the record at 9:38). MB: Natalie Cook 9:44

Ellie Shea, a 16-year-old sophomore from Massachusetts, had a very busy weekend, as she was 2nd in the 2-mile on Friday (9:52.35), 1st in the 5k on Saturday (15:49 — #2 HS time ever), and 4th in the mile on Sunday (4:41.00) at the Armory. That's super impressive. That being said, is it really necessary for a high school sophomore to triple? I felt like as a coach, your job was to hold athletes back a little bit and leave more on the table for them to accomplish in future years. Milesplit article: Three Days And Three Big Efforts From Ellie Shea
Newbury Park's #1 guy Colin Sahlman ran an individual event as well at the Armory. He dropped down to the 800 and ran 1:50.90 (54.73 first 400) to place second behind Cade Flatt's 1:48.86. Flatt's time made him just the third high schooler ever to break 1:49 indoors. Flatt will be running for Ole Miss next year.
The #1 high school 800 runner on the year, Will Sumner, opted for the 200/400 at Staten Island over the weekend. He clocked 21.74 in the 200 prelims (he qualified for the final but didn't run it) and 46.63 to win the 400 final (after running 48.21 in the prelims).
The HS boys' 4 x mile record wasn't the only 4 x mile record to fall last weekend. Showing the insanity of multiple HS national meets and the impact of super shoes, two different girls' teams broke the HS record at two different meets. The previous record of 19:59.24 set by Saratoga Springs (N.Y.) with Nicole Blood on the anchor was set back in 2005. This year's Saratoga Springs team broke it on Saturday by more than 10 seconds as they ran 19:49.10 in Staten Island. That record only lasted a day as the Flower Mound (Tex.) girls (led by Natalie Cook's 4:43 anchor leg) ran 19:37.78 on Sunday at the Armory.
The HS girls' 4 x 800 record also fell as Ann Arbor Pioneer ran 8:51.93 to break the previous record of 8:53.67, which had stood for 20 years.
Sprinter Jordan Anthony almost ran as fast as Noah Lyles did in HS. The Kentucky signee from Tylertown, Mississippi, ran 20.64 for 200 in Staten Island — the #3 indoor time in US HS history, just .02 off Jaylen Slade's 20.62 HS record, and just .01 off Noah Lyles' 20.63 indoor HS pb. More: Just How Good Was Jordan Anthony This Weekend? Insanely Good More: Saratoga (Kinetic) Breaks National Indoor 4xMile Record With 19:49.10 At Nike Indoor Nationals
*Ann Arbor Pioneer Girls (4×800) And Flower Mound Girls (4xMile) Highlight Final Day Records At New Balance Nationals Indoor
****
Texas Track/Florida Track & Field Teams Win NCAA Titles
It's interesting to compare how the two winning teams at the 2022 NCAA Indoor champs got the job done. Florida won the women's title by being incredibly balanced while the Texas men were track dominant.
Looking at the Florida women, it's hard to be more balanced. Of their 68 points, 30 came from field events, 28 from running events and 10 from the multi. The had the meet wrapped up before the 4 x 400 was run so they didn't compete in that event, but if their 7th seeded 4 x 400 team had finished 7th and scored two points, they would have been 100% perfectly balanced.
For the Texas men, of their 47 points, 33 came from running events, 8 came from field events, and they scored 6 in the multi.
Florida Women's Team Points

Women's 60 –  8 points 
4th Grace Stark SO Florida 7.13
6th Semira Killebrew SO Florida 7.18
Women's 400 –  10 points
1st Talitha Diggs FR Florida 50.98
Women's 60h – 10 points
1st Grace Stark SO Florida 7.78C
Women's TJ – 12 points
1st Jasmine Moore SO Florida 14.57mC
7th Claire Bryant FR Florida 6.45m
Women's LJ – 18 points
1st Jasmine Moore SO Florida 6.57m
2nd Natricia Hooper SR Florida 13.99m
Women's Pentathlon – 10 points
1st Anna Hall SO Florida 4586
Texas Men's Team Points
Men's 800 – 13 points
2 Jonathan Jones JR Texas 1:47.93
4 Yusuf Bizimana FR Texas 1:48.09

Men's mile – 2 points
7 Crayton Carrozza SO Texas 4:08.03
Men's 4 x 400 – 8 points
2 Texas 3:04.55 
Men's DMR – 10 points
1st Texas 9:25.20F
Men's shot – 8 points
2nd Adrian Piperi SR Texas 21.58m
Men's Heptathlon – 6 points
3rd Leo Neugebauer SO Texas 6148 
*****
Shhhhhh. Pete Watson Reveals The Secret On How To Go From 4:19 in the 1600 In HS to 3:57 In the Mile in College
If you didn't see our interview with Texas mid-d and distance coach Pete Watson after NCAAs were over, watch it now. In it, he explains how Yaseen Abdalla — the man who anchored Texas to the DMR victory on Friday — has improved so much (hint: it involves running a lot). In high school, Abdalla ran 2:01/4:19/9:18. In college, last year he had pbs of 4:05 for the mile, 8:13 for 3000, and 14:11 for 5000. Now those pbs are 3:57 for the mile, 7:51 for 3000, and 13:33 for 5000.
And Abdalla wasn't even the slowest HSer to cross the NCAA finish line first. NAU's Abdihamid Nur — who won the 3k and 5k at NCAAs this year — only ran 4:28/9:27 in HS.
Texas distance coach Pete Watson 
Texas head coach Edrick Floreal
****
Talent Doesn't Go Away
While non-superstar men's recruits got the job done at NCAAs, the big storyline for the women was superstar recruits rocking it after some trying times. Colorado sixth-year grad student Micaela DeGenero dominated the mile while NC State's Katelyn Tuohy, the greatest US women's HS XC runner in history, was runner-up in the 3k and 5k.
DeGenero, a 4:42 miler in high school, barely improved in four years at Michigan (her 4:20 1500 pb was a slight improvement) and never made NCAAs individually in track. But she got two extra years at Colorado and is now the mile champ. And after a dominant HS career, Tuohy didn't make NCAAs last year outdoors as a true freshman but now looks like she'll be a force to be reckoned with for the rest of her collegiate career. My brother thought we didn't make a big of a deal about how heartwarming it is to see a super-talented woman struggle and then come out of the struggle better than ever. He must not have watched our live post-meet reaction show as we spent a lot of time talking about it.
This week at World Indoors in Belgrade, we'll be going live each night after the action concludes to break it down for you. Join our Supporters Club to have the shows show up in your podcast feed in time for your morning run or commute the next day.
***
Quotes Of The Day And Last Week's Home Pages
To see the quotes of the day from last week or last week's home page or any home page, go to our archive page.
***
Got a tip, question or comment? Please call us at 844-LETSRUN (538-7786), email us or post in our forum.