Newbury Park Goes 1-2-3 at RunningLane Nationals; Top 3 All Break Dathan Ritzenhein's HS 5K Record
By Jonathan Gault
December 4, 2021
In a performance that will go down in high school cross country lore, the boys of Newbury Park (Calif.) High School went 1-2-3 at the Garmin RunningLane Cross Country Championships in Huntsville, Ala., on Saturday. Newbury Park won the meet, which served as a de facto national championships after the cancellation of Nike Cross Nationals, by scoring 28 points, cementing their status as the greatest boys' cross country team in US history. Cheyenne Mountain (Colo.) High School finished a distant second with 138 points.
NP's dominance was overwhelming. Had you scored Newbury Park's top four against the rest of the country, NP would have won handily, 12 to 24. And if you had scored Newbury Park's top five against every other team in the race combined, dual meet style, (excluding individual unattached athletes), NP would have won, 28 to 34.
Article continues below player
The times were unlike any seen before in a high school cross country race. Newbury Park's top three – individual champion Colin Sahlman (14:03.29) and twin brothers Leo Young (14:05.07) and Lex Young (14:05.49) posted the three fastest times in history by American high schoolers on a 5k cross country course. Fourth-placer Zane Bergen of Niwot (Colo.) ran 14:09.91, which was also faster than the previous national record (14:10.4 by Dathan Ritzenhein at the 2000 Michigan state meet).
Courses and conditions vary widely between cross country courses, and it's clear that, even if it is a full 5,000 meters, the RunningLane course in Huntsville is among the fastest ever (73 boys broke 15:00 today and 266 broke 16:00). For a better comparison to Ritzenhein's run, one should wait until Bill Meylan does his thing and cranks out his speed ratings for Saturday's race.
Or how about the stat below from University of Michigan coach Kevin Sullivan? He points out that since Ritzenhein ran his 14:10.4 at Michigan International Speedway, the #2 time on that course was by Riley Hough of Hartland (Mich.) High School, who ran 14:49.7 last year (yes the #2 time on the course is 39 seconds slower than Ritz ran). Hough ran 14:56.5 at the Michigan state meet this year but ran 46 seconds faster at RunningLane today.
Let's put Ritz's 14:10 in perspective. He ran that at MIS 21 years ago and in the time since, the next fastest time at MIS is 14:49, run this year by an athlete that ran 14:10 today. https://t.co/2ikJdyWoSp

— Kevin Sullivan OLY (@ksully330) December 4, 2021
What is not in doubt is that this Newbury Park team is incredibly special. Led by Nico Young, Newbury Park won NXN the last time it was contested in 2019. This year's team is far better than that national title-winning squad. A week after scoring 16 points at the California state meet, the Panthers went 1-2-3-6 today against a field that featured seven of the top 10 runners in DyeStat's national XC rankings (Newbury Park's #4 man, Aaron Sahlman, was 6th in 14:14.38; their #5, Daniel Appleford, was 42nd in 14:44.92).
NP's top five averaged 14:14, just off Ritzenhein's national record – and a time bettered by just two non-NP athletes in today's race. We've never seen a team like this before, and this won't be the last we hear from Newbury Park – three of NP's top four are juniors.
Today's run may have been the greatest ever by a boys' high school cross country team (though Newbury Park's performance at the California state meet also has an argument for that honor), but one school still has bragging rights over Newbury Park. The 2010 Fayetteville-Manlius girls scored 27 points at NXN — one fewer than Newbury Park today.
Individual top 10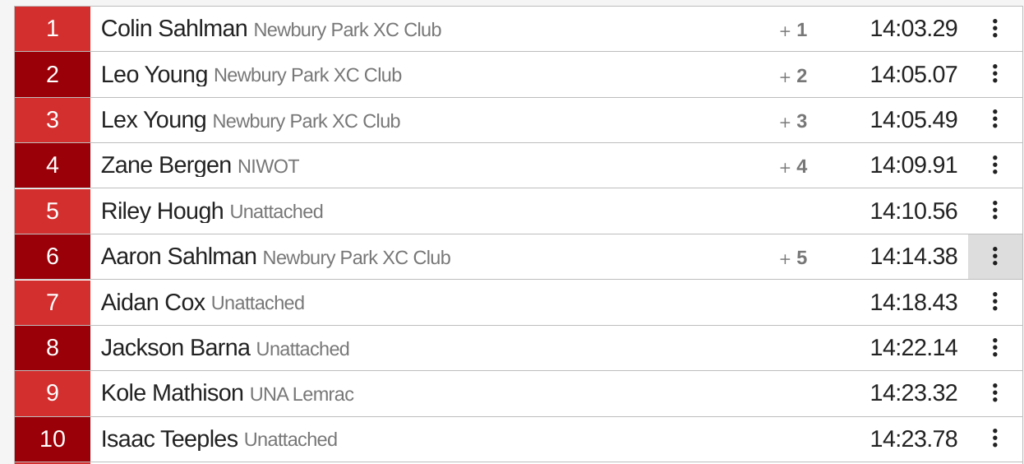 Girls' race
In the girls' race, Natalie Cook of Flower Mound (Tex.) High School made a decisive move to drop the pack during mile 2 and stormed to victory in 16:03.93, missing Jenna Hutchins' national record of 15:58.5 (set at this meet last year) by less than five seconds. Cook, who will attend Oklahoma State next year, finished well ahead of runner-up Lily Cridge of Bishop Chatard in Indianpolis (16:22.81).
Cook will now go for a double and try to win the Eastbay (formerly Foot Locker) Cross Country Championships in San Diego next weekend. Cook won the Eastbay South Regional last week; Riley Stewart (Cherry Hills Village, Colo.), the third placer today in 16:28.38, won the Midwest Regional.
In the team race, Niwot (Colo.) scored 112 points to earn the win ahead of California Division 1 champions Buchanan, who took second with 139. Niwot was led by senior Eva Klingbeil, the Colorado 4A champion, who finished seventh in 16:44.69.
Overall, the meet was incredibly deep with 20 girls breaking 17:00.
Individual top 10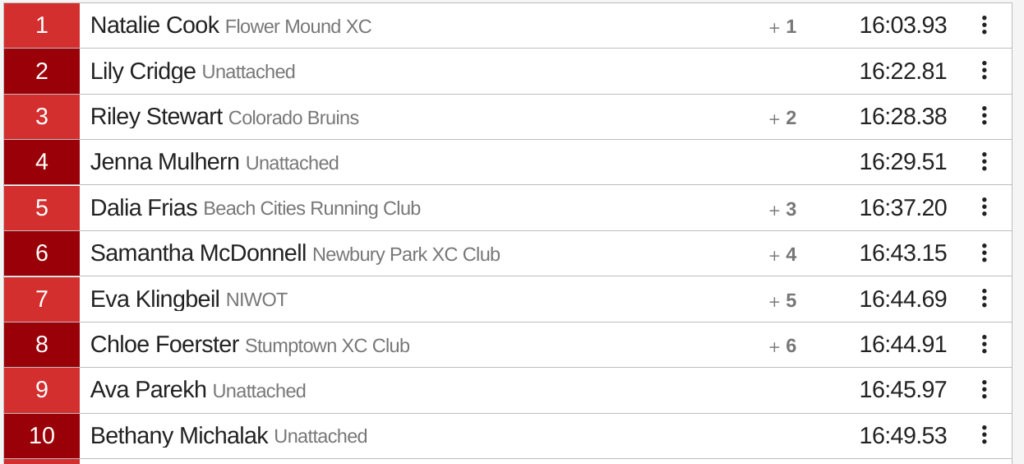 Be a fan and talk about the meet on our world-famous fan forum / messageboard. Did you know we have a HS only forum?