Tennessee's Jenna Hutchins Puts Stamp on Incredible 2020 Cross Country Season with Historic Sub-16:00 5K
Hutchins, who finished 9th at Foot Lockers as a freshman and 5th as a sophomore, recorded the first sub-16:00 5k in US girls HS history. Can it be believed?
Join Our Supporters Club To Keep Reading
Sign up today to get a free 12-week training program and t-shirt.
By Jonathan Gault
November 24, 2020
On Saturday, Jenna Hutchins of Science Hill High School (Johnson City, Tenn.) made history. Hutchins, only a junior, ran 15:58.5 to win the RunningLane Cross Country Championships in Huntsville, Ala., becoming the first high school girl to break 16:00 for a 5k cross country course. The previous unofficial girls' high school 5k record belonged to Katelyn Tuohy, who ran 16:06.9 at the 2018 Ocean State Invitational.
Cross country courses vary greatly and aren't always measured accurately, but after the race, MileSplit reported "course directors said afterward, quite clearly, that John Hunt Park had been measured scientifically down to the last meter, with a fully-credentialed [5k course]."
Article continues below player
Hutchins wasn't the only prep athlete to run fast on Saturday. The course on which Hutchins broke 16:00 — John Hunt Running Park — is undoubtedly fast. The winning time on the boys' side — 14:27.0 by Parker Wolfe of Cherry Creek HS (Englewood, Colo.) — was just 17 seconds off the boys' national record of 14:10 held by Dathan Ritzenhein and the winning boys' team American Fork put up the fastest 5k team average in prep XC history.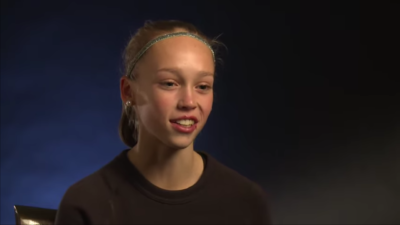 Given she has a 9:49 3200 pb, Hutchins is clearly capable of breaking 16:00 for 5000 — it's just a matter of whether she can do it in an XC race. Regardless of whether you believe the course was a fully accurate 5k, Hutchins' run on Saturday was a great performance. Hutchins beat the runner-up, Niwot (Colo.) freshman Mia Prok, by 58 seconds. And she beat third-placer Audrey DaDamio — who finished 18th at Foot Lockers last year — by 67 seconds.
Hutchins' talent has been evident for a while — she was ninth at Foot Locker nationals as a freshman in 2018 and fifth as a sophomore last year. But she has taken a leap in 2020, with the sub-16:00 the latest chapter in one of the best cross country campaigns in recent memory.
At LetsRun.com, our favorite way of measuring high school XC performances is speed rating, a metric designed by Tully Runners' Bill Meylan to compare performances across different courses and conditions. According to Meylan's system where every point is worth three seconds in a race, only five girls in history have recorded a better speed rating than Hutchins' top rating of 170.8 in 2020.
Surprisingly, however, that speed rating did not come from Saturday's race — it actually came from Hutchins' run at the Tennessee Region 1 meet on October 29, when she ran 17:06.7 for 5k at Daniel Boone High School to win by 2:47 (Meylan also judged her run at the Tennessee state meet as a superior performance). In all, Hutchins broke 17:00 five times in 2020 and posted four of the top six highest speed ratings by a high school girl this fall.
Meylan only ranks Hutchins' run on Saturday in Alabama as the fourth-best run of the 2020 girls' cross country season. He rates her run at the Region 1 meet as being more than 12 seconds better.
Top 2020 HS girls' speed ratings
| | | | | |
| --- | --- | --- | --- | --- |
| Athlete | Date | Race | Time (5K) | Speed rating |
| Jenna Hutchins | October 29 | TN Region 1 | 17:06.7 | 170.8 |
| Sydney Thorvaldson | November 15 | XC Town USA MoC | 16:38.3 | 168.2 |
| Jenna Hutchins | November 7 | TN state meet | 16:30.9 | 167.7 |
| Jenna Hutchins | November 21 | Running Lane Nationals | 15:58.5 | 166.5 |
| Brynn Brown | October 3 | North TX Circuit 3 | 16:19.8 | 165.4 |
| Jenna Hutchins | September 12 | Chickasaw Invitational | 16:25.1 | 164.6 |
| Sydney Thorvaldson | October 23 | WY state meet | 16:59.6 | 164.1 |
For Hutchins to rank ahead of Sydney Thorvaldson (Rawlins, Wyo.) and Brynn Brown (Denton, Tex.) is no mean feat. Thorvaldson came just one second shy of beating Katelyn Tuohy at NXN last year, and her 16:38 5K in Terre Haute on November 15 broke the course record — set by 2019 Foot Locker champ Zofia Dudek — by 11 seconds. Had she been in the pro race, Thorvaldson would have been a contender for the win based on the winning 6k time of 20:17. Brown, meanwhile, ran a remarkable 9:39 for 3200 meters on the track in May (among high school girls, only Mary Cain has gone faster).
Unfortunately, the trio did not get to race each other this fall to crown a definitive national champion. The two traditional high school national meets, NXN and Foot Lockers, were cancelled in 2020 due to COVID-19. A couple of meets sprang up in their place, but Hutchins, Thorvaldson, and Brown chose to pursue different postseason options: Hutchins won the RunningLane Cross Country Championships, Thorvaldson won the XC Town USA Meet of Champions, and Brown is running the Texas 6A state meet on Tuesday.
Thorvaldson will attend Arkansas next year, while Brown is off to North Carolina. Hutchins, as a junior, still has a year to decide.
Historically, Hutchins' top two performances in 2020 rank 12th and 25th among cross country races Meylan has tracked (kudos to the LRC visitor who collated all of Meylan's data into this spreadsheet). Not counting Tuohy, who tore up the record books the last few years, Hutchins' 170.8 at the Tennessee Region 1 meet was the fastest speed rating recorded in 19 years (and was faster than anything Tuohy ran in her senior season of 2019).
Fastest speed ratings ever (in races Bill Meylan has tracked)
| | | | | |
| --- | --- | --- | --- | --- |
| Athlete | Year | Race | Time (5K) | Speed rating |
| Amber Trotter | 2001 | Foot Locker finals | 16:24.1 | 180.3 |
| Melody Fairchild | 1990 | Foot Locker finals | 16:39.2 | 177.9 |
| Katelyn Tuohy* | 2018 | Shore Coaches Invite | 16:21.0 | 177.0 |
| Cathy Schiro | 1984 | Foot Locker Northeast | 16:46 | 173.7 |
| Julia Stamps | 1994 | Foot Locker finals | 16:41.9 | 173 |
| Jenna Hutchins | 2020 | TN Region 1 | 17:06.7 | 170.8 |
*Tuohy accounts for seven of the top 11 speed ratings ever; we included only her fastest in this list
---
Discuss Hutchins' performance on the LetsRun messageboard: MB JENNA MF HUTCHINS – Runs 15:58 – 1st US HS Girl To Break 16:00 in XC!!