Peres Jepchirchir Hopes To Make History By Becoming 1st Olympic Marathon Champ To Win New York City Marathon
By David Monti, @d9monti
(c) 2021 Race Results Weekly, all rights reserved
NEW YORK (04-Nov) — Reigning Olympic Marathon champion Peres Jepchirchir will attempt to make history at the 50th TCS New York City Marathon on Sunday.  The petite Kenyan, 28, will try to become the first Olympic champion to win the five-borough race, an accomplishment which has eluded some of the greatest marathoners in history including Olympic champs Frank Shorter, Stefano Baldini, Stephen Kiprotich, Joan Benoit Samuelson.
(LRC note: One Olympic champ has won NYC, but it was a track champion. Derartu Tulu won the 10,000on gold on the track in 1992 and then NYC 17 years later in 2009).
Article continues below player
"The course is not easy, but I will try my best," Jepchirchir told reporters today at a press conference in Central Park not far from the race's 25-mile mark.  "I know we have here strong ladies.  I'm going to go and try my best to see how I am going to go to run.  I know it's not easy."
Jepchirchir, twice the world half-marathon champion and the World Athletics record holder for that distance for a women's-only race, ran a superb race at the Olympic Marathon 89 days ago in Sapporo on a hot, humid, and sunny day.  She used a patient approach, running the first half with the main pack of 11 contenders in a conservative 1:15:14.  She dropped her pace in the second half, and systematically burned off all of her rivals except teammate Brigid Kosgei by the 40-K mark. She left Kosgei in the final two kilometers to win by 16 seconds in 2:27:20 and became just the second Kenyan woman to win the Olympic Marathon title since the event was added to The Games in 1984 in Los Angeles.
"It was so hot, it was not easy," Jepchirchir said that day.  "I'm just thankful I managed [to cope] with that weather."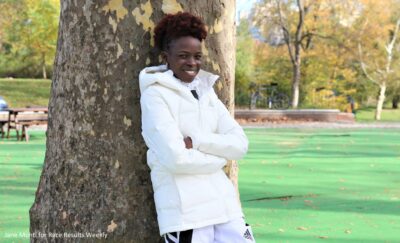 She'll be running in crisp, fall weather here on Sunday, but without the long months of preparation she put in before her Olympic race.  She explained that she felt the weight of running for her country in the Olympics and took her time in training to build up slowly.
"So much training preparing it because I know that was not my race alone," she said today.  I was competing for my nation, Kenya.  So, I was having a lot of pressure preparing for Olympics."
Also, with just 92 days between marathons, Jepchirchir had to shorten her marathon build-up for New York, anyway.  She also had a lot of post-Olympic media and promotional work to do before settling back at home in Kenya to log her miles.  There, she conferred with her mentor and adidas teammate, Mary Keitany, the four-time New York City Marathon champion who was under the same management as Jepchirchir before she retired earlier this year.  The two are fairly close; Jepchirchir once ran as a pacemaker for Keitany at the 2015 London Marathon.
"Mary Keitany and I were together in one management," Jepchirchir explained.  "I join 2014 to be with Mary Keitany, the same management.  My first race run marathon was pacing for Mary Keitany in London Marathon.  I used to watch Mary Keitany running.  I like the way she used to run."
The TCS New York City Marathon has not been kind to Olympic champions.  American Frank Shorter, who won the gold medal in Münich in 1972 and the silver medal in 1976, finished second in New York in 1976, did not finish in 1977, was 12th in 1978, and seventh in 1979.  Italian Stefano Baldini won the Olympic Marathon in Athens in 2004, then placed sixth in New York in 2006 and fourth in 2007.  Stephen Kiprotich of Uganda, the 2012 Olympic champion, finished 12th in New York in 2013 and fifth in 2014.  Joan Benoit Samuelson, winner of the inaugural Olympic Marathon for women in Los Angeles in 1984, finished third in 1988 and sixth in 1991.  In the 1988 race Samuelson was tripped by a boy handing out cups of water which sent her tumbling to the pavement near the 21-mile mark.
Jepchirchir has an excellent chance of breaking the "Olympic Curse" in this year's race.  Because all five of the Abbott World Marathon Majors events were crunched into the fall season due to pandemic-driven postponements of spring races, the New York field is not quite as deep as usual.  Americans Des Linden, Emily Sisson, and Aliphine Tuliamuk have withdrawn from the race with injuries, and the other Kenyan women in the race –Violah Cheptoo, Grace Kahura, and Nancy Kiprop– are not in Jepchirchir's class.  Her top rivals should be the Ethiopians Ruti Aga (2:18:34 PB) and Ababel Yeshaneh (2:20:51) and the Namibian Helalia Johannes (2:19:52).  Jepchirchir is the fastest woman in the field with a 2:17:16 career best.
Jepchirchir didn't talk about any time goals today, but she said that the fact that the course record of 2:22:31 set by Kenya's Margaret Okayo in 2003 had stood up so long told her a lot about the hilly five-borough course from Staten Island to Manhattan.
"The course record itself says the course is tough," she observed.
Should she win the race and break Okayo's record, she would earn a $50,000 bonus on top of the $100,000 first place prize (New York Road Runners eliminated other time bonuses for this year's race).  But she said just being here for the race was already a thrill.
"This was my dream race," she said.  "I used to say one day, one time, I would compete in New York."
More: *Full 2021 NYC Marathon Coverage 
*Kenenisa Bekele Has Big Expectations for His New York City Marathon Debut
*2021 NYC Marathon Men's Preview: Kenenisa Bekele Comes to America, Big Debuts for Kibiwott Kandie, Ben True The greatest distance runner in history will race NYC for the 1st time as will American Ben True. Can True break the American NY course record? *MB: NYC men: How do Bekele and Kandie do? Can Ben True break the American course record and run 2:08 in NY?
*2021 NYC Marathon Women's Preview: Olympic Champ Peres Jepchirchir Tries to Join Frank Shorter as an Immortal; What Can Molly Seidel Do for an Encore? Not since Frank Shorter in 1972 has an athlete won the Olympics and doubled back to win a fall marathon later that year. That's what Jepchirchir is trying to do on Sunday in New York.