Nijel Amos Falls, Yet Put Into 800 Final, Clayton Murphy's Gamble Pays Off
by LetsRun.com
August 1, 2021
Update: The article was originally titled, "Nijel Amos Falls and OUT of Men's 800 Final, Clayton Murphy's Gamble Pays Off" but has been updated to reflect Amos being put in the final. Discuss the latest in our forum: Nijel Amos IN THE FINAL 
Nijel Amos will run in the 2020 Olympic final, but he didn't get there the conventional way.
Amos, the co-3rd fastest man of all-time, the only man still competing from the historic 2012 Olympic final, was involved in a fall on the final turn in his 800 semifinal that left him and Isaiah Jewett of the US on the track. They would get up, embrace, and then jog to the finish line together.
Article continues below player.
What exactly happened to cause the fall is still under debate, but World Athletics has clearly decided Jewett was at fault, as Amos has been advanced to the final on appeal, while Jewett's 2020 Olympics have come to an end.
Below is a video of the fall:
After having their races cut short, Isaiah Jewett and Nijel Amos showed the ultimate sportsmanship. #TokyoOlympics pic.twitter.com/71lwSbY0x5

— #TokyoOlympics (@NBCOlympics) August 1, 2021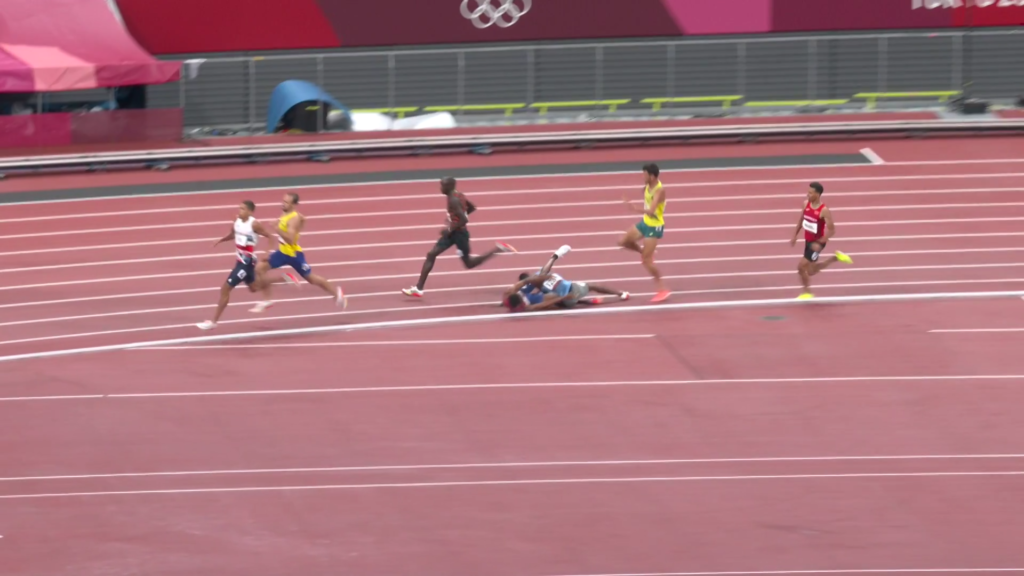 Update: Message board poster RunTV has posted a slow mo clip which shows Jewett's leg making contact with Amos, before Jewett falls and takes out Amos behind him.
After the fall, Ferguson Rotich of Kenya crushed everyone over the final 100 and won the heat in 1:44.04, running the fastest time for the 2nd straight day.
Afterwards, Jewett told Lewis Johnson of NBC that Amos clipped him from behind. He said, "I was super disappointed but I saw that Nigel was also disappointed. And he kind of like looked at me and said like, 'I''m sorry.' And I was like let's just finish the race. And I just wanted to, at least finish. That's what my mom tells me, 'Always just finish what you started."
"Honestly, I'm just glad that I'm here. I hope I can get into the final because I really wanted to run, and like to show everybody who I am. At the end of the day, I'm glad that I'm here. Hey, I worked hard to get here so hopefully they can get me into the final, but it's ok."
Amos said, "I've got a cut on my leg but I don't know what happened." He added to LRC, "I'll go watch the video but I don't think the protest will get me in, but I'll try."
(More discussion of the fall below and in this thread: Nijel Amos IN THE FINAL)
Clayton Murphy Advances
In heat 2, American Clayton Murphy did a Houdini act down the final straight to qualify for the final. Boxed in on the rail with 100m to go, he was hoping lane 1 would open up. The problem was leader Michael Arop of Canada was fading. Murphy had to pass him on the outside while moving ahead of France's Gabriel Tual on the inside to get the final auto qualifying spot for the final.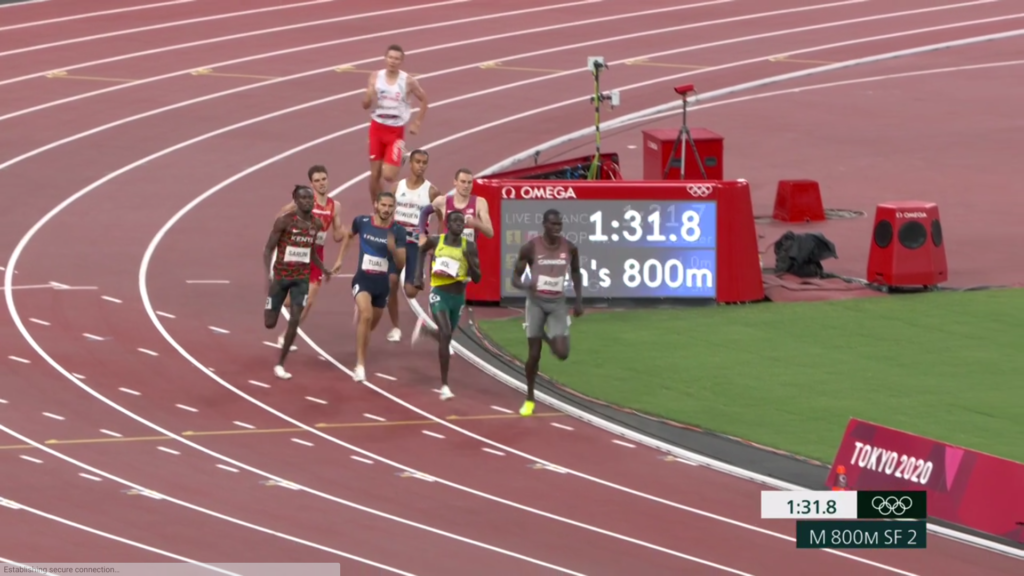 Bryce Hoppel, the World Championship 4th placer in 2019, did not advance out of heat 1 where Patryk Dobek and Emmanuel Korir were the auto qualifiers. Hoppel was in contention during the final 100m, but did not have the kick necessary to advance. Dobek, who just took up the event this year, once again used an inside move to great success. He famously used an inside move to win European indoors and today used an inside move to win his heat.
USA visitors: To watch replays of the races click here and then click on the 800 semi dot on the timeline on desktop or on the "Key Moments" tab on mobile. If you'd like to know how to watch everything on demand click here.
Analysis and Comments
A stunned Nijel Amos didn't want to see his Olympics experience end in a fall
We talked to Amos when he thought he was DQd and asked him what happened. Here's what he said.
I just don't know. I can't put words on it. I'm just trying to get my head around. It just happened so quickly ..[We're not entirely sure what his next three words were we think maybe "It just sucks"] in such big event and when I was in a good spot to take it home, you know. It's just the timing of everything. This time is not it. It's not it. And I just don't know what happened. I put myself down in the garden. But at the end of the day that's the sport – that's the 800. That's what makes it interesting, isn't it?
We then asked Amos if in his mind did he clip Jewett from behind or did Jewett go down and take Amos out with him?
I was trying to go out, I think, I don't know really what happened. Well he was in front , I was at the back. See I've got a cut on my leg but I don't know what happened. We all got up and walked to the line. As the Olympic [motto] says, "United by emotion." You know, we felt all the emotions and we stood up and just [waled it out to] the line, you know. I just, I just can't change what happened, but it crushed me man.
We asked Amos how he was feeling about the race – at the time he was directly next to Ferguson Cheruiyot of Kenya who ended up dominating the heat. Amos replied "I was in a good spot, man. I'm sure he's gonna get it home. I'm sure. I was certain to get that win."
Finally as related to the fall, we asked Amos if he would protest and if he thought there was any chance he'd make the final off of protest. "I'll go watch the video but I don't think the protest will get me in, but I'll try. I'm gonna try my best to try to do that. "
We then asked how disappointed he was overall.
"100% disappointing. I was anticipating that I would walk away with the gold medal. Probably this is my last Olympic Games and to bow down this way is not how I wanted to bow down."
When it was pointed out that the next Olympics is only three years away, Amos replied, "But there is life waiting for me on the other side."
Quick take: Great sportsmanship by Amos and Jewett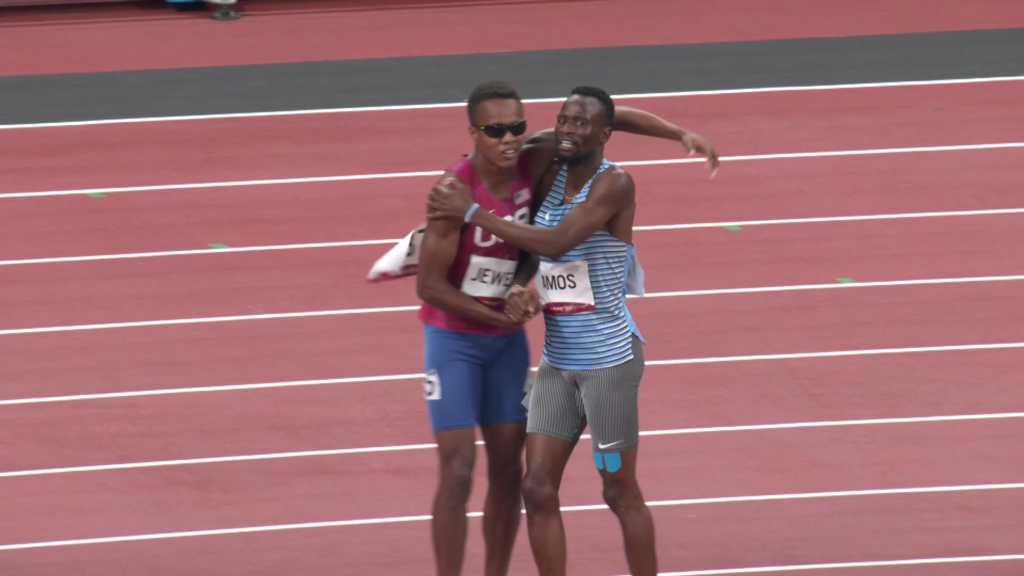 Amos and Jewett handled this with class on and off the track. Both wanted to be in the final, but them embracing on the track and jogging in together is what sport should be about. Fierce competition, but respect for your opponents and understanding sometimes things happen outside of your control.
Quick Take: Clayton Murphy's gamble pays off
Murphy was in fifth place with 200 meters and knew he needed to move up if he was to grab a spot in the final. He was running on the outside of lane 1, but there wasn't room to pass as Michael Saruni was also out wide with him. So Murphy made the decision to duck inside midway through the turn, running a shorter distance and hoping the inside lane would open up. It did not help Murphy that Arop in lane 1 was fading backward. That mean Murphy had to sneak by him on the outside while staying on the inside of Tual of France. He managed to do it and was pumpe afterwards.
"My legs felt really different yesterday, much more of a grind over the last few 100, but with 150 to go, I made that gamble to go in, because it seemed like every single person in the field wanted to go wide so I kind of put my eggs in either Arop or Bol to finish on the inside and at least be third, with a quick time so yeah, it paid off to have Bol kind of pull ahead and Tual kind of fade a little bit I guess. But the legs finally opened up there with like 20 meters ago but it took 780 meters for the legs to really get going," Murphy told LRC after.
Bryce Hoppel "left it all out there" but felt like he got cut off heading into the 600.
"I took it out strong and made sure I was gonna get in a good position, but it kind of just didn't play out well after that first 400. I was feeling good going until the last 200, but, I felt like he (Belgium's Elliot Crestan) cut in a little soon and I was left with nowhere to go," said Hoppel who appeared to lose his stride momentarily at that point. "I had to pull up a little bit and it just gave me the good enough disadvantage to kind of fade on the last stretch, but I left it all out there. I did as much as I could."
Speaking of Crestan, after taking the lead, the 22-year old ended up fading a little bit in the final 100 but still ended up fourth in a pb of 1:44.84 (previous pb of 1:45.19). He was proud of his Olympics as he came in with just the 42nd best pb and flet like he ran "very brave" according to a journalist who translated what he said in French.
Aussie Peter Bol ran a second straight Aussie national record to win heat #2
Yesterday, Bol lowered his pb from 1:44.56 to 1:44.13 to make the semis and today he took that down to 1:44.11 to win heat #2 ahead of Murphy.
Bol is the first Aussie 800 finalist since 1968 when Ralph Doubell won 800 gold.
When asked what it means to him to make history like that, Bol said, "It means that Justin (Rinaldi) should get the credit that it deserves being one of the best coaches in the world."
Bol also raved about his manager James Templeton – who also is David Rudisha manager – as Templeton often gives him inside knowledge on the sport. "He gives you so much knowledge and he says, 'Stay controlled, stay composed, believe in yourself, believe in yourself.' And there's so much that comes out of that."
"Justin's the greatest coach. James the greatest manager, and Joseph deng is the greatest training partner. And that's all I have for today. Thank you."
Semifinal Results
Semi 1:
Semi 2
Semi 3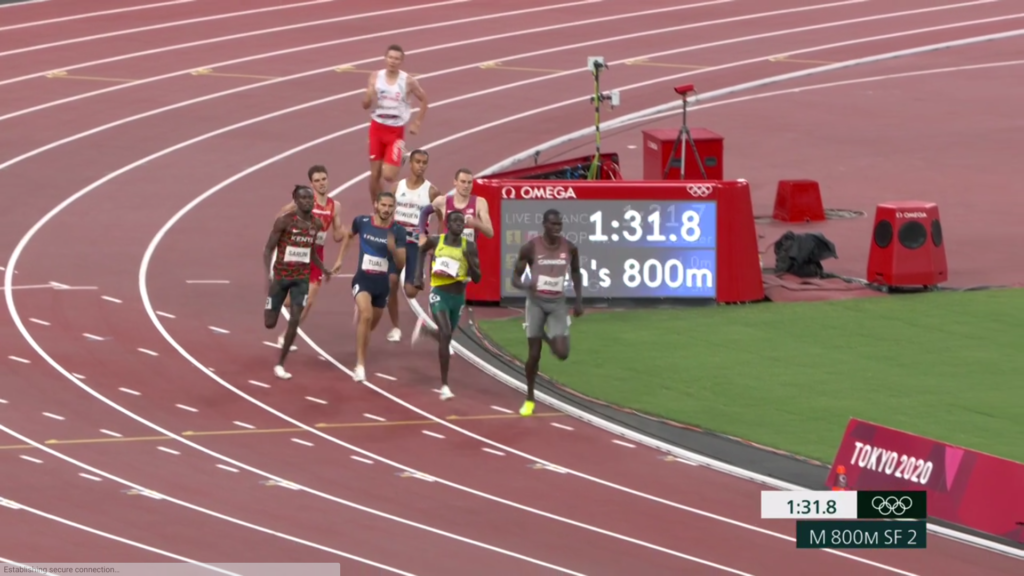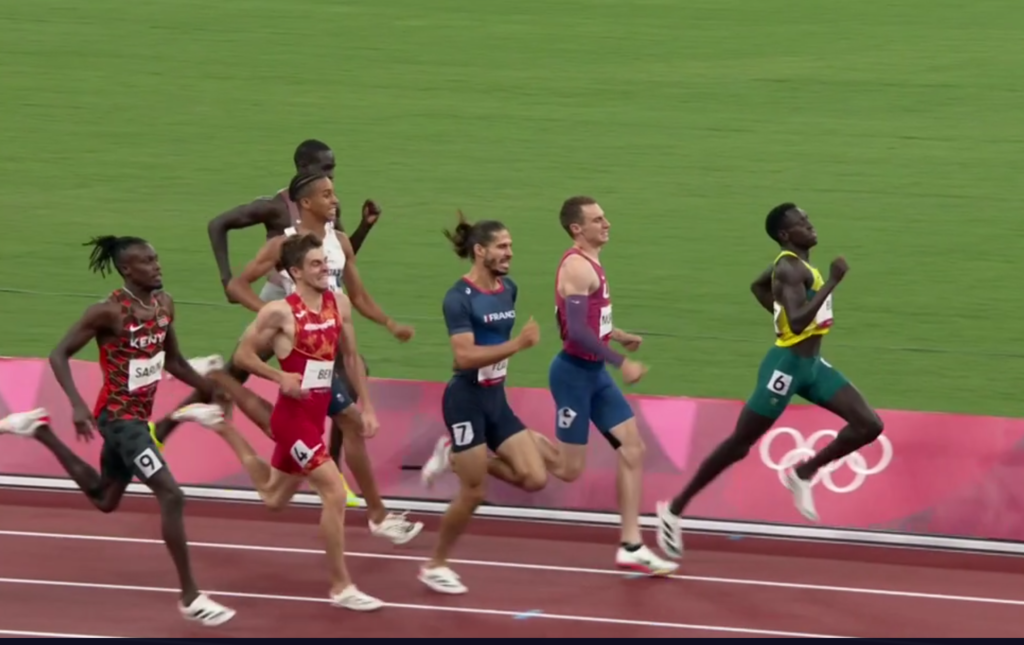 Like this article? Become a LetsRun.com Supporters Club member and get all the insights from Tokyo and the world of professional distance running. We are having daily video shows/podcasts from Tokyo, plus get exclusive LetsRun.com content throughout the year, savings on running shoes (if you buy one shoe that will more than pay for a month of your membership), and a free LetsRun.com or 1:59:40 shirt if you join for a year. Join here.
Not yet ready to join? Follow us on twitter, instagram, subscribe to our free weekly podcast, or get our free newsletter.