The Greatest Ever x2: Eliud Kipchoge Repeats as Olympic Marathon Champion in Dominant Fashion
By LetsRun.com
August 8, 2021
Eliud Kipchoge is still the king of the marathon.
Five years ago in Rio, when he crossed the finish line amidst the puddles of the Sambodromo to win the Olympic marathon title by 70 seconds, we wrote that Kipchoge was "without a doubt the greatest marathoner of all time." Somehow, the five years that have followed that moment have been even better, with Kipchoge racking up four more major victories and running time trials of 2:00:25 and 1:59:40. On Sunday morning, Kipchoge concluded the second era of his reign with another dominant victory in the Olympic marathon in Sapporo, winning by 80 seconds in 2:08:38. 
Article continues below player
"I think I have fulfilled the legacy by winning the [Olympic] marathon for the second time, back-to-back," Kipchoge said. "I hope now to help inspire the next generation."
In the process, Kipchoge silenced the doubters who thought Father Time's inevitable victory dance was beginning after Kipchoge had finished only 8th in the London Marathon last October. For the 13th time in the 15 official marathons he has started, Kipchoge was the winner.
After running with the pack for the first half of the race, Kipchoge made a huge move at 30 kilometers, dropping a 14:28 5k split to open up a 27-second gap on the field and turn the final miles into a procession for the greatest marathoner the world has ever seen. As the rest of the field battled the heat, humidity, and each other, Kipchoge was on his own planet, as he has been for most of the past decade.
"I wanted to create a space to show the world that this is a beautiful race," Kipchoge said of his move at 30K. "I wanted to test my fitness, I wanted to test how I'm feeling. I wanted to show that we have hope in the future."
Behind Kipchoge, there was a fierce battle for the silver and bronze medals, with his fellow Kenyan Lawrence Cherono trying desperately to hold off training partners Abdi Nageeye of the Netherlands' and Belgium's Bashir Abdi after they dropped Ayad Lamdassem on the final mile. Cherono had led their chase pack for the final miles after Kipchoge made his move, but Nageeye edged in front of him in the final straight, then turned around and pleaded for Abdi, his good friend and fellow Somali-born athlete, to sprint past Nageeye and join him on the podium. Abdi obliged, with great effort, to earn the bronze. Nageeye ran 2:09:58 for silver, Abdi 2:10:00 for bronze. Cherono, who won Boston and Chicago in sprint finishes in 2019, clocked 2:10:02 to finish a brutal fourth, as Spain's Lamdassem was fifth.
In his final race as a professional, Japan's Suguru Osako took first non-African-born honors in 6th in 2:10:41
American Galen Rupp, the bronze medalist five years ago, ran with the lead pack for 30k but fell off after Kipchoge's move and wound up eighth in 2:11:41. Jake Riley (29th, 2:16:26) and Abdi Abdirahman (41st, 2:18:27) rounded out Team USA.
The race
Race-time conditions in Sapporo were warm and sticky for the 7 a.m. start, with a temperature around 76 degrees, 89% humidity and some cloud cover. Rupp held an ice bag on the start line.
A large lead pack meandered around Odori Park and crossed the 5K mark in 15:17, which was 2:08:49 pace — slow for men of this quality, but reasonable given the conditions. American Jake Riley was off the lead pack after the first mile.
From there, the group slowed slightly, running the next 10K in 30:46, but the conditions took their toll quickly. Gabriel Gerald Geay (2:04:55 in Milan this year) dropped back after about 5 miles and would not finish. At a similar point, 2012 London Olympic marathon champion Stephen Kiprotich started walking. Then, a big casualty: Ethiopia's Shura Kitata, who beat Kipchoge and the world's best to win London in 2020, clutched his hamstring and dropped out.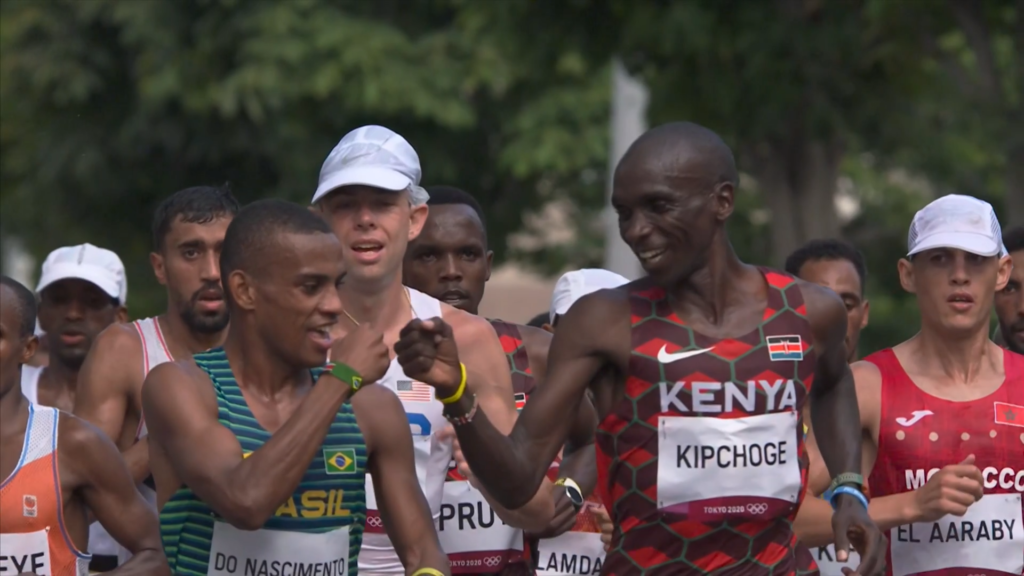 Contenders were fading, but Kipchoge and the Kenyans looked comfortable near the front. Kipchoge even fist-bumped Brazil's Daniel Do Nascimento around the 20K mark.
The field ran a 15:14 5K between 15 and 20K and reached halfway at 65:13, with a group of around 30 still in contention, as the sun burned off the clouds above Sapporo. Ethiopian Sisay Lemma (2:03:36 pb) dropped back after about 14 miles.
The leaders covered the five kilometers from 20-25K in 15:37, the slowest split of the race, and then Kipchoge threw in a surge, seizing the lead. Rupp covered the move and the other two Kenyans, Amos Kipruto and Cherono, followed, but it was enough to cut the lead pack down to ten. The third Ethiopian, Lelisa Desisa, dropped back, and all three Ethiopians wound up DNF'ing.
Kipchoge split 15:07 for 25-30K and then made his definitive, gold-medal move: he surged hard, opening a 10-meter lead in a matter of seconds and immediately dropping Rupp and Japan's Suguru Osako from the lead pack. A chase pack of five emerged, including both Kenyans, Nageeye, Abdi, and Spain's Ayad Lamdassem. Around the 33K mark, Kipruto fell off the chase pack.
Kipchoge continued pressing and widened his lead. It was seven seconds at 32K, 15 seconds at 33K, and 27 seconds at 35K. He dropped a 14:28 5K between 30 and 35K and smiled as he continued to extend the lead. 
The gold medal was hardly in doubt, but a great race for bronze and silver was beginning to form, with four men running for the two medals. Osako passed Kipruto into sixth place and he was only 17 seconds back of the chase pack after 24 miles, with Japanese spectators urging him on.
Cherono went to the front of the chase pack after 24 miles but could not break Nageeye, Abdi, or Lamdassem. Multiple times, Nageeye beckoned to urge Abdi to hold on.
The four raced nearly in single file for the final two miles. As they turned onto the home straight, Kipchoge finishing in the distance in front of them, Lamdassem broke, and three men remained. With 200 to go, Cherono still led. With 100 to go, Nageeye made the pass on Cherono, signaling with his arm to Abdi to also make the pass. Abdi followed his training partner to glory, easing past Cherono to the line.
Eliud Kipchoge is the greatest marathoner of all time twice over
As mentioned above, after Kipchoge won the Olympic marathon in 2016, we proclaimed him the greatest marathoner of all time. And somehow, the five years after that race have been even better.
You can make a strong case that if you broke Kipchoge's career down into two halves, he would be the two greatest marathoners of all time.
Kipchoge, 2013-2017
Eight marathon wins in nine starts (six majors, including two Londons)
Course record in London
2:03:05 pb
Olympic champion
2:00:25 in Breaking2
Kipchoge, 2018-2021
Five marathon wins in six starts (four majors, including two Londons)
Course records in London and Berlin
2:01:39 world record
Olympic champion
1:59:40 in INEOS 1:59 Challenge
We've never seen anyone like him in the marathon, and we probably never will again. Before Kipchoge, the marathon was not supposed to be an event you could dominate for years. In the modern era, athletes were supposed to win a few majors, enjoy a brief reign at the top of the sport, and then succumb to injuries, bad luck, or the vicissitudes of the marathon. Kipchoge, with a brief hiccup in London last year when he suffered an ear blockage, has been the best marathoner in the world for 6+ years and counting, and looked just as dominant today (1:20 winning margin) as he did in Rio five years ago (1:10 winning margin).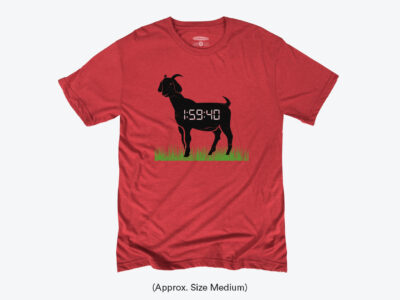 Those winning margins are astronomical by modern Olympic standards. No other Olympic marathon since Frank Shorter won in Munich in 1972 by 2:12 has been won by even a minute, the next largest victory belonging to Sammy Wanjiru in his epic 2:06:32, 44-second victory in Beijing that redefined the marathon as event that could be attacked no matter the conditions. 
Kipchoge's longevity is also incredible. This year, Allyson Felix drew plaudits for medalling in her fifth straight Olympics. Kipchoge has medalled in four of the last five: bronze in the 5k in '04, silver in the 5k in '08, and gold in the marathon in '16 and '21. Oh, and he was also 5k world champion in 2003. The dude is absurd.
Is Eliud Kipchoge the greatest distance runner of all time, period?
We all know Kipchoge is the marathon GOAT. But has he now dominated the marathon enough to be considered the overall distance GOAT?
For the last decade, many observers have considered Kenenisa Bekele the greatest distance runner of all time. Bekele won three Olympic track titles, five World Championship titles on the track, set world records in the 5,000 and 10,000 (twice) and won 11 World XC titles as well. He's also run a 2:01:41 marathon, just two seconds behind Kipchoge's pb.
No one was as dominant as Bekele at World XC, though John Ngugi and Paul Tergat both won five titles, and all of Ngugi's titles (plus three of Tergat's) came in the days before the short race existed at World XC (Bekele won six long-course titles and five short-course titles). And on the track, Bekele was dominant, but not much more dominant than Haile Gebrselassie (six straight global 10k titles, the same as Bekele). And Mo Farah actually won more global titles on the track (10).
Meanwhile, the chasm between Kipchoge and the next-greatest marathoner in history is enormous. Abebe Bikila probably occupies the #2 spot, having won 12 of his 16 career marathons, including two Olympic titles and two world records. But Bikila's prime was 60 years ago — his pb was 2:12 — which makes a direct comparison a little tricky.
Are we now at the point where Kipchoge has been so dominant in the marathon that it has surpassed Bekele's entire career? And if not, what more does he have to do? Win an unprecedented third Olympic title in Paris? Win all six major marathons?
What Kipchoge needs to do next is clear: race New York, Tokyo and Boston
If one is looking for a hole in Kipchoge's marathon CV, the only thing missing is he's never won a major marathon on a not-pancake flat course. Therefore, he needs to run Boston and New York. If he wins those, then Tokyo would be the only other major he hadn't won and Kipchoge said he'd like to win all the majors.
2021 New York is 91 days away. Is that too close? While Kipchoge last ran a marathon 112 days ago in the Netherlands — a 2:04:30 win in Enschede — he's never run three marathons in a year so starting to do so at age 36 may not be wise.
If he doesn't run New York in 2021, then he should next race either in Tokyo or Boston in 2022.
A disastrous weekend for Ethiopia
Five years ago, Ethiopia controversially left Kenenisa Bekele off its Olympic marathon team, only to see him win Berlin and almost break the world record a month later. The Ethiopian Athletics Federation faced criticism for the decision, and this time tried to remove all controversy from its Olympic selection policy by holding a trials race on May 1. Despite the federation's attempts, the outcome in Sapporo was disastrous today as all three Ethiopians dropped out.
(Pair that with two DNFs in the women's marathon and a DNF and a DQ in the women's 10,000 last night — though Letesenbet Gidey did earn a bronze medal — and it has been a truly disastrous weekend for Ethiopia at the Olympics).
We're sure some will blame federation's ham-fisted rollout of the trials the reason for the DNFs this weekend, but we think that's a mistake as it produced a very strong team. Sisay Lemma is a 2:03 guy from 2019, and Shura Kitata (2020 London champ) and Lelisa Desisa (2019 world champ) have been two of the best guys on the planet over the last few years. 
Yes, the trials race was not announced until two months before it happened, meaning some athletes had a limited buildup and some, like Bekele and Birhanu Legese, did not compete at all. It was also only 99 days before the Olympics, and though the race was only 35k (at altitude) rather than the full marathon distance, that's a tight turnaround for two intense races. That being said, Kipchoge ran a full marathon just 112 days ago.
The reality is since going 3-4-7 in 2008, Ethiopia has an embarrassing men's marathon track record as they have registered three DNFs in both 2012 and 2020 with two totally different selection processes. Feyisa Lilesa's silver medal in 2016 is the only saving grace.
The best explanation would seem to be that the Ethiopians are ill-prepared for the heat and humidity of an Olympic marathon (we heard both Kitata and Desisa had been "flying" in training during their buildup), though it is worth noting that Desisa won the world title in hot and humid conditions in Doha in 2019.
A great result for training partners Abdi Nageeye & Bashir Abdi and coach Gary Lough
Earlier this year, Abdi Nageeye, who used to train with Kipchoge in his Kaptagat training camp, made the decision to switch coaches to Gary Lough (Paula Radcliffe's husband). Though Lough's most famous athlete, Mo Farah, could not qualify for the Olympics, his group more than made up for it today as Nageeye and Abdi both landed on the Olympic podium.
While Nageeye and Abdi have similar backgrounds, both emigrating from Somalia and ultimately settling in the Low Countries, they reached the podium in different ways. Abdi's marathon progression has been a dream. He debuted with a 2:10:46 in Rotterdam and followed that up with three consecutive national records: 2:07:03 at 2019 London, 2:06:14 at 2019 Chicago, and 2:04:49 at 2020 Tokyo. Today was the first marathon of his life in which he did not run a personal best.
Nageeye, meanwhile, debuted all the way back in 2014, running 2:11:33 for third in Enschede, but would not reach the podium in any of his next 11 marathons; last fall he was only 15th in Valencia in 2:07:09. After that race, he switched coaches to Lough and clearly it has paid off as he finally returned to the podium today — the biggest podium in the sport.
Galen Rupp Finishes 8th
At the last two Olympics, Galen Rupp left with an Olympic medal. This time he left with a respectable 8th place finish. Rupp was running right on the lead for the first 30k of this race and shadowing Kipchoge a lot of the time. Then Kipchoge made some sort of gesture, which from what we could tell, was directed back at Rupp. Soon Kipchoge was running away from the pack to gold. Rupp had looked great but could not handle this final injection of pace and soon fell to battle out the final 10k to finish as high as possible.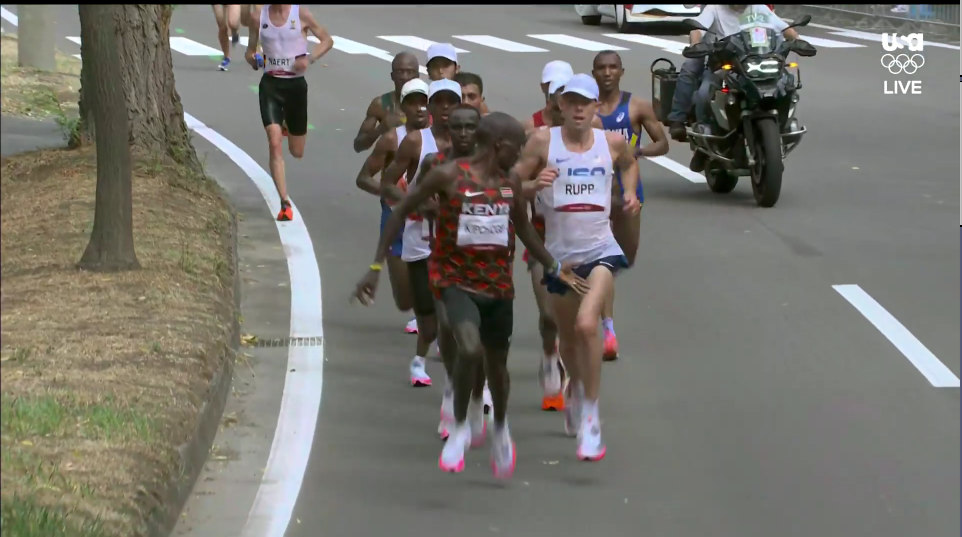 In a span of minutes, we went from wondering if Rupp could win the gold medal to wondering what is left in his career. Rupp has done nearly everything in his career except win a gold medal. He could make the Olympic team in 2024, but he'll be 38 then. 
Up next for Rupp is Chicago in October. And with the World Championships next year in Rupp's college hometown of Eugene, it seems to be the perfect focus for Rupp in 2022. If Bashir Abdi could get the silver medal today, then Galen Rupp has the talent to still get a medal like that. And Eliud Kipchoge has yet to run a World Championship marathon. 
Abdi Abdirahman becomes the first male American track athlete to compete at five Olympics
44-year-old Abdi Abdirahman finished 41st in 2:18:27, a respectable performance. Abdi's biggest accomplishment was making the Olympic team as a 43-year-old. By competing today he became the first male to compete at five Olympics for the USA in athletics. Amy Acuff and Gail Devers have done it on the women's side. Bernard Lagat competed at five Olympics, but two were for Kenya.
Results below
Like this article? Become a LetsRun.com Supporters Club member and get all the insights from Tokyo and the world of professional distance running. We are having daily video shows/podcasts from Tokyo, plus get exclusive LetsRun.com content throughout the year, big savings on running shoes (if you buy one shoe that will more than pay for a month of your membership), and a free LetsRun.com or 1:59:40 shirt if you join for a year. Join here.