Eliud Kipchoge BACK to His Winning Ways With 2:04:30 Win at NN Mission Marathon
By Jonathan Gault
April 18, 2021
The GOAT is back.
Six months after his worst marathon — an eighth-place finish in London, just his second defeat in 15 outings over the 26.2-mile distance — Eliud Kipchoge returned to the top of the podium on Sunday morning, winning the NN Mission Marathon comfortably in 2:04:30 after breaking away from the lead pack just after 20 miles. Kipchoge's time (the fastest in the world this year in what has been a limited 2021 season) and his margin of victory (2:10 over his friend and training partner Jonathan Korir) sent a message to anyone discounting his chances after his surprise defeat in London last fall: in 2021, the path to an Olympic gold medal still goes through Eliud Kipchoge.
Article continues below player
On a good day for running fast (39 degrees, 3 mph winds at start) on a 5k loop course at Twente Airport in Enschede, Netherlands, Kipchoge was content to sit in the pack for the first five kilometers, with a lead group of seven (including two pacemakers) passing through in 14:54 (2:05:44 marathon pace). But that pack would not remain intact for long, as the next 5k was covered in a blistering 14:21 (2:01:05 pace), leaving just Kipchoge and his fellow Kenyan Korir (2:06:45 pb) behind the two pacers. Did Kipchoge, the world record holder at 2:01:39, ask the pacers to pick it up? Or did they act of their own accord? Either way, the result was that, with 20 miles of running still to go, the NN Mission Marathon was already a two-person race.
Any dreams that Kipchoge might be able to challenge his mighty world record quickly evaporated, however. The next four 5k splits were all slower than the preceding one: 14:31-14:43-14:48-14:53. That took Kipchoge and Korir through 30k at 1:28:10 (2:04:00 pace; they had hit halfway in 61:43), but they were not alone. Pacemaker Philemon Kacheran — a 2:06:05 marathoner in his own right — was still hanging in there just behind Kipchoge and Korir after pacing them for the first 25k.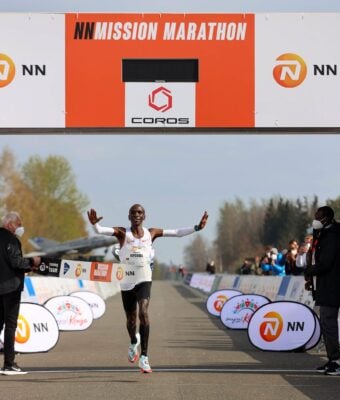 Just after 20 miles, Kipchoge made the decisive move, first gapping Korir and then Kacheran shortly thereafter. By 35k, his lead was 16 seconds and he would not be touched the rest of the way, padding that gap to 2:10 by the finish line, even though Kipchoge wasn't actually speeding up. His 5k split from 30k to 35k was 14:52, and his next one, from 35k to 40k, was 14:56, Kipchoge's slowest of the race. Rather than Kipchoge dropping the hammer with a devastating 4:30 mile, as he often does, this was simply a case of two 2:06 guys unable to hang with a 2:04 pace.
But Kipchoge didn't mind that. This was not a record attempt, just a test run to ensure all systems were in working order ahead of this summer's Olympic marathon in Sapporo. Test passed.
"It's mission accomplished," Kipchoge said. "The race was perfect. This was the real test towards Tokyo. It's good to have a marathon a few months before the Olympics to test my fitness."
Jonathan Korir was rewarded for his brave early running with a five-second pb of 2:06:40 as he took second behind Kipchoge. Eritrea's Goitom Kifle was third in a two-second pb of 2:08:07 as pacemaker Kacheran hung on for fourth in 2:08:47. In total, 15 men ran under the Olympic standard of 2:11:30 in an event designed to produce fast times for athletes taking one last crack at Olympic qualification. In particular, it was a big day for Poland, which went from zero Olympic qualifiers to two thanks to Marcin Chabowski (10th, 2:10:17) and Adam Nowicki (11th, 2:10:21), expanding an already oversize Olympic field.
In the women's race, Germany's Katharina Steinruck took the win in 2:25:59 as the top 10 finishers all hit the Olympic standard of 2:29:30.
Top 10 men
Top 10 women
Full Race Video
Quick Take: Kipchoge showed what he needed to show today, and should be regarded as the favorite for Olympic gold
By Kipchoge's standards, today was actually a "slow" race — 2:04:30 is just his ninth-fastest marathon, and that doesn't count his exhibition runs in Monza or Vienna. But Kipchoge wasn't looking for a world record today, nor did he need one. What he needed was a win and a performance that said he was on the right track following his disappointing eighth-place finish in London in October. And that is exactly what he got.
A time of 2:04:30 won't worry potential Olympic rivals like Shura Kitata or Birhanu Legese. What should worry them is that Kipchoge looked a lot more like the Kipchoge of old than he did last fall while battling an ear blockage on a wet day in London. He was in command throughout the race, coolly moving past the pacemaker at 27k when he felt the pace was lagging. His move at 20 miles was definitive, putting over two minutes on the field over the final 10k. He never appeared to be straining.
Frankly, there are a dozen guys who could do what Kipchoge did today. But none of them utterly dominated the marathon in the way Kipchoge did from 2014-2019. And that is why he has to be regarded as the favorite in August's Olympic marathon. Had Kipchoge struggled today, there would have been serious questions about how long he could continue at the top of the sport. Instead, his win made London look like what all marathoners inevitably endure: a bad day at the office.
On the Friday 15 Subscribers Show, the LetsRun.com brain trust all predicted Kipchoge would win in 2:04, but they didn't assume he would go out sub-62. The positive split (61:43/62:47) is the only slight blemish in this one. The main goal was for Kipchoge to show London 2020 was a blip on the radar and he did that. He is the favorite heading into the Olympics.
---
Celebrate greatness, get your 1:59:40 t-shirt here.
Discuss Kipchoge's run on the LetsRun.com messageboard:
MB: Official NN Mission Marathon Discussion Thread – Will Kipchoge return to form or is he on the decline?