Yared Nuguse Takes Down Cooper Teare and Cole Hocker at Oregon Twilight
Runs NCAA/US-Leading 3:35.96 1500
By LetsRun.com
May 8, 2021
Yared Nuguse made a statement on Friday night: he's back.
Article continues below player.
Running his first 1500 in almost two years, the 2019 NCAA champion from Notre Dame flew out to the new Hayward Field on a University of Oregon campus brimming with NCAA champions and put them all away, outleaning Cooper Teare to win the McChesney 1500 at the Oregon Twilight in 3:35.96, a 2021 NCAA and US outdoor leader.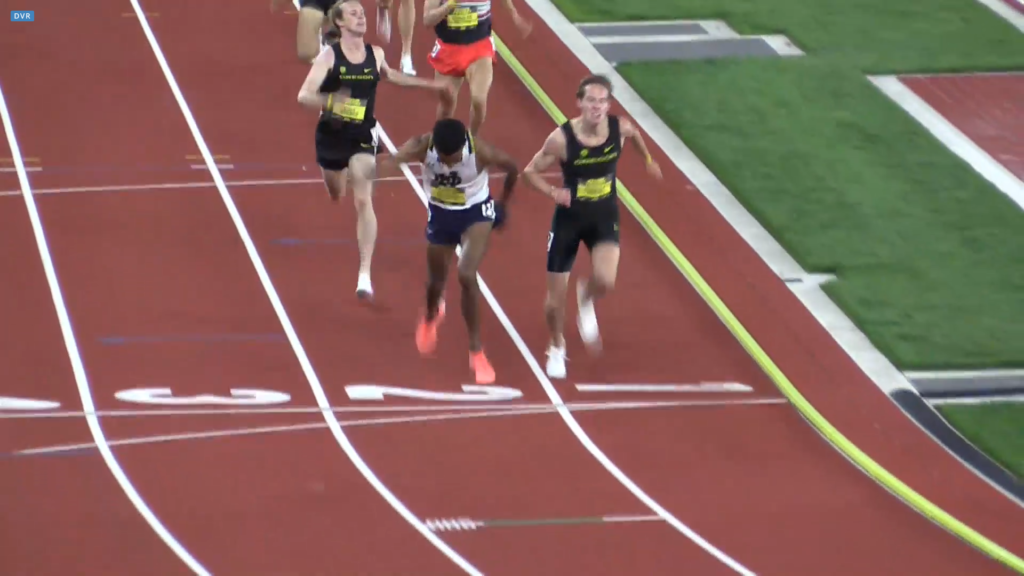 Close finishes are becoming something of a specialty for Nuguse. In his last 1500, the 2019 NCAA final in Austin, he defeated Michigan State's Justine Kiprotich by three-thousandths of a second to win his first NCAA individual title. Tonight, his margin was slightly wider: one-hundredth of a second over Teare, the NCAA mile record holder, who ran 3:35.97 for second as NCAA mile/3000 champion Cole Hocker suffered his first defeat in four attempts at Hayward Field, settling for third in 3:36.47.
No one managed to hit the tough Olympic standard of 3:35.00, but Nuguse did manage to sneak into the NCAA all-time top 10, bumping Alabama's Eliud Kipsang (3:36.00) out for the #10 spot (Teare stays at #4 thanks to his 3:35.46 split from his 3:50.39 mile indoors in February).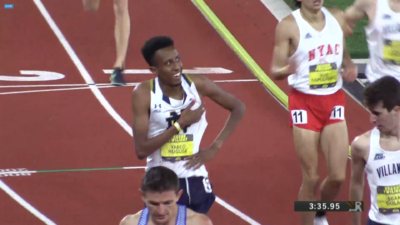 The race was a triumphant return to the 1500 for Nuguse, who had barely raced his signature event over the past two years. He called it a season after winning NCAAs in 2019, and ran the mile at just one meet during the 2020 indoor season, winning the ACC title in 3:55.62. He didn't race at all outdoors in 2020 due to COVID and elected to focus on cross country during the winter of 2021, a decision that paid off as he finished 23rd at NCAAs in March to lead the Irish to a runner-up team finish. This was just his second track race of 2021, after he debuted with a 13:40 5k pb at the Raleigh Relays on March 25.
The Race
With a stellar field assembled — NCAA indoor 800 champion Charlie Hunter and Olympic semifinalist Charles Philibert-Thiboutot of Canada (3:34 pb) were also in the field — the pace was quick from the gun, as the leaders hit 400 in 57 seconds and 800 in roughly 1:55. But the big goal — the Olympic standard of 3:35.00 — slipped away during the third lap, as the leader-to-leader split of 59.31 was almost two seconds slower than the required pace.
At the bell (2:40.16), Teare held the lead with Nuguse on his shoulder and a pack of four more men behind them: Hunter, BYU's Talem Franco, Philibert-Thiboutot, and Hocker.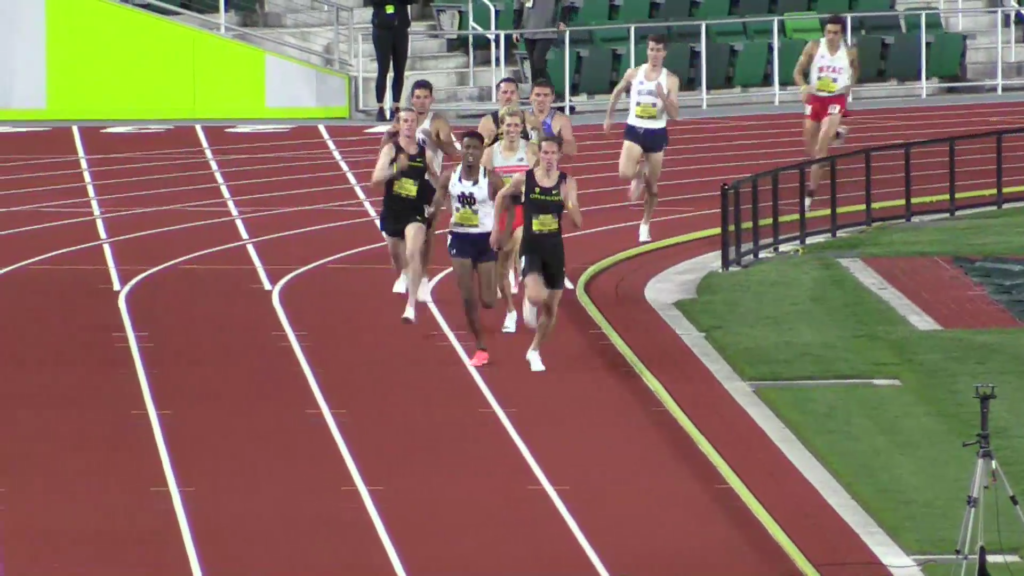 Hocker remained in sixth place with 200 to go, and it was at that point that Teare and Nuguse began to separate from the rest of the field. Hocker started kicking as well and was up to fourth with 100 to go, but he had left it too late and wound up third. Nuguse, meanwhile, timed his kick perfectly, running just off of Teare as they battled down the home straight before finally making the pass in the final 10 meters and outleaning Teare at the line. His last lap of 55.63 was tops in the field, with Teare (55.81) and Hocker (55.67) not far behind.
QT: Time to Tap the Cole Hocker Brakes a Little Bit — He's Human
The Cole Hocker freight train got slowed a little bit tonight. Ever since NCAA Indoors, where Hocker won the mile and 3000, he has been on a complete tear, running 1:46.60, 13:19.98, and now 3:36.46. This all by a 19-year-old. Tonight's run reminded us he's not unbeatable at the NCAA level. His teammate Teare has actually beaten him both times they've raced at the 1500/mile this year. 
QT: Very nice win for Nuguse
Perhaps no one should be surprised Nuguse won tonight as he is the reigning NCAA 1500 champion and our very own Rojo has been hyping him for the Olympic team for a year now, but this was an impressive win. This was Nuguse's first 1500/mile since February of last year and he didn't miss a beat.
QT: Will Hocker, Teare, & Nuguse Need to Hit the Standard Before the Trials?
Hocker, Teare and Nuguse very easily could be in the mix at the Olympic Trials.
The problem, however, is that none of them have the Olympic standard, nor are any of them ranked highly enough to earn an Olympic berth through that method. In fact, none of them have a world ranking at all because they don't have the requisite number of races during the qualifying window (5). That will change with NCAAs and the Trials still to come, but if those races go tactical, the collegians might be in trouble. Nuguse looks the most vulnerable via the rankings as he has the least number of races in the system. Right now only three American men have the Olympic 1500 standard, with three more in the World Athletics world ranking quota but more may get it. Ryan Adams who has run 5 times in the 3:37-3:39 range and was 5th today actually is close to qualifying via the ranking system so there is hope for Nuguse, Teare and Hocker to get the qualifying standard out of the way via the ranking system.
 Results
 1 Yared Nuguse Notre Dame 3:35.96
 2 Cooper Teare Oregon 3:35.97
 3 Cole Hocker Oregon 3:36.47
 4 Charles Philibert-Thiboutot New Balance 3:37.08
 5 Ryan Adams Furman 3:37.66
 6 Charlie Hunter Oregon 3:38.17
 7 Talem Franco BYU 3:38.49
 8 Sean Dolan Villanova 3:40.01
 9 Rob Napolitano NYAC 3:42.11
 10 Casey Comber Villanova 3:42.61
 11 James West Oregon 3:44.04
 Matt Wisner Oregon DNF
 Luis Peralta Oregon DNF
Talk about the action on our world famous messageboard / fan forum: