Teenage Dreams: 18-Year-Old Nico Young Runs 13:24, 19-Year-Old Cole Hocker Runs 13:19
By LetsRun.com
April 24, 2021
Just before 7 p.m. Central Time on Friday evening at Drake Stadium in Des Moines, Iowa, 18-year-old Nico Young, a freshman at Northern Arizona University, covered 5,000 meters in 13:24.26 to finish third at the Drake Relays.
Young's time was the fastest ever by an American teenager.
Article continues below player
His record lasted less than five hours.
That's because, just before 9:30 p.m. Pacific Time at the new Hayward Field in Eugene, 19-year-old Cole Hocker, a redshirt freshman at the University of Oregon, ran 13:19.98 to win the 5,000 meters at the Oregon Relays.
Youth has officially been served.
Young will have to be content with the American U20 record (Hocker, who turns 20 on June 6, is not eligible for that record), but it's Hocker who leaves the night as the collegiate leader and favorite for whichever event he chooses to run at the NCAA Outdoor Championships in Eugene seven weeks from now. Because Hocker did more than just run fast; he outsprinted three of the top talents in collegiate distance running in teammate Cooper Teare (2nd, 13:20.24) and the Iowa State duo of Edwin Kurgat (3rd, 13:20.45), the 2019 NCAA cross country champion, and Wesley Kiptoo (4th, 13:21.02), the 2021 NCAA indoor 5,000 champion.
The pace was fairly quick from the outset, with a trio of rabbits leading the field through 2800 meters (the racers hit 3,000 in 8:04.68, which is 13:28 pace). With Oregon's James West, the final rabbit, stepping off at that point, many assumed it would be up to Kiptoo to keep the pace going as he usually relishes dealing punishment from the front and was the first racer behind the rabbit. But tonight, he had no desire to pick up the pace, and Teare, growing anxious, moved up to his shoulder and seized the lead just before two miles .
Teare kept the pace rolling, but after hitting four laps to go in 9:09.62, his next three laps (64.76-64.76-63.53) did nothing to break up the pack of four, which at the bell read the same as it had three laps earlier: Teare, Kiptoo, Kurgat, Hocker.
What came next seemed inevitable. Cole Hocker's kick is quickly becoming the stuff of legend, and the fact that he was still there at the bell spelled doom for his rivals. Teare did his best to push the pace, but he could not gain separation, and all four men were still bunched with 200 meters to go, Kiptoo threatening on the outside and Hocker hugging the rail, waiting for the inside to open up.
Teare fought both men off, and smartly protected the rail from Hocker, but that only delayed the inevitable, Hocker freeing himself coming off the final turn. With room to run, Hocker eventually passed Teare on the outside and pulled away for the win thanks to a 56.84 final lap. Teare held on for a well-deserved second, missing his personal best by three seconds, while Kurgat outkicked Kiptoo for third as both men ran pbs. *Oregon Results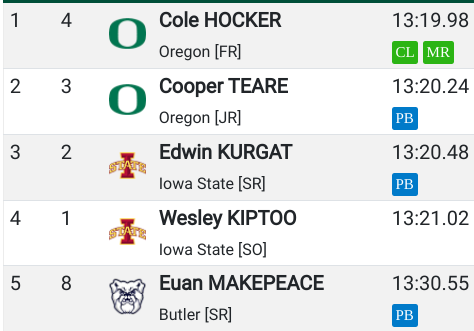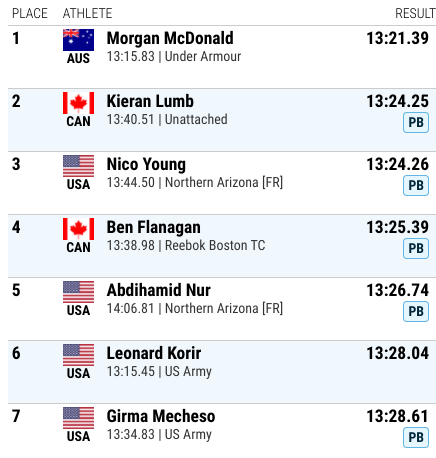 LRC analysis
Is there anything Cole Hocker can't do?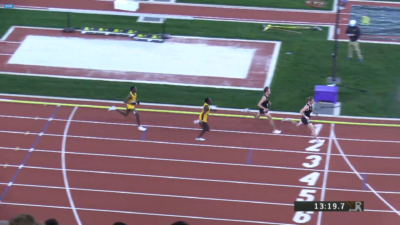 After last month's NCAA Indoor Championships, it seemed difficult for Cole Hocker stock to rise much higher. He had just won the NCAA mile and 3k titles in the span of just over an hour.
But Cole Hocker's stock is arguably higher than it was a month ago. In the last three weeks, Hocker has run 1:46.60 for 800 — still the #2 time in the NCAA (he did that less than 24 hours after running 3:38 for 1500) — and now 13:19.98 for 5,000, #1 in the NCAA. When was the last time someone was an NCAA title contender in the 800 and the 5,000? What's next, leaping tall buildings in a single bound?
Coming into tonight Hocker's PR was 13:32, Teare's was 13:17, Kiptoo's 13:23, Kurgat's 13:24, but none of that mattered as Hocker beat them all.
Which event(s) will Hocker run at NCAAs?
With regional qualifiers in the 800, 1500, and 5000, Hocker now has his pick of which event to contest at the NCAA championships in June. Under the old NCAA schedule, it was not uncommon to see athletes try the 800/1500 or 1500/5000 double as those races were spread across four days.
Ever since the NCAA shifted to its current schedule — men's finals on Friday, women's finals on Saturday — those double attempts have all but died out. Some men and women have tried the steeple/5k double, but the other same-day distance doubles have been radioactive.
Hocker could change that. Given Hocker's heroics indoors and the fact that Oregon will be in the hunt for the team title once again, it seems very possible that Hocker tries the 1500/5000 double at NCAAs (the 1500 is at 5:11 p.m., the 5000 at 6:55 p.m.). The only concern? The Olympic Trials are the following week, so Ducks coach Ben Thomas may not want to fry Hocker before the biggest meet of his life.
What a night for American distance running
On the same night, an 18-year-old American ran 13:24 and a 19-year-old American ran 13:19. In the history of US distance running, neither of those things had ever happened, but they both just happened within five hours of each other on Friday.
That should underscore just how special Nico Young and Cole Hocker are. Here's the official updated all-time US U20 list (reminder that since Hocker turns 20 in 2021, his marks from this year are not eligible):
All-time US U20 5,000m list (courtesy T&F News)
13:24.26 Nico Young 2021

13:25.46 German Fernandez 2009

13:29.98 Chris Derrick 2009

13:30.13 Grant Fisher 2016

 13:32.2* Gerry Lindgren 1965

13:32.95 Cole Hocker 2020




13:37.64 Sean McGorty 2014

13:37.91 Galen Rupp 2004

13:38.39 Franklyn Sanchez 2001

13:39.6 Steve Prefontaine 1970
*converted from 3-mile
Some of the names on that list are a reminder that running fast as a teen is no guarantee of future success. Others show that it could be one of the first steps on the road to greatness. There's no way of knowing how Young and Hocker's careers will turn out, but right now, their futures appear very, very bright.
Bill McChesney's school record lives on
The Oregon school record in the men's 5000 dates to 1982 when Bill McChesney ran 13:14.80 in August in Zurich. Some were thinking it might fall tonight but it lives on as the official school record.

We say official school record because it was run in the summer after his redshirt senior year. Unlike Track & Field News, we think European marks should count for school records but are willing to draw the line that your collegiate career ends at the NCAAs of your final year.
MB: Bill McChesney's record may fall today, but will it go to Hocker or Teare? 
For the record, Morgan McDonald won Drake in 13:21
We started off by mentioning how Young was third at Drake but didn't talk about the race. That race was won by Under Armour's Morgan McDonald of Australia, the four-time NCAA champ, in 13:21.39 with Canada's Kieran Lumb second in 13:24.25. McDonald's 3000 split of 8:05 was just a hair slower than the 3k split in Oregon. The 22-year old Lumb is reportedly going to run at Washington next year.
2016 US Olympian at 10,000 Leonard Korir, who has made the last three US teams at 10,000 but only ran 13:39 indoors after getting 4th in the Olympic Marathon Trials, was 6th in 13:28.04. He still needs to get the 27:28.00 Olympic standard.
Talk about the action on our fan forum / messageboard.
MB: Nico Young 13:24
MB: Kiptoo/Kurgat vs Hocker/Teare in Loaded Men's 5k @ Oregon Relays (4/23)
MB: Bill McChesney's record may fall today, but will it go to Hocker or Teare?
MB: Canadian Kieran Lumb ran 13:24.25 today – heard he's headed to UW next year
*Oregon Results *Drake Results
---
Day 2: LRC 2021 USATF Grand Prix: Big Wins for Muir, Bromell, & Hoare, Simpson Struggles, & Updike Stuns Steeple Field