WTW: The Japanese Men and Athing Mu Run Fast, NAU Loses and Much More
By Robert Johnson and Jonathan Gault
March 1, 2021
The fear of COVID-19 seems to be declining as the number of vaccinations rise. As a result, the number of competitions is increasing and we hope to bring back our Week That Was on a regular basis after only intermittently writing it over the last year.
Past editions of the Week That Was can be found here. Got a tip, question or comment? Please call us at 844-LETSRUN (538-7786), email us or post in our forum.
Below we take a look back at a great week of action. If you missed our recaps of Grant Holloway's world record in the 60-meter hurdles or Athing Mu's 1:58 800, read those here:
Article continues below player.
****
The Final Lake Biwa Marathon Was One For The Ages
In December, America rejoiced as a record seven Americans broke 2:10 in the same marathon at The Marathon Project. On Sunday in Japan, in the final Lake Biwa Mainichi  Marathon, 40 Japanese men accomplished the feat (plus one Kenyan and one Mongolian). If the sub-2:10 American men at the Marathon Project had run the same times in Lake Biwa, they would have placed 29th, 31st, 41st, 43rd, 46st, 47th and 50th.
But Lake Biwa wasn't just impressive for its depth; it also had some fast times up front. 25-year old Kengo Suzuki (27:49/61:36/2:10:21) ran a spectacular final 7.2 km to become the first Japanese man under 2:05:00 at 2:04:56, as five Japanese men broke 2:07. For comparison's sake, only 27 Americans have ever broken 2:10 and only three Americans have ever broken 2:08.
So how did Suzuki break Suguru Osako's 2:05:29 national record? By closing amazingly quick.
A huge lead pack hit halfway on national record pace in 62:35 (Japan Running News' Brett Larner said 18 were still in the lead pack at 20k). The pace stayed consistent through 30k but things slowed greatly between 30 and 35k and it looked like the national record would fade away. At 35k, the lead pack was down to three (two Japanese), but they covered the 5k from 30 to 35k in just 15:02 (Osako's national record pace was 14:52.1 per 5k). After the 36th km was covered in just 3:04, the leaders were on 2:05:31 pace — behind national record pace for the first time in the race.
However, 40 seconds later, as they approached an aid station, Suzuki skipped the aid station and took off. The next 17 minutes were breathtaking as Suzuki crushed it all the way home. The km splits that popped on the screen were the opposite of your standard marathon fade. 2:53 for the 37th km, 2:52 for the 38th and then 2:51 for the 39th. Even though Suzuki didn't start to hammer until roughly the 36.25 km mark, he ran 35k to 40k in 14:39. For the final 2.195 km, he went even faster. He ran that in 6:16, which is 14:16.5 5k pace. Larner reported his final 5k was covered in 14:26.
That's not quite an Eliud Kipchoge world record close, but it's close (Kipchoge's final 2.195 in his WR was 6:08; Kipchoge's final 6.2195 km took 17:39 whereas Suzuki ran it in 17:51).
Watch the decisive move by Suzuki where he skipped the aid station here:
It's hard to believe that Lake Biwa — Japan's oldest marathon which has an incredibly rich history with past champions like Abebe Bikila, Paul Tergat, and Wilson Kipsang — will be no more, but what a final race.
More: Final Lake Biwa Mainichi Marathon One For The Ages – 2:04:56 National Record, FORTY Sub 2:10s
****
If You Don't PR, Try, Try, Try, Try, Try (x 81) Again – Yuki Kawauchi PRs
One of the guys running a big pb in Lake Biwa was 2018 Boston Marathon champion Yuki Kawauchi, who lowered his pb from 2:08:14 to 2:07:27 to place 10th. The 33-year-old Kawauchi's PB was a long time in the making.
According to Wikipedia, until Sunday, Kawauchi had finished 81 marathons in a row without a PB. Yes, 81. In fact, during those 81 races, he hadn't really come close to a PB. When Kawauchi first moved to the marathon, he ran 2:08 in three of his first 22 races, including 2:08:15 and 2:08:14 back-to-back in 2013. Since then, he hadn't run faster than 2:09:01 and had only broken 2:10 once in his last 33 marathons.
On Sunday, he switched to Asics' version of the super shoe and promptly recorded a lifetime pb. 
 

View this post on Instagram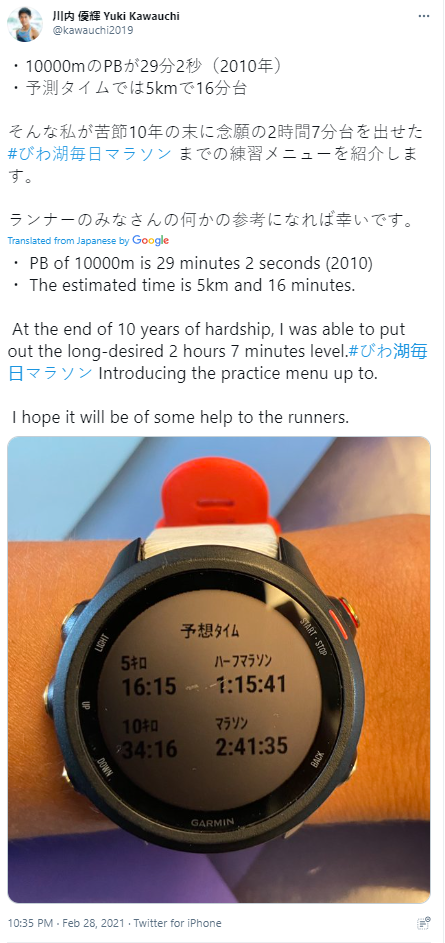 ****
Putting Japan's 40 Sub-2:10s In a Single Race In Perspective
As mentioned above, 40 different Japanese men broke 2:10 in one race on Sunday. That's more in one race than all but three countries have produced throughout history (h/t to messageboard poster Douglas Burke). Check this stat out.
# of Sub-2:10 Marathoners (any course)
Kenya – 478
Ethiopia – 209
Japan – 146
USA – 27
Morocco – 25
Spain – 21
Eritrea – 19
Great Britain – 17
Italy – 15
South Africa – 15
France – 12
Mexico – 11
Tanzania – 11

Stats via World Athletics database.
****
Athing Mu's 1:58.40 CR Highlights NCAA Conference Weekend
Last weekend featured the four biggest indoor conference championships of the season: the ACC, Big 12, SEC, and Big 10 (the Pac-12 doesn't have an indoor conference meet). The standout highlight from those four meets came at the SEC meet in Fayetteville, Ark., as Texas A&M superfrosh Athing Mu ran 1:58.40 to destroy the collegiate and World U20 records at 800 meters.
We already recapped Mu's historic run in detail here, but it's worth restating just how incredible her effort was. She took over two seconds off the previous indoor CR of 2:00.69 (Jazmine Fray, 2017), and her time was also faster than the outdoor collegiate record of 1:59.10 (Raevyn Rogers, 2017). It also broke the pending World U20 record of 1:59.03 set in January by Great Britain's Keely Hodgkinson, though Mu's record may not be ratified. WRs require drug tests for ratification, and most collegiate meets don't offer drug testing.
The immediate question surrounding Mu is which event she runs at NCAA indoors. She's the NCAA leader in the 400 (50.52; second is 51.14) and 800 (second is 2:01.96) and would be heavily favored in either event. She's also a key part of Texas A&M's 4×400 relay, which broke the collegiate record on February 12.
It's a given Mu will run the relay, but individually, will she choose the 400, 800, or both? A double seems unlikely (the 400 prelims are at 7:25 on Friday, with the 800 prelims at 7:55; the 400 final is at 6:20 on Saturday, the 800 final at 6:40, and the 4×400 final at 7:20). Mu, for the record, seems to consider herself an 800 runner:
Guys, I only ran that so people could stop calling me a 400m runner ?

— Athing Mu (@athiiing) February 28, 2021
One more interesting thing about the Texas A&M women. They were only 8th at the SEC meet with 48 points, but if you score the NCAA indoor qualifying list, they are ranked #1 with 68.6 points with Arkansas second at 68. 
A national title for A&M isn't likely — Arkansas is definitely the favorite — but it's not totally out of the question. And a top-3 NCAA showing seems very likely as they easily could score as many points at NCAAs as they did at SECs.
If A&M does somehow win it all, they may think COVID-19 for the title. Due to the pandemic, the NCAA meet has been changed to a three-day event with day 1 featuring the women's pentathlon and first half of the men's heptathlon. And A&M's other big star besides Mu is Tyra Gittens, who is the #1 seed in the pentathlon and high jump and #5 in the long jump. Doing the multi, high jump, and long jump all on the same day would be super hard, but now she can get the multi out of the way on the first day.
Of course, COVID-19 might also be helping favorite Arkansas, as a majority of their projected points come in the distances, which will be watered down with other teams focusing on cross country.
*Projected NCAA scores scoring the descending order list (via cloudtrainingsystems.com/meetscorer)
Women


1

Texas A&M

68.6
2

Arkansas

68
3

Texas

45.5
4

BYU

37
5

Georgia

35
6

Florida

32
7

LSU

31.6
8

Texas Tech

28
9

USC

25.1
10

Baylor

20

Men


1

Oregon

83


2

LSU

48


3

BYU

45


4

Georgia

32


5

Tennessee

28


6

 

Florida State

27


6 N. Carolina A&T

27


6 Florida

27


9

 

Iowa State

24


10

 

Texas

21
****
Quote of the Week That Wasn't Quote of the Day
We know one thing. Legendary Texas A&M coach Pat Henry, who has won 36 NCAA team titles, is super high on Athing Mu. Check out this quote from Henry:
"Like I've said before, she might be the greatest freshman athlete in any sport ever at Texas A&M and maybe the greatest collegiate freshman athlete in the sport of track & field. I've never seen a freshman accomplish the things that she has achieved and we're not even done with the season. They are going to replay the broadcast of the championships and they're going to interview her, if you want to find out what kind of young lady she is then you might want to watch that broadcast replay. She's a great Aggie, in our meetings she is always on me to say a couple things about certain things and she loves to hear 'Remember who we are, we're Texas A&M,' she loves that and it tells you a lot about that young lady."
****
Best Finish Of The Week
Athing Mu's win at SECs was certainly the most impressive, but the most exciting came in the Big Ten men's 800 final. Check this finish out.
WHAT. A. FINISH! ?

Domenic Perretta wins Penn State's SIXTH consecutive men's 800m title #WeAre pic.twitter.com/DhwkKbTrVy

— Penn State Track & Field/Cross Country (@PennStateTFXC) February 27, 2021
****
The NCAA Men's Mile Is Shaping Up to Be Special
There were several noteworthy performances by NCAA men's milers last weekend. It began on Thursday night when Alabama's Eliud Kipsang split 3:51.73 on the anchor leg of the DMR to take the Crimson Tide from 10th to second (Ole Miss won in 9:29.35). As far as we can tell, that is the fastest DMR split ever by a collegian — if you know of a faster one, let us know. Kipsang came back to run the 3000 on Saturday but was beaten by Ole Miss' Mario Garcia Romo, who closed in a ridiculous 25.39 to win that race in 8:03.99. Romo also split 3:54 on Ole Miss' DMR.
Out west, there was also a fast mile at the Husky Classic in Seattle. The winner was no surprise: Sam Tanner, the University of Washington star who ran a 3:34.72 collegiate 1500 record at the New Balance Indoor Grand Prix, easily punched his ticket to NCAAs by winning in 3:55.23. Right behind Tanner, however, was someone no one could have predicted: BYU freshman Lucas Bons, who ran 3:55.45.
If the name sounds unfamiliar, you're not alone. This was just Bons' third race for BYU, and in his previous two, he ran 1:53 for 800 and 8:34 for 3000 (albeit at altitude). There was nothing to indicate this sort of run was coming.
Bons did run 4:09 for 1600 as a high school senior in Ohio in 2018. But, like many BYU athletes, he took a two-year Mormon mission to the Ivory Coast before enrolling in college and only returned eight months ago. Many returning missionaries redshirt their first year back as they spend very little time running during their missions. For Bons to run 3:55 in his first year back is phenomenal.
All of this makes for a very exciting men's mile at NCAAs in two weeks' time. In addition to Kipsang, Tanner, and Bons, we've also got the Oregon duo of Cooper Teare (3:50.39) and Cole Hocker (3:50.55), who ran the top two times in collegiate history in February. Even if Teare and Hocker opt for other events, the depth is still remarkable. In all, 10 collegians broke 3:57 this year; two years ago, just two men accomplished that feat.
Speaking of milers, let's give some props to the BYU women. At the Husky Classic, five BYU women broke 4:40. Their times, along with their rank in the NCAA right now:
Courtney Wayment, 4:30.47 (#1)
Olivia Hoj, 4:31.73 (#3)
Heather Hanson, 4:36.49 (#13)
Kate Hunter, 4:37.17 (#14)
Simone Plourde, 4:37.24 (#15)
Making the feat even more remarkable: BYU won the West Coast Conference meet in cross country just two days earlier despite holding out all five of its star milers. Diljeet Taylor has built a heck of a distance program in Provo.
****
NAU Loses Its Conference Meet in XC
Speaking of college XC champs, one of the most surprising results of the weekend came from the Big Sky XC Championships in Ogden, Utah, where unranked Southern Utah knocked off #2 Northern Arizona, 35-38, to snap the Lumberjacks' four-year streak of conference titles.
It's worth noting that NAU did not race three of its top runners in Nico Young, Luis Grijalva, and Blaise Ferro. We reached out to NAU coach Mike Smith to find out why.
Smith did not want to go into specific details, but said that some of his athletes are banged up right now and his top priority is to get his team to the start line healthy at NCAAs on March 15.
"I raced the people I had available given where individuals were with their bodies and the threshold for risk that I'm willing to take two weeks out from the national meet," Smith said. "Eight weeks out from the meet, my threshold for risk is a lot higher, six weeks out a lot higher. Four weeks, probably lower. Two weeks, I've got a pretty low threshold for risk…If I didn't race someone, it's because I couldn't race them."
It is worth noting that Young, Grijalva, and Ferro all raced eight days before the Big Sky meet, finishing 2nd, 4th, and 5th at the Battle Born Collegiate Challenge in Nevada. So what changed?
Well, for one, Smith lowered his threshold for risk given the closer proximity to NCAAs. The injury situation also appears to have changed since the Battle Born meet; Young was initially entered at Big Skys when the NAU website published its meet preview two days before the race before Smith ultimately pulled him.
"The lineup that we saw that day was not the lineup that I intended on running, including some very last-minute adjustments that were in the best interest for peoples' bodies," Smith said.
Now we at LetsRun.com believe coaches should take their conference meets seriously. But given the health issues surrounding some of his top athletes, Smith faced a tough decision here. Blaise Ferro has dealt with injuries throughout his NAU career. And Young, an 18-year-old freshman in his first season of collegiate running, is one of the biggest distance talents ever to emerge from the US high school ranks. Smith should not be taking any unnecessary risks with him. If Young had raced conference at less than 100% and further aggravated his injury, Smith would have been ripped for failing to keep him healthy for NCAAs.
"I gotta get these guys to the [NCAA] starting line," Smith said, adding he believes all three should be ready to race by NCAAs.
As for Southern Utah, this could be the win the Thunderbirds needed to earn their sixth NCAA bid in seven seasons. SUU was receiving votes in the most recent USTFCCCA coaches' poll, but the NCAA selection committee has said conference results will be the number one criteria for assessing whether a team makes it to NCAAs this year. A win over the #2 team in the country — even at less than full strength — is a nice resume booster.
"I just want to make sure people give credit to Southern Utah," Smith said. "Those guys are awesome. I just don't like that it's like, well they won because we didn't race so and so. No, they kicked our ass. They beat us."
MB: #1 NAU is stunned at Big Sky XC Champs – Southern Utah 35, NAU 38!
****
The Texas Qualifier
A fun new event, the Texas Qualifier, was held over the weekend in Austin, one of our favorite cities. Mega props to meet director Dave Alfano of New Jersey for doing something that USATF refuses to do: put on a track meet in the midst of the pandemic. And even more props for streaming it for free to the masses on the Citius Mag YouTube channel. There really was a lot of grassroots support for the event. It kind of reminded us of track's version of the Olympic Marathon Trials.
Unfortunately, in terms of performances, the meet didn't produce what it was marketed to do: produce US Olympic Trials qualifiers on Friday night and Olympic qualifiers on Saturday night. Part of that was weather, part of that was field quality, and part of it was that in some races the super studs decided they'd rather focus on racing than times.
On Friday night, zero US Olympic Trials qualifying conditions were achieved under good conditions. On Saturday, warm, humid conditions made things tough for the longer distance races, but out of four events, only one American man even achieved the US Olympic Trials standard (Isaiah Harris ran 1:46.19 in the 800 but he'd already qualified). In the women's action, things were better. The women's 800 was quick as Ajee' Wilson put up an outdoor world lead of 1:58.93 and Germany's Konstanze Klosterhalfen ran a German record of 31:01.71.
Any doubts as to whether Wilson would still be a force in 2021 given she didn't race in 2020 are no longer valid.
Other takeaways? We loved the event but the weather in Austin is too unpredictable to counted on for time trial-type long distance races. Less than two weeks prior to the event, the father of LetsRun.com co-founders Robert and Weldon Johnson was sleeping in his car as he had no heat thanks to the sub-10 F weather. Their mother was sleeping with their 95-year-old neighbor trying to help keep her warm.  Eleven days later and Ben True was sitting at home thinking, "Man I made the right call in switching to the 10,000 in California."
LRC Konstanze Klosterhalfen's 31:01.71 German 10,000 National Record, Ajee Wilson's 1:58.93 Win Highlight Texas Qualifier
****
Molly Seidel Returns to Atlanta, Runs 68:29 Half Marathon PB
A year after she made the US Olympic team in Atlanta in her debut marathon in 2:27:31, Molly Seidel returned to the area on Sunday and impressed once again, this time by winning the Atlanta Half Marathon in a pb of 68:29 (previous pb of 69:20 from January 20) in a race that was basically run in 100% humidity as she was running through fog.
On the messageboard, one person called the conditions "brutal" and labelled Seidel a medal threat at the Olympics, but his or her claim about the conditions wasn't accurate. The temp was in the high 50s and the reality is that water vapor is less dense than normal air. So if the air is totally saturated, one can actually run a little faster than if it's not, assuming the temperature is low. If the temp is under 60, you'd prefer to have the air be saturated as there is less wind resistance.
Anyways, enough with the weather talk, the key takeaway with this race is that Seidel is doing really well. The issue with her has never been talent — she was a national champion in both high school and college. The issue has always been health. 
And the last six months have been amazing on that front as Seidel has been racing a lot and very well. She PR'd in the marathon (2:25:13) in London in October and now has followed that up with two half marathon PBs.
More: Molly Seidel Blasts 1:08:29 Half-Marathon PB in Atlanta 
*Discuss: Molly Seidel is an Olympic Medal Threat
****
Recommended Read
The article below was penned in 2019 but we just read it this week.
"Why I Will Never Wear Performance Enhancing Shoes" 2:20 marathoner Russell Bentley shares his disdain for the super shoes.
To see our favorite reads from other weeks, go here.