Duck Domination: Oregon Wins 6 Events and Runs Away With 2021 NCAA Indoors as Hocker Completes 3k/Mile Double
By LetsRun.com
March 13, 2021
79 Points. 6 national champions.  
The story of the 2021 NCAA Division I Indoor Track & Field Championships was utter domination by Robert Johnson's Oregon men. LSU's points total (56) would have been enough to win in any of the last three years, but they were a distant second as Oregon won its fourth indoor title in the last seven championships.
"You don't understand how hard it is to have six individual national champions. To have six individual national champions is pretty special. Usually you nickle and dime these national championships," said head coach Robert Johnson.
The Oregon distance runners scored the bulk of the Duck points, matching the 2015 Oregon team as the only squads to win four distance events in a single meet (800, mile, 3k, DMR). That performance — Oregon became the first team to win the 800, mile, and 3k at the same NCAA meet — will get the bulk of attention on LetsRun.com, along with 19-year-old Cole Hocker, who emerged as America's newest distance star.
However, Johnson pointed out it was a true team effort. The distance points (52) wouldn't have been enough on their own to beat LSU.
Another 19-year-old Oregon sensation, Micah Williams, won the 60 in 6.49, just .04 off Christian Coleman's NCAA record. The biggest surprise was another freshman, Emmanuel Ihemeje, PRing by nearly three feet to win the triple jump.
Even Johnson was surprised by how good his Ducks were today. Despite having the #1 seed in five events, he did not expect Oregon to record the second-highest total in meet history, behind only Arkansas (94) in 1994.
Article continues below player.
"I didn't come in here thinking that 79 was within our grasp," Johnson said. "I had us in the high-50s, low-60s."
But this was a powerhouse team of studs, all of whom were able to raise their game when it mattered most, leading to one of the finest days in the history of a program that has managed plenty of them.
Though Oregon won five of the 10 finals contested today, there were winners from other schools. Notable among them were Baylor's KC Lightfoot (who set a meet record of 5.93m in the pole vault) and Georgia's Matthew Boling, who won a tight 200-meter final over LSU's Terrance Laird, 20.19 to 20.20. Boling, the high school phenom who didn't get a chance to run at NCAAs last year as a freshman after the meet was cancelled due to COVID, impressed in his first NCAA championship to take the victory and earn revenge over Laird, who defeated him at SECs two weeks ago (Boling was DQ'd in that meet).
Boling wasn't the only Georgia sprinter to impress. Though the Bulldogs finished last in the final section of the 4×400 (they were fourth overall), anchor leg Elija Godwin made history by splitting 44.21 — the fastest ever split in an indoor 4×400, per statistician Jon Mulkeen.
Below, we recap the 800 and 3000 finals, which featured a heart-stopping victory by Oregon's Charlie Hunter in the 800 and a filthy kick from teammate Cole Hocker to close out an epic same-day, mile-3k double. We also have a detailed recap of Hocker's mile win here:
LRC Cole Hocker Arrives As US Distance Star By DOMINATING NCAA Men's Mile With A 3:53 Meet Record From The Front, Then He Doubles Back And Wins 3k An Hour Later
Men's 3000: Hocker becomes a legend
Galen Rupp. Lawi Lalang. Edward Cheserek. Three men who established themselves as NCAA legends by completing insane doubles or triples at the NCAA Indoor Championships.
It's time to add Cole Hocker's name to the list.
In the span of 68 minutes on Saturday afternoon, Hocker won NCAA titles in the mile and 3000 meters, running 3:53.71 in the former to take down Lalang's meet record. Barely an hour later, Hocker had his second NCAA title — and almost his second meet record (he missed Lalang's mark by .21) in stunning fashion, running down his Oregon teammate Cooper Teare in the home straight to win the 3000 meters in 7:46.15.
In his mile race, Hocker methodically destroyed the field from the front, stringing them out before putting them away with a devastating 25.87 final lap. (We were so impressed with his run that we wrote an article titled Cole Hocker Arrives As US Distance Star before he doubled back in the 3000). In the 3000, he used a different tactic, running down the NCAA mile record holder over the last lap, closing even faster (25.49) to outsprint Teare for the win. 
Taken alone, either of Hocker's runs today were remarkable. Taken together, they were sublime.
Rupp and Cheserek earned their fame for a slightly different, more challenging double: winning the 5k and coming back to anchor their team to a distance medley victory (Cheserek had roughly 30 minutes' rest between events; Rupp had roughly double that). Hocker's feat was closer to what Lalang accomplished for Arizona in 2013 on the same Fayetteville track, winning both the mile and 3k in meet-record fashion (3:54.74/7:45.94). Hocker ran very similar times (3:53.71/7:46.15) in what was a tougher double: the mile and 3k start times were 1:45 apart in 2013, compared to just one hour in 2021.
Hocker is the sixth man to complete the mile/3k or mile/2-mile double. The full list (hat tip to friend of LRC David Woods):
Jim Ryun, Kansas 1968
Marty Liquori, Villanova 1971
Suleiman Nyambui, UTEP 1979, 1980, 1982
Bernard Lagat, Washington State 1999|
Lawi Lalang, Arizona 2013
Cole Hocker, Oregon 2021
You know you're in impressive company when half the list (Ryun, Nyambui, and Lagat) own Olympic medals.
After the meet, Oregon coach Robert Johnson admitted he had considered pulling Hocker out of the race if the Ducks had enough points to clinch the team title. But entering the 3k, the score stood at Oregon 61, LSU 56, with LSU still having an opportunity to score in the 4×400. So Hocker started. And won.
Men's 3000m Results
1 Cole HOCKER Oregon [SO]	7:46.15  PB  
2 Cooper TEARE Oregon [SR]	7:46.23
3 Mario GARCIA ROMO Ole Miss [SO]	7:48.59
4 Amon KEMBOI Arkansas [SR]	7:50.54
5 Alec BASTEN Minnesota [SR]	7:52.05  PB  
6 Ahmed JAZIRI Eastern Kentucky [JR]	7:53.19  PB  
5 Baldvin MAGNUSSON Eastern Michigan [JR]	7:53.72  PB  
8 Cameron PONDER Furman [JR]	7:54.56  PB  
9 Antonio LOPEZ SEGURA Virginia Tech [JR]	7:55.87  PB  
10 Colton JOHNSEN Washington St. [SR]	7:57.38
11 Gilbert BOIT Arkansas [SR]	7:57.90
12 Tom BRADY Michigan [SO]	7:57.92  PB  
13 Andrew KENT Georgia Tech [SR]	7:58.34
14 Benjamin NIBBELINK Virginia Tech [SO]	7:59.74
15 Waleed SULIMAN Ole Miss [SR]	8:02.31
16 Ben FLEMING Virginia Tech [SO]	8:08.12
The Race
Oregon has had success all season by leading, so it's no surprise that Teare, who anchored the Ducks to a DMR win last night, opted for the same strategy in this race. After the race threatened to go slow with a 33.06 second lap, Teare went to the front and reeled off 31-second laps, one after another, with Hocker right on his shoulder. They hit 1600 in 4:14.02, with the field strung out single-file behind them.
Teare passed 2k in 5:18.30, and though the pace wasn't exactly slow (7:57 pace), it wasn't fast enough for Virginia Tech's Antonio Lopez Segura, who grabbed the lead with 900 to go and dropped the fastest lap of the race to that point, 30.47. Teare took it back with 500 to go, Ole Miss' Mario Garcia Romo (who anchored the Rebels' runner-up DMR squad yesterday) following on his shoulder by 400 to go. 
That's where things got interesting. Romo attacked Teare on the back straight of the penultimate lap, getting the lead with 300 to go only for Teare to pass him back in the home straight. He hit the bell in the lead after a 28.43 lap and immediately shifted gears, gapping Romo, who was quietly passed by Hocker at the top of the backstraight. We looked set for an Oregon 1-2 and a first individual title for Teare to go with his DMR victory last night.
But what was this? Hocker, after passing Romo, simply kept going, and as he hit the final turn, he was eating up the ground between himself and Teare. Teare responded, and coming off the final turn he still had a step on Hocker. After seeing teammates Hocker and Charlie Hunter earn individual titles earlier in the day, Teare desperately wanted one of his own. 
But Hocker would not give it to him. Unlike the last time Oregon went 1-2 in this event, with Eric Jenkins and Edward Cheserek on this same track in 2015, there was no suggestion of either man letting up. Both were giving it everything they had, and ultimately it was Hocker, ducking his head and finding one last burst of speed over the final meters, who came out on top, 7:46.15 to 7:46.23, thanks to a stellar 25.49 last lap. What a way to end a day of dominance for the Oregon men.
????????

Cole Hocker, Cooper Teare go 1-2 in the 3,000m to clinch the team title for the Men of Oregon?

? ESPN3 #GoDucks | #NCAATF pic.twitter.com/Qq86dh0fHT

— oregontf (@OregonTF) March 13, 2021
Quick Take: Cole Hocker is a supernova
Just over a month ago, Cooper Teare called Cole Hocker "the future of American distance running."
"Cole Hocker is my favorite person to talk about, ever," Teare said. "He's the future of American running. He's insane."
At the time, it seemed a little presumptuous. Sure Hocker, the 2018 Foot Locker champion, had run an impressive 13:32 at the Track Meet in December, getting narrowly edged out by Olympic 1500 champion Matthew Centrowitz. And he had run a 2:49 leadoff 1200m leg in Oregon's collegiate record-breaking DMR — the fastest Ducks coach Ben Thomas could ever recall in a collegiate DMR. But the future of American running? Really?
Turned out, Teare knew exactly what he was talking about. Hocker's double victories in the span of 68 minutes is something only a handful of men have ever accomplished, all of them legends. And Hocker, at just 19, was by far the youngest to do so. It was a performance so impressive that we can't help but think of what he is capable of next. 
The 1500 scene in the US is very much in flux at the moment, and Hocker has shown he can run fast (3:50 mile) and close out fast championship races with a big last lap (it's not easy to run 3:53 and 7:46, closing each in 25 seconds). Things can change over the next three months. But right now, are there three American milers better than Hocker?
Hocker said later that he doesn't know which event he will run at the Olympic Trials — right now he only has the 1500 standard, but plans on getting in some fast races this spring to chase qualifying times for the Trials and Olympics. But his favorite event is the mile. Why?
"It's shorter," Hocker deadpanned.
Quick Take: Would things have been different if NCAA XC wasn't on Monday?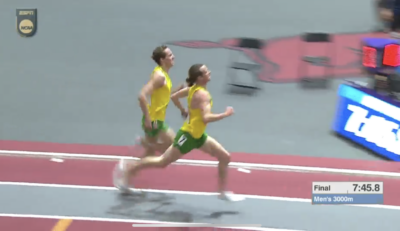 One of the great unanswered questions of this strange 2021 winter season is what would have happened if the NCAA hadn't decided to stage the indoor track and cross country championships within the same four-day span. How would it have affected the distance races?
Notre Dame's NCAA 1500 champion Yared Nuguse, who elected to focus on XC, would have been here running some combination of the mile/3k/DMR. Friday's dominant 5k winner Wesley Kiptoo would likely have doubled back for the 3k instead of running XC on Monday. BYU's Conner Mantz and NAU's Luis Grijalva both would have been in the 3k, 5k, or both.
Would that have changed anything, though? Hocker broke the meet record in the mile and almost broke it in the 3k, and he had fantastic closes in both races. Maybe Nuguse could have challenged him in the mile. Maybe Grijalva, who ran 7:43 last year and outkicked Teare to run 13:16 at the Track Meet in December, could have given him a run in the 3k. But those outcomes are far from assured. 
One thing is clear: no one should be arguing that Hocker's titles "aren't legitimate"  because some of the top guys decided to run cross country. Anyone peddling that logic clearly does not realize how special his performances were today. 
Men's 800: Charlie Hunter wins by .01 over Finley McLear
While an Oregon singlet crossed the line first in every distance race Oregon entered at these championships, Australian Charlie Hunter did it in much more dramatic fashion than his teammates, as he won the men's 800 by a lean (and .01) over Miami of Ohio's Finley McLear. 
Coming off the final turn, the Brit McLear was in first with a gap on Texas Tech's Takieddine Hedeilli and Hunter was third, but Hunter refused to give up. He got closer and closer to McLear and McLear did his best with a lean to hold him off. It was too close to call, but when the photo finish results came up, Hunter had the win in 1:45.90, with McLear .01 back. McLear could only bang his hands on the track, knowing he had come as close as possible to the NCAA title.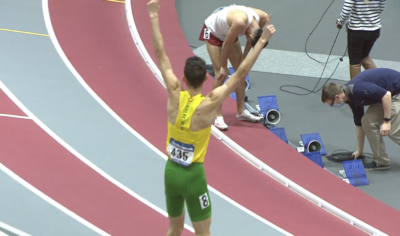 This one had lead changes early as Hedeilli took the lead at 200, but then Iowa's State's Jason Gomez took the lead at 400 (52.62). Hedeilli tried to take the lead before the bell but could not get the pole. There was some bumping around the turn, and Hedeilli would get the lead but it was short-lived as McLear came by and appeared to be on his way to victory with 100 to go. But Hunter, who was only 4th at the bell, never gave up and just got the win.
Men's 800 Results
1 Charlie HUNTER Oregon [JR]	1:45.90
2 Finley MCLEAR Miami (Ohio) [SO]	1:45.91  PB  
3 Takieddine HEDEILLI Texas Tech [SR]	1:46.84
4 Samuel VOELZ Notre Dame [JR]	1:47.62  PB  
5 Jason GOMEZ Iowa State [SO]	1:48.06
6 Ackeen COLLEY Western Illinois [JR]	1:49.01
7 Kieran TAYLOR Arkansas [SR]	1:50.79
8 Bashir MOSAVEL-LO Virginia Tech [JR]	1:51.83
Video highlights can be found here. Check out all of our NCAA coverage including our women's recap here: 2021 NCAA Indoor Coverage Hub.
Be a fan and talk about the Day 2 action our world famous fan forum/messageboard.