Monday, But No Marathon: What I Miss Most About The Boston Marathon
In Boston, a Patriots' Day Without a Marathon Is Just…Weird
By Jonathan Gault
April 20, 2020
I can't stop checking the weather.
Article continues below player
I know there isn't a marathon today, which makes today just another Monday. Not even a Monday, really. Just another day, because they all feel the same at this point. But freaking out about the weather forecast is a staple of Boston Marathon week, as much a part of it as the buses to Hopkinton and right on Hereford, left on Boylston.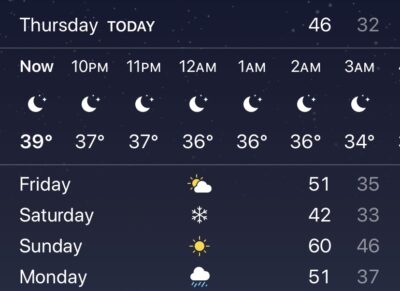 There's a reason why people like me are obsessed: few places have less predictable weather than Boston on the third Monday in April. In the race's 123-year history, it has snowed five times and the temperature has topped 80 degrees eight times. What other race has seen the absolute best marathon conditions — the perfect tailwind of 2011 that resulted in the top two men running almost a minute under the world record — and the absolute worst — the bone-chilling rainstorm of 2018, which saw 60% of the elite field drop out and winning times of 2:15 and 2:39?
I mean, just look at the forecast for this year. Sitting on the couch in my apartment in Brookline (about 800 meters from mile 24) on Thursday night, I took the screenshot at right on my phone. Four days, four different icons. Sounds about right. (And yes, it really did snow in Boston on Saturday morning — MB: The 2020 Boston Marathon was supposed to be Monday. It snowed 3″ there on Saturday).
So sorry, I can't help it. Once Marathon Monday appears in the 10-day forecast I have to open my weather app once every few hours to check. (And if you think I'm crazy, I will point out that two years ago, the "Official Boston Marathon Weather Discussion Thread" on the LetsRun messageboard was started on March 5 — a full six weeks out from race day).
I think I keep refreshing that app because it's one race-week tradition I can keep, even though this year's Boston Marathon is now scheduled to take place on September 14 instead of April 20 due to the COVID-19 pandemic. And let's face it. Checking the weather for September isn't going to be nearly as fun. I can tell you right now what it will be like: hot or very hot.
I still can't get over how weird it is that there isn't going to be a marathon today. Boston is parochial — this is a city that refers to itself as The Hub of the Universe — and fiercely protective of its institutions and traditions. Few are as cherished as Patriots' Day, a state holiday established in 1894 to commemorate the Revolutionary War Battles of Lexington and Concord. These days, it's recognized as the unofficial start of spring and always features two marquee events: a Red Sox game at 11:05 a.m. and the Boston Marathon.
The Sox game has been rained out a few times, but until now, any attempt to stop the Boston Marathon — to stop Bostonians celebrating our day — was met with two words: fahk you. After the finish-line bombing in 2013, the city went into lockdown to find the culprits; the next year, over 31,000 people finished the marathon, the second-most in the race's history. But no amount of civic pride can shorten the clock against a microscopic enemy that requires, above all, patience.
So, for the first time in its 123-year history, there won't be a Boston Marathon on Patriots' Day. This is at once deeply weird — the B.A.A. urging runners not to run the course on Marathon Monday would have sounded insane two months ago — and disturbingly normal. It's a measure of how quickly society has adjusted; as strange as it is to not have a marathon today, it would feel even stranger to have one given the current state of the world.
I miss a lot of things this Marathon Monday. Here are a few.
***
I miss the joy. For about 26,000 people, the Boston Marathon is a race. For everyone else, it's a celebration. It starts in earnest on Friday, the streets around the expo at Hynes Convention Center buzzing as the city shifts into marathon mode. You can't take a step on the T without bumping into one of those clear plastic marathon bags, loaded with a bib and free samples (remember when we bumped into each other in public?). On a nice day, the people watching from the patio of a Back Bay café is as good as anywhere in the world.
"It's such an all-encompassing weekend for the Boston community," says David Melly, 27, who grew up by mile 16 in Newton and now lives by mile 22 in Brighton. "And I think one of the ways the Boston Marathon is different from a lot of other majors I've seen — I've spectated in New York — [is] other marathons don't take over the whole city for five days straight the way the Boston Marathon does."
The way in which Melly celebrates has changed through the years. It began by biking over to the course as a boy, or perhaps dragging his sister behind him in a wagon; if it was a warm day, they'd end with their first trip of the season to the ice cream store. On the track team in high school, he'd head over to the house of a teammate who lived on the course and hosted a barbecue each year, where the upperclassmen tried to hang with the elites (briefly) by running along the other side of Comm Ave. In recent years, Melly has had friends over for waffles and mimosas in the morning and tries to make it to Newton in the afternoon to run part of the course with his uncle and cousin, who run every year in memory of Melly's late aunt. No matter where he's watching, he's having a good time.
This year, Melly says his plans are the same as everyone else's: "layin' low."
***
I miss the college kids. The Boston Marathon course runs past Wellesley College, Boston College, and Boston University. Combine day drinking, a long weekend (Patriots' Day = no classes), a major sporting event, and the promise (even unfulfilled) of a warm spring day, and you get the holiest of drinking holidays.
"All it takes is a week or something before you move into your dorm where you start hearing about the war stories of people on Marathon Monday," says Conor Ryan (BU class of 2015). "If you don't know about it, you learn about it very quickly."
For a BU student, Marathon Monday starts early — 5 or 6 a.m. — usually at a crappy apartment on Allston or Brighton, and may not end until 2 a.m. that night. The intervening hours offer a chance to explore and feel a connection Boston on the city's most special day.
"You walk through Allston and every single backyard has a party going," Ryan says. "It's the closest thing Boston gets to a tailgate atmosphere. BC has some football, but it's not like what you'd see down in the South or anything like that. But you walk through Allston on a Marathon Monday morning, it gets pretty lively."
***
I miss the streakers. No, not that kind. I mean the men and women who line up every year, no matter what, who have this year been told: wait until September. Ronald Kmiec, 77, of Carlisle, Mass., has completed 46 consecutive Boston Marathons. Back in 2001, he formed the Quarter Century Club (QCC) to recognize anyone who had finished 25 or more Bostons. Every year, they gather at the expo for a picture; afterwards some members will head to the North End for a paster dinner and a cannoli from Bova's Bakery.
There will be no such gatherings this April, which has led to some confusion among the membership. What do you do when the one constant in your life is no longer constant?
"It's a disappointment — if you've been doing it for a good percentage of your life, and you train for it for so many months ahead of time, to have the rug pulled out from under your legs," Kmiec says.
Some QCC members have told Kmiec they plan on running a marathon on Monday anyway — just not in Boston. For Kmiec, the postponement could serve as a blessing in disguise, as he's been battling an Achilles issue for the last three months. He'll still run on Monday — he also has a daily running streak of over 12 years — but considerably shorter than usual. Instead of being cheered on by thousands over 26.2 miles from Hopkinton to Boston, he'll run just one mile, by his lake house in Maine, his only company the occasional duck or heron.
Kmiec will miss meeting fellow streakers Ben Beach (52 consecutive Bostons) and Louie Cap (44) at the house on Hayden Row where they relax and watch TV until their corral is called. He'll miss the comfort of knowing every mile marker, the familiarity of the journey he has taken 46 times. And he'll miss the sense of fulfillment he earns, every year, by crossing the finish line on Boylston Street. At 77, Kmiec is the oldest QCC member with an active streak. He's hoping to extend it, whenever the next Boston Marathon is held.
"There aren't that many years left that I can do this, so every one is going to be a blessing from this point on," Kmiec says.
***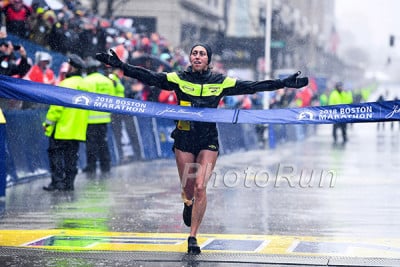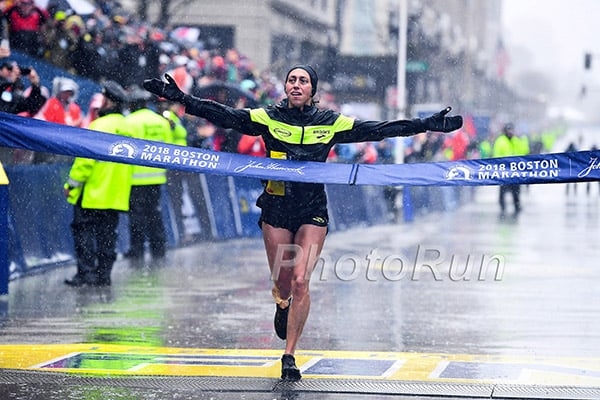 I miss the legends. Des Linden was supposed to run her eighth Boston Marathon today. Among current pros, no one feels a closer connection to the race than Linden. It was the site of her first marathon in 2007, and her greatest (and only) marathon victory in 2018. She loves the race so much that this year, she planned to run it just seven weeks after finishing 4th at the US Olympic Trials. When she and husband Ryan got a new golden retriever in 2017, they named it Boston.
"It's a happy place for us," Linden says.
Today is the first time since 2006 that Linden won't spend Marathon Monday in Boston (even in 2009, when Linden wasn't running, she and Ryan drove from Michigan to Massachusetts to watch the race). Linden's emotions have yo-yoed in the weeks since Boston was officially postponed on March 13. At first, the postponement caused her to look backward, to the heartbreak of the fourth-place finish at the Trials she had mostly ignored as she refocused on Boston.
Now she's excited about the new opportunities it brings. She's working on her speed and planning an 8k or 10k time trial in early June. Linden says her decision on whether to run Boston in September is pending — "there's just so many moving parts right now." But should she commit, Linden would relish getting the chance to train for the race at home in Michigan, where she believes the summer heat and humidity will prepare her well for the race-day conditions (she usually spends all or part of her Boston buildup in Phoenix to avoid the harsh Midwestern winters).
"I love it for me personally," Linden says. "I think it would be really interesting to have this one one-off race in September. People in Boston love history, and imagine being part of this one race in September to keep a streak alive."
***
I miss the downhill start in Hopkinton. I miss the Scream Tunnel in Wellesley. I miss the hills in Newton. I miss the Citgo sign and Kenmore Square. I miss a lot more than that, but this is an article, not a novel.
At some point, one hopes, all of this will be back. That it will be safe to gather in front yards in Allston and bars on Boylston Street, safe to distribute kisses in Wellesley, safe to offer high-fives to those who conquer Heartbreak. It could be on September 14, but that feels like more of a hope than an expectation, especially with Boston mayor Marty Walsh suggesting large gatherings in Boston could be off the table until 2021.
Linden describes marathon weekend in Boston as "runner's nerd paradise," which is one of the reasons why 2014 Boston champ Meb Keflezighi loves the race. When he's in town, he'll run along the Charles River and — because he's Meb — is often recognized by runners who ask to tag along. And because he's Meb, he lets them.
"They want to tell you, hey, I qualified for the Boston Marathon by one second, or my wife qualified but I didn't make it," Keflezighi says. "So you hear all the stories and it's pretty neat."
Because of social distancing, those connections are harder to forge in 2020. There will be no runs along the Charles for Meb this year; he plans on spending Marathon Monday rewatching the 2014 race (he hasn't seen much of it outside of the final few minutes, which are often played at his speaking engagements). But Keflezighi believes that when Boston does come back, it can serve as a great unifier, just as his victory in 2014 provided catharsis after the bombings a year earlier.
"For the running community, I just want to say: stay tough," Keflezighi says. "We're in this together and there's a light at the end of the tunnel, so don't lose hope."
Meb's right. Now if you'll excuse me, I'm going to check the weather.
---
Messageboard Discussion: MB: It's Patriots Day but there is no Boston Marathon – What do you most miss about Boston?
Most Boston MB Talk: