Jim Ryun Named LetsRun's Greatest American Distance Runner of All Time
By LetsRun.com
April 27, 2020
Editor's note: LetsRun.com created a 66-athlete bracket to determine the Greatest American Distance Runner of All Time. If you missed the intro to the tournament, catch up here.
He has broken world records.
He has won an Olympic medal.
He has been elected to Congress.
And now Jim Ryun has been named LetsRun.com's Greatest American Distance Runner of All Time.
Article continues below player.
Three weeks of voting whittled a field of 66 American legends to two. Our men's and women's GOATS: Ryun, the former world record holder in the 1500 and mile, and Deena Kastor, the American record holder in the marathon. While the two semifinals — in which Ryun defeated Frank Shorter and Kastor took out Jenny Simpson — went down to the wire, Ryun scored a convincing victory in the final, garnering 62.1% of the vote to Kastor's 37.9%.
If you've been following our bracket, you are familiar with Ryun's accomplishments by now. A high school phenomenon at Wichita East High School in Kansas, as a junior, Ryun became the first American high schooler to break 4:00 in the mile on June 5, 1964, before going on to make the Olympic team later that summer at age 17. He finished his senior year of high school in 1965 by defeating reigning Olympic 800/1500 champion Peter Snell to set an American record of 3:55.3 (see picture at right). His time would stand as the US high school record for 36 years, until Alan Webb came along.
In June 1966, Ryun broke the half-mile world record of 1:45.1 by running 1:44.9, which would stand as the NCAA record for exactly 50 years. In July, Ryun took a whopping 2.3 seconds off Michel Jazy's mile world record by running 3:51.3 in Berkeley. The next year, Ryun would lower that mark to 3:51.1 before taking 2.5 seconds off Herb Elliott's 1500 world record by clocking 3:33.1 in Los Angeles.
Ryun was not just the world's premier miler; he was redefining what was possible in middle-distance running, and he was doing it before his 21st birthday. Just watch a 20-year-old Ryun demolish future Olympic champion Kip Keino in his 1500 WR race:
| | |
| --- | --- |
| Overall | |
| Comfort | |
| Cushioning | |
| Durability | |
| Appearance | |
| Value | |
Even now, Ryun's times — largely run before the introduction of synthetic all-weather tracks — compare favorably to America's best distance runners. Ryun ran 3:33.1 in 1967; 50 years later, in 2017, the fastest time by an American was just 3:33.41.
Though Ryun never won Olympic gold — his best was a silver at 1500 in the altitude of Mexico City in 1968 (he was tripped as one of the favorites in 1972 and didn't make the final) — he owns a legacy few American track & field athletes can match. At his peak, Ryun was a massive star: his precocity and record-breaking times landed him on the cover of Sports Illustrated seven times and earned him the magazine's Sportsman of the Year award in 1966. After seeing his success in LRC's bracket, Ryun last week reflected on his seven SI cover appearances in the must-read Twitter thread below.
This vote has taken me down memory lane, I thought I'd talk a bit about my @SInow covers.

My first SI Cover, making the 1964 Tokyo US Olympic Team as a High School Junior at 17.  I had only been running for 2 years. pic.twitter.com/yaJXYsrPiH

— Jim Ryun (@jimryun) April 23, 2020
So congratulations to Jim Ryun on earning the title of American distance running GOAT. And thank you to the LetsRun readers who voted, followed along, and offered their opinions. The contest generated many debates, and you can read (or contribute to) them on our world-famous messageboard/fan forum:
*MB: The Final Is Here: Deena Kastor or Jim Ryun – Who is the American GOAT?
*MB: Frank Shorter vs. Jim Ryun. Who ya got?
*MB: Has LetsRun nation lost its mind? Jenny Simpson is currently beating Joan Benoit in the voting for Greatest American Ever
*MB: Rojo goes home DEVASTATED. Simpson def. Benoit Samuelson
*MB: Unreal Sweet 16 American GOAT Matchups: Rupp vs Meb, Centro vs Ryun, Flanagan vs. Jennings and Coburn vs. Simpson.
We hope our bracket kept you entertained as we wait for racing to resume across the globe. We'll be back with another tournament eventually, but until now, feast your eyes on the completed version of our American distance GOAT bracket: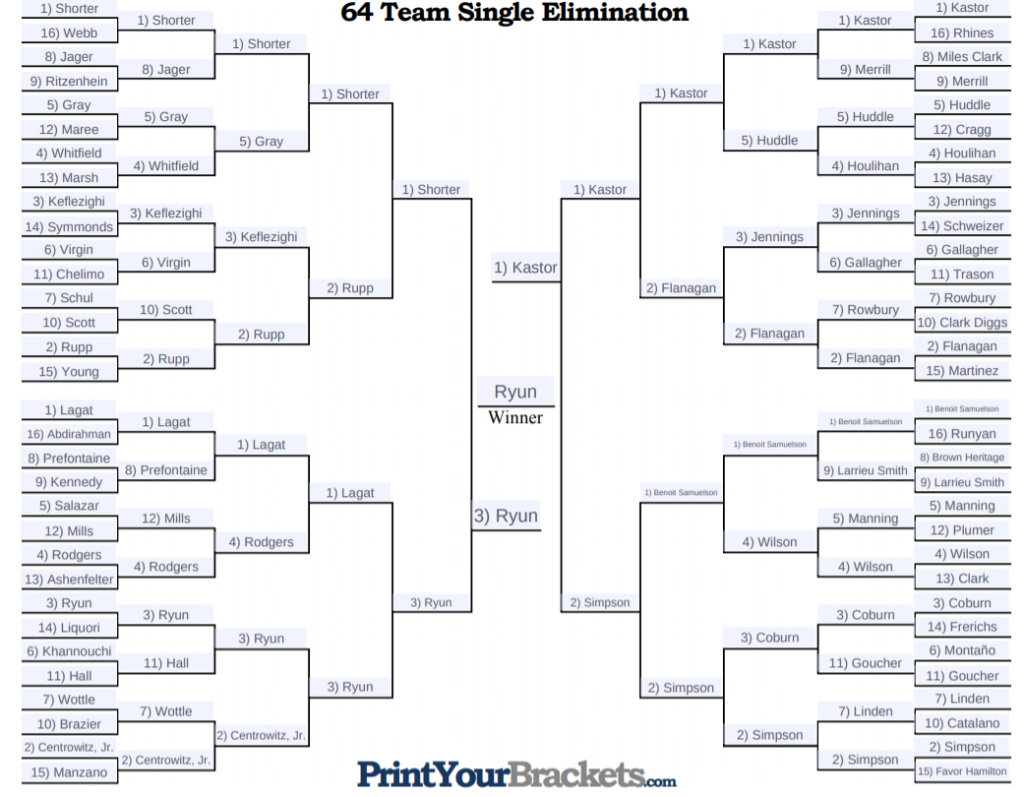 Editor's note: This article originally said Ryun broke the NCAA meet record by running 1:44.9 for the half mile in 1966. Ryun did run that time in 1966, but it came at the USTFF champs, not NCAAs. Hat tip Dan Lilot.