LRC Visitors Name Jim Ryun & Deena Kastor As The Greatest Men's and Women's American Distance Runners of All Time
By LetsRun.com
April 23, 2020
Editor's note: LetsRun.com has created a 64-athlete bracket to determine who is the Greatest American Distance Runner of All Time. If you missed the intro to the tournament, catch up here.
After two weeks and five rounds of voting in our American Distance GOAT contest, LetsRun nation has spoken. It's time to make it official: the LetsRun.com readership has voted Jim Ryun and Deena Kastor as the greatest men's and women's American distance runners of all time. Congratulations to two icons of American distance running.
Let's start with Ryun. A #3 seed in the Lagat Region, he faced a difficult path to the final. After breezing by rival Marty Liquori and marathoner Ryan Hall in the first two rounds, Ryun took on 2016 Olympic champion Matthew Centrowitz in the third round. Centro described it as an honor to square off against his idol, and ultimately Ryun prevailed, 59.1% to 40.1%. From there, Ryun took out Bernard Lagat (56.6% to 43.4%) to advance to the men's championship against Olympic marathon champ Frank Shorter. Fittingly, that was the closest battle yet, but Ryun pulled it out 52.2% to 47.8%, to earn the title of LRC US male GOAT. So Ryun's list of victims over the final three rounds consisted of an Olympic champion (Centrowitz), a double world champion (Lagat), and another Olympic champion (Shorter). Quite a feat.
Ryun himself never won a world or Olympic title, but he accomplished something none of those men ever did: he set a world record. Multiple world records, in fact. Bursting onto the scene as a junior at Wichita East High School, he became the first US high schooler to break 4:00 in the mile with his 3:59 in 1964, making the Olympic team later that summer. The following year, as an 18-year-old, Ryun won the US mile title in San Diego in one of the greatest performances ever by a US high schooler. In that race, he not only defeated reigning 800/1500 Olympic champion Peter Snell, but he ran an American record of 3:55.3 (this at a time when the world record was 3:53.6).
Ryun would hold Track & Field News' World #1 ranking in each of the next two years, during which time he lowered the world record to 3:51.3 and, later, 3:51.1 (the last time an American would hold the mile world record); he also took over two seconds off the 1500 world record, lowering it to 3:33.1 in 1967. His best chance for Olympic glory came in 1968, but with the Games held at over 7,300 feet elevation in Mexico City, Ryun had to settle for silver behind Kenya's Kip Keino.
Article continues below player.
Considering Ryun's times came in an era of primitive spikes and clay tracks, it's safe to say he'd be among America's best — if not the world's best — even 50 years later.
Ryun was an American icon who seven times appeared on the cover of Sports Illustrated. For more on Ryun's exploits, we recommend you check out this messageboard thread: MB: Frank Shorter vs. Jim Ryun. Who ya got?
Kastor, a #1 seed in the, um, Kastor Region, began her path to the top by trouncing Jen Rhines in round 1 before prevailing in a closer-than-expected second-round matchup with '70s star Jan Merrill. Then it was straightforward wins over Molly Huddle and Shalane Flanagan before coming from behind to defeat Jenny Simpson in an extremely tight women's championship.
In fact, the matchup with Simpson was the closest of the entire tournament. Despite legendary Colorado coach Mark Wetmore lobbying for Simpson, Kastor came from behind to pull out a narrow victory, 50.4% to 49.6%.
| | |
| --- | --- |
| Overall | |
| Comfort | |
| Cushioning | |
| Durability | |
| Appearance | |
| Value | |
Perhaps it's fitting, considering today is the 14th anniversary of Kastor's finest performance — her 2:19:36 victory at the 2006 London Marathon. Nearly a decade and a half later, Kastor remains the only American woman to win London and the only American women to break 2:20, as her time still stands as the American record — no woman has come within even one minute of it. That win was Kastor's second consecutive major victory — she also won Chicago in 2005 — and helped Kastor earn the World #1 ranking from Track & Field News. It's the last time one could argue that the world's best marathoner was an American.
Add in Kastor's accomplishments at shorter distances — American records at 10,000 and the half marathon, two silvers at World XC — plus an Olympic marathon bronze in 2004 and that's one heck of a résumé.
***
So that's it. We've crowned the greatest man and greatest woman in the history of American distance running. Tournament over, right?
Not so fast.
Study the bracket below, and you might notice there's one spot still unoccupied. We have to fill it.
That's right. It's Jim Ryun vs. Deena Kastor, the American men's and women's GOATs, as voted by you, for ultimate bragging rights. You can vote now in our Battle of the Sexes right here. Voting closes at the end of Sunday, April 26 (midnight ET), so get your votes in.
Updated bracket: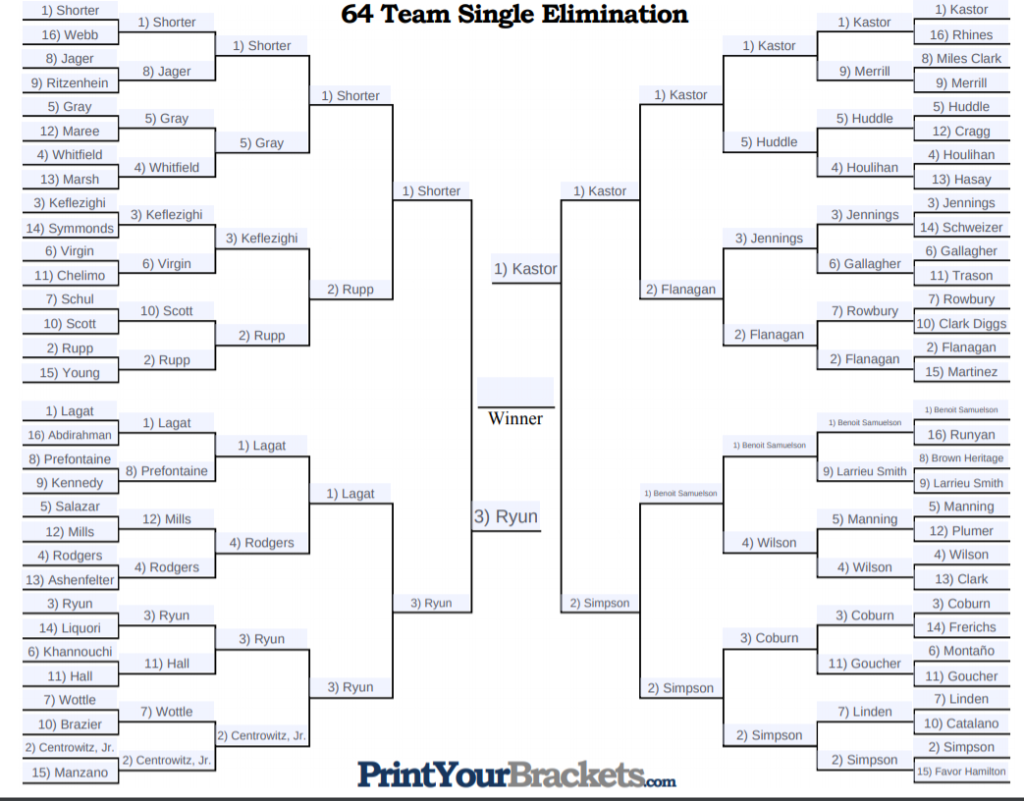 Final Four results
Men's final
(1) Frank Shorter 47.8%
(3) Jim Ryun 52.2%
Women's final
(1) Deena Kastor 50.4%
(2) Jenny Simpson 49.6%