Bernard Lagat & Leonard Korir Speak, Video of the Alphafly Room, & More From the Olympic Trials in Atlanta
By LetsRun.com
February 27, 2020
ATLANTA — The boots are on the ground as the LRC crew arrived in Atlanta Thursday and hit the pre-race press conference.
Olympic fever is starting to hit the city again 24 years after the Olympics. The Olympic cauldron will be relit on Saturday for the first time since the Atlanta Games.
Article continues below player
Like our coverage from Albuquerque?
When LRC's Jonathan Gault landed in Atlanta, the flight attendant on the plane wished the Olympic Trials competitor on his flight good luck on the PA system and everyone clapped.
There is an Olympic Marathon Trials buzz on the streets of downtown Atlanta as well, as all the Trials activity is very centrally located. The Olympic plaza, College Football Hall of Fame, Mercedes-Benz Stadium (Falcons), State Farm Arena (Hawks), and Omni (athlete hotel) are all within blocks of one another. Upon walking three blocks from our hotel, we saw Jordan Hasay going out for a run in Alphaflys with someone filming her.
Below are the tidbits we picked up from media day. Organizers said the five fastest athletes by qualifying time were invited, but notably the two fastest seeds in the field, Hasay and Galen Rupp, were not in attendance. Veterans Bernard Lagat and Des Linden were their replacements.
Leonard Korir says his training hasn't changed much as a marathoner
Leonard Korir has only run one marathon,  but his 2:07:56 in Amsterdam in October was the fastest American debut ever. The Army sergeant Korir wasn't big on details about his buildup. A few he did share: he's been training for the Trials in Colorado Springs, and overall, his training isn't very different from what he did when he was focused on the track or shorter distances on the roads.
"We just train like normal," Korir said, saying he hasn't upped his mileage or done different workouts. "It's just the same training."
Amazingly, Korir said that he had done basically zero marathon-specific work ahead of his debut. Korir said he decided to run Amsterdam "maybe a few days" after the 10,000 final at the World Championships in Doha. That race was on October 6; Amsterdam was October 20.
"Usually you take one race at a time, you don't worry about the next one," Korir said.
Korir was asked in the press conference about the key to his success in college and the pros, and he said it was his ability to stay healthy. Since we haven't heard much from him or coach Scott Simmons about his buildup, I asked whether he's had any injury issues during this buildup. He hesitated, before saying, "the training was okay."
Not convinced, I asked again.
"Training was okay."
I guess we'll find out on Saturday.
Footwear-wise, Korir said he's still debating between wearing the Alphafly and Vaporfly Next% on Saturday. And as for his teammate Stanley Kebenei — the steeplechase specialist who surprisingly entered the Trials after finishing second at last year's USA Half Marathon Championships, Korir said that Kebenei is here to race (not pace Korir, as has been rumored), though he didn't want to talk much about Kebenei's fitness.
"It's the Olympic Marathon Trials," Korir said. "It's a race. Everybody is here. Everybody here is coming to do the marathon trials. He is like everybody else…Everybody is a competitor."
Bernard Lagat took this buildup very seriously, but kept things simple
Lagat has always been a low-mileage guy, and though he's done the most mileage of his life in this buildup, he still only averaged between 80 and 85 miles a week, maxing out at 90. That said, Lagat typically takes Sundays off and never doubles. He knows his mileage totals won't impress any of his rivals, almost all of whom will have run well over 100 mpw during this buildup, but Lagat remains confident in his approach.
"These guys are also training twice a day," Lagat said. "If they were to train twice a day, I can imagine their mileage probably being similar to mine or a little bit more than mine."
As for his buildup, Lagat seemed pleased and clearly took it seriously, heading out to Kaptagat, Kenya, for a six-week training block alongside global stars Eliud Kipchoge and Geoffrey Kamworor.
"[My marathon debut in] New York, I was running blind. I didn't know what to do. I was like, this is new. Gold Coast, I knew a little bit — I went to Colorado, trained there, and then I cut five minutes off my personal best."
Heading to Kenya was the next step in that progression, and Lagat said that the trip showed him that you don't need a complex training plan to take the marathon seriously
"Sometimes when you train with a certain group, they are into, what is your heartrate monitor like, what did you eat today, how many hours of sleep did you do? What is the pace? Stick to only that pace.
"When you are there (in Kenya), you have to take all of that stuff and throw it away. You are there to train. Pace will dictate itself as you are running. You don't think anything about food or anything like that. These guys can live off bread and milk and tea and an egg and something like that and still do amazing training.
"…I'm overthinking sometimes here (in the United States) that everything has to be perfect. But over there, some things might not be perfect. Even the weather could be crazy bad. But these guys are out there training, exactly same time every morning."
Like Korir, Lagat said he's still deciding between the Alphafly and Next%: he will try both out on Friday and make a decision about what to race in then. A well-placed source told us Lagat will wear the Next% at the Trials.
Jared Ward believes his chances to make the team have doubled since 2016
Ward said that he believes he enters the Trials the fittest he's ever been for a marathon. While he isn't running any faster in workouts than before, Ward said he's been recovering better than ever before.
"My philosophy on marathon training has kind of changed in the last year," Ward said. "I gauge fitness more based on how fast I recover from workout sessions or long runs than how fast or how far I run in those sessions necessarily. My recovery this time has been a lot better."
Last week, Ward's coach Ed Eyestone told us he felt Trials favorite Galen Rupp, with just one completed race since Achilles surgery in October 2018, was vulnerable compared to 2016, when he and Ward essentially ceded Rupp a spot on the team. Ward agreed with his coach and says he also views himself differently now — with a 6th place at the Olympics, multiple top-10s at World Marathon Majors, and a 2:09:25 pb — than he did four years ago.
"We haven't seen a lot from Galen in the last 18 months, right?" Ward said. "He had a good tuneup half marathon, and he's certainly a caliber athlete. But I would say there's been a shift in my odds from what it looked like in 2016 racing Galen Rupp to what it looks like in 2020 racing Galen Rupp. And I'm not gonna go bet my house on it, but I'm gonna race him. If nothing else, there's been a mentality shift, certainly, from just ceding spots to guys who have resumes that are much better to — at least in this race — I feel like I can run with anyone."
Ward wouldn't speculate on his odds of beating Rupp, but said he believed he had a 35% chance to make the team in 2016. He believes his odds have improved significantly in Atlanta.
"I would say that my odds of making the team have probably doubled from 2016. We'll let the letsrun readers decide whether they agree with that or not.
31-year-old, unsponsored 2:10 marathoner Jake Riley says there are "no more next times"
Unsponsored Jake Riley ran at the last Olympic Marathon Trials, placing 15th in 2:18:30 and then he finished 12th in 29:06 in the 10k at the track trials running for the Hansons-Brooks team. He didn't know it then, but he wouldn't race again for three years.
Riley had Achilles problems that plagued him for the year and a half before those 2016 Trials. He finally vowed he wouldn't race again until he was healthy. He tried various things, stretching and PT, then PRP, and eventually in 2018 he had surgery for Haglund's deformity. Meanwhile he was struggling in the personal side of his life, going through a divorce.
On top of that, he also found out it wasn't as easy to get employed as he thought with his Stanford engineering degree since he had a resume gap. He substitute-taught a little bit, but eventually realized the master's program in engineering at the University of Colorado was a great fit for him. It would let him advance himself professionally and get a fresh start on running.
Riley could have retired, but he said through it all in that "bit of turmoil, training and rehab and the hope for running was the one constant I could maintain."
Once healthy in 2019, Riley slowly built things up under coach Lee Troop. He turned heads by running 2:10:36 last year in Chicago (previous PB 2:13:16).
Running has been one constant for Riley for more than half of his life, but he says at the age of 31, he isn't counting on their being more Olympic opportunities. "Coming back, there is a new commitment to running fast. I don't want the amount of time and emotional investment I put into coming back being wasted," he said. He said his mantra is "No more next times."
Nike was giving away the Alphaflys, but many Nike-sponsored athletes may not wear them
Nike had a room where any Trials qualifier could go pick up a pair of the new Alphafly shoe that controversially was greenlit for use (by .5mm) by the new World Athletics shoes rules. It was quite the scene to see the athletes lining up to get their free shoes. We spoke to athletes who were going to wear them, who were considering wearing them, and even one athlete sponsored by a rival company who picked up a pair to give away. We weren't allowed to enter — athletes only — but here's what it looks like on the inside, courtesy of someone who asked they be referred to as "Scranton Strangler."
Here, courtesy of someone who has elected to go only by the pseudonym "Scranton Strangler," is video of the inside of Room A313 at the Georgia World Congresss Center — aka the Alphafly room. pic.twitter.com/3Dfx59A34A

— Jonathan Gault (@jgault13) February 28, 2020
One interesting tidbit we learned today and from speaking to Nike-sponsored athletes Chris Derrick and Andrew Bumbalough earlier was that many Nike pros may not wear the Alphaflys in the race. Derrick has already said he's wearing the Next%, and if we had to guess, we'd say, Bumbalough and Lagat all don't wear the Alphaflys either. Korir said he's debating it.
And then there is unsponsored Jake Riley. He had great success in the Next% in Chicago and said he has read how the Alphafly is a step above even that (Sean Ingle of the The Guardian said that while studies have shown the Next% can improve economy by 4-5%, the Alphafly may improve it by 7-8%). But then Riley hears that people like his Stanford teammate Derrick may not wear it, so he isn't sure what he'll do. One thing Riley hasn't done is ever wear the Alphafly — he's unsponsored and did not have access to it before its release like some of the Nike-sponsored athletes. He said however, not wearing the shoe yet is not a concern. He will try it out and run in it and see how it feels. If it is too different than what he is used to, he will not wear it. He wasn't sure what to expect. He and others noted that from what they understand, the Alphafly isn't just an improved version of the Next%. It's a different feel and it's clear that some Nike pros don't like that feel enough — despite the shoes' possible advantages — to wear it at the Trials.
Des Linden: Ready to go despite some ups and downs in buildup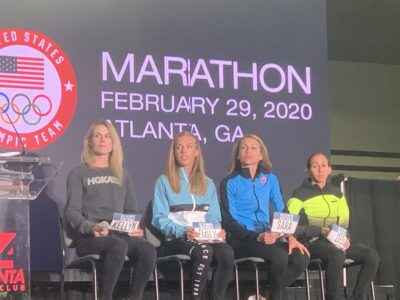 The Olympic Trials will be Des Linden's 20th marathon. The veteran said after New York she had some posture issues. Then she wasn't able to hit splits she wanted early in the training segment for the Trials. Then she got the flu. However, the veteran understands the "ups and downs" through the build-up are typical. She said coming off the flum she did an 8-mile tempo on a hilly course and averaged 5:25 pace and was confident that things would move forward from there, which they did.
We tried to talk to athletes whom we hadn't spoken to recentlym so we didn't speak to Scott Fauble (who was on our podcast this week here, and has a Q&A here) or Kellyn Taylor (who also was on our podcast and has her Q&A here). Emily Sisson and Sara Hall departed the media area early as well so we didn't get to speak to them either (though we did speak to their coaches last week).