2020 USA Indoors: Shelby Houlihan, Paul Chelimo Earn Dominant 3K Wins Thanks to Big Last Laps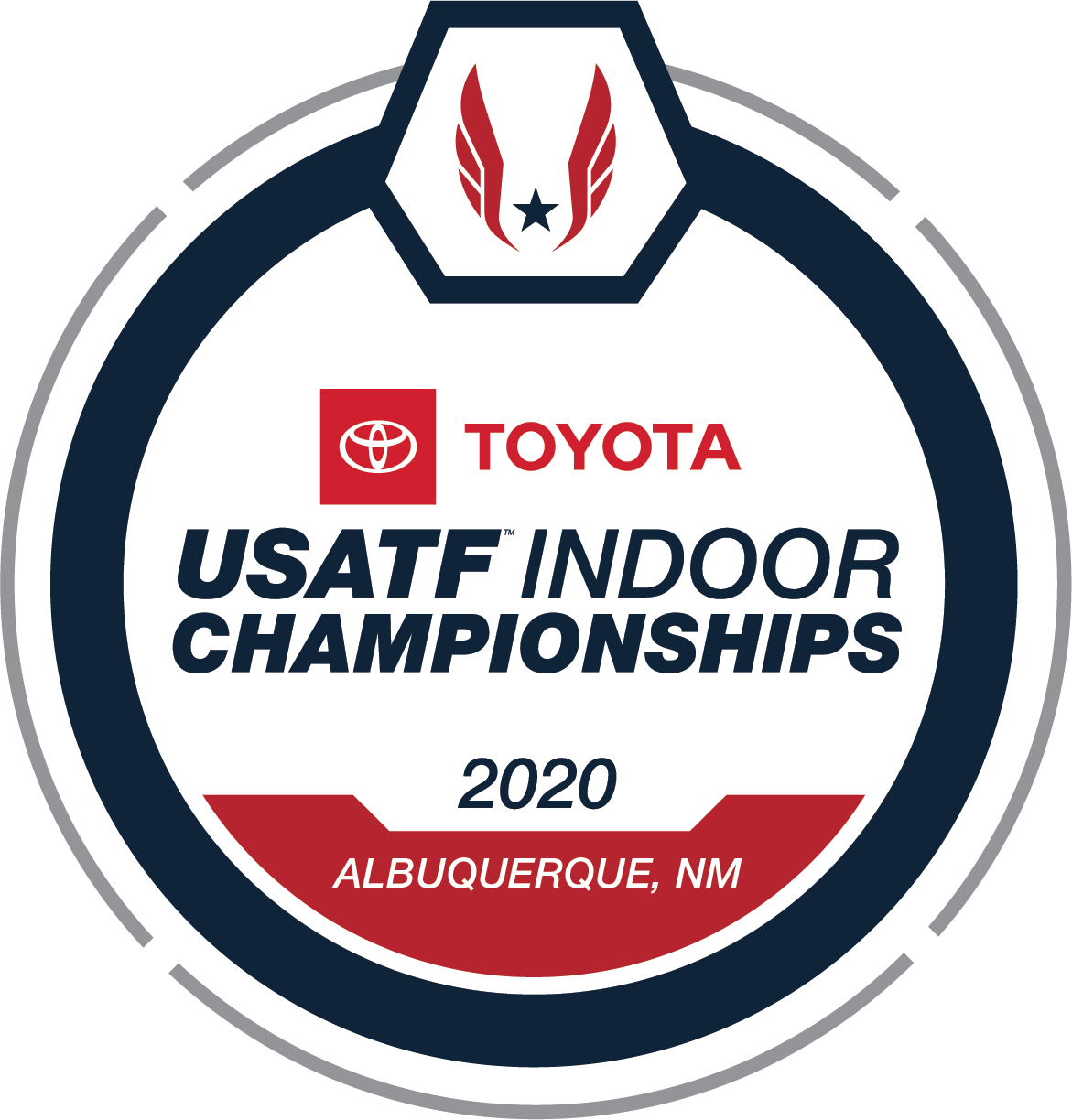 February 14, 2020 to February 15, 2020
By LetsRun.com
February 14, 2020
In case you forgot who the best distance runners in the US have been over the last three years, Shelby Houlihan and Paul Chelimo offered clear reminders in the 3000-meter finals on day 1 of the 2020 USATF Indoor Championships in Albuquerque. Both athletes added to their pile of US track titles — this was #11 for Houlihan and #6 for Chelimo — and both did so in dominant fashion, leaving no doubt with sensational final laps.
Houlihan closed out a terrific 8:52.03 wire-to-wire victory by closing in 29.89 to lead a 1-2-3 Bowerman TC sweep (they also took 5th and 6th) as her much-anticipated showdown with American mile record holder Elle Purrier fizzled (Purrier was a distant 4th in 8:56.56). Karissa Schweizer wound up 2nd in 8:53.70, with Colleen Quigley 3rd in 8:55.55. Chelimo used an insane burst of speed to rip off a 25.80 final 200, which could have been even faster had he not slowed down to celebrate in the final meters. Like Houlihan, he led a 1-2-3 sweep for his training group as fellow Kenyan-born athletes Anthony Rotich (8:01.91) and Hillary Bor (8:01.92) took second and third for coach Scott Simmons' Army WCAP team.
Article continues below player
In other day 1 action, the American record in the triple jump was broken twice — first by Keturah Orji (14.60m) and then, in the final round, by Tori Franklin (14.64m), who earned the victory. On the straightaway, 100m world champion Christian Coleman looked incredible in his season opener, clocking a world-leading 6.48 in the 60m dash despite easing up with 15 meters to go. Coleman set the world record (6.34) in his last trip to Albuquerque in 2018 and will be a threat to do so again tomorrow.
Recaps & analysis of the 3000s below. Results are here. MB Discussion: USA Day 1 Thread
Women's 3000: A Masterclass performance by Shelby Houlihan
Shelby Houlihan has won plenty of national titles, most of them in exactly the same way: get into position to kick on the final lap and blow everyone away. And while she did blow everyone away tonight over the final 200, her first 14 laps were distinctly different from her usual strategy as she led from the gun and gradually upped the tempo, lap after lap.
Houlihan hit 1600 in 4:55.66 — not too shabby at 5,000 feet — and would only increase the pace from there as each of her final eight laps was faster than the one that preceded it. This caused the pack to string out as women fell off the pack one at a time. By 2k, eight women remained in the lead group, including Schweizer — who ran in 2nd for the entire race — Quigley, and Purrier.
With two laps to go, everyone but Schweizer had dropped off the pace. There had been no decisive move, but Houlihan was making them work so hard — 35s and 34s had gradually given way to 33s and 32s — that only Schweizer (at 14:45, the only sub-14:50 woman in the field) was strong enough to handle it. While Houlihan and Schweizer's strength had separated them from the field by the bell, Houlihan's speed separated her from Schweizer on the final lap. Her move was the same one we've seen many, many times before from Shelby Houlihan, a hard shift of gears at the bell to which Schweizer had no response. Houlihan covered the final circuit in a brisk 29.89 and the wire-to-wire win was hers.
Houlihan's race was a thing of beauty. She took the lead on the first lap and then put on a masterclass display of control and racing acumen. After getting the lead on the first lap, the next time she ran a sub 37 second lap was at 1600m. Each lap after that got progressively faster until the bell (32.40) when Schweizzer was the only chaser remaining. Houlihan still had a massive kick in the tank.
Quick Take: 8:52 at altitude is no joke
Craig Masback said on the NBCSN broadcast that this race was slow from the beginning. False. At 5,000 feet, a 4:55 opening 1600 isn't all that slow. And running 8:52 at altitude, wire-to-wire, with a 2:45.35 last kilometer and 29.89 last lap is seriously impressive for the middle of February.
If you use the NCAA altitude converter, Houlihan's 8:52 win tonight converts to 8:38.93 for 3000. That's a time only two American have ever bettered indoors: Shalane Flanagan (8:33.25) and Houlihan herself (8:36.01).
Quick Take: No need to panic for Elle Purrier
This race wasn't all that different from last week, in that there was a fast pace up front for most of the race. But whether it was the extra distance, the altitude (though Purrier has spent this winter training in Flagstaff), or the quick turnaround, Purrier wasn't as good tonight as she was six days ago in New York. That doesn't mean that the gains Purrier has made aren't real (4:16 is 4:16), but perhaps it was a reminder that Karissa Schweizer and Colleen Quigley are very good runners as well. There's no shame in finishing behind them in a national championship.
And while it's not fair to judge Purrier vs. Houlihan off of one race at 3000 meters at altitude, it also wasn't fair to expect Purrier to compete with Houlihan at 3000 tonight. The reality is, when a 14:34 woman races a 14:58 woman in a 3000 at altitude the result isn't normally very competitive. If Houlihan evenly-split a 14:34 5000, she'd come through 5k in 8:44 high and Purrier's 3000 pb is 8:46.
Purrier still ran decently, though. Her time tonight converts to an 8:43.35 at sea level. Yes, that's not a better equivalent than her 14:58 5000, but it is better than her official 3000 pb.
Quick Take: Houlihan improvised her race plan tonight
There were five Bowerman Babes in the field tonight, and Houlihan said on the NBCSN broadcast that Bowerman coach Jerry Schumacher didn't give them much of a race plan. So when Houlihan found herself at the front of the pack and found that the pace didn't seem too difficult, she decided to keep her position and grind the field into submission.
Realistically, Houlihan probably would have run this race any way it was run — as the American record holder at both 1500 and 5000, she has the best speed and the best strength of anyone in the field. But it was good for her to get experience in a different style of race tonight. The one thing that most encouraged us is when Houlihan said after the race she didn't want to give up her good position once she had it. If there's a knock on Houlihan, it's that she can be over-reliant on her speed to get her out of bad positions. Domestically, that's not an issue, but it can be problematic in Diamond Leagues and World Championship/Olympics.
Men's 3000: Paul Chelimo back to his winning ways
Unlike the women's 3000, there were very clearly team tactics at play here. Bor got out hard (29.64 opening lap) and proceeded to trade off the lead with Chelimo to ensure an honest pace. But they weren't as diligent as Houlihan in ratcheting down the pace, letting it slip to 33.48 on the fourth-to-last lap as two-time Olympic steepler Donn Cabral moved past Bor into second.
One man, however, was feeling the pace, and that was Ryan Hill. Though he won this race in 2015 and 2016, Hill did not look great tonight and began falling off the pace even before it began to pick up over the final three laps. He wound up an uncompetitive 10th place in 8:12.21, over 12 seconds back of Chelimo.
With two to go, Bor had moved back into second, and it was the training partners Chelimo, Bor, and Rotich running 1-2-3. Former DII star David Ribich of the Brooks Beasts interloped by moving into 3rd with 300 to go, but Rotich and Bor would eventually turn him back on the final lap, with Rotich outkicking Bor at the line to earn second.
But the last 200 belonged to Paul Chelimo. Having controlled the preceding 600 from the front, Chelimo attacked at the bell, quickly separating from Bor. But the real damage came over the final 100 meters. Usually when Chelimo kicks, it's with an air of desperation, striving for the finish line to come as soon as possible. This time, it was all poise and grace, his arms pumping with controlled power to close out a 25.80 last lap and yet another national title.


Quick Take: Chelimo looked fantastic
Chelimo spent the early part of the winter racing cross country in Africa and Europe, presumably to build up his strength, so there was some question as to how sharp he'd be tonight. He answered it emphatically with a brilliant final 200 meters. Strength will still be important down the road — remember, it took 12:58 to win the 5k at Worlds last year, just one second off Chelimo's PR — but Chelimo's speed looks to be as good as ever.
Quick Take: The men's steeplechase team isn't going to be easy to make in 2020
Last year, even with Evan Jager absent, the US put three runners in the top 12 at Worlds in the steeple as Bor was 8th, Stanley Kebenei was 10th, and Andy Bayer 12th. This year, with Jager and Anthony Rotich added to the mix, the US could have five guys at 8:12 or better.
Since gaining his US citizenship last year, Rotich, the three-time NCAA steeplechase champ for UTEP, has excelled at US championships as he won the road 5k in November in NY, then US cross last month in San Diego before placing second tonight.
Quick Take: What about the sport? It sure would have been nice if the Bowerman men showed up like the Bowerman women did
Bowerman entered five women in the 3k and took five of the top six places. The Bowerman men also took three of the top four places in a 3k tonight, but not at USAs: Lopez Lomong, Marc Scott, Evan Jager, and Sean McGorty all ran between 7:45.82 and 7:46.76 at the University of Washington. Scott, a Brit, wouldn't have been able to run USAs. But what about the other three? It would have been awesome to see BTC and the ADP/WCAP group battle it out in Albuquerque.
For the record, Chelimo's winning time converts to a 7:48.18 at sea level using the NCAA calculator. Given how good he looked, we're giving him the win over the BTC guys had they had the guts to show up.
MB: Shame on the Bowerman Track Club men and Jerry Schumacher- Skip USAs to run on illegal track in Washington
Quick Take: Ryan Hill struggled tonight
One Bowerman man did show up tonight: Ryan Hill, who won US indoor titles in 2015 and 2016 and made three straight World Championship teams outdoors from 2013-2017. But he missed almost all of last year to injury and did not look good tonight as he could only manage 10th, by far his worst showing at USAs as a pro, indoors or outdoors (his previous worst was 6th at the 2016 Olympic Trials). At 30, Hill should have a few good years left — he need only look at teammate Lopez Lomong for inspiration — but he needs to turn things around if he is to contend for his first Olympic team this summer.

Results are here. MB Discussion: USA Day 1 Thread