WTW: Valencia Amazes, Tsegaye Kebede Continues To Out Run America and Molly Huddle Gets Nervous
The Week That Was in Running, November 25 – December 1, 2019
By Robert Johnson
December 2, 2019
Past editions of the Week That Was can be found here. Got a tip, question or comment? Please call us at 844-LETSRUN (538-7786), email us or post in our forum.
If you missed our mid-week article on Mo Farah's decision to return to the track in 2020, catch up now: LRC Three Thoughts On Mo Farah's Return To The Track For The 2020 Olympics
Article continues below player
More Farah: Mo Farah Takes Will Return To The Track To Defend His Olympic 10,000m Title Farah said, "I was watching the World Championship in Doha. I watch the 10,000m, and watch other races, and part of you gets excited. You're seeing people winning medals, for your country and stuff, and you ask yourself. It almost felt like I needed to be there." He'll be 37 in Tokyo, making him the oldest athlete to compete in the men's Olympic 10,000m final. *World Athletics article
*Discuss: Official: Farah will run 10k in Tokyo
*****
Valencia By The Numbers
On Sunday, the Trinidad Alfonso Valencia Marathon and 10k was held and the results were staggering. In the 10k, Joshua Cheptegei capped a phenomenal year that saw him join Kenenisa Bekele as the only man to win a World XC and a global 10,000 title in the same year by running a road world record of 26:38. In the marathon, the winning times were fast as Spanish all-comers records fell in both the men's and women's races. In the men's race, unheralded Kinde Atanaw Alayew of Ethiopia won in 2:03:51 in his debut as Turkey's Kaan Kigen Ozbilen broke Mo Farah's European record of 2:05:11 by nearly a minute in 2:04:16 for 2nd. In the women's race, Ethiopia's Roza Dereje, the 2018 Dubai winner (also 2nd in Chicago in 2018 and 3rd in London this year), lowered her pb from 2:19:17 to 2:18:30 to win.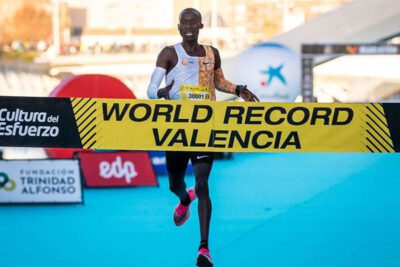 Those times are impressive, but the biggest storyline in Valencia was the depth. Considering some of the following numbers.
4 – number of sub-2:19 women's performances in the race, a new record.
5 – number of sub-2:20 women's performances in the race, a new record.
7 – number of sub-2:21 women's performances in the race, a new record.
9 – number of sub-2:23 women's performances in the race, a new record.
30 – number of sub-2:12 men's performances in the race, a new record.
If those numbers don't impress you, consider this new stat. In New York this year, there were only four runners on the start line who had ever broken 2:08 in their life. In Valencia, 8 guys broke 2:07 and 12 broke 2:08.
****
Where Did Kinde Atanaw Alayew's 2:03:51 Come From?
Above, I described men's race winner Kinde Atanaw Alayew, 26, as unheralded, and I feel that's an accurate description. Yes, he was 4th in the World Junior 10,000 back in 2012, but hadn't done much since then. Here are his year-by-year career highlights since 2012 according to Tilastopaja:
2013 – Finished 4th in 10k at Ethiopian champs (28:43 at altitude). Ran 27:36 on roads.
2014 – Ran 13:12 5000. Ran 27:49 on roads and 60:17 for half (but that only placed him 10th in New Delhi).
2015 – Ran 3 road 10ks, best result being just 28:40.
2016 – No results.
2017 – Only result was a 62:52 half marathon in Morocco (6th).
2018 – Only result was a 4th-place showing in a 9.6 km road race in Italy.
2019 – Only result before Valencia was a 60:13 half marathon in Copenhagen on September 15 (8th place).
So Alayew entered Valencia never having broken 60:13 in the half or 27:36 in the 10k, yet he won in 2:03:51.
That inspired me to take a look at all of the guys who finished within one minute of Alayew at World Juniors in 2012 to see what they've done since. Two of the three medallists have had nice careers.
1 Yigrem Demelash ETH 28:16.07 – 4th in 2016 Olympics. 2nd in New Delhi (2016) and RAK Half Marathons (2017). 13:03/26:51/59:19 pbs. No results since 2017.
2 Philemon Cheboi KEN 28:23.98 – Undistinguished road racer perhaps best-known for winning two Bay To Breakers titles. Half marathon pb of 64:08. Marathon pb of 2:15:03.
3 Geoffrey Kirui KEN 28:30.47 – 2017 Boston and world champ in marathon. 59:38/2:06:27 pbs.
4 Kinde Atanaw ETH 28:53.02 – Just came out of nowhere to win Valencia.
5 Moses Kurong UGA 29:06.87 – 2016 Olympian has pbs of 13:29/27:22/59:50.
6 Kenta Murayama JPN 29:40.56 – 13:34/27:39 on track. Ran 2:08:56 pb in Berlin this year.
7 Ken Yokote JPN 29:41.81 – 13:31/27:58/61:37.
8 Rahul Kumar Pal IND 29:42.15 – 14:06/28:52/2:21:43.
*****
Tsegaye Kebede Continues To Amaze
One of the 30 men who broke 2:12 in Valencia was Tsegaye Kebede, the three-time major winner (London 2010 and 2013, Chicago 2012), who is still going strong at age 32 and ran 2:07:54 for 12th. It's the 15th time in Kebede's career that he has broken 2:08 — a record — and the 20th time he's broken 2:10 (also a record, and that's not counting a 2:10:00 he once ran).
We thought it would be fun to update the stats we first compiled from 5 years ago where we compared Kebede's prowess in the marathon against everyone in the United States. He single handidly has recorded 50% more sub-2:08s in his life than the entire United States of America.
| | | |
| --- | --- | --- |
| # of Performances Achieved | All US Marathoners in History | Tsegaye Kebede |
| Sub-2:05 | 1 | 1 |
| Sub-2:06 | 3 | 5 |
| Sub-2:07 | 6 | 11 |
| Sub-2:08 | 10 | 15 |
| Sub-2:09 | 19 | 18 |
| Sub-2:10 | 50 | 20 |
US stats via www.alltime-athletics.com.
****
Craziest Story of The Week/Year
This story comes from France and since I don't speak French, I'm not sure I know 100% of the details. But here is what I think has happened after reading a ton of articles — some in English and some in French — in one of the more bizarre doping stories you'll ever hear.
31-year-old French steeplechaser Ophélie Claude-Boxberger (9:31 pb) tested positive for EPO on September 18 during her pre-Worlds training camp in Font Romeu.
Claude-Boxberger is currently in a romantic relationship with the head doctor for the French Athletics Federation, the married Jean-Michel Serra, who is 56 years old and had previously denied being in a relationship with the athlete, but more importantly, also sent an email asking why she was drug tested so often.
Claude-Boxberger said she was stunned to learn she'd tested positive and an investigation was begun.
Alain Flaccus, the romantic partner of Claude-Boxberger's mother, has allegedly confessed to injecting Claude-Boxberger with EPO after she fell asleep while he was giving her a massage.
Claude-Boxberger had previously accused Flaccus of sexual assault, but she later withdrew those charges and let him become part of her entourage.
To be continued.
More: MB: AlSal was RIGHT! Athletes can be sabotaged; french runner administered EPO while sleeping by mom's BF
*French track in doldrums after another doping case
*Dopage: alibi surprise pour Ophélie Claude-Boxberger
*Affaire Claude-Boxberger : Jean-Michel Serra, médecin de l'équipe de France d'athlétisme, dans les replis de l'histoire
*Dr Serra's facebook post – "The rest is the magic of love, far from the journalists of a hypothetical hidden drug conspiracy."
*****
Tweet Of The Week
Kinda nervous as to how this would affect the Olympic Trials over here @usatf

— Molly Huddle (@MollyHuddle) November 25, 2019
Considering how road racing records in the men's and women's marathon, men's half marathon, and men's 10k have all fallen in recent months, we understand why Huddle is getting nervous about the impact of the Nike Vaporflys.
What's telling about this tweet is that Huddle's sponsor Saucony is coming out with a $200 shoe featuring TPU foam and a fiber plate as shown below.
https://twitter.com/Crazie_Daizee/status/1197658989099655169
While everyone appears to be trying to copy the Vaporfly, it looks like the new shoes might be a generation behind.
If I were Huddle, I'd beg Saucony to let her wear the Vaporflys at the Trials. If she makes the Olympics, she's going to have to wear another company's singlet (Nike), so it's not that big of a deal.
But can the governing body — World Athletics — please issue some sort of statement ASAP? On our podcast, I've repeatedly argued that "mechanical doping" greatly impacted the 2016 Olympic marathon results and no DQs have been issued. What happened in 2016 was against the rules and yet the results still stand.
Nike secretly developed the Vaporflys, which on average according to scientific studies improved people's efficiency by 4% and then they secretly gave them to select athletes, which is in direct violation of IAAF Rule 143.2 which read as follows in 2016:
"Athletes may compete barefoot or with footwear on one or both feet. The purpose of shoes for competition is to give protection and stability to the feet and a firm grip on the ground. Such shoes, however, must not be constructed so as to give athletes any unfair assistance or advantage."
The purpose of the Vaporfly was never to give protection and stability – it was quite the opposite as instability was increased due to the high stack height. The purpose of the shoe was to give one a 4% gain in efficiency. That's an unfair advantage, particularly because the shoes weren't out on the market and were only given to select Nike athletes. End of story.
As a result, I think the 2016 Olympic marathon results should be invalidated or placed with an official asterisk next to them. And if World Athletics allows another travesty to happen in 2020, they will have no excuse. Unlike in 2016, everyone knows the shoes are a big issue now.
I'm not opposed to the shoes necessarily in principal, particularly is they are commercially available. As my coaching guru John Kellogg said, "We've always wanted faster shoes and now we've got them." But I'm very much opposed to a small subset of runners having shoes that no one else has access to and that's why I'm so upset by what happened in 2016.
(PS. I'll probably write an article just on this topic in the coming days).
*****
NXN and Foot Locker Qualifying Weekend (Plus Some Big XC Meets in California and Canada)
Last weekend was a big one in terms of high school cross country in the US as a bunch of Foot Locker and NXN qualifying meets were held, as was the California state meet. Since we normally don't talk a lot about preliminary races, we'll be brief, but a few large margins of victories caught my attention.
The biggest margin of victory in a major race came at the California state meet, where senior Nico Young of Newbury Park won Division II race by 25.2 seconds in 14:28.5 — just off German Fernandez's 14:24 Woodward Park course record from 2007.
In terms of girls' action, two-time NXN champ Katelyn Tuohy, now a senior, won the NXN NY regional by an impressive 20.5 seconds in 17:06.6.
At the Foot Locker Northeast meet, Pennsylvania senior Marlee Starliper took down last year's Foot Locker champ Sydney Masciarelli, a junior from Massachusetts, by 15.1 seconds in 17:03.6. That time was the second-fastest ever at FLNE, behind only Cathy Schiro's legendary 16:46 in 1984.
###
Speaking of cross country, the Canadian XC champs were held over the weekend as well. Mike Tate won the senior men's title in 29:10.3 versus Lucas Bruchet's 29:12.1 while Genevieve Lalonde won the women's title in 33:22.4 to Sarah Inglis' (GBR) 33:32.0. The only blowout victory came in the U-20 boys' race, where Andrew Davies won in 24:28.0 to Marc-André Trudeau Perron's 25:50.0. The winner of the junior girls' title was NAU's Taryn O'Neil, who ran 20:45.8 to Naomi Lang's (GBR) 20:49.3. O'Neil was 123rd at NCAAs a few weeks ago.
*****
Quotes of the Week (that weren't quote of the day)
#1 But who is more dysfunctional, USATF or UK Athletics?
"[Athetics is] the most dysfunctional Olympic sport in Britain."
-anonymous insider talking in a Guardian article about how the new chief of UK Athletics, Zara Hyde Peters, was forced to step down before she even started on the job. She did so because she previously allowed her husband to be involved in coaching a local youth track club without telling anyone that he'd been found guilty of "misconduct of a serious nature" when he was a PE teacher as he had been involved in an "exchange of inappropriate photographs" with a vulnerable 15-year-old.
More: New UK Athletics Chief Zara Hyde Forced To Stand Down Before Job Begins After Allegations About Her Husband It was alleged her husband was allowed to continue coaching at a club where she was vice-chair after he was banned from teaching over alleged relationship with a 15-year-old girl. *BBC article
*The Guardian: UK Athletics Thrown Into Crisis As New CEO Loses Job Before Starting
#2 SAFP doesn't pray for the outcome
"On the wall behind us is a giant slogan, ASAP – Always Say A Prayer, but she insists: 'I never pray to God to help me win. I pray to be ready, healthy, give my best. I pray against fear, because fear kills promise. Fear makes you focus on the other athletes, not yourself. Fear makes you want the bathroom, makes your head hurt.'"
–Shelly-Ann Fraser-Pryce talking about her religious faith to Alastair Campbell, in an article in The Telegraph. She also told the author that even if he does not "do" God that God "does" him.
More: The Telegraph Interview With Shelly-Ann Fraser-Pryce On Feminism, Religion And Why Tokyo Will Be Her Last Olympics
#3 Steve Spence is Running Out Of Time
"I have not [broken 5 minutes in the mile]. It's been a rough year."
–Steve Spence, 57, the 1991 World Championship marathon bronze medallist, writing to LetsRun.com to answer our inquiry if he's broken 5 minutes in the mile this year. He has done so in each of the last 43 years. If you know of other crazy streaks, please email us.
Steve Spence has still got it.

Tonight on the @ShippensburgU track, SHIP's XC coach ran a sub-5:00 mile for the 43rd consecutive year. It was a somewhat impromptu decision given the weather, but 4:56 is 4:56!

Read more (w/video link) at https://t.co/uR5T4ZVxje

— SHIP Sports Info (@ShipURaiders) January 13, 2018
More: MB: Steve Spence is running out of time to record a sub-5 minute mile for the 44th straight year
****
Recommended Reads
Please read the first article below. We felt strongly that Russia should have been banned in 2016 from at least all team competitions at the Olympics and feel even stronger about it now.
Some of our other favorite reads from the last week appear below.
To see our favorite reads from other weeks, go here.
*****
Other News of Note
***
Quotes Of The Day And Last Week's Home Pages
To see the quotes of the day from last week or last week's home page or any home page, go to our archive page.
Got a tip, question or comment? Please call us at 844-LETSRUN (538-7786), email us or post in our forum.
Note: The article was initially published without the paragraph mentioning John Kellogg in it but it was added for clarification.