By LetsRun.com
December 16, 2019
(Editor's note: We are determining the RACE OF THE DECADE. If you didn't participate in the first two rounds, you can find an overview of what is going on here.)
The second round of December Madness — LetsRun.com's 64-race battle for Race Of The Decade — is in the books and a spectacular Sweet 16 is set as LetsRun nation narrows down its choice for the Race Of The Decade.
In the second round, the favorites took care of business for the most part as there are only four races remaining that are seeded outside of the top four in their region. Two of those are #5 seeds and a third is a #6 seed. The biggest upstart left in the tournament is the #11 seed in the Rudisha Region — the 2015 Paris Diamond League men's steeple featuring Evan Jager's fall and 8:00.45 AR and Tim Hutchings' great play by play — as that race won out over the #3 seed, the 2017 World Championship men's 5000 final where Muktar Edris shocked Mo Farah, 55.2% to 44.8%.
All four #1 seeds remain, but there was an upset alert for one of them in the second round. In the Kipchoge Region, which features road and XC races, the #1 seed, the epic 2010 Chicago Marathon battle between Tsegaye Kebede and the late Sammy Wanjiru for Abbott World Marathon Major title and $500,000, barely held off a challenge from the #9 seed, the 2018 Boston Marathon women's race won by Des Linden, 51.0% to 49.0%. All of the other #1 seeds cruised through with at least 91.6% of the vote.
That #1 vs #9 matchup in the Kipchoge Region was the closest contest of the entire second round but the #2 seed there also faced a scare as the 2013 Great North Run men's race, where Kenenisa Bekele came from behind to defeat Haile Gebrselassie and Mo Farah, edged the #7 seed, the 2019 Berlin Marathon men's race where Bekele came from behind to run 2:01:41, 51.9% to 48.1%.
(Full results of the 2nd round appear at the bottom of this page).
Now it's time to for the Sweet 16. Voting for the Sweet 16 will remain open until the end of the day (midnight ET) on Tuesday, December 17. The eight matchups are listed below. Seeds are in ().
Considering these are the 16 greatest races of the 2010s, it should come as no surprise that all eight remaining matchups are incredible. In the Rudisha Region, we've got a battle of Olympic finals, with the GOAT himself David Rudisha in the 2012 Olympic 800 final against Matthew Centrowitz's upset win in the 2016 Olympic 1500 final. The bottom half of the region pits two epic steeples against each other: Emma Coburn and Courtney Frerichs going 1-2 at the 2017 Worlds against Evan Jager's 8:00.45 American record at the 2015 Paris DL.
In the Lagat Region, Chris Solinsky's 26:59 at 2010 Payton Jordan goes up against the gut-wrenching 2012 Olympic Trials women's 5,000 while Robby Andrews' crazy kick in the 2011 NCAA 800 faces Bernard Lagat's 2016 Olympic Trials 5,000 win at age 41.
The Kipchoge Region pits Sammy Wanjiru's last win at 2010 Chicago against Eliud Kipchoge's world record at 2018 Berlin. The winner of that matchup faces the winner between Meb's 2014 Boston win and the battle of legends at the 2013 Great North Run.
Finally, the Bolt Region has two historic men's races against two historic women's races. At the top, Wayde van Niekerk's world record in the 2016 Olympic 400 final faces Shaunae Miller-Uibo's dive in the women's 400 final at the same Olympics. The final matchup pits the Dalilah Muhammad-Sydney McLaughlin WR duel at the 2019 Worlds against the Karsten Warholm-Rai Benjamin epic from the 2019 DL final.
So far, the top eight overall seeds still remain in the competition. Will we see our first #1 or #2 seed eliminated in the Sweet 16? Vote now!
Seeds are in ().
Race descriptions by Jonathan Gault.
Rudisha Region Semifinal #1
(1) 2012 Olympics, men's 800 meters
David Rudisha's finest hour, which featured two Americans breaking 1:43 and poor Andrew Osagie running 1:43.77 and finishing last, is best described by 17 letters: WR, WJR, PB, PB, PB, NR, SB, PB.
LRC David Rudisha Becomes A Legend By Winning Gold With A World Record In A Truly Historic 800
(4) 2016 Olympics, men's 1500 meters
If you're an American, you remember where you were when you watched this one. In a tactical masterclass, Matthew Centrowitz won the United States' first Olympic 1500 gold in 108 years by leading almost wire-to-wire.
Halfway through the race, the tension began building as one question — Can he hold on? — permeated the mind of everyone watching. Yes, he could.
One moment that you may have overlooked from this race: Centrowitz actually lost the lead briefly to Ayanleh Souleiman with 500 meters to go. Centrowitz's inside pass 50 meters later — which set him up perfectly for the blazing 50.6 final lap — is one of the most underrated tactical moves in Olympic history.
LRC Matthew Centrowitz Goes Wire-To-Wire To Win USA's First Men's 1500m Gold In 108 Years
***
Rudisha Region Semifinal #2
(2) 2017 World Championships, women's 3,000-meter steeplechase
Entering the 2017 Worlds, no American, male or female, had ever medalled in the steeplechase at the World Championships. That changed, dramatically, in London. Pre-race favorite Beatrice Chepkoech forgot to hurdle the first water barrier and, as she tried to catch up following her mistake, fell on another barrier. 
Somehow, Chepkoech fought her way back to the lead by the bell, but she had nothing left. With Olympic champ/world record holder Ruth Jebet struggling, that left the door open for Americans Emma Coburn and Courtney Frerichs, who blew through it by running huge PRs (five seconds for Coburn, fifteen for Frerichs) to go 1-2 in one of the biggest upsets in World Championship history.
LRC Americans Emma Coburn and Courtney Frerichs Pull Off Incomprehensible Upset and Go 1-2 in Women's Steeple
(11) 2015 Paris Diamond League, men's steeplechase
Despite a brilliant 8:00.45 American record, the question for Evan Jager at Paris 2015 will always be, What if? 7:56 or 7:57 was in play on a day where everything went right for the American — except the final barrier.
LRC In A Brave, Brave Run, Evan Jager Nearly Crushes The World's Best In Men's Steeple, Settles For 8:00.45 American Record
Click here to be taken to last lap of video below.
***
Lagat Region Semifinal #1
(1) 2010 Payton Jordan Invitational, men's 10,000 meters
What was billed as an American record attempt for Galen Rupp instead ended with a stunning American record for Chris Solinsky, igniting the Alberto Salazar–Jerry Schumacher rivalry in the process. Solinsky was the first non-African-born man to break 27:00 for 10,000; at 6-1 and roughly 165 lbs, Solinsky was also the tallest and heaviest man to break 27.
LRC Solinsky Stuns with USA 10,000m Record at Stanford
(4) 2012 Olympic Trials, women's 5,000 meters
Julia Lucas didn't need to go to the lead with three laps to go. With the Olympic standard in her pocket, she didn't need to push the pace. She did it anyway, building a comfortable lead, only to see it all come crashing down over the final 200. Kim Conley — 4.4 seconds behind Lucas with 200 to go — nipped Lucas at the line for third. And because Lucas had kept pushing the pace, Conley dipped under the Olympic standard as well, by just .21 of a second. Conley went to the Olympics. Lucas went home devastated.
LRC The Women's 5,000 Final – The Olympic Trials At Its Absolute Best
LRC An Oral History Of The 2012 Olympic Trials Women's 5,000, Part I: The Road To The Trials
LRC An Oral History of the 2012 Olympic Trials Women's 5,000, Part II: The Race
LRC An Oral History of the 2012 Olympic Trials Women's 5,000, Part III: The Aftermath
***
Lagat Region Semifinal #2
(2) 2016 Olympic Trials, men's 5,000 meters
Daddy can still kick. After missing the US World Championship team for the first time the previous year, 41-year-old Bernard Lagat dropped out of the 10,000 on day 1 of the 2016 Olympic Trials, the sun seemingly setting on his career. Eight days later, he responded with one of his greatest victories.
LRC 41-Year-Old Bernard Lagat Wins Crazy Men's 5000 at 2016 US Olympic Trials

(6) 2011 NCAA Outdoor Championships, men's 800 meters
The quintessential Robby Andrews race. Running in dead last for the first 600 meters, Andrews passed the entire field over the last 200 to win in incredible comeback fashion.
LRC Robby Andrews Does It Again And Wins A Legendary Race
***
Kipchoge Region Semifinal #1
(1) 2010 Chicago Marathon, men's race
Counted out after injuries, a DNF in London earlier in the year, and a nasty stomach flu in his buildup, the late, great Sammy Wanjiru was dropped no less than three times over the final miles by Ethiopian Tsegaye Kebede but rallied back to win a slugfest. The stakes were high as well: the winner between Wanjiru and Kebede, who had won London earlier in the year, earned $500,000 as the World Marathon Majors champion.
Sadly, this would be the last race of Wanjiru's career; within eight months, he would be dead at the age of 24.
LRC Heavyweights Throw Down In BoA Chicago – Wanjiru Wins Epic Duel With Kebede
(5) 2018 Berlin Marathon, men's race
By September 2018, Eliud Kipchoge was already widely acknowledged as the greatest marathoner of all time. But whether due to weather, faulty equipment, or other factors, the world record had eluded him. Kipchoge put that right by crushing the 2:02 barrier and taking 78 seconds off Dennis Kimetto's world record with a 2:01:39 in Berlin.
LRC The Greatest Ever – 2:01:39 – Eliud Kipchoge Crushes World Record to Win 2018 Berlin Marathon
***
Kipchoge Region Semifinal #2
(2) 2013 Great North Run, men's race
Kenenisa Bekele, left off of Ethiopia's World Championship team for the first time in his senior career, bounced back to prevail in a battle of legends against Haile Gebrselassie and Mo Farah. Early in the race, Bekele feigned fatigue, dropping back and allowing Geb and Farah to increase the pace, only to storm back and hold off Farah — who had run 3:28 for 1500 that summer — over the final meters. A legendary race between three legends of the sport.
LRC Kenenisa Bekele Holds Off Mo Farah In One Of The Most Thrilling Road Races In History – 2013 BUPA Great North Run
(3) 2014 Boston Marathon, men's race
One year after a tragic finish-line bombing resulted in the deaths of four people, a 38-year-old American named Meb Keflezighi took off eight miles into the 2014 Boston Marathon and earned a historic victory. Running with the names of the victims on his bib, Meb ran a personal best of 2:08:37 to become the first American champion at Boston in 31 years.
How unlikely was Meb's win? Before the race, we pegged the odds of an American victory at somewhere between 1 in 27 and 1 in 19,813.
LRC The American Drought Is Over: Meb Keflezighi Wins The 2014 Boston Marathon
LRC American Strong: The Untold Story of American Teamwork and How Ryan Hall Helped Meb Keflezighi Win Boston
***
Bolt Region Semifinal #1
(1) 2016 Olympics, men's 400 meters
43.03 from lane 8. Need we say more?
LRC 43.03 From Lane 8! Wayde van Niekerk Takes Down Michael Johnson's 17-Year-Old 400M World Record to Win Olympic Gold
(5) 2016 Olympics, women's 400 meters
Shaunae Miller-Uibo running out of gas combined with a late charge from Allyson Felix led to one of the great finishes in Olympic history. Ultimately, Miller-Uibo's dive — more of a collapse from exhaustion than a strategic maneuver — gave her the Olympic title. Barely.
***
Bolt Region Semifinal #2
(2) 2019 World Championships, women's 400-meter hurdles
Dalilah Muhammad, the Olympic champion and world record holder, added world champion to her resume by outleaning 20-year-old Sydney McLaughlin at the 2019 Worlds in Doha. Muhammad's 52.16 broke her own world record; McLaughlin's 52.23 was the #3 time ever run.
LRC Fabulous Friday: For One Night, Qatar Gets Its World Championship Moment
(6) 2019 Zurich Diamond League final, men's 400-meter hurdles
This was the male equivalent of the Muhammad-McLaughlin race at the 2019 Worlds. Norway's Karsten Warholm ran 46.92 (#2 all-time) to hold off USA's Rai Benjamin (46.98, T-#3 all-time) as two men broke 47 in the same race for the first time.
LRC Zurich Weltklasse: Karsten Warholm and Rai Benjamin BOTH Go Sub-47, Joshua Cheptegei Steals 5000, Noah Lyles Over Gatlin
2nd Round Results
Updated bracket and final second-round results below.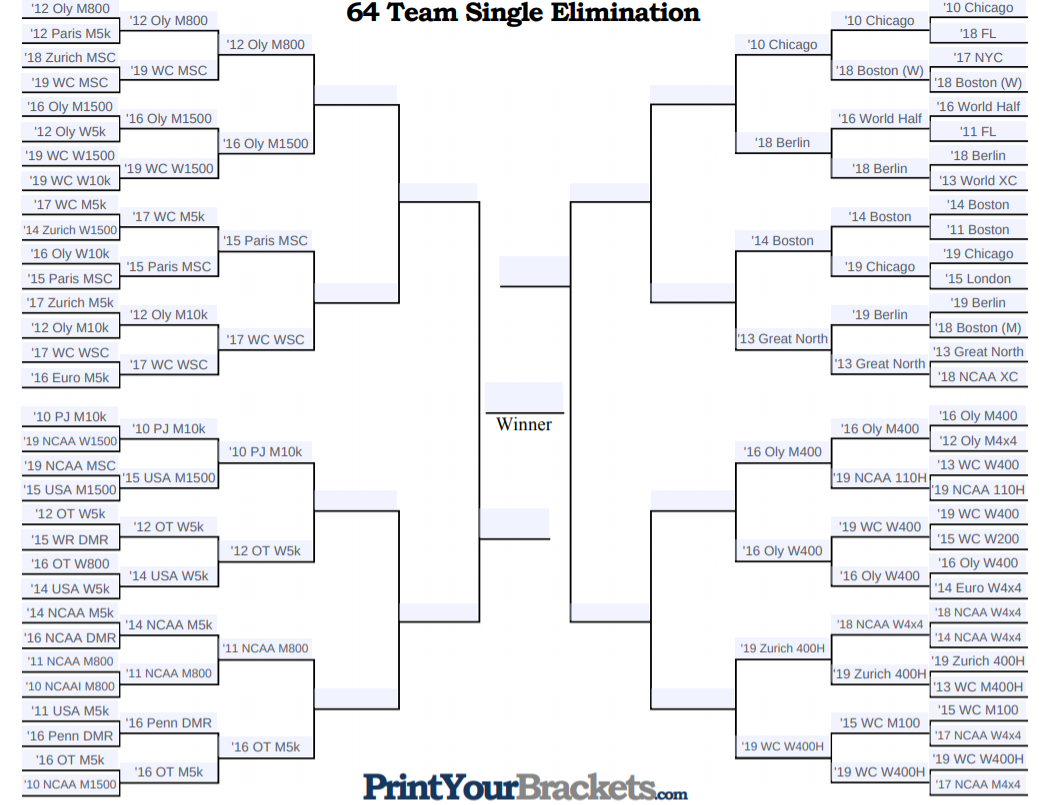 Second-round results
Rudisha Region
(1) 2012 Olympic men's 800 93.8%
(9) 2019 Worlds men's steeplechase 6.2%
(2) 2017 Worlds women's steeplechase 59.6%
(10) 2012 Olympic men's 10,000 40.4%
(3) 2017 Worlds men's 5,000 44.8%
(11) 2015 Paris DL men's steeplechase 55.2%
(4) 2016 Olympic men's 1500 55.1%
(5) 2019 Worlds women's 1500 44.9%
Kipchoge Region
(1) 2010 Chicago Marathon, men's race 51.0%
(9) 2018 Boston Marathon, women's race 49.0%
(2) 2013 Great North Run, men's race 51.9%
(7) 2019 Berlin Marathon, men's race 48.1%
(3) 2014 Boston Marathon, men's race 62.8%
(6) 2019 Chicago Marathon, women's race 37.2%
(4) 2016 World Half, men's race 15.8%
(5) 2018 Berlin Marathon, men's race 84.2%
Lagat Region
(1) 2010 Payton Jordan men's 10,000 91.6%
(9) 2015 USA men's 1500 8.4%
(2) 2016 Olympic Trials men's 5,000 65.6%
(10) 2016 Penn Relays boys' DMR 34.4%
(3) 2014 NCAA men's 5,000 36.6%
(6) 2011 NCAA men's 800 63.4%
(4) 2012 Olympic Trials women's 5,000 58.7%
(12) 2014 USA women's 5,000 41.3%
Bolt Region
(1) 2016 Olympic men's 400 93.8%
(9) 2019 NCAA men's 110 hurdles 6.2%
(2) 2019 Worlds women's 400 hurdles 61.9%
(7) 2015 Worlds men's 100 38.1%
(3) 2018 NCAA women's 4×400 46.3%
(6) 2019 Zurich DL men's 400 hurdles 53.7%
(4) 2019 Worlds women's 400 37.3%
(5) 2016 Olympic women's 400 62.7%
More: Round 1 Recap: Race of the Decade, 1st Round Recap: Kenenisa Bekele's 2019 Berlin Win Defeats Yuki Kawauchi's 2018 Boston Win In Controversial Fashion, Plus Des Linden Takes Down Shalane Flanagan