The Best Marathon of the Fall? 10 Sub-2:06 Guys Plus a 10K WR Attempt at Sunday's Valencia Marathon
By Jonathan Gault
November 29, 2019
The Abbott World Marathon Majors may be done for 2019, but fall marathon season isn't over yet. In fact, the best marathon of the season could still be ahead of us because this weekend's Valencia Marathon is loaded.
There are a few ways to measure a marathon's quality — some favor star power up front, others depth of the top 10 — but there's no question that the field in Valencia is as good as, if not better than, any World Marathon Major from this fall. The men's race boasts two sub-2:04 guys (more than Berlin, Chicago, and NYC combined) and 10 sub-2:06 guys — more than any fall marathon and tied with London for the most of any race in 2019. The women's side has a massive name in Olympic 5,000/2018 London Marathon champ Vivian Cheruiyot and plenty of depth behind her: there are eight women with sub-2:22 pbs, which are the most of any marathon this fall and second only to London (nine) among 2019 marathons.
Article continues below player
And as if that isn't enough, there will also be a world record attempt in Valencia as world champ Joshua Cheptegei will try to break Leonard Komon's 26:44 10k road world record in a race that will run concurrently with the marathon.
Race details below followed by a few things to watch for in Sunday's race.
What: 2019 Maraton Valencia Trinidad Alfonso
Where: Valencia, Spain
When: Sunday, December 1, 8:30 a.m. CET (2:30 a.m. ET)
How to watch: The Spanish TV broadcast can be streamed for free here (it should also be available for on-demand streaming later); there will also be a broadcast on the race website (in English, Spanish, or Italian) here
1) These fields are insane
In recent years, both the Singapore and Chengdu Marathons have been announced as "candidate races" for the World Marathon Majors as the WMM looks to expand in the lucrative Asian market. But if you're going purely by the elite fields, those two have no business being added. Valencia, on the other hand, has a super fast course and terrific fields. The WMM may not want to add a third European race (though they already have three in the US) — and really, they don't need to expand at all. But Valencia, Dubai, and Amsterdam — for starters — are all better candidates than Singapore and Chengdu.
I'm not going to do a detailed breakdown of the elite races, but suffice it to say, they're stacked. Check them out for yourself below:
Men's elite field (sub-2:09)
| | | | |
| --- | --- | --- | --- |
| Name | COUNTRY | PB | Note |
| Herpasa Negasa | ETH | 2:03:40 | Coming off huge pb in Dubai |
| Guye Adola | ETH | 2:03:46 | Almost beat Kipchoge at '17 Berlin; hasn't done anything since |
| Leul Gebreselassie | ETH | 2:04:02 | Defending champ |
| Tsegaye Kebede | ETH | 2:04:38 | 3 WMM wins but none since '13 |
| Emmanuel Saina | KEN | 2:05:01 | Has run 2:05 in 3 straight marathons |
| Norbert Kigen | KEN | 2:05:13 | 5th last year |
| Mike Kigen Ozbilen | TUR | 2:05:27 | #2 Euro in history |
| Filex Kiprotich | KEN | 2:05:33 | Daegu champ |
| Sondre Moen | NOR | 2:05:48 | Fastest non-African-born marathoner (record-eligible course) |
| Gideon Kipketer | KEN | 2:05:51 | 2017 Tokyo runner-up |
| Thomas Kiplagat | KEN | 2:06:00 | Coming off win/PR in Seoul in March |
| Abebe Negewo | ETH | 2:06:49 | Big PR to finish 2nd in Barcelona in March |
| Philemon Kacheran | KEN | 2:07:12 | 4th in Barcelona in March |
| Ghirmay Gebreselassie | ERI | 2:07:46 | 2016 NYC champ |
| Augustine Choge | KEN | Debut | Incredible range: 1:44 800 & 59:26 half |
Women's elite field (sub-2:25)
| | | | |
| --- | --- | --- | --- |
| Name | COUNTRY | PB | Note |
| Vivian Cheruiyot | KEN | 2:18:31 | 2018 London champ |
| Roza Dereje | ETH | 2:19:17 | 2018 Dubai champ |
| Birhane Dibaba | ETH | 2:19:51 | 2018 Tokyo champ |
| Priscah Jeptoo | KEN | 2:20:14 | Hasn't run a marathon since '16 but won two HMs in her buildup |
| Purity Rionoripo | KEN | 2:20:55 | 2017 Paris champ |
| Workenesh Edesa | ETH | 2:21:05 | 3rd in Dubai |
| Tadelech Bekele | ETH | 2:21:40 | 2017 Amsterdam champ |
| Azmera Abreha | ETH | 2:21:51 | 3rd in Paris |
| Valeria Straneo | ITA | 2:23:44 | 8th last year; 43 years old |
| Jessica Augusto | POR | 2:24:25 | 6th in '12 Olympics; 38 years old |
| Genet Yalew | ETH | 2:24:34 | Coming off PR in Prague in May |
| Abeba Gebremeskel | ETH | 2:24:53 | Coming off PR in Seville in February |
| Zeineba Yimer | ETH | Debut | 65:46 half |
2) Who's washed up and who has something left in the tank?
There are some real studs in these races, such as Vivian Cheruiyot and Roza Dereje (2nd and 3rd in London this year), but there are also a ton of former stars/one-hit wonders looking to resurrect their careers in Valencia. Here are a few of them.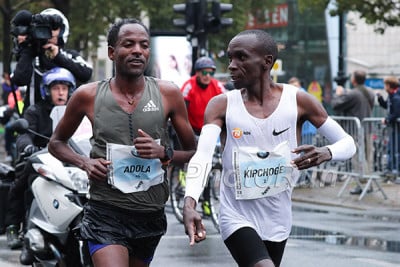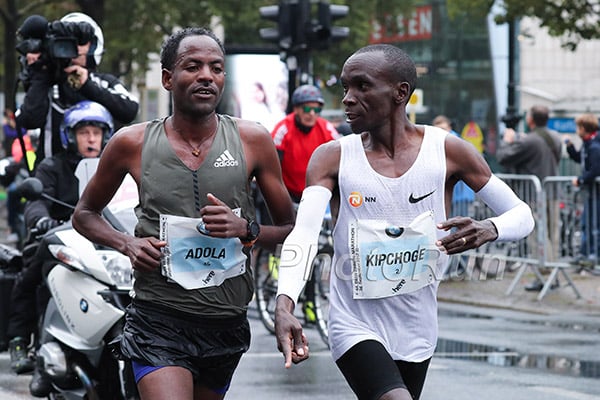 Guye Adola, Ethiopia, 29 years old
You remember him for: Almost beating Eliud Kipchoge in his marathon debut in 2017
Adola burst onto the scene in the fall of 2017 by running 2:03:46 — at the time, a debut record — and giving Kipchoge all he could handle in Berlin. Since then, however, Adola has only finished one marathon, and that was largely to collect an appearance fee in London (2:32 in 2018). He's a humongous talent, and he won the Rome-Ostia Half earlier this year in 60:17, but he finished a well-beaten 8th in his last race, the half marathon at the All-Africa Games in August (64:12 in a race that was won in 61:42).
Tsegaye Kebede, Ethiopia, 32 years old
You remember him for: Winning Chicago and London (twice) earlier this decade
Kebede was one of the best marathoners of the pre-Kipchoge era, earning wins in Chicago in 2012 and London in 2010 and 2013, plus eight more WMM podium finishes (including Olympic bronze in '08). The last of those podiums came over five years ago, but Kebede is still chugging along — he ran 2:05 in Valencia last year.
Ghirmay Ghebreslassie, Eritrea, 24 years old
You remember him for: Winning Worlds in 2015 and NYC in 2016
Ghebreslassie was incredible in 2015-16, winning Worlds, taking 4th at the Olympics, and running 2:07 to win NYC, but since then he has finished just one marathon (2:09 for 6th at 2017 London) and has DNF'd his last three. He did run 61:30 for the half in Valencia in October, though.
Priscah Jeptoo, Kenya, 35 years old
You remember her for: Winning Olympic silver in 2012 and London and NYC in 2013
Jeptoo was Track & Field News' World #1 in the marathon in 2013, but she developed a leg injury defending her London Marathon title in 2014 and hasn't been the same since. This will be her first marathon since 2016; she has won a pair of half marathons (68:27 in Milan in March, 70:14 in Belfort in September) so far in 2019.
3) Will the European record fall?
Valencia is a fast course and the pacers are getting after it. The lead men's group will shoot for a sub-2:04 time (there is also a 2:06 group), and there should be plenty of guys in that group.
The race within the race will be for the European record as two of the three Europeans to have broken 2:06 will be in the race: Kaan Kigen Ozbilen of Turkey (2:05:27 pb; formerly Mike Kigen of Kenya) and Sondre Nordstad Moen of Norway (2:05:48 pb). The European record — 2:05:11 by Mo Farah in Chicago last year — should be in reach if both men are fit. Kigen certainly has been — he has run PRs in the half (59:48) and full marathon in 2019.
Moen missed the spring with a sacral stress fracture, but he's been working his way back into great shape: he ran a Norwegian record of 27:24 for 10,000 in August and ran solid half marathons this fall, 60:20 in Copenhagen in September and 60:14 in Valencia in October. The latter isn't far off the 59:48 he ran in his buildup for his 2:05:48 marathon pb in Fukuoka back in 2017, so he should be ready to challenge Kigen on Sunday.
One other guy to keep an eye on is Augustine Choge. Choge made his name as a track runner in the 2000s — his most famous victory was the 2006 Commonwealth Games 5,000 in Melbourne against Craig Mottram, one of the greatest distance races of all time — and has insane range: he's run 1:44 in the 800 and 59:26 in the half marathon. He's trained under Brother Colm O'Connell and Patrick Sang and with David Rudisha and Eliud Kipchoge. As far as I can tell, the fastest marathon by a guy who has broken 1:45 in the 800 is 2:12:16 by Portugal's Rui Silva. Choge has a good shot to smash that mark on Sunday, but it should be noted that he DNF'd his debut marathon in Chicago last year.
4) How much will Joshua Cheptegei break the 10k world record by?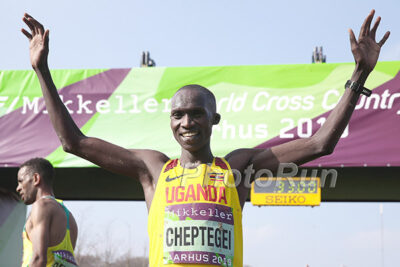 I'm treating it as a given that Cheptegei smashes this world record, which is 26:44. His track PR is "only" 26:48, but he ran that in the World Championship final this year where place, not time, was the goal. The current WR holder, Leonard Komon, was no slouch — he ran 12:58/26:55 on the track, compared to 12:57/26:48 for Cheptegei — but Cheptegei is simply a better runner than Komon. Cheptegei won World XC and Worlds on the track this year; Komon's best finish at World XC was 3rd and never ran Worlds or the Olympics on the track. Komon ran 41:13 for 15k the same year he ran his 26:44; that was a world best until Cheptegei broke it by running 41:05 on the same course last year.
Plus, Cheptegei has an advantage Komon did not possess: the Nike Vaporflys. We just saw what a 10k stud can do with those on their feet. Cheptegei has had a sick year; it's only fitting he ends it with a world record.