Bowerman Track Club Will Have ZERO Athletes in Diamond League Finals: What Can Our Sport Do to Make Its Stars Compete More?
By LetsRun.com
August 26, 2019
The first of two Diamond League finals for the 2019 season will be held on Zurich on Thursday, and you won't see any athletes there from one of America's premier clubs, the Bowerman Track Club. And, barring scratches, you won't see any in the second final next week in Brussels, either (Kate Grace can get in if one woman scratches in the 800).
It's not because Bowerman athletes have been running poorly this year. Moh Ahmed and Courtney Frerichs both qualified, in the 5,000 and 3,000 steeplechase, respectively. Yet both of them turned down their spots. Colleen Quigley, who was next in line to earn an invitation after Frerichs declined, won't be running in Zurich either.
Article continues below player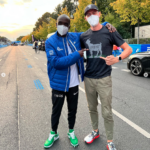 Kipchoge loves the 1:59:40 Shirt Get Yours Today
What a legend!
Then there's Shelby Houlihan, who won't be in Zurich because she did not accrue any points in the Diamond League standings. Houlihan is among the planet's best female 1500-meter runners, but she has raced the distance at a grand total of two meets this year: the Prefontaine Classic (where she finished 2nd in a race that did not award any DL points) and at USAs. Likewise, USA runner-up Matthew Centrowitz earned just three DL points and would need multiple scratches in order to qualify for the 1500 final.
Bowerman Track Club will be sending four men and five women to Worlds this year. Here's where each of them has raced on the Diamond League circuit this year:
| | | | |
| --- | --- | --- | --- |
| Athlete | Country | Qualified in | Diamond Leagues |
| Lopez Lomong | USA | 10k | None |
| Marc Scott | Great Britain | 5k | London* |
| Matthew Centrowitz | USA | 1500 | Pre |
| Moh Ahmed | Canada | 5k/10k | Rome, Pre |
| Colleen Quigley | USA | Steeple | Pre |
| Courtney Frerichs | USA | Steeple | Pre |
| Karissa Schweizer | USA | 5k | Pre |
| Shelby Houlihan | USA | 1500 | Pre* |
| Marielle Hall | USA | 10k | None |
*Event did not award any DL points
It's also worth noting that, of the seven Americans going to Worlds for BTC this year, the only Diamond League that any of them ran was the Prefontaine Classic, which, as Nike-sponsored athletes, most of them are required to run.
"I'll be quite honest with you," Centrowitz said after his race at Pre this year. "I didn't really have a choice, it's in a lot of our Nike contracts."
***
The purpose of this article is not to bash Bowerman athletes or their coach, Jerry Schumacher, who, largely, determines their racing schedule. Schumacher is famously media-shy, but the reason why athletes like Ahmed, Frerichs, and Quigley aren't running in Zurich is obvious: Schumacher's job is to ensure his athletes perform their best at the World Championships in Doha. And if he thinks his athletes would be better served staying at altitude to train instead of flying eight time zones to Europe and back to compete, that's what they're going to do. That's essentially what Ahmed's agent, Dan Lilot, told us when we asked him why Ahmed wasn't running Zurich (as of publication, Tom Ratcliffe, agent for Frerichs and Quigley, had not responded to a request for this story):
"Moh is in great shape," Lilot wrote in a statement, "and of course would have loved to compete in the Diamond League 5,000 final as he's done the last three years, but with a World Champs 5,000/10,000 double as his main target, and the calendar such as it is, not to mention the travails of intercontinental travel, he and Jerry decided that a block of training at altitude would be the best way to prepare for Doha."
Schumacher and his athletes are looking out for their own best interests, and that's understandable. In some cases, there are valid reasons for why an athlete didn't race at certain times of the year, such as injury or illness — both Houlihan and Centrowitz were banged up during the spring. And Schumacher, to his credit, sent three women to World XC this year, a meet many top Americans have ignored in recent years.
But track & field is a sport that is already struggling for popularity. And when some of America's biggest distance stars decide they'd rather hole up at altitude for most of the year and only race when absolutely necessary, that doesn't help the sport. A month has passed since USAs. In that span, the seven Americans on BTC headed to Worlds have combined to race…zero times.
Yes, they're putting in the work to be at their best in Doha, but it's better for fans to see someone like Centrowitz or Quigley race once in a while instead of being forced to subsist on photos of a workout posted on Instagram.
The problem here isn't necessarily with the athletes and coaches, but with the nature of track & field itself. Worlds and the Olympics are the only meets that truly matter (and sometimes national championships, but only insofar as they serve as qualification for Worlds/Olympics; remove that carrot and their relevance drops precipitously). The base motivation of almost every athlete in the sport is to do whatever it takes to maximize performance at those two meets.
Sometimes, incentives can change athlete behavior. Usually, the Diamond League final, with its top-notch competition beefed-up prize money ($50,000 for the win, $20,000 for second, $10,000 for third), provides enough motivation for top athletes to show up.
Athletes are going to operate after their own self-interest and when the proper incentives aren't in place, you get outcomes like some of the country's top distance runners blowing off USA Indoors to run a time trial in Boston. Or athletes like Christian Taylor, Justin Gatlin, and Kori Carter going through the motions at USAs so that they can secure the bye they earned as reigning world champion. Or Ahmed, Frerichs, and Quigley skipping the Diamond League final to focus on Worlds.
Again, our aim with this article is not to rip the athletes. We want to improve the sport.
We at LetsRun.com have always believed that our greatest asset is you, our readers. What we want to do is to start a discussion on this subject.  Maybe some of you are fine with athletes prioritizing Worlds and the Olympics at the expense of all else, but we bet most of you would like to see our sports stars compete more.
One idea that definitely would have worked this year (but not in previous years where the World Champs are before the Diamond League finals): if you're healthy and you qualified for the DL final, you have to run it if you want to compete at the World Champs.
(Professional golf and professional tennis both require their stars to compete in so many events per year).
So we're asking you: What, if anything, can be done to get athletes to run meets besides the World Championships and Olympics?
Athletes, if you're reading this and want to weigh in, we'd love to hear from you. Our inbox is open.
And so is the discussion here: Discussion of Week: No Bowerman TC athletes will be at Diamond League finals; what can sport do to make athletes compete more?
*************
Fortunately for our sport, there are multiple ways to skin a cat, and not all coaches and clubs follow the limited European racing method of the Bowerman Track Club.  We decided to look at the racing schedule of the other Nike-sponsored, Portland-based pro group, the Nike Oregon Project (NOP). The NOP qualified four men and three women to Worlds. Here's how often they have raced on the DL circuit this year:
| | | | |
| --- | --- | --- | --- |
| Athlete | Country | Qualified in | Diamond Leagues |
| Yomif Kejelcha | Ethiopia | 10k (and 5k?) | Shanghai, Pre, Lausanne, Zurich |
| Clayton Murphy | USA | 800 | Rome, Oslo, Rabat, Pre, Lausanne, Paris, Zurich |
| Donavan Brazier | USA | 800 | Doha, Rome, Zurich |
| Craig Engels | USA | 1500 | Pre, Birmingham* |
| Sifan Hassan | Netherlands | 5k/10k | Shanghai, Rabat, Pre, Monaco, London, Zurich |
| Konstanze Klosterhalfen | Germany | 5k (presumably) | Pre, London, Birmingham, Zurich |
| Jessica Hull | Australia | 1500 | Pre*, Birmingham |
*Event did not award any DL points
Total BTC DL races (9 athletes): 8
Total NOP DL races (8 athletes): 28


The NOP number could grow even larger: both Hassan and Klosterhalfen have qualified in the 5,000 for Brussels (entry lists aren't out yet) and Engels and Murphy are in a tie for 13th in the standings in the 1500, meaning one of them could get in should someone scratch. Of the seven NOP athletes going to Worlds, five have raced/will race at least three Diamond Leagues this year; four have raced/will race four or more. Only two have two or fewer DLs: Engels, who wanted to run Paris last week but could not because he was serving as the best man in a wedding, and Hull, who was only announced as a member of the NOP on July 16 after turning pro out of Oregon (she ran Pre before joining NOP).
Comparing NOP to Bowerman is not a perfect analogy as NOP has more mid-distance runners. However, the question remains: what can our sport do so that more of its stars compete more frequently on the big stage? Discuss here.