After a Year of Ups and Downs, Josh Thompson & Cory McGee Stay Red Hot and Claim 2019 Falmouth Mile Titles
By Jonathan Gault
August 17, 2019
FALMOUTH, Mass. — It took a couple of years, but now Josh Thompson knows for sure: he's a miler.
That may seem obvious to say for a guy who finished 4th in the NCAA 1500-meter final as a senior at Oklahoma State in 2017 and 3rd at USAs over the same distance last month in Des Moines. But the intervening two years did not go to plan.
Article continues below player
In 2018, Thompson's first full year as a professional with the Bowerman Track Club, he took up the steeplechase, an event he raced just once at OK State. Though Thompson, now 26, didn't make the final at USAs, he did show some promise, working his way down to a personal best of 8:30 that summer.
As 2019 began, Thompson was still locked in on the steeple — that was the event he planned to run at USAs. The blueprint for his transition: former Bowerman TC runner Andy Bayer. Like Thompson, Bayer was a star 1500 man in college (he was the 2012 NCAA champ for Indiana) who turned to the steeple as a pro under coach Jerry Schumacher. Bayer used 2014, a non-championship year, to get his feet wet (both literally and figuratively) in the event; in his second year, he ran 8:18 and finished 4th at USAs and has been among the best steeplers in the country ever since.
But Thompson was injured in March and April, and when it got time to start steeple-specific workouts in the spring, he struggled.
"My form wasn't good," Thompson said. "I was just struggling with my form, my technique."
Nevertheless, he gave it a go at the Portland Track Festival on June 9. It went disastrously: Thompson ran 9:02.84, finishing 12th in a 13-man race. His time was slower than Courtney Frerichs' personal best.
Thompson knew it was time to go back to the 1500, and while he managed to run 3:38 at the Sunset Tour meet on July 9, it wasn't until Thompson's shock 3rd-place finish at USAs that the rest of America took notice.
That result convinced Thompson that the move to the 1500 should become permanent, and tonight that decision looked wise as at the Aetna Falmouth Elite Mile, he earned his first professional 1500/mile victory, seizing the lead with 250 meters to go and pulling away to win in 3:58.39, well clear of runner-up David Ribich in 3:59.78.
Overlooked (and rightfully so, given his results) heading into USAs, Thompson was the favorite here and ran like it. All great milers need patience and great closing speed, and Thompson was content to simply sit in the pack and wait to unleash his kick at the right moment. The only thing that could have scuppered those plans was a hot early pace, but that went out the window when the field hit halfway in just under 2:00. It was a kicker's race, and right now, there are few men in the United States that can match Thompson's kick.
Running fast is still something Thompson needs to work on, however. He won't be going to the World Championships because he does not have the 3:36.00 IAAF standard. Thompson feels that he's in sub-3:36 shape right now, but said that there's more to running fast than just being fit.
"Some races aren't set up like that and some races are," Thompson said. "Unfortunately, my races just weren't set up to run fast."
That's true: the winning times of Thompson's four pre-USA 1500s were 3:42, 3:37, 3:37, 3:39. This is also true: Thompson finished 4th, 3rd, 6th, and 8th in those four races.
So no, Josh Thompson the miler is not quite a finished product yet. But he's making progress. And now, at least he knows he's in the right event.
2019 Aetna Falmouth Elite Mile men's results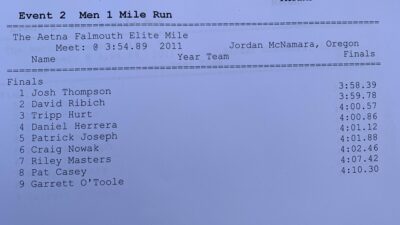 After move to Colorado, Cory McGee is finally all-in
It took a move to Colorado for Cory McGee to realize what she was missing.
Not the miles of hiking, biking, and skiing trails that draw most people to the mountains. What McGee lacked was aerobic strength. And while she didn't quite know it when she moved out to join coach Joe Bosshard's group at the start of 2019, she quickly discovered it after her first few workouts at 5,300 feet.
"It was just very obvious that I was not, like, fit," McGee said. "I was never actually strong, never had, like, actual strength to run the 1500. I was always just going out there and mentally pushing through. But I think for the first time, I have a lot of confidence in my fitness. So it's really cool. I just feel like I have actually worked hard enough to compete at this level."
It's not as if McGee hadn't accomplished anything to this point in her career. She made the World Championship team in 2013 following her junior year at the University of Florida, and qualified for World Indoors in 2016 as a professional while training under Mark Coogan. But McGee hasn't made a US outdoor final since 2015, and after last year's Fifth Avenue Mile, McGee said that Bosshard and his wife, steeplechase world champ Emma Coburn, both longtime friends of McGee, saw that McGee wasn't reaching her potential and asked if she wanted to come out to Boulder to train with them. She took them up on it.
"They changed my life," McGee said.
As McGee built up her strength through long runs, she felt she was ready to do something special at USAs, but she didn't get a chance to do that as was disqualified after she was ruled to have impeded another runner in the semis. But she's as fit as she's ever been, and it's shown in her results post-USAs. On August 2, she ran 4:27 to win the Sir Walter Miler in Raleigh. Last week in Memphis, she clocked a personal best of 4:04.15 to knock out the Olympic standard. And tonight, she showed that she still has a kick to go with that strength, closing in 62 seconds (by my hand-time, at least) to win the Aetna Falmouth Elite Mile in 4:29.51, pulling away from the field over the final 200 meters.
McGee says that she doesn't view her recent string of results as redemption for USAs — "it's just for my own peace of mind" — but added that "I feel fit, and it's fun to win."
She hopes there's more of that to come — she flies out to Europe for three races tomorrow — but no matter how the results go, she can feel confident knowing she's doing everything she can to win.
"For the first time, I feel like I'm giving it 100%," McGee said. "I thought I was [before], but I wasn't."
2019 Aetna Falmouth Elite Mile women's results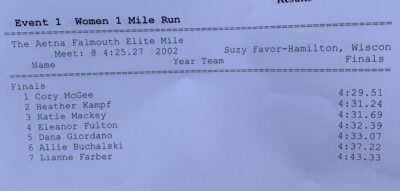 Talk about these race on the LetsRun.com messageboard / fan forum: MB: 2019 Falmouth Road Race Thread: Edward Cheserek added to elite field